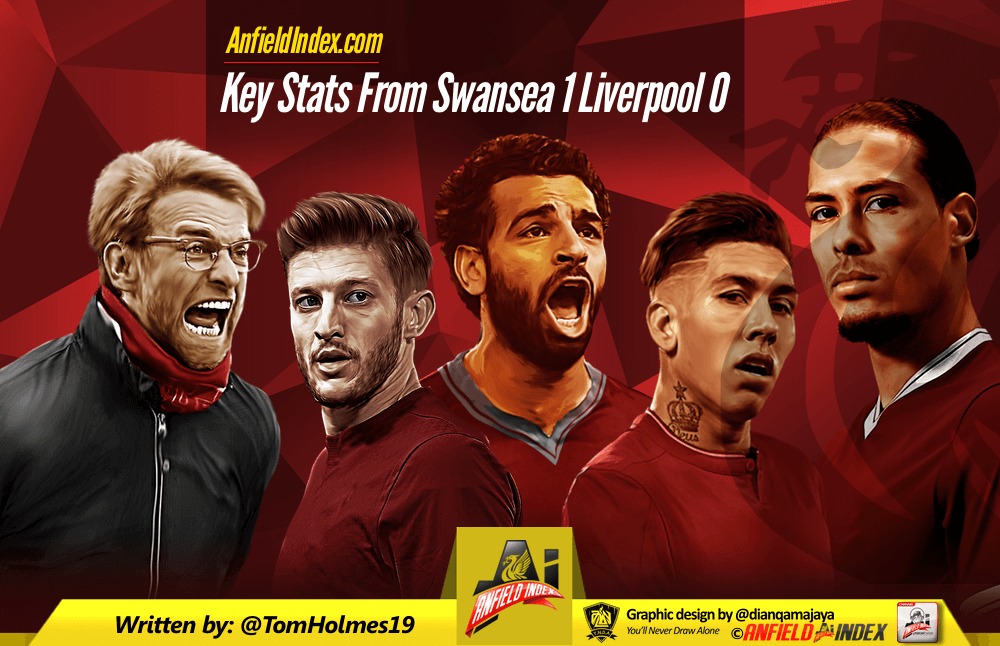 Key Stats from Swansea 1-0 Liverpool

Liverpool fell to their first defeat in 19 games with a woeful performance as they lost 1-0 at the Liberty Stadium.
Lack of clinical finishing costs Reds dearly
Some days it's your day. Some days it isn't. Last week I mentioned how Salah, Firmino and Mane all scored low percentage chances, but this week it was the exact opposite story. Liverpool's xG was 2.20 in this game without scoring, and all three of Liverpool's star forwards missed chances with an xG of over 0.3. Liverpool had 21 shots but hit the target just four times. That is absolutely woeful.
Possession based game leads to trouble
Klopp's #LFC when >65% possession
29 W11 D12 L6
1.55 PPG
This year P6 W2 D4#NoGegenNoParty

— Dan Kennett (@DanKennett) January 22, 2018
As this thread illustrates, often Liverpool are at their best when they are able to operate Klopp's gegenpressing style, and having 72% possession means that Liverpool's off-ball game simply didn't exist. There was limited opportunities to press, and very few opportunities to counter-attack.
Swansea congested the space brilliantly and rapidly, meaning that even when Liverpool did turn the ball over, there would already be multiple Swansea players behind the ball. In the final ten or fifteen minutes, it was noticeable that the entire Liverpool defence was quarter-backing inside the Swansea third. That might work in NFL, but not in football.
Virgil Van Boss
Despite his contribution to the Swansea goal, albeit hardly his fault, Van Dijk had a terrific game for the Reds in both halves of the pitch. He won 10 aerial battles, more than the rest of Liverpool's team put together (nine), made eight clearances, and an interception. And in terms of on the ball he recycled well, making 95% of his 119 passes, and creating two big chances for team-mates, with an xA of 0.61, assisting Firmino's last-gasp header as well as Salah's volley in the first half.
Rare Defeat for Consistent Liverpool
This was Liverpool's first actively poor defeat of the season. Before tonight the Reds had been unbeaten in 18 games, but it had been a total of 27 league games since the Reds had last lost to a side outside the top six, and only their second defeat in 35 games against non-top six opposition. Their last away defeat to any team outside the top six was Leicester City on 27th February last year, 13 league games ago.
That roughly equates to about one defeat against sides outside the top six away in a season, and only two overall in a season. If you're looking for a base to build from against weaker sides, it's not perfect, but averaging 2.22 points per game away from home and 2.24 points overall against sides outside the top six means roughly 63 points from the 28 games against the dross. That's definitely somewhere to start.