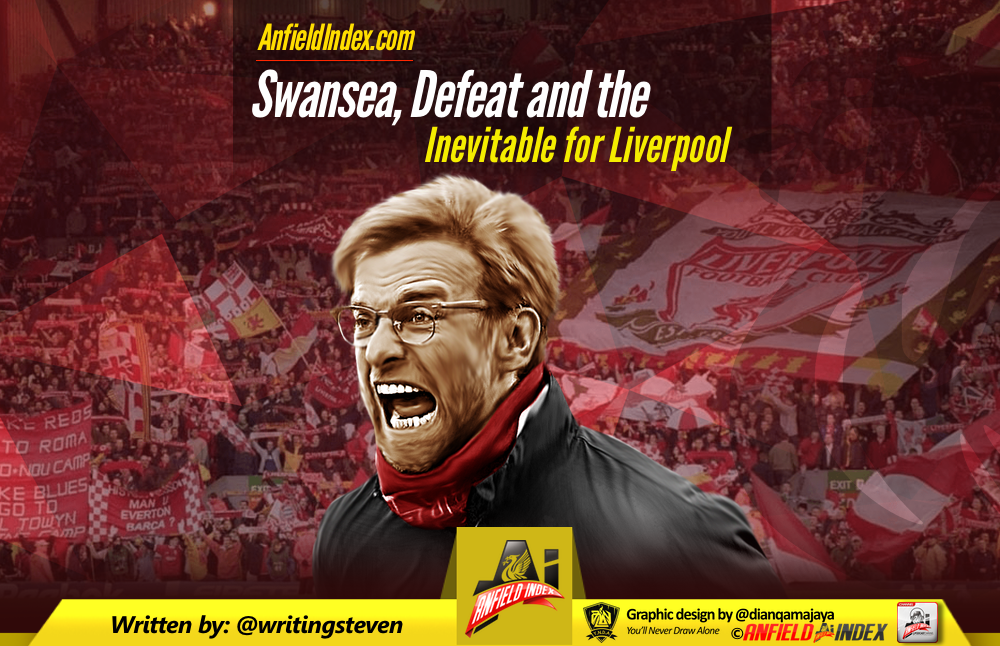 Swansea, Defeat and the Inevitable for Liverpool
It wasn't supposed to end this way. Manchester City were the most likely. Disappearing into the distance as they were; 22 games unbeaten in the Premier League and looking generally imperious. Maybe it could have been Arsenal? After all, Liverpool had only recorded one victory in their last six visits to the Emirates despite the obvious frailties of Wenger's team. At a push, Everton in the F.A Cup? Not because of Everton as such, but because the F.A Cup often throws up strange results.
No. None of the above. Swansea away. Bottom of the table, four wins all season, 14 defeats, 14 goals in 24 games, Swansea. The same Swansea who less than a month ago were mauled 5-0 at Anfield. It was always going to be the way. 18 games unbeaten. No more. Swansea away. Bottom of the table.
We shouldn't be surprised. Low block. Play dead. Feed off scraps. Nick something from a set piece. A tried and tested model. A successful model against this Liverpool team, best illustrated by the fact that many have tried and succeeded by doing exactly the same. West Brom stole a point. So too Everton. Even Mourinho's Manchester United have done it. They stole a point. Swansea stole a victory.

They've done it before too. Beating Liverpool that is. Last season, Saturday 21st January 2017. Liverpool 2 – 3 Swansea. Almost a year to the day. Since 2014/15 on only the three occasions has a team starting the day at the bottom of the table beaten a team in the top four. Yep, two out of three times has been Swansea defeating Liverpool. It's the third time Jurgen Klopp has suffered Premier League defeat at the hands of the Swans. More than any other team in the competition.
It didn't take much. A corner lobbed into the box. Men caught under the ball. How many times have we heard that? Big Virg leaps. He's dropping as the ball hits his head. The ball drops too. Bounces to Mawson. He bangs it home under no pressure from a Liverpool defender. They're too busy bumping into each other.
Karius doesn't make the save. Why would he? When does he? To be fair, he probably doesn't stand a chance. Not on account of being poor, but because it's nicely tucked into the corner beyond his reach. At least he reacts for once. He tries to save it. Which is more than he's done in the past. Karius only faced one other shot on target the entire game. It was straight at him, so he saved that one.
Liverpool had 20 shots in the match. But only four were on target. We've heard that before too. Shooting when not in position. Pot shots from outside the box. Salah looked tired. Mane still looks short of confidence despite his numbers. Firmino looked, well, I don't know. Didn't register a shot on target. Dispossessed of the ball more times than any other player. Had the chance to equalise. Missed it.
The past two games have shown the fragility of xG, because football isn't won by xG. It's won by actual goals. Real goals. Where the ball hits the back of the net goals.
According to xG, Liverpool, who scored no goals, should have scored two goals. Swansea, who scored one goal, should have scored half a goal. Yet against Man City, Liverpool, who scored four goals, should have only scored 1.02 goals. Whilst Man City, who scored three goals, should have only scored 0.72 goals. Because, obviously, it's possible to score 0.72 goals.
Klopp seemed fed up after the match. Didn't try to accentuate the positive. Without being so direct, he basically called the players shithouses. Said they didn't do what they were told. I'm inclined to agree with him. You can't tell me he wanted them to be so listless. So ineffective. Complacent.
Sure, he could have done things better. Could have taken off Joe Gomez and replaced him with the superior delivery of Trent Alexander-Arnold given the lack of threat displayed by Swansea. He could have provided the width that was needed.
He could have not started Wijnaldum too. He's not made for these games. Great against Man City, because he's made for games played at tempo. A tempo he's unable to inject into the game himself. So too Can. Emre likes a battle. Blood and guts and thunder. Running around like a loon. Tackles, headers, looking brooding and handsome. There was none of that. Just a team who played dead. How do you battle with a team who play dead?
This team is hard to judge. Are they mentally strong enough? At times they seem to be. You don't go 18 games unbeaten by being mentally fragile. You don't beat the league leaders and stop a 22 game unbeaten league run in the process without something about you.
But at other times they seem weak as hell. Weak teams ship soft goals. They let leads slip. Man City weren't great against Liverpool, but they still pulled goals back. Until the end, they believed they could still get something from the game. They weren't the first to pull goals back, they won't be the last.
On the balance, you'd say the team is strong, but not strong enough. The team has more ability than mental toughness. It's a squad lacking in leaders. That's why Big Virg has come in. Already he's shown that he's more than just a good player. There's something about him, he exudes assertiveness. Naby Keita seems to have a similar aura.
But leadership isn't enough. Perhaps what the squad is most sorely lacking, is winners. Players who have been there and done it. Who've won trophies. Who've put together a run over the course of an entire season, not just 18 games. James Milner aside, who in the squad has won anything of note? Any major trophy?
That's the problem with buying players from Southampton. Sure, they've had the chance to settle and prove themselves in the league on someone else's watch. But they've won nothing.
It's not all doom and gloom though. How can it be with Mane, Salah and Firmino in the squad? When fit and firing they're almost untouchable in this league. But they can't do it all. They need help.
They need fresh legs from the bench for when they're flagging. Or to step in for them when the games are thick and fast. Those fresh legs need to have quality though and minus Coutinho – and with Sturridge seemingly on the way out – I'm not sure where that help and quality will come from.
It's a squad that's not far off. Which ultimately means it's not quite there. Good. But not good enough. If Manchester United, Spurs, Chelsea and Arsenal are to be overcome, it needs a push.
Will we sign what we need? Quality? Cover? Leadership? Winners? In this window? I'm not convinced.
So it's not all roses either. Not when losses like this are predictable. Inevitable.