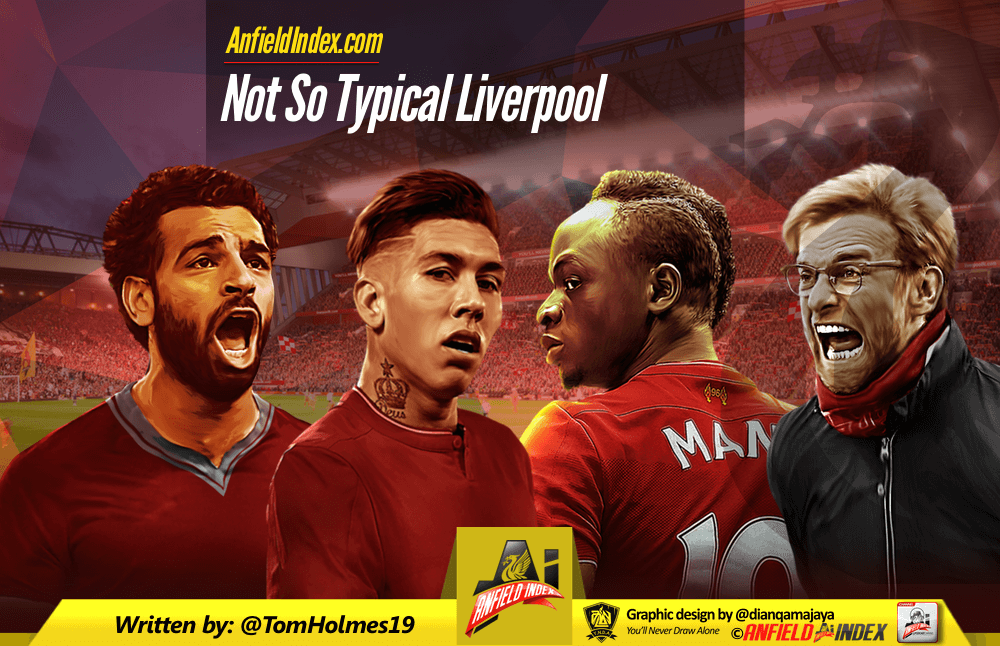 Not So Typical Liverpool
Typical Liverpool eh? The Reds followed up a sensational 4-3 win over Man City with a shoddy 1-0 defeat to Swansea, in the most Liverpool way possible. Now there's no denying the performance was everything wrong with Liverpool at the moment – defensively shambolic in instances off set pieces, dominant but unable to break teams down, and missing critical opportunities. And even if Liverpool deserved something out of the game on chances alone, it was a turgid, listless, poor display, and one of Liverpool's worst performances of the season.
And yet. The worst performances are the worst for a reason. A performance of this magnitude was always going to occur sooner or later by sheer law of averages. Liverpool were 18 games unbeaten going into this one and had won their last four league games. It had been three months since Liverpool's last defeat and this was only their third league defeat of the season.
All of Liverpool's rivals have slipped up to teams outside the top six. Chelsea lost to Burnley and West Ham, Man United lost to Huddersfield, Spurs have lost to Leicester, and Arsenal have lost to Stoke, Watford and Bournemouth. Man City alone remain undefeated against lesser opposition and Liverpool, whilst they have made huge strides under Jürgen Klopp, are not Manchester City.

This was Liverpool's first defeat to inferior opposition this season. It was their first in 27 games against teams outside the top six, with their defeat at home to Crystal Palace their only defeat since Liverpool lost to Leicester last February.
So whilst this defeat, and moreover the manner of defeat against Swansea was incredibly frustrating, it's clear to see that to an extent, Liverpool have turned the corner against lesser opposition, averaging well over two points per game against lesser sides.
And yet, the reaction after this game, you would think Liverpool were losing to smaller sides every week. Yes, the Reds have dropped some points in tricky games this season, but their form has been largely very positive, and there's every reason to believe that results like this are exactly what they appear to be on the face of it – just one of those days.
And that's really what I'm trying to get at. Liverpool dominated against Swansea and despite playing badly created more than enough to win the game comfortably, with Salah, Mane and Firmino all missing glorious chances for the visitors. But when was the last time Liverpool were quite so bad against lower opposition? It's certainly been a while.
So much has been made of the departure of Phil Coutinho, but the underlying stats suggest that Liverpool's problem with teams like Swansea is not solved exclusively by his being in the side, nor do they suggest that Liverpool aren't getting better at solving this kind of problem.
It's so easy to criticise this performance because of the timing of the game. So soon after the City performance, so soon after losing Coutinho, at a pivotal point in the window when fans are already on edge because it looks like Liverpool's strengthening in this transfer market will begin and end with Virgil Van Dijk, who already looks like a huge upgrade in the centre of our defence. Moreover, it's come at a time when Liverpool could have moved five points ahead of Spurs.
However, timing is not context. Liverpool remain in fourth place, and they play Huddersfield, Spurs and Saints in their next three games, whilst Spurs have to also face United and Arsenal. With Spurs' away record against the top six poor, and their away record at Liverpool just as poor, there's every chance that Liverpool can extend that gap in the next few games, and be comfortably clear by the end of February regardless.
Moreover, as mentioned, Liverpool were 18 games without defeat. 18! It was always going to happen sooner or later. The team have been churning out good performances and riding their luck to an extent, so it was inevitable that this Liverpool team, which is very good but not great, would hit a brick wall in a game like this one sooner or later.
47 points from 24 games represents a good haul, Liverpool have lost just one of their last 19 games in all competitions, are in pole position to finish in the Champions League positions for the second time in two years and have made the Champions League knockout stages. Neither of those things have happened in this decade.
Yes, it's frustrating that results like against Swansea still happen. And yes the timing is unfortunate. But no team can be perfect, and Liverpool simply aren't quite there yet. But that doesn't mean that we need to overreact to every poor result. I want to reiterate – this was Liverpool's first league defeat of the season to a team outside the top six, and we're 24 games in. It took us two games to lose to Burnley last year, and by this point in last season we'd also lost to Swansea, Hull, and Bournemouth.
Typical Liverpool. Except, of course, that is simply isn't typical anymore.