"They are like a Formula 1 car. But at 4pm in London it will be difficult to speed, they would be a car like any other. We needed to make sure there was traffic, we could not let them have open roads to drive in." – Carlos Carvahal.
What a quote that is.
Indeed, it tells a story of the game, but whilst it is catchy and well-rounded, it does not quite tell the story of the game, a game in which Liverpool were very poor in the first half, and fairly average in the second, yet, despite this, still made enough chances to not just leave the Liberty Stadium with a point, but three.

xG map for Swansea – Liverpool. For long stretches Liverpool struggled to break down the Swansea 541, but in the end they did more than enough to win. Football! pic.twitter.com/CFKi81jCcO

— Caley Graphics (@Caley_graphics) January 22, 2018
Liverpool faced up against a low-block – a tactic that was extremely effective against them last season, and whilst effective this season, it has been to a lesser degree; with Salah, Mané, Firmino and Coutinho finding their way through in a number of games.

Swansea (left) played extremely tight, and condensed play around the box to great effect. Indeed, they rarely roamed forward on the ball, and did not look to press, or get drawn out of position. Because of this, the game was completely different tactically to the City fixture, for example: against Manchester City, Liverpool would press high and overwhelm them, to neutralise this threat, Guardiola instructed his defenders, instead of feeding the ball straight into the CDM, to carry the ball forward themselves, in order to pull Liverpool players out of position, and create passing lanes. One noticeable feature within this game though was Matip picking the ball up from deep, and moving forward with it – but this particular move had little effect on Swansea's shape at all, and Liverpool's players did not position themselves to take advantage of Swansea's tactical setup.
In all honesty, Liverpool's average position map is dreadful. You could practically throw a blanket over everyone but Robertson, Gomez, and Karius. Swansea may have come with defensive tactics, but Liverpool played right into their hands too. Usually, and especially so in games in which Liverpool play well, we can see a rough 4-2-4/2-4-4 formation, but the additional support from midfield simply was not present – with Chamberlain deeper, and more central.
I was discussing the game, as we were watching it, with another supporter, and he proclaimed, 'There's no space!' But that statement simply is not true. There was plenty of space – out wide – Liverpool though, elected not to exploit it.
If we look at the average positions of the Swansea players, there are clear channels out on the flanks which are ripe for the taking. Not just for players to run or pass into, but to condense and attract play, before quickly moving the ball across, in order to exploit the previously occupied spaces centrally.
When playing a team that sets up as Swansea did, Liverpool should not focus on creating central overloads, through under or overlapping runs, which is extremely difficult with such a large volume of players covering such a small region on the pitch, instead, they should be doing this i.e. creating numerical overloads, or throughballs into those unoccupied regions out wide.
Majority of these teams play compact centrally, especially around the box. The onus is then on the opposing side to create internal overloads through outnumbering or under/overlapping runs (Pep's Barca), or instead to use the wide areas in this manner (easier & more effective). https://t.co/xcuJQ3eUlW

— Hamzah Khalique-Loonat (@HKhaliqueLoonat) January 23, 2018
It's hardly as if this is alien to Liverpool – they've done it a number of times this season, but far more often, the team focusses on attacking centrally, rather than using wide spaces.
The "Attack Sides" graph, (below) completely reflects this too:

Salah had the joint-fewest touches of any outfield Liverpool player (53), and the only other Liverpool player to have such a small number of touches was Chamberlain, who was substituted off. The team criminally underused Salah, his directness, pace, and most importantly his positioning.
Furthermore, not only were Liverpool not dribbling enough, they were dribbling in central areas – i.e. into "traffic".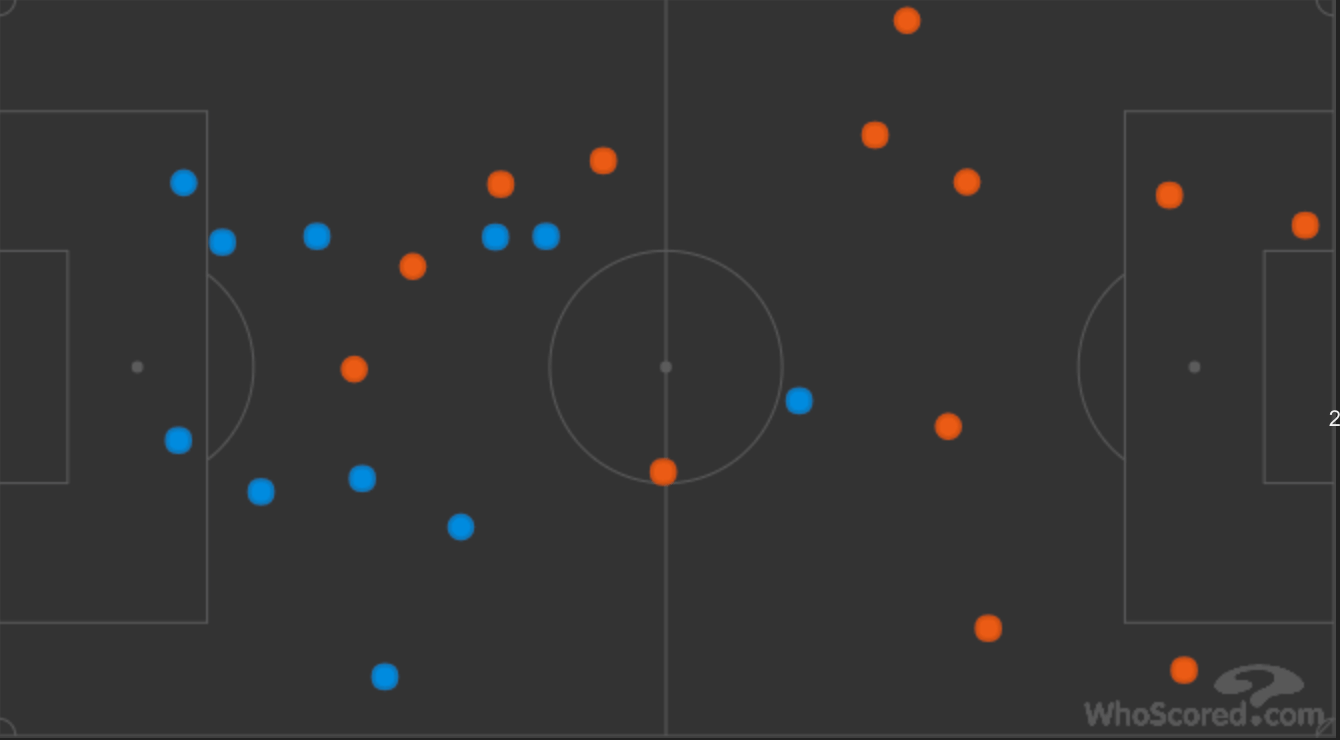 Gomez may have had a poor game, but perhaps the most disappointing aspect of his performance was how defensive he was in his positioning. He hardly broke into the Swansea final third, and his interplay with the winger, Salah, was minimal.
But the key point to take away from this, is not how bad Liverpool were in the first half, but how poor they were with the ball. Liverpool lacked both creativity and patience: far too often, Liverpool would shoot from outside of the box (52pc of all shots came from outside of the box): Chamberlain, Can, Gomez and Matip all immediately come to my mind when I go over the chances, but the most remarkable thing about this game though is that despite Liverpool either getting or executing their tactics so wrong, Liverpool still managed to create enough chances to win, but under pressure, fluffed their lines, take a look at the chances below: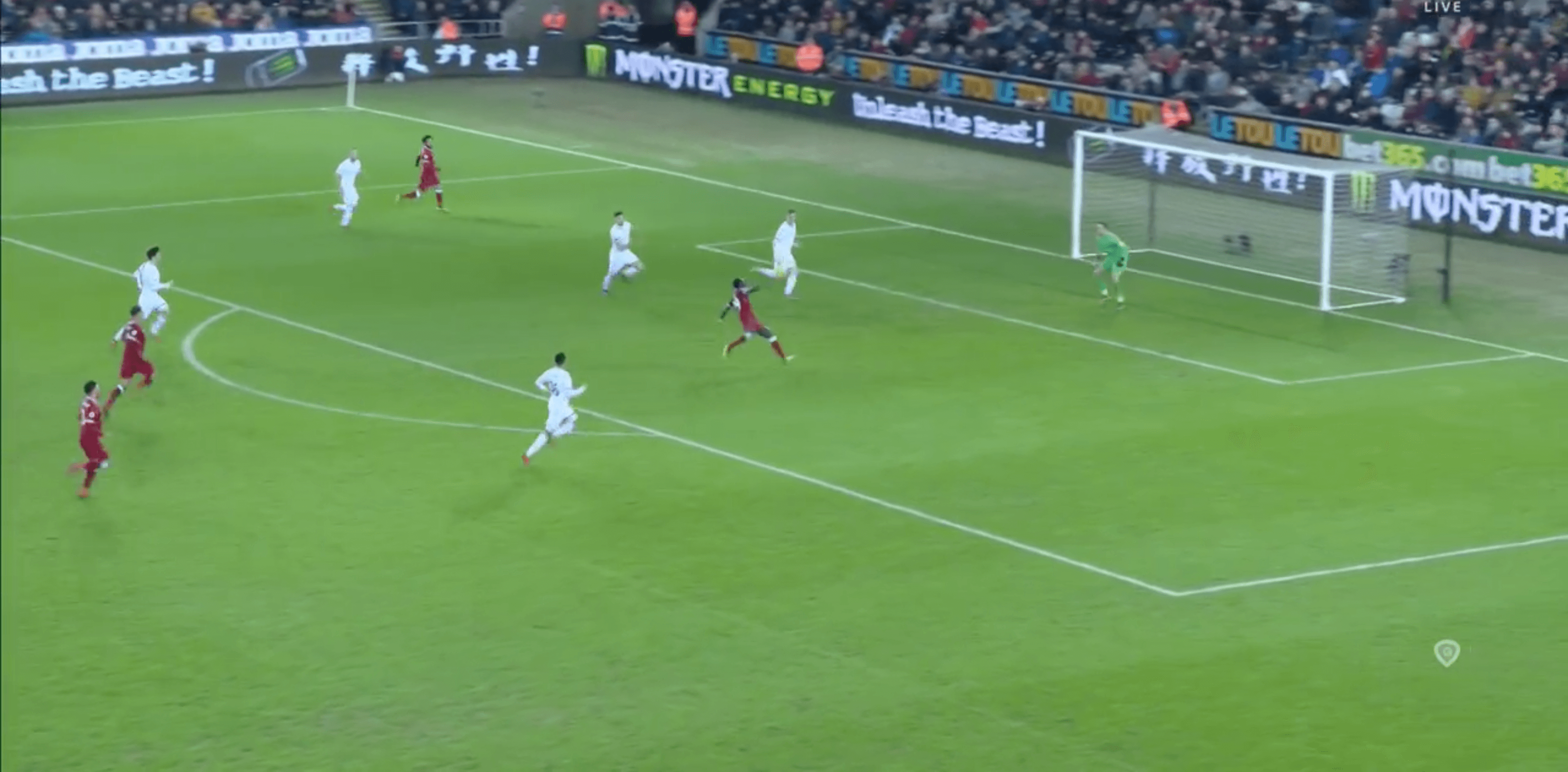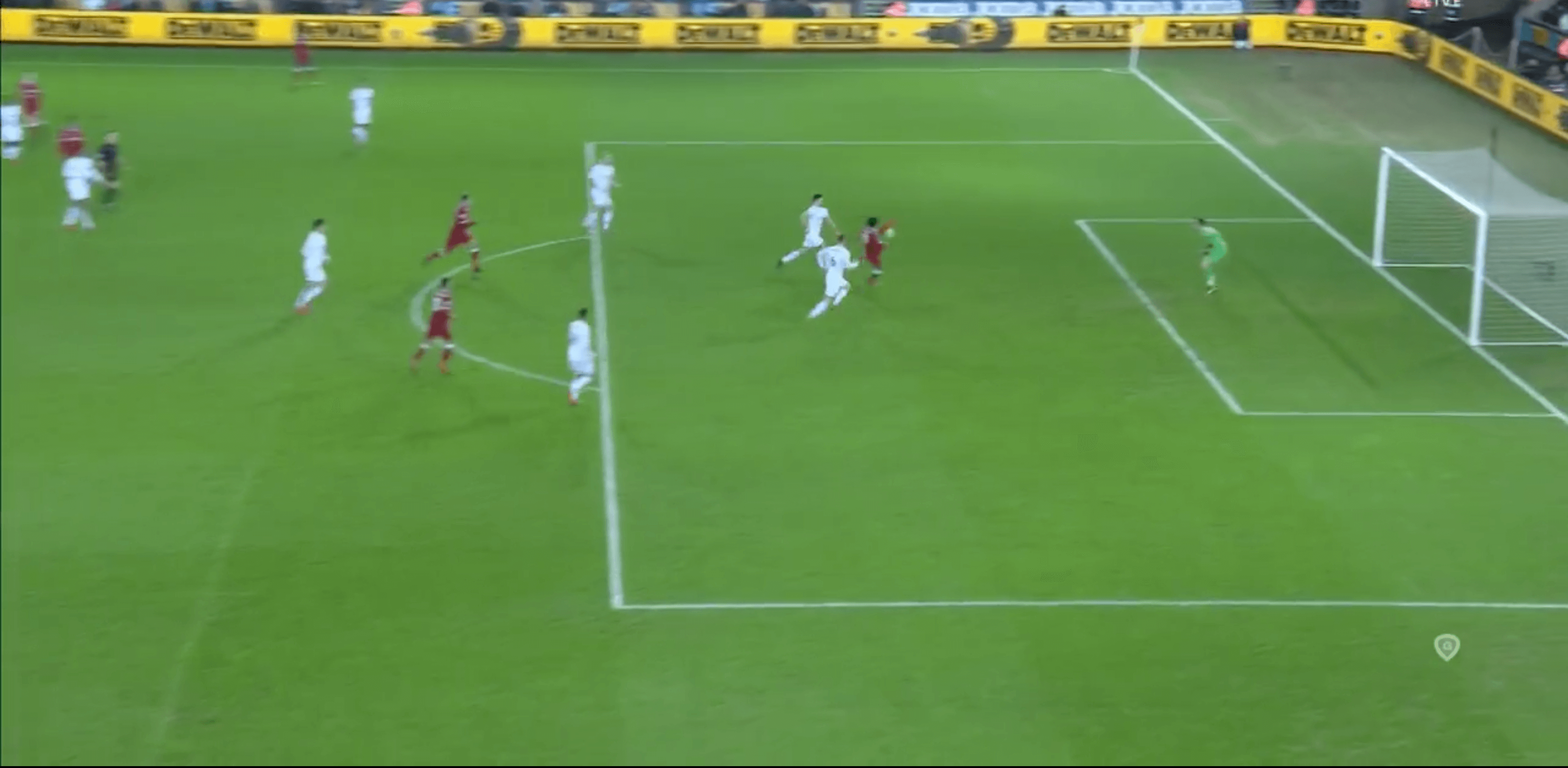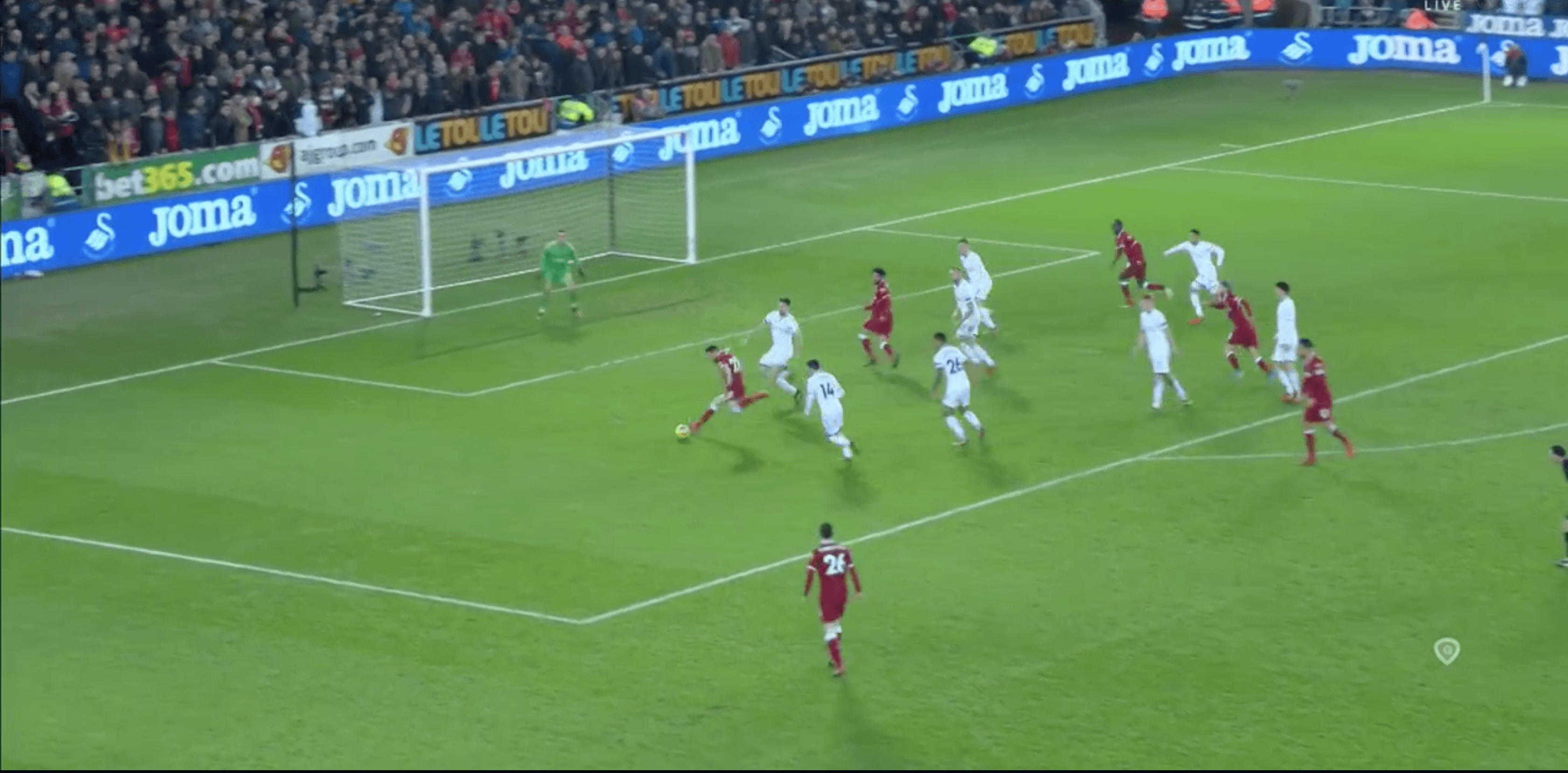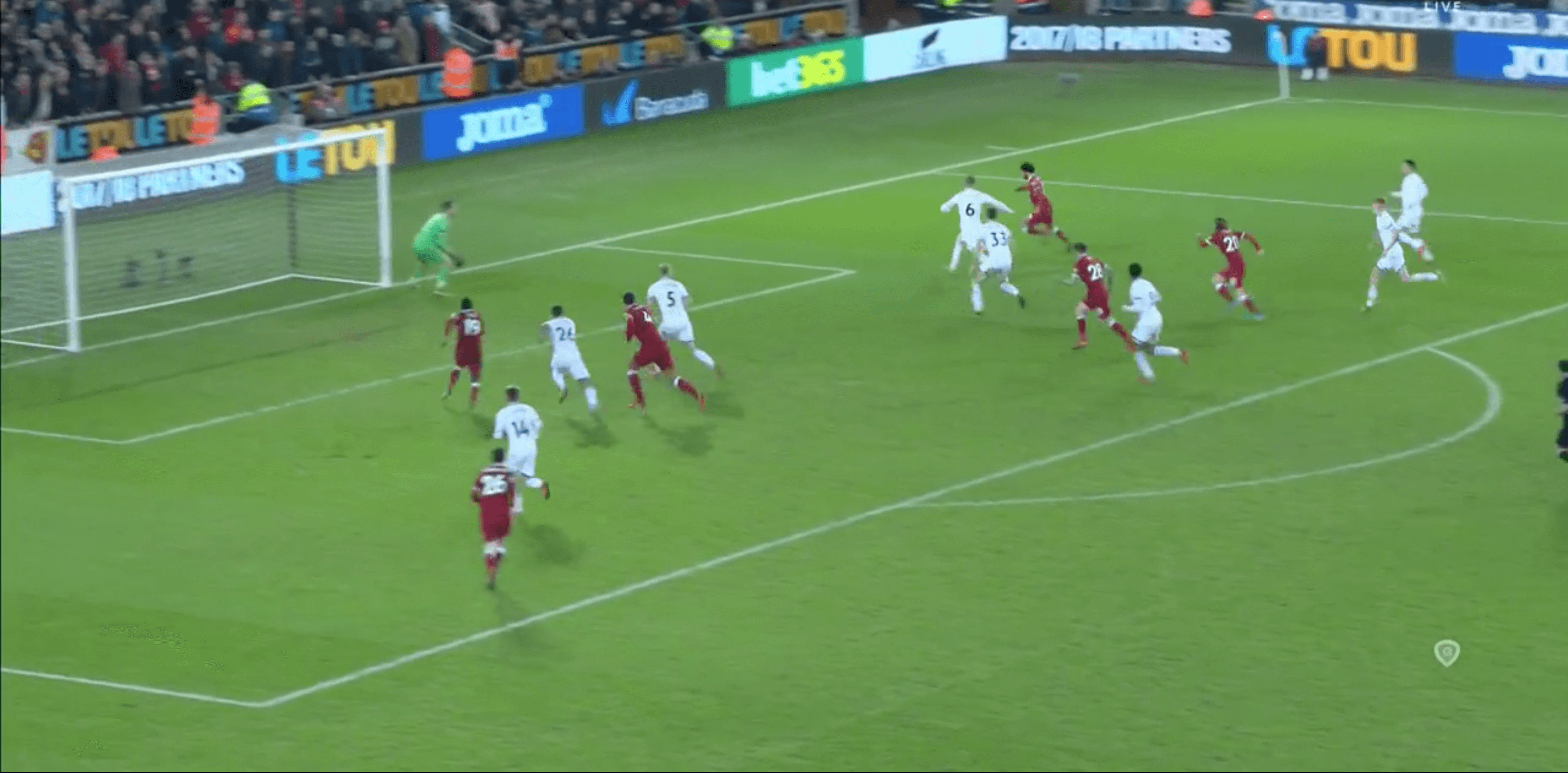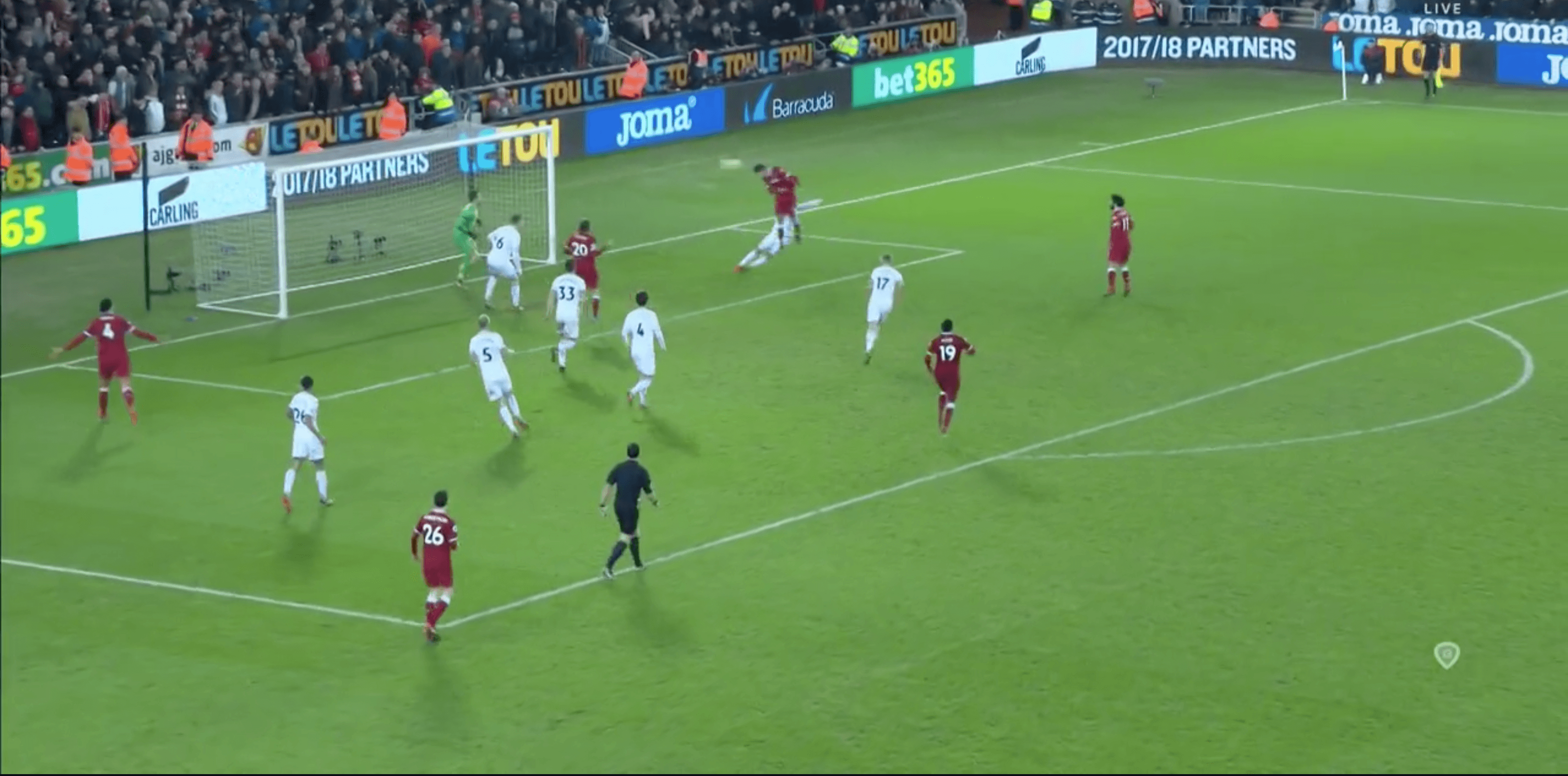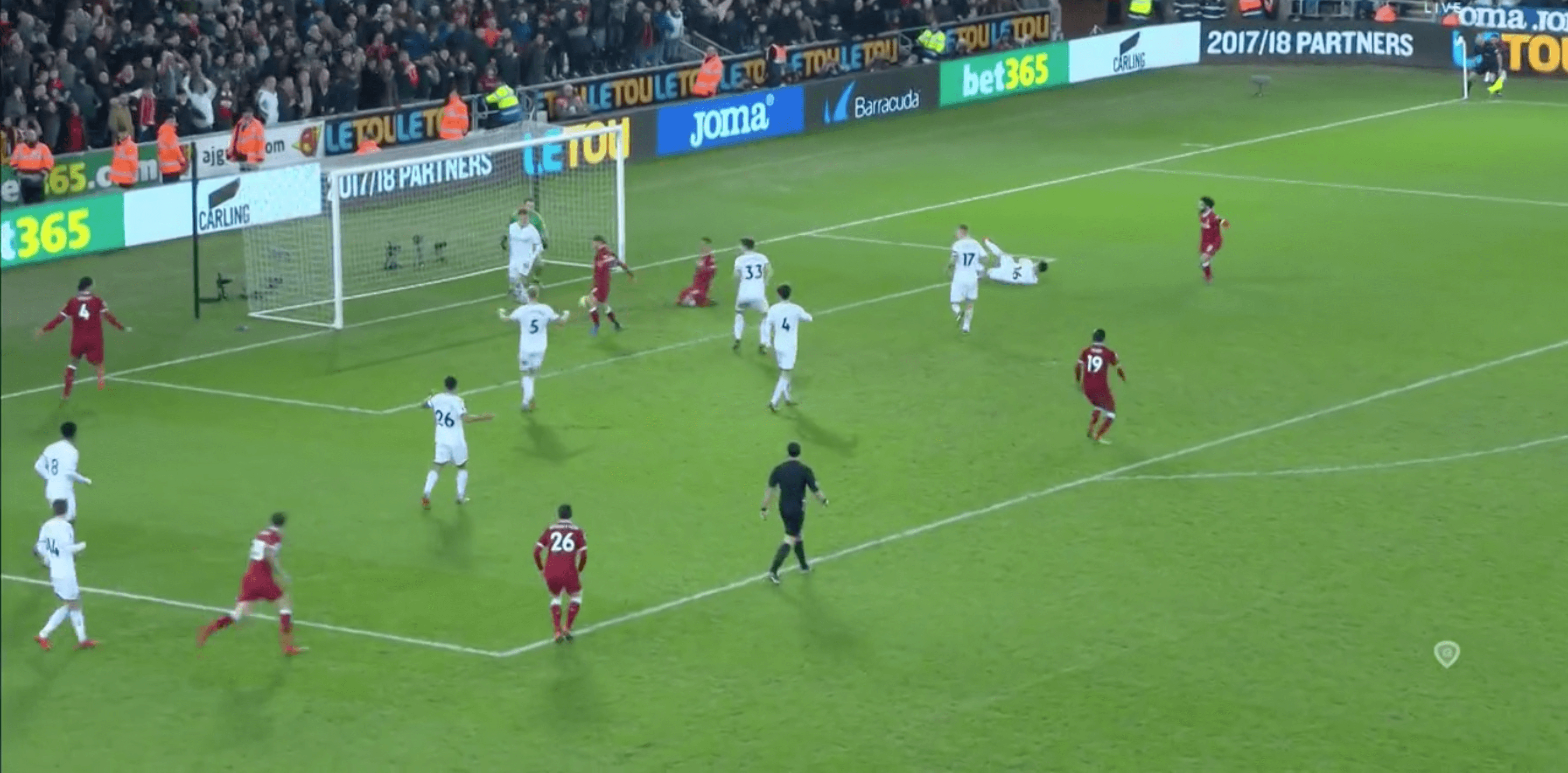 A number of these chances are rather challenging, but it is bewildering how a team which played so far beneath its own standards created chances, such as Salah's shot which he should have passed to Mané, or Lallana's last-minute shot which somehow did not go in.
But, what this game also raises is the question of whether Liverpool's primary attacking style – gegenpressing – is suitable for certain opposition teams. It's certainly the way to go forward against the like of City, Spurs, Arsenal, and Chelsea or other top teams in Europe, and even teams such as Bournemouth, but against defensively minded teams, such as Manchester United, as we saw earlier this season, Liverpool's pressing creates few scoring chances, and instead on-ball intelligence is required, which Liverpool do not display enough.
Klopp's #LFC when >65% possession
29 W11 D12 L6
1.55 PPG
This year P6 W2 D4#NoGegenNoParty

— Dan Kennett (@DanKennett) January 22, 2018
That's not to say Liverpool don't have on-ball intelligence – take Coutinho's first goal against Bournemouth, here's my take on it from my piece detailing that particular match earlier this season:
'The Coutinho goal though displayed something to me which I found far more impressive. Bournemouth had decided to sit back, and Liverpool's defenders circulated the ball, around the back, enticing the Bournemouth forwards. The genius of this move was the haste in which the ball was played in a transition phase for both Liverpool and Bournemouth. Coutinho took up a half-space on the wide side of the midfield, playing a one-two, before driving at the defence. They key here is his ability to drive at the defence and not the Bournemouth midfield – as his quick pass, and Liverpool's previous possession play had drawn the forwards and midfield out. Again, like Salah's goal, this was then a product of individual brilliance, but the team positioning and tactical awareness in the build-up was superb.'
But Bournemouth, as mentioned above, are a different proposition to most defensive sides in the league, who opt against moving up the field progressively and numerically, and who try not to get drawn out, when Liverpool recycle the ball along their defensive line. Even with 71.8pc of possession, Swansea were content to sit back, and wait for Liverpool to come to them.
A simple visualisation to support this thread. The overall trend is that results get worse as the amount of possession increased. pic.twitter.com/Sj8NlIU2uB

— Dan Kennett (@DanKennett) January 23, 2018
But it's tricky. Klopp always says that "Gegenpressing is the best playmaker you'll ever have". The team and squad is built correctly for gegenpressing. I'm not sure you can readily switch between heavy metal gegenpressing and slow-slow-quick-quick-slow creativity.

— Dan Kennett (@DanKennett) January 22, 2018
And Gegenpressing is our biggest attacking weapon. Take that away, we are reliant on a set piece, mistake or worldie https://t.co/nBUOjnnlHy

— SimonBrundish (@SimonBrundish) January 23, 2018
What then can Liverpool do? It's hardly a problem that was solved by Coutinho, as his presence in these types of games was only felt when he would pop up with a wonder strike. Perhaps Liverpool need a new, more effective tactical approach for these matches, one which focusses on creating overloads out wide, but even then, Liverpool lack aggression from their midfield, the number of through balls is low, as was the number of dribbles, and if packing stats were available for Liverpool, I would imagine only Emre Can may have had a chance of standing out, for Liverpool's passing was far too passive and slow. It lacked the speed and impetus to simply move the Swansea block from side to side, in order to create gaps to exploit, and when passes were made with speed, they did not bypass enough Swansea defensive lines, or enough Swansea players to make an offensive opportunity.
We can see in the image below, that Liverpool's passes from midfield were infrequent, short, and did not involve the offensive players within the team anywhere near enough.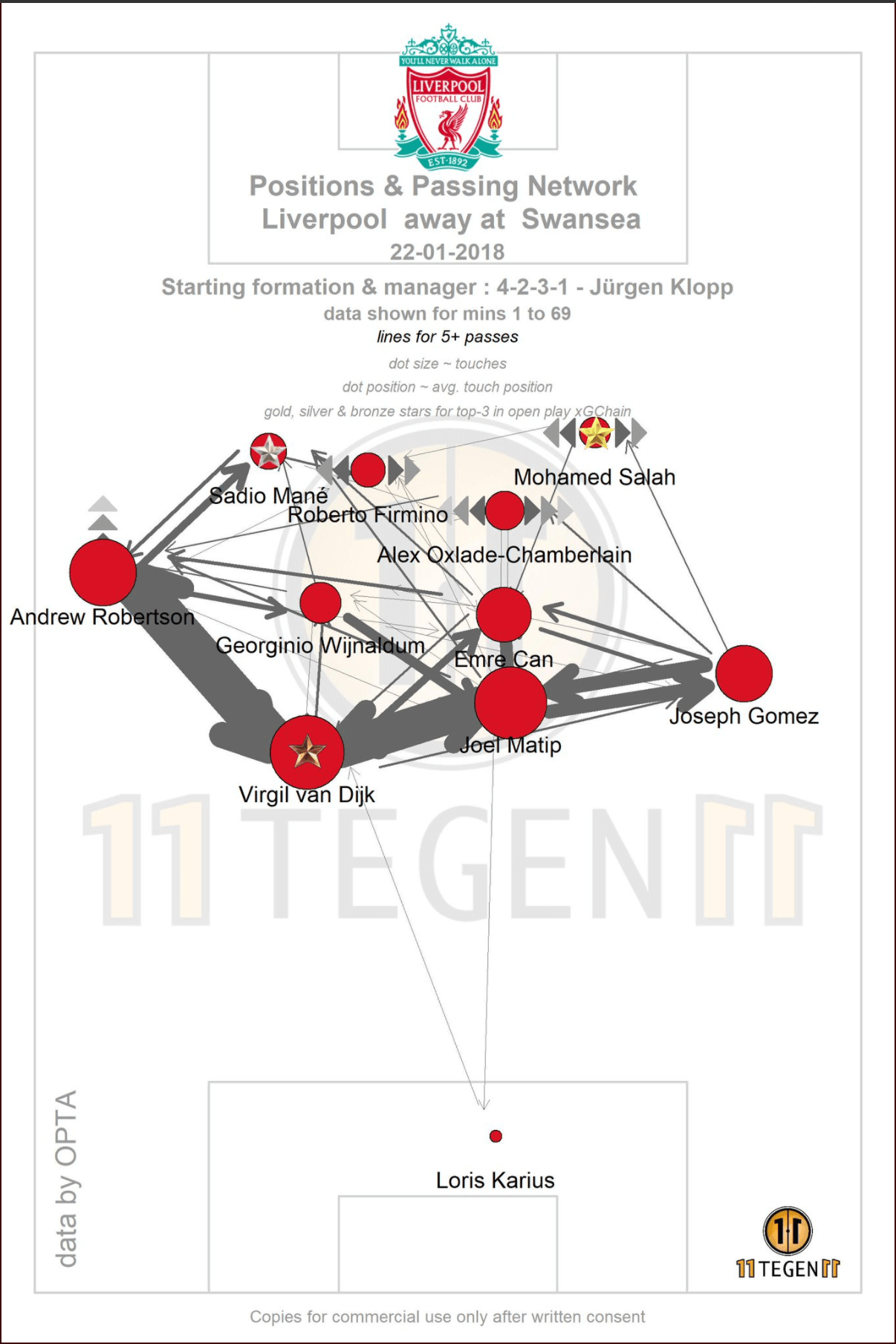 Passmaps & xGplot for Swansea against Liverpool. #passmap #xGplot #autotweet pic.twitter.com/xLB3PodS0V

— 11tegen11 (@11tegen11) January 22, 2018
Keïta's name has been thrown around a lot in response to this game, and I would certainly think that his presence would add a lot within games like these, but in all honesty, and in reality, teams are allowed a bad game every now and then – on some days these bad performances will go unpunished – City have done that a number of times this season, and have eked out a win late on – but in this particular game, Liverpool happened to be on the end of a strike which found its way into the bottom corner despite the shot being scuffed, and Liverpool players essentially creating the chance via proxy in the first place. Liverpool may have passed up an opportunity to really put Spurs and Arsenal under the cosh in the Champions League qualification challenge, but a 1-0 defeat in a game which if replayed, and ceteris paribus, Liverpool would likely win, even if it would be a dull affair is hardly something to get exceedingly concerned about. The odds still favour Liverpool to make the Champions League qualification spots, and an 18 match unbeaten streak at least counts for progress over the past few months if not much else, indeed, a 1-0 loss hardly comes at the cost of all that progress, it is merely a setback, and considering Liverpool's trajectory over the past two and a half years, a setback which we can reasonably hope will be overcome soon enough.
Onto the next one!