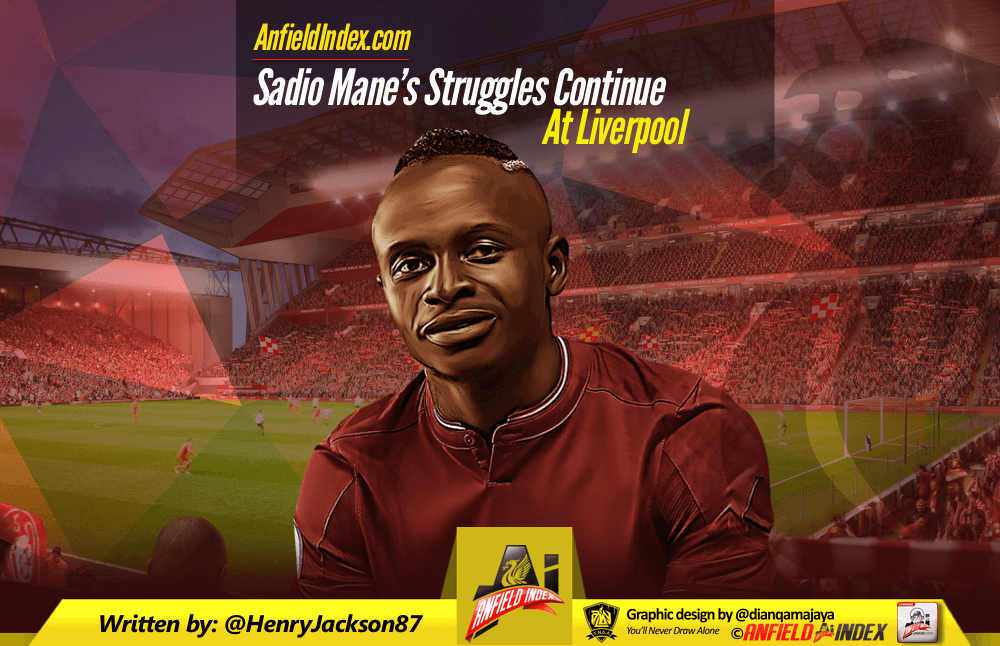 Sadio Mane's Struggles Continue At Liverpool
This time last year, Sadio Mane looked a potentially better signing for Barcelona than Philippe Coutinho. That's how good he was.
The Senegalese's departure for the Africa Cup of Nations in January was a fatal blow to Liverpool's season, and their title bid fizzled out completely without their destroyer-in-chief around.
Come the end of the campaign, Mane had deservedly scooped Liverpool's Player of the Year award, following a wonderful start to his time at Anfield.

The 25-year-old started 2017/18 in similarly unplayable fashion, firing home against Watford on the opening weekend, bagging a crucial second-half winner at home to Crystal Palace and tearing Arsenal to shreds at Anfield the following weekend.
Shifted to the left-hand side to accommodate new arrival Mo Salah, Mane looked even more of a threat on the opposite flank, cutting inside and wreaking havoc.
Salah took home the Player of the Month prize for August, but Mane had been comfortably superior at that stage, as his stock only showed signs of rising further.
Then Man City away happened on 9th September – a 'Sliding Doors' moment in the forward's season.
Mane's sending off for colliding with Ederson was both a correct decision and a very unfortunate piece of timing, and it halted his progress at a time when he was at the peak of his powers.
It is easy to forget that Liverpool had caused City all sorts of problems in the early exchanges of that 5-0 defeat, and carrying on his superb form, Mane had the beating of the hosts' defence before his unlucky dismissal.
In the four months since trudging off the Eithad turf for an early bath, however, the untouchable, influential figure that had torn teams apart has seldom been seen since, with a hamstring injury also curtailing his progress.
Monday's dismal 1-0 defeat at the hands of Swansea was arguably Mane's poorest performance of the season to date, on a night when almost every Liverpool player fell way short of their top level.
Every time the ball arrived at Mane's feet, his first touch looked heavy and indecisive, and so many passes lacked conviction. That electrifying directness and burst of pace were also nowhere to be seen.
An in-form Mane takes on opposition players and beats them at will, but he has seemed far too keen for the safer option of late, often slowing attacks down in the process. That reeks of a lack of belief.
You never felt like anything was going to happen when Mane was in possession at the Liberty Stadium, which couldn't be any different from his first 12 months in a Liverpool shirt.
This is not a one-off, unfortunately, and when Coutinho was still around, it felt as though he, Salah and Roberto Firmino were carrying Mane in their "Fab Four" act.
He was very much the Ringo of the group.
Mane is playing as if something is hampering him – his body language is often naturally negative and he doesn't look as engaged as we have seen him in the past.
Has Salah's unbelievable form got under his skin (it really shouldn't)? Is he not enjoying being deployed on the left? Is he playing within himself for fear of another sending off, or injuring his hamstring again?
Whatever it is, something's not right.
There are plenty who are springing to Mane's defence, but pointing out snippets of individual brilliance should not cloud what have been too many forgettable all-round displays since September.
He is such a special footballer that he will produce magic even when he is below-par, like all great players.
The back-heel to set-up Salah against Leicester was a joy, for example, as were the ruthless left-footed strikes against Burnley and Man City.
He wasn't at his best in any of those matches, however, and therein lies the issue. He has set the bar high, admittedly, but we need more from him.
It is an open secret that Mane gets affected by poor moments on the pitch more than others, and you just wonder how much his inexplicable decision to shoot against Everton has played on his mind, when teammates were queuing up for a tap-in.
Jurgen Klopp has certainly alluded to it recently, after admitting to having a heart-to-heart with the former Southampton favourite, with regards to that act of greediness.
He clearly prides himself on perfection, which is admirable, but he now needs to forget about both his Everton mishap and the sending off against City, and focus on inspiring Liverpool in the manner he did last season.
It is starting to look increasingly likely that there will be no more incoming transfer business this month, meaning Mane's performances will prove even more vital between now and May.
Perhaps I am being overly-harsh on a player I admire greatly, but when you are capable of his level of artistry, an incredibly high standard has to be demanded.
This should be nothing more than a blip for Mane, in what has been an otherwise joyous Reds career to date, but frustrating recent showings should not go unnoticed.
Liverpool badly need the old Mane back – the one of who outpaced anyone, proved brilliantly unpredictable, inspired the Reds to victories and was generally regarded as the best player at the club last season.
That man has been missing ever since City away, even if the odd moment of quality has appeared sporadically.