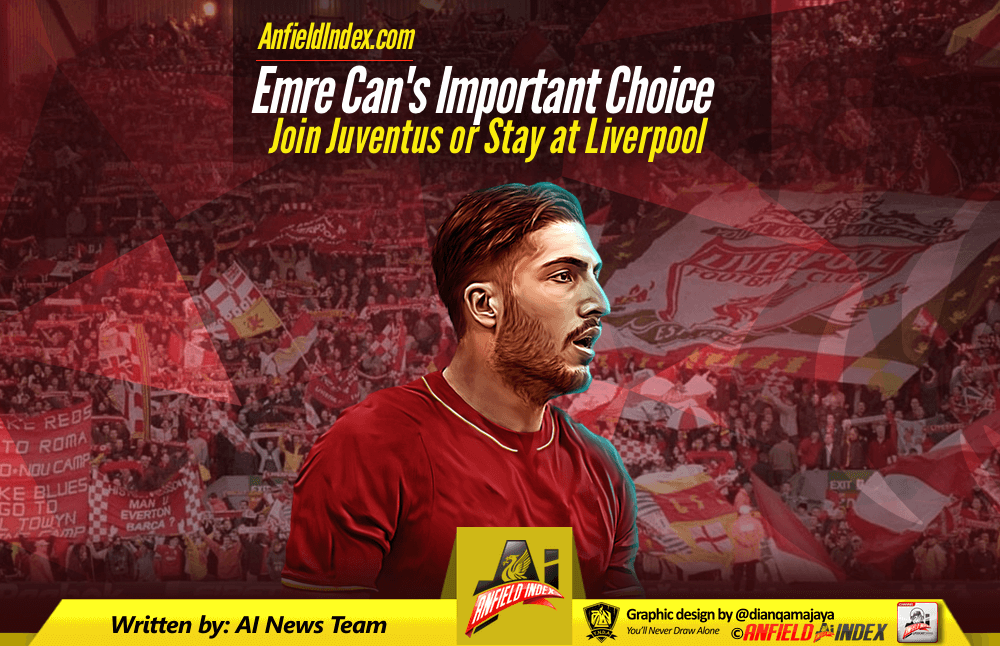 Emre Can's Important Choice | Join Juventus or Stay at Liverpool
Liverpool are considered to be one of the most high-profile clubs in Europe, but they have faced some difficult decisions regarding their star players in recent years. While most clubs with the history of Liverpool attract the world's top talent, the Reds have now lost two world-class talents, Luis Suarez and Philippe Coutinho, to the bright lights of the Camp Nou over the last 4 years.
The allure of playing with a club like Barcelona or Real Madrid compared to Liverpool is obvious. The Spanish giants have been routinely collecting major championships over the last handful of years, while Liverpool haven't topped the table in the domestic league since the 1989-90 season. Most of the world's best players weren't even alive the last time Liverpool won England's top flight.
While it's been a while since they tasted glory, Liverpool appear to be on the right path under Jurgen Klopp. The German boss has transformed the LFC attack into arguably the most fearsome in Europe. While they'll have to work to fill the massive shoes left by Coutinho, this is still a team with no shortage of attacking talent.

Emre Can certainly isn't the calibre of player that Coutinho or Suarez are, but the German midfielder has still emerged as a vital cog in Klopp's squad over the last few years. While he struggled to solidify his regular starting role until this season, Can is still only 24, and he's likely to log minutes for World Cup favourites Germany in Russia this summer. His talent is clear, even if he has drawn the ire of Liverpool supporters at times.
Can's contract is set to expire after the season, and Italian giants Juventus are reportedly among the favourites to land his signature. There were reports earlier in January that Can had entered into a pre-contract agreement with Juve, but those rumours were subsequently shot down. Still, the momentum seemed to be heading toward Can leaving Merseyside in the summer.
However, since the loss of Coutinho, it sounds as though the Reds have upped their interest in making sure Can stays in England on a long-term basis. While no deal has been officially agreed upon, it sounds as though the two sides could reach a common ground before Juventus step in.
While the odds once seemed to favour Can leaving for greener pastures, the chances of him staying in England appear as good as ever. Most people that actually make a living off sports betting would probably tell you that betting on transfer rumours would be a fools' errand, but there seems to be fire where there's smoke with this one. I wouldn't suggest putting money on Can sticking with LFC, but that's the way the wind seems to be blowing at this moment.
Klopp has not been shy in admitting how crucial Can's play has been to Liverpool's rise in the table. Can has earned regular playing time in the Liverpool midfield, and he even captained the squad for the first time during Monday's incredibly disappointing 1-0 defeat at Swansea. While the loss was discouraging, Can was among the team's best performers in the thrilling 4-3 triumph over Manchester City the week prior.
When asked about Can's future with the club, Klopp recently said, "Emre is here in the moment and that is the most important thing. We have to create a situation where players want to stay – that's all we can do as a club, as a team and me as a manager. For me, there is no problem if Emre plays like he is in the moment."
Obviously, Klopp is aware that it's not a good look for Liverpool to have their top talent plucked away by other clubs. He's even said in the past that Liverpool "are not a selling club." While there is no questioning the fact that LFC should be right there with the likes of Barcelona and Manchester United in terms of prestige, the relative lack of recent success has certainly hindered their leverage in attempting to attract top talent rather than selling it away.
Clearly, the uncertainty over Can's future hasn't negatively affected his play. With Coutinho gone, Jordan Henderson currently sidelined and Adam Lallana continuing to work his way back into full match fitness, Can's steady availability has been important for Klopp's side to get consistent results.
Can's development under Klopp has been clear, but the player is reportedly insistent that any new deal includes a release clause. That has evidently been a stumbling block in previous negotiations, though it's unclear how Can's recent uptick in form may sway the club one way or another.
If he chooses to stay at Liverpool, Can will have the chance to continue to learn under Klopp while playing alongside familiar teammates against arguably the best talent in the world. If he were to make the switch to Juventus, there would be far less certainty. Can would be moving to a new country and playing alongside new teammates under a new coach.
While Serie A was once considered a prestigious league, the overall quality has dipped considerably in recent years. Juventus are still a world class club, but by making the switch Can would be squaring off against lesser foes on a week-by-week basis. Playing in a worse league can make a player look elite by comparison, but in the long run it does not help the individual's development to be head-and-shoulders better than the rest of the league. Staying in England would give Can the chance to go up against elite competition on a routine basis. That's no small factor.
If Liverpool are willing to give Can the raise he wants, then staying with the Reds should be a no-brainer. Living in Italy and playing for a club with the profile of Juve is understandably appealing, but the best thing for the German's individual development would be to stay where he is. Here's hoping the Reds' brass properly values all that Can brings to the table, and that the two sides can come to terms on a new deal before it's too late.