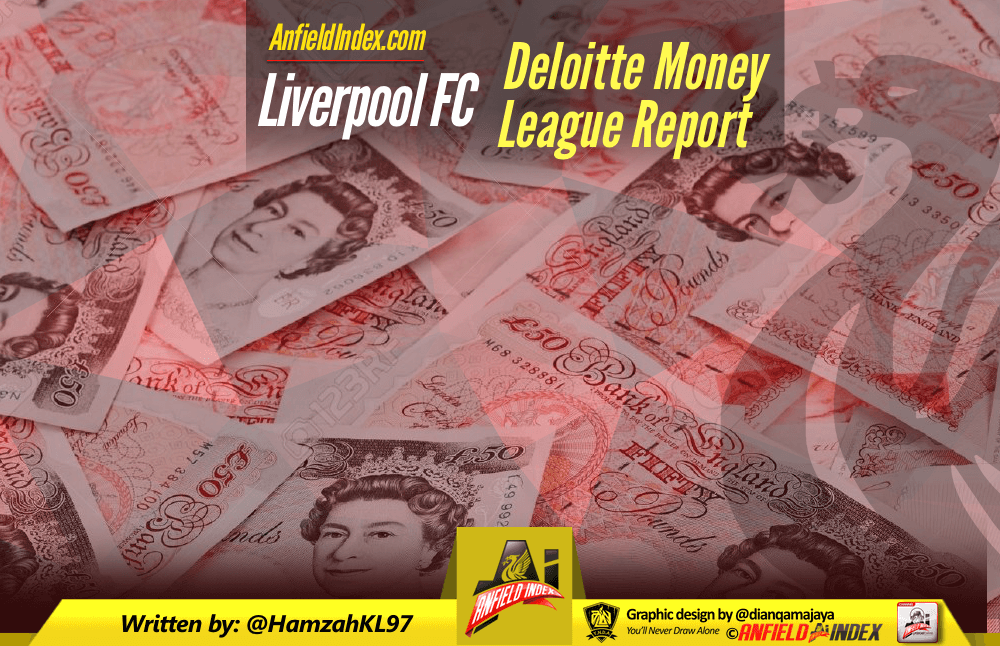 Liverpool: Deloitte Money League Report
The Deloitte Money League 2018 was released just a few days ago, and so in this piece, we'll be looking at Liverpool's place within it, whether the club has improved financially compared to previous seasons, what affects performances, but also the wider context of how much money clubs need to compete. We'll break this article up into three parts, the first of which will simply sum up the report and its general findings, before we move onto Liverpool, and then the comparison.
The Report
'A place in the top 20 now requires clubs to generate almost €200m, a 16% increase on the amount needed in the previous edition, when Leicester City secured 20th position with revenue of €172.1m. A place in the top 30 requires more than €157m (the first time this benchmark has been above €150m), an amount that would have guaranteed a Money League place just three seasons ago (2013/14). The increase in these thresholds emphasises that revenue growth of recent years has not been limited to just those clubs at the top of the Money League.' p.2.
'In the future, a critical factor that we are following with interest is the on-going tender process for the next three year broadcast rights cycle, which may result in even further revenue increases for English football.' p.4.
'Looking further ahead, the long term composition of the Money League is an intriguing topic. English clubs' dominance will depend on the outcome of the Premier League's ongoing tender for the next three year TV deal starting from 2019/20. Further increases would maintain, if not improve, the positions of English clubs. However, if growth is marginal, other countries may have the opportunity to close the gap, particularly in Spain who will also be negotiating new broadcast deals.' p.6.
The introduction of the report itself revealed very little that we did not already know, but what was surprising was how a team, such as Bournemouth, are now 28th in the world in terms of revenues. A remarkable feat, but reflective of the Premier League, and there are obvious consequences to that – players and their associated costs, which are already at a premium, will continue to keep rising. Indeed, contrary to popular opinion, it's not just the Neymar transfer which has blown costs out of proportion, it's the entire marketplace and system itself. Furthermore, when we consider the Coutinho transfer, it's almost maddening how he was sold for over £140 million, around £31 million shy of the fee Tom Hicks and George Gillet paid for Liverpool FC back in 2007. What is also important to note is how the relative financial futures of some of England's biggest teams, to a considerable extent, is actually out of their hands, because of how new English, Spanish or German football broadcasting deals may turn out – should La Liga secure a competitive broadcasting deal, or if the current Sky/BT duopoly began to act more frugally then perhaps we could see the English teams slide down these rankings, but what it clear for now is that English teams should be capitalising on this money while it is available to them, and less so to their continental competitors.
Where does Liverpool stand?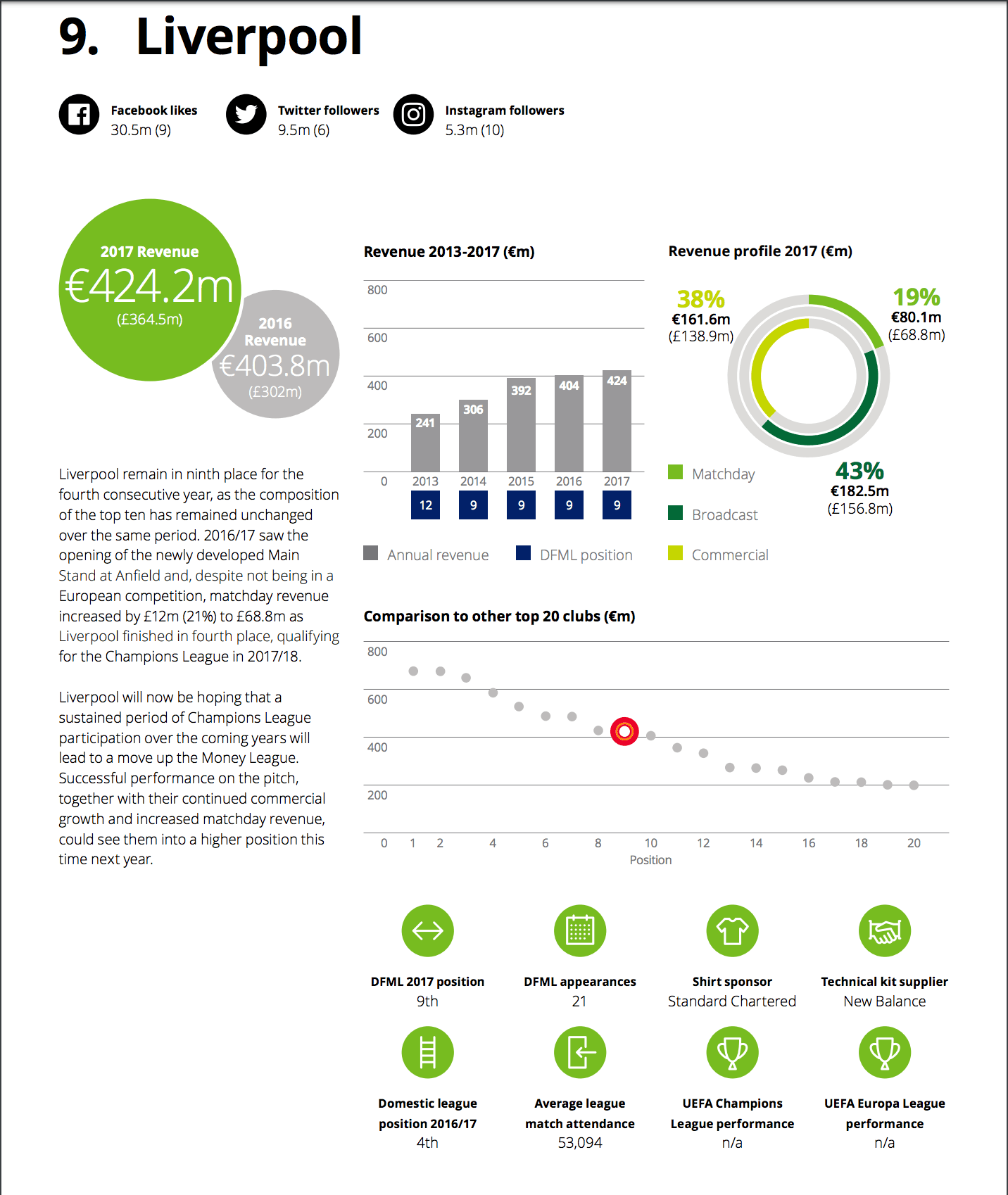 Revenues
With £364.5m generated in revenue, Liverpool had a 20.7pc increase on total revenues compared to last year, a considerable amount, and reflective of both the Premier League economic climate, but also the commercial work the club has done over the past few years.
To add some context to these figures, I'll be quoting an older piece of mine, from the summer of 2017:
'Liverpool in comparison [to its rivals] are only one spot behind Chelsea, at ninth globally. Total revenues only amount to 302m GBP, 19pc of which is from matchdays (£56.8m), 42pc from broadcasting (£125.7m) and 39pc from commercial deals (£119.5m)

Liverpool's matchday revenues outstrip Manchester City's, but are below all other competitors, stressing the need to expand Anfield. Liverpool struggled in terms of broadcasting rights, but these figures were calculated following Liverpool's first season under Klopp, and broadcasting revenues are expected to be lower considering Liverpool were not in the Champions League. In terms of commercial deals, Liverpool are in a stronger position than both Arsenal and Chelsea, but when it comes to overall revenues we must account for the historical context.

In 2012, Manchester United's revenues stood at €396m, now they stand at €689: a percentage increase of 73.9pc. Likewise Manchester City's revenue growth from €286m in 2012 to €525 in 2016 is a phenomenal increase of 83.6pc. Arsenal's growth from €290 to €469 amounts to a 61.7pc rise. Whilst Chelsea's €323 to €447 is the smallest of any of the Deloitte Top 10 English teams, at 38.4pc.

Comparatively, Liverpool's €233 in 2012 to €404 in 2016 was an increase of 73.4pc, beaten only by the two Manchester clubs, both of whom have financial and structural resources far greater than those of Liverpool FC.'
Matchday
The redevelopment of the Main Stand at Anfield by most accounts has been successful, and with increased matchday revenues of £68.8m, up £10m (17pc) from last year, it would seem the next logical step would be to increase capacity, perhaps in the Anfield Road end, in order for the club to compete with United, City and Arsenal, who all have stadiums with a capacity of 60,000 or more, as will Chelsea and Spurs, once their respective stadia redevelopments are complete.
Despite this though, Liverpool's Matchday revenues, in percentage terms, are compromising the same amount as last year, 19pc of overall revenues, something which we'll discuss in the comparison, later on.
Commercial
Liverpool's commercial revenues have grown from £119.5m to £138.9m over the year, a £19.4m increase, which translates to 16.2pc growth, however its relative contribution to total revenues has fallen by one percent, meaning either an underperformance, or an overperformance on the part of Broadcasting revenues, or even simply a reflection of Liverpool's aims to refocus revenue streams, or perhaps just a reflection of the economic environment.
Broadcast
Broadcasting revenues comprise a huge proportion of overall revenues, with £156.8m, or 43pc of total revenues. Indeed, this is reflective of broadcasting deals, but it is also something we will expect to rise next year, because of Liverpool's involvement in the Champions League, and thus providing Liverpool keep doing so in future, Broadcasting revenues, irrespective of new, more beneficial domestic deals, should continue to rise. What Liverpool will not want to do though, is become overreliant on these revenues, for relying on Champions League qualification financially is worrisome, precisely because of the fierce competition in the Premier League, and thus a concerted effort must be made elsewhere, most obviously in the Matchday category to raise revenues, and further redevelopment of Anfield makes perfect sense from this point of view.
Additionally, Liverpool made a 24.7pc annual increase in their broadcast revenues, with them rising from £125.7 to £156.8m.

How does Liverpool compare to Premier League rivals?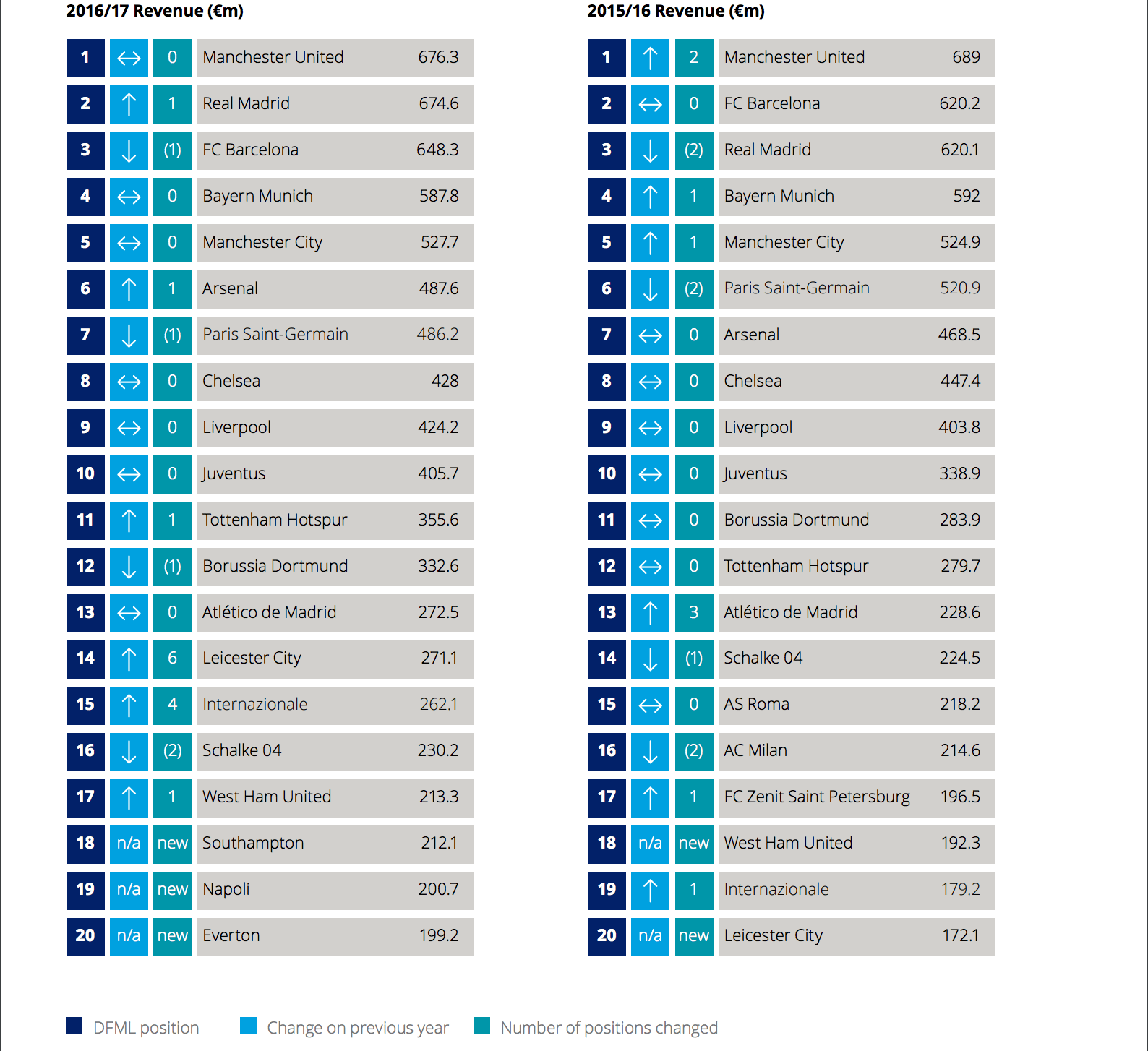 In revenue terms, Liverpool sits behind Chelsea, City, and Arsenal, but are well behind Manchester United, whose business strategy is in a different league to most sports clubs in the world. As the final graph in the Liverpool analysis section illustrates, Liverpool are underperforming relative to their rivals, however, Liverpool have been playing catch-up for a great period of time, and poor headway made in commercial terms back in the 1990s and 2000s, alongside relatively low investment under chairman Peter Moores, and then the ruinous premiership of Hicks and Gillet has put Liverpool on the back foot at a crucial time, with the super-commercialisation of football in the late 2000s and early 2010s representing a take-off point, of which Liverpool just managed to hang onto the coattails of.
| | | | | | |
| --- | --- | --- | --- | --- | --- |
| | Matchday | Commercial | Broadcast | Total | Annual percentage change |
| United | £107.6m | £279.5m | £194.1m | £581.2m | 12.8pc |
| City | £51.9m | £198.1m | £203.5m | £453.5m | 15.5pc |
| Arsenal | £100m | £117.3m | £201.7m | £419m | 19.6pc |
| Chelsea | £65.5m | £139.8m | £162.5m | £367.8m | 9.9pc |
| Liverpool | £68.8m | £138.9m | £156.8m | £364.5m | 20.7pc |
| Spurs | £45.3m | £72.1m | £188.2m | £305.6m |  46.1pc |
Liverpool still have a great deal of work to do in business terms, but Liverpool should be expecting a new kit deal soon, with Warrior's original six year contract from 2012, which was taken over by New Balance, up for renewal, and considering Liverpool only receive around £25m per year, compared to Arsenal (£30m p/a, with Puma) and United who have a colossal £75m p/a deal with Adidas we should expect to see those commercial revenues rise, as will the broadcast ones, because of Liverpool's Champions League campaign, and their successful qualification from the group stages.
In terms of matchday revenues though, Liverpool have to act fast, or risk being overtaken by Spurs. A 55,000 capacity stadium is not big enough to sustain competitive matchday revenues and is not large enough to qualify for UEFA's top-tier ranking, which would allow Anfield to bid to host finals in major competitions. Expansion simply has to be under consideration in the near future.
As for broadcasting revenues though, simple consecutive Champions League qualifications should rectify that deficit, but if the football leagues agreed to the 2011 ECJ ruling that,
'It has not been adequately shown to the Court that the closed periods actually encourage attendance at and participation in matches.'
And got rid of the 3PM blackout, that would go some way to addressing that matter, and pushing English clubs up the money league ladder, at the expense of continental rivals.
Nonetheless, Liverpool's finances look in good health, and whilst there is considerable scope for improvement, I would genuinely expect that improvement to come and be reflected with better performances on the pitch – something which we've seen with the team's improvement under Klopp. Should Klopp keep meeting and exceeding expectations on his end, the finances of the club should continue to grow for the foreseeable future, leaving Liverpool in a position to genuinely challenge financially with Chelsea, and then Arsenal.