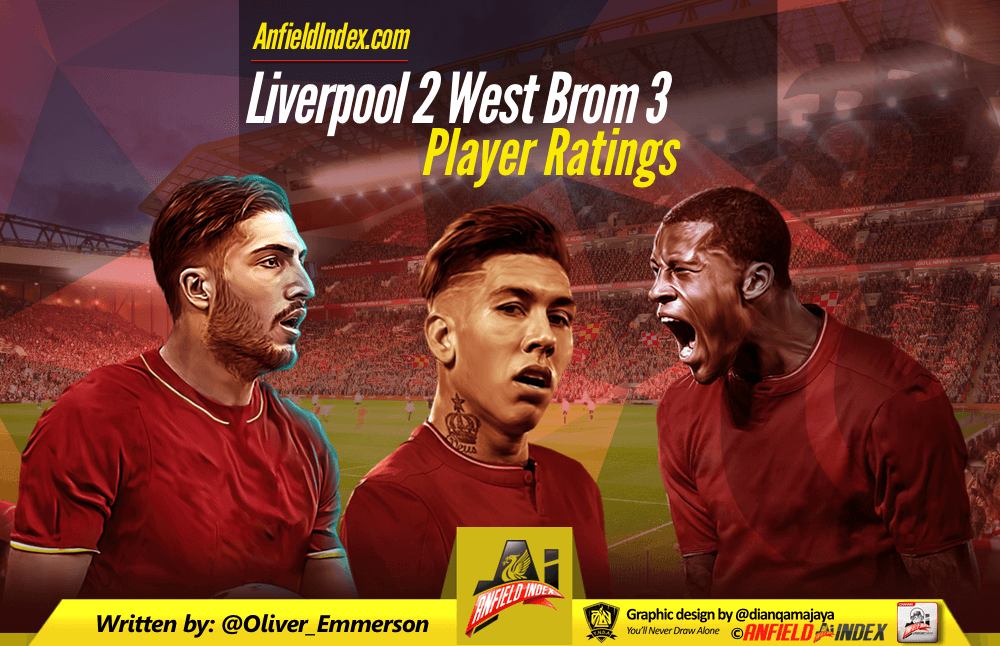 Liverpool Player Ratings As They're Bossed By The Baggies
Honestly, reckon the FA Cup is overrated anyway. I'm more of a Barclays Asia Trophy kinda guy.
Liverpool 2-3 West Brom.
They actually had the ball in the net five times, did the Baggies. The beauty of VAR and all that, Liverpool still managed to mess it up.

Onto the ratings…
Simon Mignolet (5): Where's Danny Ward? Have you ever seen a goalkeeper mess up for two goals that were conclusively ruled out by VAR? Now you have! He was poor. Not as bad as the rest of them but still bad, can't do anything about the ones that actually counted in fairness.
Trent Alexander Arnold (4): I bet everyone misses Nathaniel Clyne now! Gomez poor on Monday, Trent poor today. Defensively at fault early on and didn't really grow into it, his delivery not what we've seen before apart from one brilliant pass through to Salah. A day to learn from.
Virgil Van Dijk (5): Don't think I can actually blame him for any of the goals, but isn't he supposed to be the one pulling us together as calming people down when this stuff happens? He'll have better games for the Reds.
Joel Matip (4): Woeful, and I'm mainly thinking about the third goal. Stoppage time, see it out and we'll re-group lads, just clear it properly! Or, try to flick the ball away, fall over your own feet and let the ball trundle into the net.
Alberto Moreno (5): A quiet return to action, in the sense that loads of mad stuff happened and he wasn't really part of any of it. Not blaming him for failing to pick up a striker for the second goal, and he didn't really do anything awful. He's normally the go-to guy to blame when we concede loads so it's strange. Wasn't very good at attacking.
Emre Can (4): One of his worst games for Liverpool. Not going to blame him for not creating more as he was playing as the defensive midfielder, but that normally requires some defending. Head fell off early on, lost all concept of what was around him and we were punished for it.
Georginio Wijnaldum (4): Dreadful for the first West Brom goal and he didn't get much better, seems to have brought his away form back to Anfield which is good of him. Probably the one to make way now that Henderson is back.
Alex Oxlade-Chamberlain (4): Poor lad, he's used to just knocking the ball five yards to Ozil against this type of opposition. Not the game for him, poor going forward and back.
Sadio Mané (5): Added to his collection of poor games this season. When he's good, he's very good, mind, so have patience. Maybe not the best tactic to sell another key attacker whilst Mané was out of form? He could do with a game on the bench but that could require a signing or two…
Roberto Firmino (6): Coming in clutch whilst everyone around him falters. The best-missed penalty you'll see, coming sandwiched between a lovely goal and an assist. Liverpool's best on a day to forget.
Mohamed Salah (6): Ran and ran, tried and tried, scored and then tried to score. Got his goal but it wasn't quite enough, not for want of trying. Lovely finish for the goal, could perhaps do better when put away by TAA at 2-1.
Substitutes
Danny Ings (5): Looks like he's doing well when in reality he's being around the ball without doing anything with the ball. Lovely lad but not the answer in a crisis.
Jordan Henderson (5): Welcome back, skipper. Couple of decent passes but the game felt gone.
James Milner (5): Bringing our best crosser on to cross against attackers that looked like ants compared to the opposition defence wasn't a great move, and it showed. Not his fault.
VAR
9/10. Liverpool's Man of the Match. Up the VAR Reds.