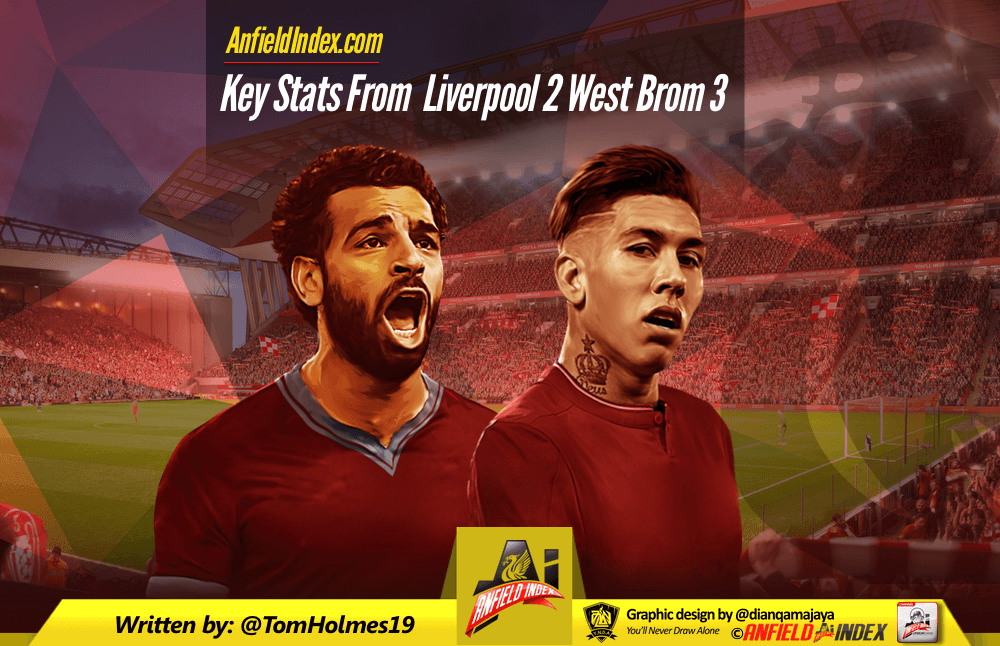 Key Stats from Liverpool 2-3 West Brom
Liverpool crashed out of the FA Cup to West Brom in a disappointing 3-2 defeat at Anfield. But what were the key stats from this bitterly poor performance?
Home Implosion
This was Liverpool's first home defeat of the season, as the Reds' 19 game unbeaten home run ended. Defensively, this was a shambles and it was the first time Liverpool have conceded three goals in a half at home since Real Madrid in 2014. Moreover it was the first time since 2007, over a decade ago, that the Reds last conceded three goals in back to back home games. Atrocious.
The Bobby Firmino Factor

Bobby 10 goals, 6 assists(105mins) makes either 2 goal contributions in a @premierleague game (8x) nothing (16x)

Mo Salah 18 goals, 8 assists (68mins) has either scored or assisted in 18 of 23 games

— SimonBrundish (@SimonBrundish) January 26, 2018
Good things come in twos, at least where Bobby Firmino is concerned. As this tweet indicates, when Firmino scores or assists, he tends to do it in pairs. And this was a game for Bobby Firmino. Scored a delightful chip, held the ball up well to assist Mo Salah and should have had a second goal from the penalty spot. Bobby was also Liverpool's most creative player, with four key passes, their best dribbler with three, and also won two free-kicks.
Liverpool were well below par but Bobby is starting to find some real form now, as the tweet below suggests.
Bobby has 8 in his last 10
Mo 10 in 10 or 20 in his last 15

— SimonBrundish (@SimonBrundish) January 26, 2018
RIP Penaltypool 
Liverpool's penalty taking record has been awful this season. Of the seven penalties that the Reds have had in all competitions this season – two in the league, two in the FA Cup and three in the Champions League – the Reds have missed four of those seven. Firmino, in particular, has struggled, scoring just one of his three pens this season, with Salah and Milner also missing. Compare that to last season, where Liverpool had nine penalties in all competitions, with Milner scoring seven of them. The Reds need Mr Reliable on the pitch more often it seems.
Midfield Issues Continue
How's this for a stat about our central midfielders? In the 64th minute, Klopp brought on Milner and Henderson for Ox and Emre. Gini played the full 90. And yet of those central midfielders, Henderson had the second highest touches (50) and the second highest passes (46), just nine touches and one pass less than Wijnaldum. Emre had just 48 touches, making 39 passes and Ox had even less, making just 17 passes and 41 touches. Milner, who also played just 26 minutes had more, with 42 and 27.
Obviously passes and touches are only minor indicators of performance, and even only one indicator of level of influence on the play, but the fact that Henderson came on midway through the second half and had more of the ball than two central midfielders who played the majority of the game and only marginally less than one who played the entire ninety is an absolute joke.