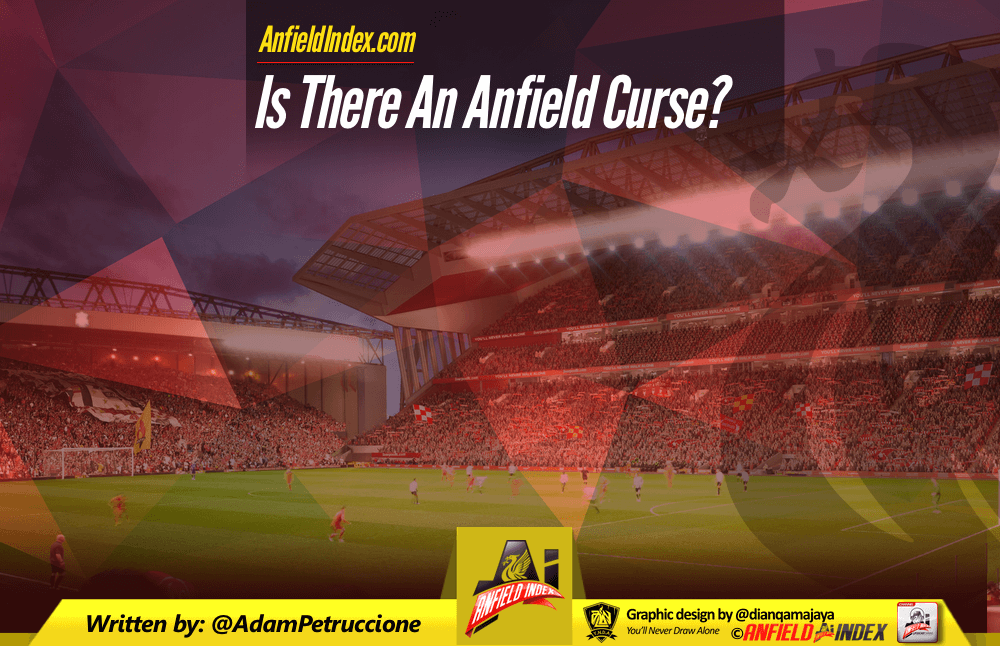 Is There An Anfield Curse?
Liverpool's meek 4th round exit at the hands of The Baggies was as devastating a result as we've had in the Klopp era. Worse than the Europa League final loss to Sevilla? At least at that point, one could argue Klopp wasn't really coaching his own players. Watching Simon Mignolet pick ball after ball out of his net was a reminder of how far we still have to go to win silverware again and how difficult the path has been even under a manager as talented as Jurgen Klopp.
So, no FA Cup run for us and a glance at the Premier League table makes for some tragic reading; 18 points off of City with 14 matches left to play.  This season has seen one of the most talented Liverpool sides in years drop out of each competition, one by one. A shockingly light squad is left with only Old Big Ears as a possible trophy this year.  Don't book your trip to Kiev just yet.
Often scoring loads on days when the defense can't find it's way out of a paper bag and defending heroically when the attack finally exhausts it's goal glut.  The resulting eight draws in the league (eleven overall) have crushed hopes yet again for title contention and based on the last two results even top four positions are looking perilous.

So many lost seasons have left me searching for meaning.  Improbable calls, unintentional goals and sudden lapses of football intelligence replayed over and over in a loop.  I have to consider reasons for the Reds' struggles that I had previously dismissed after so many other catastrophic performances.  Is it possible that Liverpool has been under a curse, some kind of black magic for the last decade or so?
Seriously, are Liverpool Football Club cursed?
There are a few other well-known football clubs that have believed they were operating under the weight of some supernatural force over the years and took action to break their hexes.
Leeds manager Don Revie was rumored to have employed a gypsy to cleanse Elland Road of evil spirits during the 1970's.
Derby County have their own gypsy curse story.  The Derby legend involves a ball bursting mid-match after gipsies were asked to remove their hoodoo for an FA Cup match.  Why the original curse was specifically tailored to cover only FA Cup competitions was unclear in my research.
Southampton had a Celtic ritual performed on the pitch at St Mary's in 2001 after they changed stadiums and went on an extended winless streak.
Benfica is half-way through a hundred-year curse placed upon them by former manager Bela Guttman after he was refused a pay raise despite winning the European Cup in 1960 and '61.  They're just waiting it out.
Argentinian side Racing Club tried to end a hex through a series of excavations to remove seven cat corpses that were buried by rival Independiente supporters in 1967.  The last kitty was finally discovered in 2001.  Racing Club ended a 34-year trophy drought that season.
An Anfield Curse?
There is no specific legend of a Liverpool curse.  A cat ran across the Anfield pitch during a match against Spurs in 2012, but it was of the calico variety.  An actual black cat made an appearance before last season's home match against United, but the source of Liverpool's bad mojo goes back a lot further than that.
Former UKIP candidate Paul Rimmer claimed that the club's 2012 sponsorship of the Gay Pride Parade brought forth a curse straight from God himself.  While the timing is in the right range, every major club has overtly supported LGBT communities in some way since then so let's call that claim dubious.
Surely thousands of supporters must have sold their souls in 2005 in return for that second half in Istanbul, but we can't point to any specific accounts of this.
Proof
Let's be honest, it clearly has something to do with Roy Hodgson, but short of some specific moment similar to those of other jinxed clubs, how would we know if there is an Anfield curse?
A quick Google search gave me some suggestions on what to look for.
1 – Sudden, unusual and constant bad luck.  Yep, that's us.
2 – Emotional fatigue.  Check… 
3 – Sudden financial problems.  See 2010 Season
4 – Vivid and terrifying nightmares.  Get up Stevie! Oh god no!
5 – Dwelling on depressing thoughts.  Where did that beachball come from?
6 – A constant sense of anxiety.  The Anfield crowd.
7 – The disappearance of family pets.  Has anyone seen Mighty Red lately?
That seems definitive enough for me.  So let's assume for a second that Liverpool are in fact under a curse that has been keeping us from collecting silverware since roughly 2010 (nobody counts the League Cup).  What can be done to lift the curse?  Should we bribe gipsies or have a Celtic ceremony performed as has been done by other clubs?  Should we search for buried cats?
A deep dive into some of the seedier recesses of the internet pulled up suggestions on spell breaking that for the most part included bay leaves, your mom's bath salts and candles in bulk.
Hopefully, our desperation hasn't reached bay leaf proportions, so rather than going through mom's cupboard, can we hire someone to help?  There is a UK based witch service website called TheVillageWitch that offers professional curse breaking services, but they aren't taking orders until the new year.  Even witches get afforded time off for the holidays apparently.
If anyone knows about breaking sports curses it should be Liverpool owners, the Fenway Sports Group. John Henry and friends took over the Boston Red Sox in 2002.  The team would win a World Series in 2004, 86 years after their last championship.
As the story goes, they were about to be swept in the fourth game of a seven-game series in the final inning against the dreaded Yankees when the Red Sox mounted an improbable comeback not only to win that game but the series, fighting through legendary players, blood rivals and ghosts of years past in the process.  Since then they've lifted the trophy two other times, the curse having been presumably vexed.
So maybe the anguish of this season's roller coaster of promise and dashed hopes is just setting up the drama and will ultimately reveal a path for Liverpool to break their trophy jinx.  An improbable run through the Champions League to parallel the Red Sox comeback against the Yankees might just do the trick.  If the Reds can get through Porto they would have three remaining opponents, the most powerful clubs in the world standing between them and glory.  Liverpool supporters are probably as cynical about that possibility as Red Sox fans were about their chances to lift their curse, but something has to give one of these years right?  "Next year" has to be this year at some point.  Liverpool supporters have certainly endured enough.  Surely our penance has been paid.
Let's hope the gipsies agree.
Up the Reds.