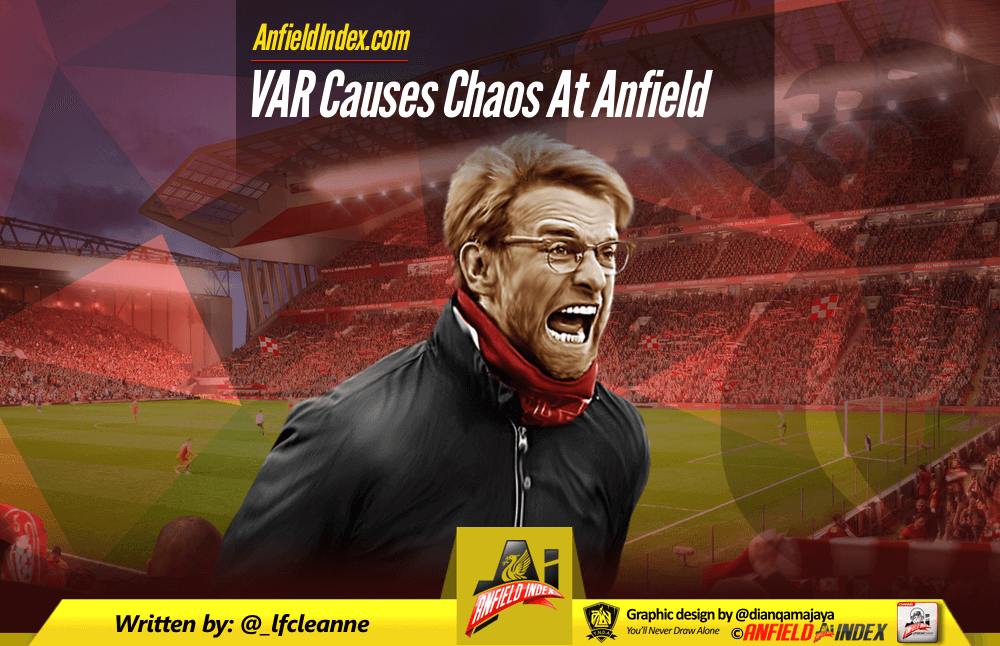 VAR Causes Chaos At Anfield

There was a period of absolute perplexity on Saturday as spectators watched Craig Pawson haplessly hold his hand to his earpiece, waiting for a decision to come through from VAR.
Jake Livermore appeared to tug down Mohamed Salah in the penalty area, with the referee turning to the newly trialled technology before eventually pointing to the spot. That was one of two big calls at Anfield, with Craig Dawson's header ruled out for a foul on Firmino after heading in Chris Brunt's corner to make it 3-1.
Delivering one of the most bewildering few minutes of football this season, this was a mixed debut performance from VAR.
On the plus side, the system produced a 100% record on it's Anfield bow, playing a hand in two potential game-changing decisions at either end of the field. While neither directly impacted the overall result in this case, it bodes well for the future of the game, albeit at the expense of controversial post-match pub talk.
There'll be fans opposed to the system, with the 5-minute stoppage in play leaving on-lookers to ponder what was going on as Pawson ventured across to Andre Marriner on the sidelines. It turned out to be a decision that inevitably benefited Liverpool in both instances, but such a long break in play disrupted the rhythm of the match while translating huge uncertainty across the stadium.
What is going on here?

— James Pearce (@JamesPearceEcho) January 27, 2018
The thought may be there, but the process of VAR remains very much in the testing phase.
Appeals were being made for every verdict rather than just the game-changing ones, prompting the referee to question his own decision making at even the simplest of calls.
Restricting each team's appeal to video assistance per game, with the manager or captain taking responsibility for the calls, would help protect the flow of the game while allowing fans to retain some sense of involvement in the contest.
This game has it all 😂

Liverpool are awarded a penalty through VAR and the West Brom players are furious!

Roberto Firmino only goes and misses it 🙈

Get BT Sport 2 HD on now, who knows what's going to happen next 🤷‍♂️🙈 pic.twitter.com/f3Q56oIT8C

— Football on BT Sport (@btsportfootball) January 27, 2018
That would solve the issue of added time, too. Despite a long stoppage in play during Salah's penalty claim only four minutes were added on at the end of the first-half. Physically stopping the clock as in the Rugby League would be a far more suitable option – if not then actually adding on the appropriate amount of time caused by VAR.
Where too is the involvement for the supporters? Could football benefit from adopting a broadcast for the conversations between officials over such decisions? People watching on TV were able to enjoy dozens of replays of both incidents but without a separate screen for spectators to maul over, it's usage remains ambiguous.
Alan Pardew was left wholly unimpressed by the new system which produced a "strange" atmosphere on Merseyside:
"From the side-line, it was strange. It wasn't what I'd like to see going forward. We were struggling at the end because we ran out of bodies and the VAR system was a problem because I think we got a player with a hamstring injury because they were standing around for too long. It was just weird.

We waited so long to wait for the decisions, the stadium went flat, and every goal was a bit of a mockery because we were waiting for the decision."
Klopp seemed less aggrieved in his post-match press conference, responding with "what flow?" when asked if the timely nature of VAR obstructed the rhythm of the tie.
With his team delivering another abject display against a relegation-threatened side, the German will have plenty to think about before a crucial game against Huddersfield. Hopefully, that 90 minutes will be a little less bemusing than this was.