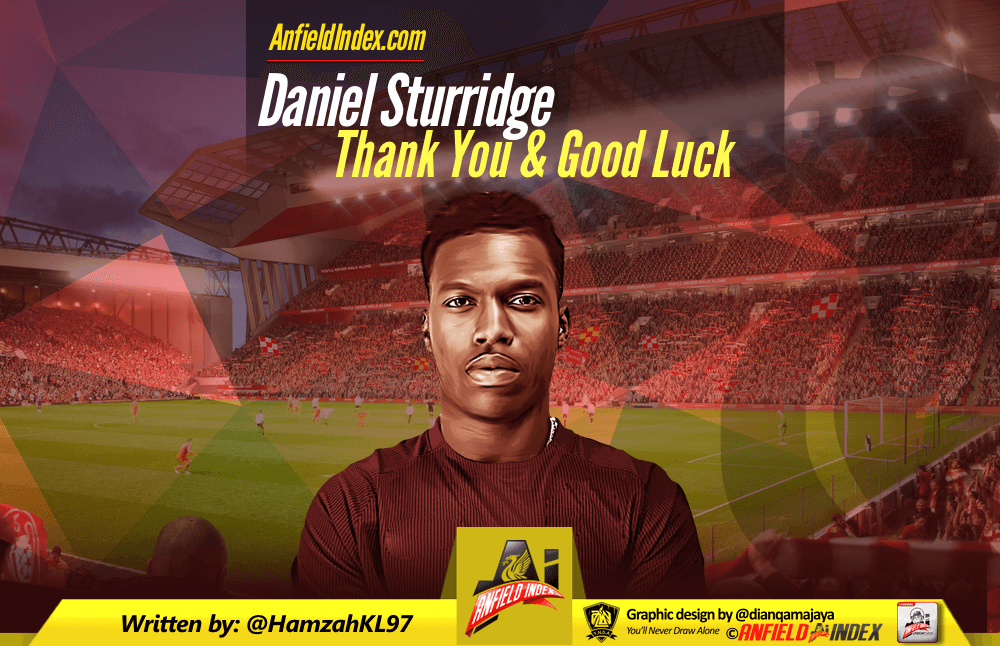 Daniel Sturridge, Thank You & Good Luck
It's been a tough time of late for Daniel Sturridge, in and out of the side over the past few seasons because of injuries, and a change of system; but any time Sturridge was in the side, or came off the bench, there was always a glimmer of hope for Liverpool when in a sticky patch. As one of the most clinical and predatory strikers ever seen at Anfield, fans knew, all it took was one chance, and Sturridge would put it away, and in some cases, it did not even take a chance at all, such was his skill that he could fashion scoring opportunities from the bleakest of chances.
Sturridge's Liverpool story though is a sad one. Having joined from Chelsea back in the January window of 2013, fans were unsure of the talented forward, with a supposedly "greedy" nature. From the eleven starts and three substitute appearances he would make between January and the end of the season, Sturridge would score ten goals, and provide three assists. Had Liverpool got themselves a coup? Could Sturridge sustain this impressive start? That was but a mere taste of what was to come.
In the season of 2013/14, Daniel Sturridge was a phenomenon.
First, a ranged strike against Stoke to kick things off, then a delightful combination of deft footwork and sharp finishing against Villa, before an instinctive but deft flick-on against Manchester United. Sturridge was 3 in 3 as Anfield shook in delight. Swansea was the next side to have a taste of Sturridge at his instinctive, intuitive best – in position for a loose pass, he fired home. His next goal? A work of genius, as he came inside, shifted from his right foot onto that devastating left, and buried the ball into the side-netting, from an acute angle. Newcastle were the next side to concede, as the infamous SAS started to pick up a head of steam. But who could forget his chip against West Bromwich Albion, a delicate but outrageous effort, with a 45-degree angle approach. Simply sublime. A goal on derby-day followed, an equaliser in the 89th minute. A ball-juggling Sturridge would then score against Stoke, as his run went on. Out of nowhere, a goal against Villa, and then, a derby double. He celebrated his second of the match, a lob on the half-volley, with his arms outstretched, the crowd delirious, as Suarez embraced him – an iconic and majestic moment. This was Sturridge in his element, a man on a mission, a display of pure pomp.
West Bromwich would feel the SAS's brilliance again, as Suarez assisted Sturridge for yet another, and this would precede perhaps the most breathtaking display of football seen for years: the Arsenal game. Liverpool were 2-0 up in a matter of minutes, but Sturridge would provide the embellishment to the most stunning 20 minutes of football seen over that entire season, as he raced through on goal, away from the Arsenal defenders, thanks to Coutinho's delicate pass, and slotted home with aplomb, past the statuesque Sczezny.
By February, Sturridge had scored in eight consecutive Premier League games, and Fulham, Swansea, Cardiff and Sunderland were all to fall, in Sturridge's path, as Liverpool romped their way to an eleven match win-streak.
A goal against Crystal Palace in that fateful match was not enough though, but his steely determination was there for all to see. Liverpool needed to win by double digits to have a goal-difference comparable to Manchester City's, strangely enough, Liverpool and the fans felt it was entirely possible, such was the prepotence of the SAS. Indeed, Sturridge would pick up the ball out of the net, following Liverpool's third, and sprint back to the half-way line – there was no time to lose. And for me, that exemplifies the man. A player who gave his all for the shirt, the club and the fans. Twenty-one goals and seven assists from twenty-six starts, and three substitute appearances was a phenomenal return, and who knows, had Liverpool had a bit more luck or kept their heads at any number of different points of that season, Sturridge would surely be immortalised in Anfield folklore. A game away from legendary status, Sturridge had millions of fans across the world wriggling their arms to his unique dance, we loved him.
But that was hardly to be the end of Daniel Sturridge for Liverpool – he was supposed to fire Liverpool to another title challenge in 2014/15, but his body was to let him down, as he succumbed to injuries which would never quite go away. He would only make twelve league appearances that season, but his finishing touch had not left him, as he continued to score when fit: against Aston Villa, Sturridge scored twice to seize the game by the scruff of the neck, with two sublime goals – he still had it, and he still wanted it. The same would be true in 2015/16, as Brendan Rodgers was replaced by Jürgen Klopp: eight league goals from eleven starts and three substitute appearances. He was still going.
On a cold Thursday night in April, Liverpool lined up against Everton, Daniel Sturridge was on the bench. Liverpool had the chance to stretch their unbeaten record at Anfield, against Everton to seventeen years. Liverpool were 2-0 when Funes Mori fouled Origi, and Sturridge was called up, from the bench. A deep and powerful roar erupted, as George Sephton read out, 'Number 15, Daniel Sturridge'. Liverpool fans sensed blood with Sturridge on the pitch. Within eleven minutes, Sturridge had his 50th goal in 87 appearances for Liverpool: the fourth faster player ever to score fifty for Liverpool.
The Europa League was to be Sturridge's competition though, as he scored against Manchester United, from the spot, before going on to contribute to Lovren's last-gasp winner against Dortmund, and then against Villarreal at Anfield. His celebration for that last goal was an outburst of pure emotion, as he pumped his arms, and sprinted towards the crowd, Daniel Sturridge was back!
That takes us to the Europa League final, now recognised as a disaster. But there was one shining light: Sturridge, again, with a goal for the ages. Picking up the ball just outside of the box, he took two steps inside the area, before he swung that wand of a left foot at the ball, brushing it with the outside of his boot, simultaneously, he jumped away, like a basketballer performing a fade-away. The ball pitched outside the post, far out of the reach of the goalkeeper, but it spun, like a cue-ball as it curled in, softly cushioned by the side-netting. Magnificent.
Whereas his body had let him down on occasion, it was the team that did so in this game. He had done his job, but as in 2013/14, and 2014/15, the defence did not. It's a tragedy in itself, that for all of his brilliance, and all of his struggles, Daniel Sturridge has nothing to show for it but memories, and runner-up medals. After that final Sturridge would never quite get the run of games and starts he needed together.
On the pitch, Sturridge was a ferocious competitor, with lethal instincts, but off the pitch, Sturridge was a role-model and exemplary ambassador for the club. Never outspoken, never seeking the spotlight, Sturridge went about with his work. He took a number of young players under his wing at the club, notably including Raheem Sterling and Jordon Ibe. A player with time for fans too, there are countless stories of encounters with Sturridge and his generosity. But his conduct was admirable: even when selected as a substitute, Sturridge was respectful of the manager and the club, whereas similarly talented players may have spoken out or criticised the manager. His determination can hardly be questioned either: beset by injuries, and with numerous offers to leave, Sturridge stayed and kept working at trying to make the Liverpool dream work.
Sadly, it's not to be for much longer. Sturridge now seeks to reinvigorate his career and secure a World Cup spot in a team where he can get starts.
But this story does not tell us everything about Sturridge's time at Liverpool. His injuries were a source of frustration for fans, precisely because of how good he was and still is. It hurts not having a player of his quality available, or not as his best, at no fault of any one individual. Liverpool offered him a chance after he left Chelsea, and he took it, however, he has been as unlucky with injuries as anyone I can remember.
But let's remember Sturridge at his best – his brilliant, devastating, phenomenal best – an underappreciated maestro, with bags of talent, and with memories which will last a long time indeed.
Thank you for your service Daniel Sturridge, you've left the no.15 jersey in a better place, than when you first donned it, and after all, that's all we can ask. With his talent and effort, he deserved better, and for that, we can only wish him luck in his new endeavours.
So long Daniel, we hope to see you scoring soon.
Daniel Sturridge, he dances when he scores…