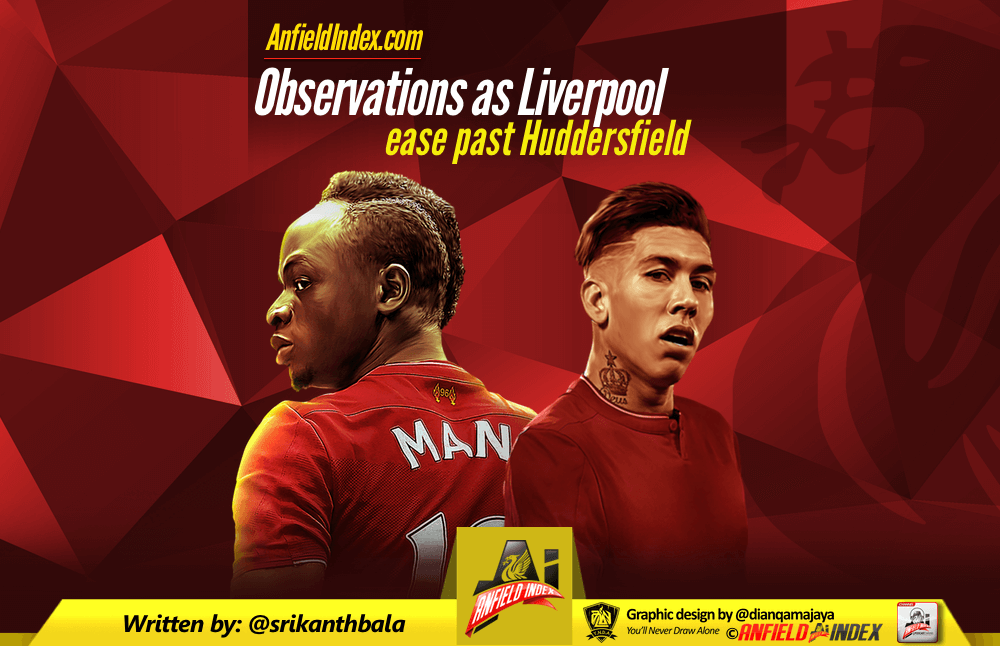 Observations as Liverpool ease past Huddersfield
Liverpool got back to winning ways as they strolled past Huddersfield at the John Smith Stadium. Goals from Emre Can, Roberto Firmino and Mohammed Salah sealed 3 points for the away team. The key observations from tonight are as follows:
Important win tonight
Liverpool needed this win on the back of two defeats in different competitions. Liverpool had never lost back to back league games under Klopp and the manager for sure did not want to create any unwanted records. With Arsenal losing tonight and Spurs playing Manchester United tomorrow, this win could prove critical in the race for top 4.
Great Training Exercise
Tonight was a great training exercise for the team in terms of 'Keep Ball.' Liverpool did not do anything flashy once they went ahead in the game. Liverpool would have hoped that Huddersfield would chase the game, thus opening up spaces. But Huddersfield were more keen in limiting their losses which meant that Liverpool could keep the ball until they got bored. Importantly, the players did not lose patience or focus as they took out any last traces of optimism from the home side. Liverpool ended up with 894 passes. That is a mind-boggling number.

Good comeback from Emre Can
Liverpool's midfield had been nondescript in the last couple of games, and it needed Can to awaken it from that hiatus. With Huddersfield sitting deep, Emre Can was afforded space and time on the ball and he made them pay with a well-taken goal, aided by a deflection. His passing was excellent generally, and on another night he could have had a couple of assists on some great deliveries to Mané. With news emerging that Can's stay will most likely end at the conclusion of the season, it's great to see him putting in professional performances whenever he is on the field.
20 for Bobby
Liverpool's No. 9 has 20 for the season!. Who could have imagined! Firmino has always been a vital cog in Klopp's Liverpool blueprint but has shone brightly with his goals this season. For a forward, goals always speak the loudest and he has truly delivered this season. He has scored different types of goals, and today was no exception, with his dummy befuddling the keeper, allowing him to squeeze the ball in from a ridiculous angle.
Yo-yoing Mane
Mané has been a mixed bag this year with ridiculous goals sandwiched in between awful performances. Unfortunately, today was the latter. His first touch spurned a couple of early chances, and his finishing was no better with a number of opportunities missed. At this moment of time, there is daylight between the other two attackers and Mané. The frustrating thing is that Mané could easily be as good as them, and that is the worry.