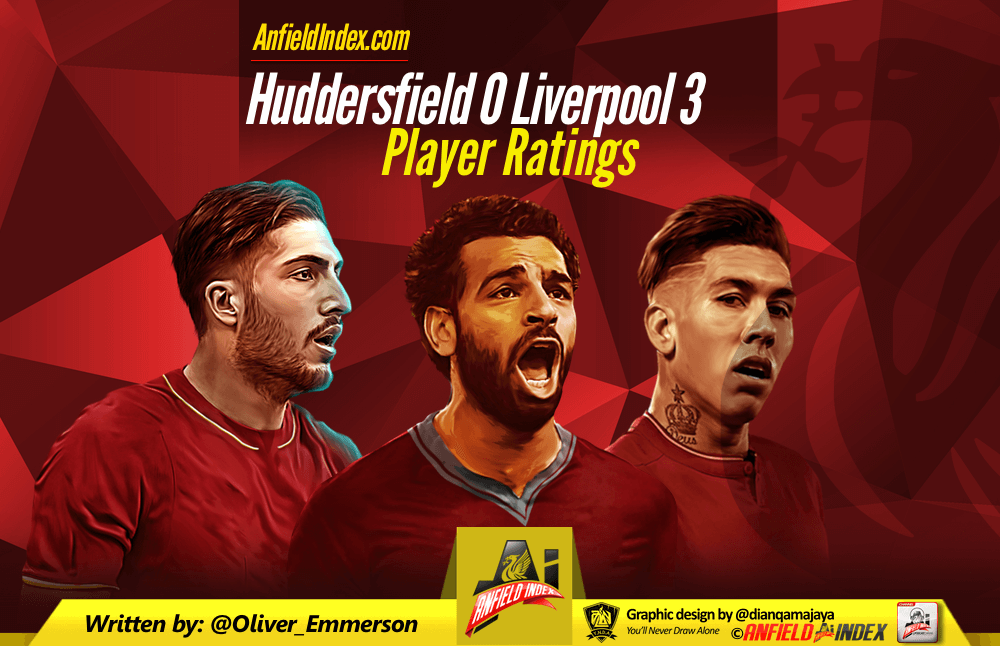 Liverpool Player Ratings As They Terrorise The Terriers
A win, something we can all breathe a sigh of relief at.
A turbulent couple of weeks for Liverpool with transfers, or lack thereof, and some disappointing results, but tonight we can all just smile. Save the transfer rage for Wednesday the 31st and Jim White's yellow ties.
Can, Firmino and Salah were on the scoresheet for the Reds, now five points ahead of Spurs before The Lilywhites face Manchester United.

Here's how the individuals rated.
Starters
Loris Karius (7): Tonight he was the Loris Karius we all wanted him to be. A good save from Depoitre at 0-0, commanding as he comes out and sweeps up the ball to Lovren which kick-starts the move for Liverpool's 2nd. Good on high balls in the final period of the game. Here's hoping he keeps it up.
Joe Gomez (6): Didn't have much to do, was solid at the back when needed, nice and strong. Always good when Liverpool aren't in a situation that requires him to morph into a supreme attacker. Good block late on.
Dejan Lovren (6): Just as we think we're rid of him, he's back in the side! In fairness to Lovren, nothing silly tonight and given Matip's recent performances he might not have done himself any harm in terms of Klopp's long-term thinking.
Joel Matip (6): Managed to avoid flicking the ball into his own net, which is always welcome. Hoping a clean sheet will help his confidence after the aforementioned recent dip in form.
Andy Robertson (6): Got on the ball a lot down the left and did well to resist the urge to keep crossing it, which helped in the build-up for the second. Should he have conceded a pen? Nah.
Jordan Henderson (7): Welcome return to the side, nothing amazing but better than some of the recent midfield performances we've seen. A good game without having to be great. He'll be very handy if he can get himself into some form ahead of the Champions League, especially with Can out of the first leg.
Emre Can (8): Really good game, answering his doubters again. Cracker of a connection for the goal, even if it was deflected. Deserved an assist for that beautiful ball to Mané, and then got his assist for the penalty. Keep it up Emre, and please do sign that contract.
James Milner (7): Most advanced of a good midfield display as a unit. His legs are slowly going, as is his quality, but what he does well is pick up dangerous attacking positions that unsettle the opposition, something that hugely aided Liverpool. Links it well, gives and moves. Not a man you want starting every week but proving again he's a useful option at the top of the three.
Sadio Mané (6): Nothing's falling for him at the moment, but it's not for lack of trying. Minor blemish when he conceded a dangerous free kick, but you can't be too mad given his succulent touch for Firmino's goal. Unlucky with a couple of good headers in difficult positions.
Mo Salah (6): Awful at penalties, genuinely terrible. Puts it in the same 'hit and hope' position every single time, bless him. Scores it though, albeit after missing a sitter. Links bits and pieces well, closer to Kane on the goal tally. Good enough night for him.
Roberto Firmino (7): The striker that scores goals! Another for a man in such a rich vein of form, well on his way to a career-best tally for the season. Lovely finish tonight, bamboozling the goalkeeper when in reality there was little else he could do. Pure class.
Substitutes
Oxlade-Chamberlain, Wijnaldum, Solanke. All N/A. Did they even come on? Did anything happen after the third goal? Who knows.
Fans
Huddersfield Fans (2): Nothing against them personally but the BT Sport commentators suggested that they get Huddersfield's Man of the Match, a statement so cringe that it requires something to balance it out.
Travelling Kop (10): Mo Salah, Mo Salah, running down the wing…