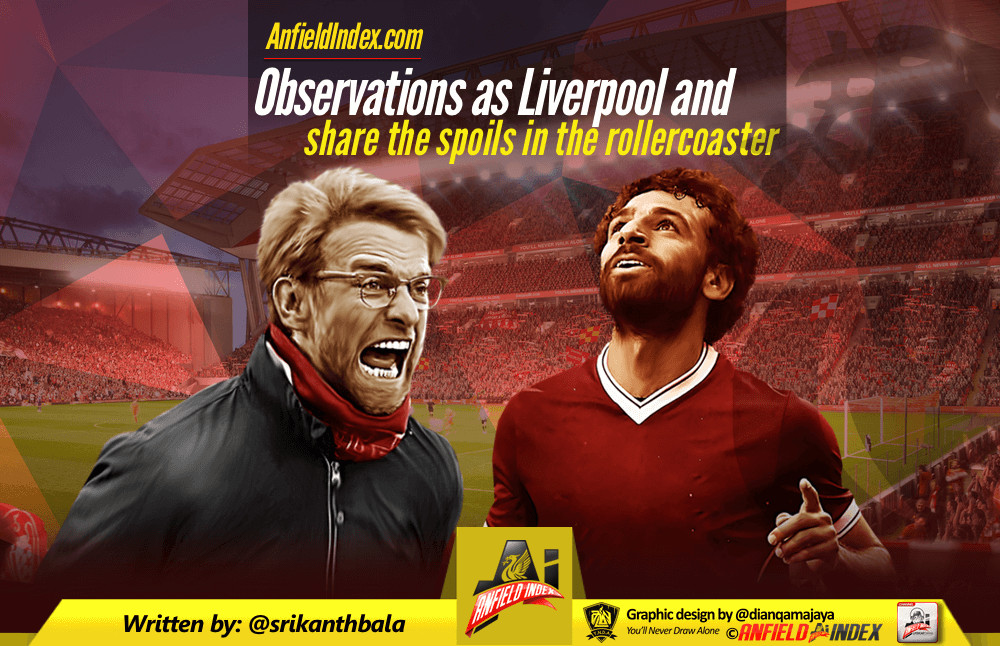 Observations as Liverpool and Spurs share the spoils in the rollercoaster
I am still catching my breath and venting my fury and anger as I start composing this piece. That is what big games and Premier League do to you.
None of us were prepared for those frenzied last 10 minutes as Liverpool and Spurs took a point each in this game. The key observations are as follows
Spurs Out-think themselves
Spurs were coming off a strong performance at home, and knowing Spurs one could anticipate how they would play and approach the game. It was quite apparent that Klopp and Co. were aware too, as Liverpool set the trap similar to the Man City game and Spurs duly obliged. Liverpool clearly earmarked players like Sanchez and Dier to press, while allowing the full-backs to have the ball. Liverpool also forced Lloris to go long more than he would have liked. Liverpool without the ball stayed compact and cramped the middle of the pitch. This meant that the full-backs had the ball, but they had no pass to make. Spurs by changing around things at the start with how Alli and Eriksen lined up only complicated things for themselves.

Liverpool's legs go away
After the aggressive first half performance, it was interesting to see how the second half would unfold. Unsurprisingly, Liverpool's midfield legs gave away and thus afforded space for Spurs to play ball. Klopp tried to switch around things but to no avail. This almost became a mirror of Spurs' first half, with the Liverpool backline having no midfield to pass to, resulting in going long and turning the ball over. Liverpool are seriously short on creativity and depth in that midfield with the Champions League about to resume.
The Pharaoh – Mo
Liverpool are looking like dropping point in stoppage time, and after putting Liverpool ahead in the 2nd minute, he scores what he thinks is the winning goal (should have been the winning goal is an altogether separate point) by pulling stuff out of thin air. There have been enough references about the goal and Messi. Says a lot about the goal. We are lucky to have Mo. The golden boot competition is back on.
Klopp's substitutions do not work
Liverpool were clearly struggling in the midfield, and Klopp responded by essentially bringing on two midfielders in Ox and Gini. Ox's performance was a clear let down though, and not for the first time it happened when he played in the front three. Gini was being Gini, and that complicated matters. Klopp compounded issues by going to a back three and inviting more pressure in deeper areas. I get that counter-attacking is the strength, but what we needed was energy a bit higher up in the pitch. As the second half wore on, Liverpool dropped and deeper, unable to control the game as the team had no possession due to an absent midfield.
Refereeing
The arguments can go back and forth on the second goal, whether Lamela dived? Was there contact? Was he offside initially?
But the fact that the first penalty was given is beyond a joke. How much more clear can it be that the Lovren touch was a deflection, and hence Kane is offside?
At a loss for words.