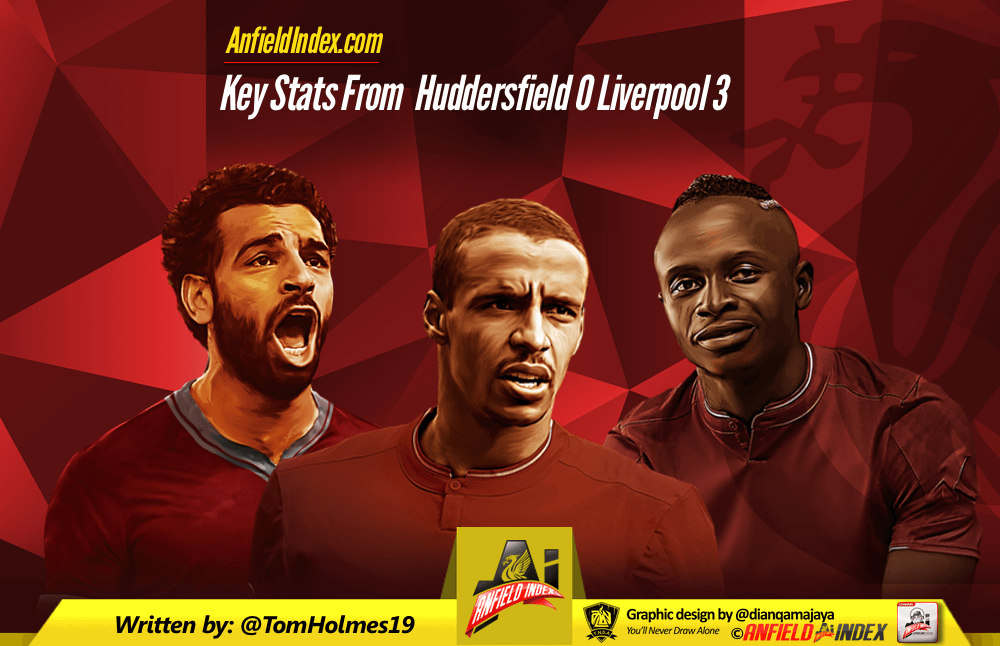 Key Stats from Liverpool 3-0 Huddersfield

Liverpool returned to form by sweeping aside Huddersfield, winning 3-0 to give themselves some breathing room in the top four. But what were the key stats from the game?
Pass, Pass, & Pass Again
75% of possession is a lot. 894 passes is just a mind-blowing amount. Joel Matip's 161 is the most by a Liverpool player in the Premier League ever, with Dejan Lovren not far behind on 140. Joe Gomez also broke 100, with Henderson, Milner and Robertson all making over 75 passes. All of these players averaged at least 87% accuracy with their passing, and only Bobby Firmino was below the 80% mark out of the entire starting XI. This isn't necessarily a good thing as passes themselves don't win games, but these numbers are just insanely high and speak volumes about Huddersfield's tactics. Safe to say it didn't work.
Defensive Solidity Returns?
It's fair to say that a consequence of your opposition having only 25% of the ball means that they won't create many chances. And Huddersfield did not create anything really, with just five shots, only hitting the target once. Their xG of 0.29 according to Understat.com is the fifth lowest Liverpool have conceded all season. Only Swansea (the 5-0 win), Newcastle (1-1), Man United (hahaha) and Huddersfield again have a lower xG on record against us this season. Huddersfield registered 0.06 at Anfield. They really hate trying to score against us.
The Mané Conundrum
Sadio Mané is not in good form. Except that he is. 2 goals and 2 assists in his last 7 games is solid, and 15 goal contributions in 21 games is hot stuff, and yet he looks off the pace almost every time he touches the ball.
This was another weird game for Sadio. He created four chances, the joint most in the team and had the second highest expected assists in the team at 0.26, notching an assist. And then on the other hand, he had the second highest xG (and the highest from open play) at 0.59 and failed to score, missing the target with three of his four shots. He won three free kicks, and yet he failed to complete a single take-on, took five bad touches that were intercepted and was dispossessed twice. Very, very odd.
Emre "The Boss" Can
*Insert superlative here*. It's no secret I love Emre Can and he was dead good in this game yet again. 86 passes at 91% accuracy, four of which created chances, with a xA of 0.59. He had a 100% success rate on crosses, both of his finding the head of Sadio Mané, and won both aerial duels he participated in.
And of course, he scored a wicked goal and won Liverpool a penalty. Man of the match, match-winner, absolute legend. He plays well in the six, he plays well in the eight, maybe we should just accept that Emre Can's position is anywhere he wants to play in Liverpool's midfield.