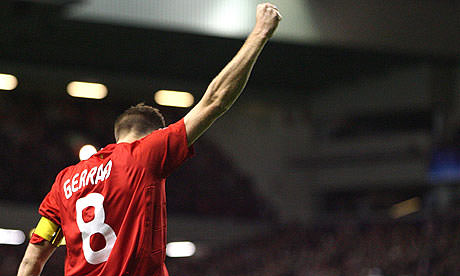 Player Profile: Steven Gerrard
Steven Gerrard; "Some think he was born with it, a birthright forged by the sharp hand of destiny…I think otherwise. This man's greatness isn't inherited; it's paid for, night after night. Shot after shot. With power coursing through him like a seismic wave, his right foot drops like a thousand hammers.
A force of nature.
A powerhouse who long ago discovered his gift in a place he now calls home. As a boy he wasn't much to look at, just another kid from Liverpool dreaming of Barnes, Nicol and Dalglish. A native son, yes, but nothing special. And in the shadow of Liverpool's powerhouse, another powerhouse was born!
But it's more than just ability or destiny; on the ultimate stage you can't force other men to follow you to the ends of the earth. Sure he has more power behind his shot than a runaway train. But very few players wear the band of the captain. Very few players are leaders of men. After all, there was no "miracle" at Istanbul, there was just a man inspiring other men to victory! …Every team needs a powerhouse, a man with whom "you'll never walk alone"." (Adidas: The Ultimate Search)
The quote above is from a promotion run by Adidas in 2009, and I can't think of any better way to summarise everything great about Captain Fantastic Steven Gerrard. He's been a stalwart and inspiration for our club for a long time, and on many occasion he had to carry the club on his shoulders alone. There hasn't been a better ambassador for this club for a very long time, maybe not since King Kenny left the first time.
Humble Beginnings
Steven was born in Whiston, Merseyside on the 30th May 1980 to Julie and Paul Gerrard. Steven started playing football for his hometown club Whiston Juniors and it wasn't long until the Liverpool FC scouts came calling. Stevie joined Liverpool's youth academy at the tender age of nine.
When Stevie was 14 he had trials with various clubs, including Manchester United, although he claimed in his 2006 autobiography that it was to pressure Liverpool into offering him a YTS contract. Stevie struggled to find success early on and he never made it into the England Schoolboys team. Stevie signed his first professional contract on the 5th of November 1997 with Liverpool.
Liverpool: Early Years
On the 29th of November 1998 Steven made his first team debut, as a final minute substitute for Vegard Heggem, against Blackburn Rovers. In his first season he made 13 appearances filling the position left open by injured captain Jamie Redknapp or playing on the right wing. It has to be said that Stevie hardly made any contributions during his short time on the pitch; this was probably due to nervousness affecting his play. Steven said in a November 2008 interview with The Guardian, "I was out of position and out of my depth." Luckily for us all the powers that be at Liverpool during that time had faith that Steven would improve with time. During this time Steven played as a more defensive player, rarely helping the team push forward in attack.
In the 1999/00 season Stevie was tasked with partnering Redknapp in the midfield. He later received his first ever red card in the Merseyside derby after a late tackle on Everton's Kevin Campbell, in a game where he started on the bench and came on to replace Robbie Fowler. The season got a bit better as he bagged his first senior goal against Sheffield Wednesday in a 4-1 win for the Anfield outfit.
In the following season, 2000/01, Steven made 50 starts in all competitions and scored 10 goals. He also helped Liverpool to the League Cup, FA Cup and the 2001 UEFA Cup.
Troubled Times
In October of 2003 Steven took over the captaincy from Sami Hyypiä. Then manager Gérard Houllier said that although Gerrard demonstrated leadership qualities very early on, but needed time to mature. Steven also cemented his future by signing a new four-year contract in this season.
The trouble came after Houllier resigned following a trophyless 2003/04 season. Steven was linked with a move to Chelsea throughout the summer and he admitted that he was unhappy with the progress Liverpool had made and that "for the first time in my career I've thought about the possibility of moving on." In the end though, Steven rejected a £20 million move to Chelsea to remain on under new manager Rafa Benitez.
The Miracle at Istanbul
The 2004/05 season started badly as Liverpool were hit by a string of injuries, including Steven who was out with a foot injury he suffered against Manchester United in September. On his return Steven scored in the last five minutes of the UEFA Champions League group stage game against Olympiacos to secure Liverpool's progress to the knockout stage. He later claimed that it was his most important goal, if not his best, in a Liverpool shirt to date. Unfortunately Steven scored an own goal on the 27th of February in the 2005 League Cup final, which proved to be the decisive goal in Liverpool's 3-2 loss against Chelsea.
Then came the 'miracle'. In the 2005 Champions League final against A.C. Milan, Liverpool went 3-0 before half time and many thought that Milan would continue to run riot after the break. It was not to be however. In a six-minute stretch in the second half, Liverpool made a miraculous come back to tie up the game at 3-all. One of the goals was a spectacular headed goal and was the start of the comeback. Liverpool's third goal came from a penalty after Gennaro Gattuso brought Steven down in the box, Xabi Alonso's penalty was saved but he scored the goal from the rebound off the keeper. The game went to penalties and Liverpool won 3-2 even though Steven did not participate in the shootout. The win meant that Liverpool had won their first European cup in 20 years. Steven won man of the match and later received the UEFA Club Footballer of the Year award.
Steven made 53 appearances and scored 23 goals in the 2005/06 season. In April 2006 Steven became the first Liverpool player since John Barnes in 1988 to be voted PFA Player of the Year. Steven also scored two goals in the 2006 FA Cup final against West Ham, including the equalizing goal to send the match to extra time and then penalties. The match became the second consecutive trophy Liverpool won on penalties. Those two goals meant that Steven became the only player to score in the FA Cup, League Cup, UEFA Cup and Champions league finals. Steven also scored the winning goal, a penalty, against Chelsea in the 2006/07 Champions League semi-finals. The win sent Liverpool to their second Champions League final in three years, also against AC Milan. Unfortunately this time there was no miraculous comeback as Liverpool lost 2-1.
On the 28th of October 2007, Steven made his 400th appearance for Liverpool in a league match against Arsenal, and he crowned the moment by scoring a goal as well. During November 2007 Steven scored in every domestic and European match bar one. After scoring in a Champions League tie against Marseille on the 11th of December, he became the first Liverpool player since John Aldridge to score in seven consecutive matches in all competitions.
The Future Looks Bright
On the 13th of April 2008 Steven made his 300th appearance for Liverpool against Blackburn Rovers and scored the opening goal as well. Steven ended the 07/08 season with 21 goals in all competitions, increasing the total from the 2006/07 season. In this season Steven was also selected for the PFA Team of the Year.
In the 2008/09 season Steven scored his 100th goal for Liverpool against PSV in a 3-1 win in a Champions League group stage match. He later made his 100th appearance in European club competition for Liverpool on the 10th of March 2009. This milestone came in an impressive 4-0 victory against Real Madrid in which he scored two of the goals. Four days later Steven scored his first goal at Old Trafford to lead the Redmen to a 4-1 victory over Manchester United. After these impressive results three-time FIFA World Player of the Year Zinedine Zidane applauded the Liverpool skipper saying "Is he the best in the world? He might not get the attention of Messi and Ronaldo but yes, I think he might be." Steven wasn't done though and on the 22nd of March 2009 he scored his first ever hat-trick in the Premier League against Aston Villa in a 5-0 thrashing.
On 13th of May 2009, Steven was named as the 2009 Football Writers' Association Footballer of the Year, becoming the first Liverpool player to win this accolade in 19 years. After receiving the award, Steven was quoted by BBC Sport as saying to "I'm delighted but I'm a little bit surprised," he commented. "When you look at the quality of the players there are in this league, it's a great privilege to win this kind of award." At the end of the 2009/10 season Steven had racked up 12 goals and 9 assists from 46 matches.
After a pretty disappointing 2010/11 season Rafa Benitez left the club and was replaced by former Fulham boss Roy Hodgson. The highlitght of Steven's season was a second-half hat-trick, coming off the bench, in a 3-1 win over Napoli in the Europa League. On the 6th of March 2011 Steven played his last match for Liverpool against Manchester United before suffering a groin injury that has kept him out since.
The Stats
Now I can sit here and tell you all how great Steven has been for us throughout the years, but I'm afraid if I do that then I'll have to bring out a book about him. Since stats speak for themselves I think it's best we have a look at Steven's Premier League stats for the past 3 seasons.
Here are the stats for the 2008/09 PremierLeague season:
So in this season Steven made 30 league starts and 1 substitute appearance, totalling 2,630 minutes on the pitch. In the 2,630 minutes Steven scored 16 goals, had 9 goal assists and created 89 chances in a season where Liverpool scored 77 goals, this meant that Steven had a hand in 32% of Liverpool's goals in 2008/09. Steven also had a shooting accuracy of 56% with only 58 of his 133 shots going astray. Steven's efforts on the pitch really helped us to almost win our first Premier League title.
Steven totalled 1709 passes that season, getting 1375 of those on target earning him a pass completion percentage of 80%. He also had 52 out of 221 crosses on target with a 24% crossing accuracy rating, which goes to show that Steven is much more an attacking midfielder than a wide man.
Next we'll have a look at the 2009/10 Premier League season stats:
This season was a bit disappointing after we were so close to winning our first Premier League the season before, but Steven was still fighting hard for the team. Liverpool scored less goals, 62, this season than before and nothing really went our way. As for Steven Gerrard, he started 32 games this time round, going two better than the season before and amassed a total of 2,850 playing minutes. He also scored less at 9 goals, got less assists, 7, and created fewer chances at 80. Steven's crossing accuracy dropped to 18% and his passing accuracy fell 2% points to 78%. One stat that had improved was his shooting accuracy with 67%, meaning the 70 out of his 104 chances hit their mark. It seems almost as though Steven and the team had a bit of bad luck and nothing really worked for us and I think we did well to still finish seventh.
Finally we'll look at the stats from last season, which to be honest was very disappointing for both Liverpool and Steven:
Now we all know how disappointing the first half of the season was under Roy Hodgson. To put it into perspective we scored 59 goals this season, most of them coming after Roy was sacked in January. Our win % last season was 44.74% and if it wasn't for King Kenny we would've been lying mid-table or worse at the end.On to Steven's stats, and bear in mind that most of his stats come from the Roy era where we played a very defensive style of Football and I'm pretty sure all the players found it tough goings until January. Despite all that Steven still managed 4 goals, 5 assists and created 53 chances. All of his other stats also dropped noticeably; shooting accuracy dropped to 56%, pass completion dropped to 74%. There was one stat that improved; crossing accuracy increased to 23%, not much I agree but I think this increase was probably due to fewer attempted crosses.
I thinks it's undoubtedly clear that Steven Gerrard is our ultimate talisman. Our captain. Our leader. Our inspiration. I don't think there is a Liverpool fan out there that isn't excited for his return from injury. We've had a brilliant start to the season and we've played so well that it's absolutely mouthwatering to think how good we'll be when he comes back.