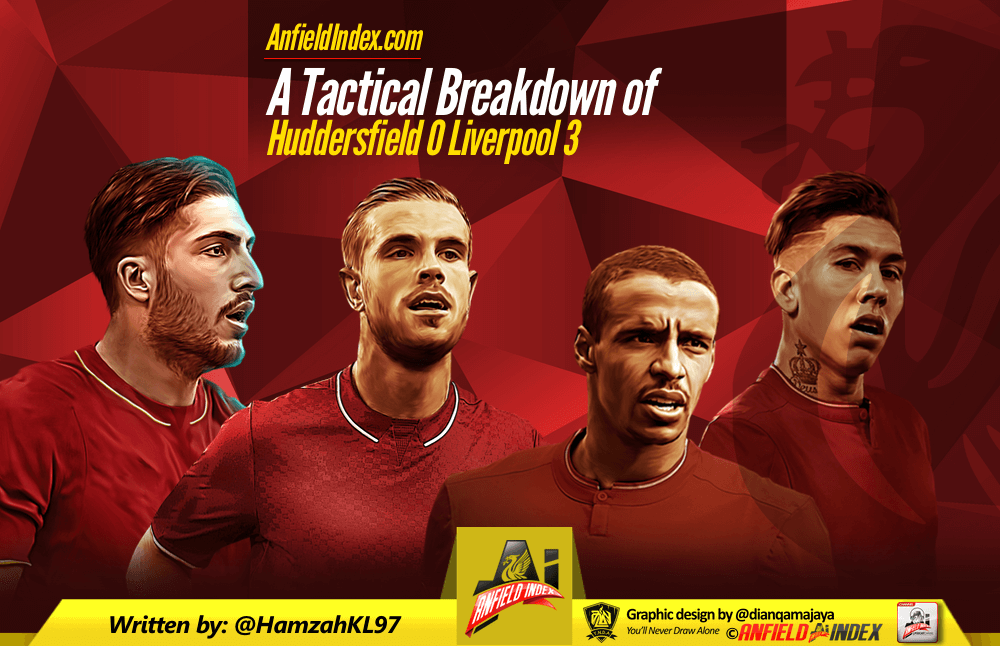 Huddersfield 0-3 Liverpool: A Tactical Breakdown

If I were asked to sum up the Liverpool victory over Huddersfield, there's one term which would immediately spring to mind: game management. Quite often, football games aren't decided by tactics, errors, luck and the like all come into play from time to time, and usually, it's Liverpool making errors where they should not be doing so which costs them. For this game, however, Liverpool did not fall back into the same costly traps which we've seen many a time, especially in the previous league game, against Swansea. Liverpool were patient, and composed on the ball, instead of panicking after not scoring early on, and meeting a seemingly stiff resistance Liverpool kept their head, and that was essentially the difference between dropping points and winning the game.
"If Liverpool create width & create length, they're a lot harder to stop." – Steven Gerrard. Going on the results over the course of the season, this – using & exploiting wide areas – could well be the difference between winning & dropping points.

— Hamzah (@HamzahKL97) January 30, 2018
Tactically though, there were some differences, against Swansea, Liverpool played into their hands, and attacked down the congested middle of the pitch, making it easier for them to defend: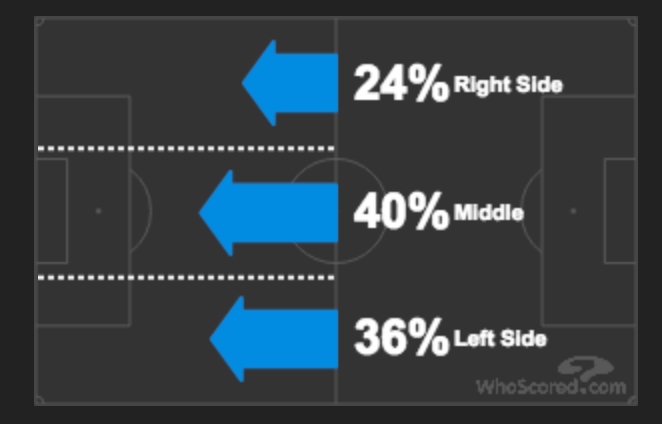 Against Huddersfield though, Liverpool were far more proactive in the wide areas, Salah featured far more prominently on the right, and Mané was heavily involved too, with 40pc of all attacks coming from his flank.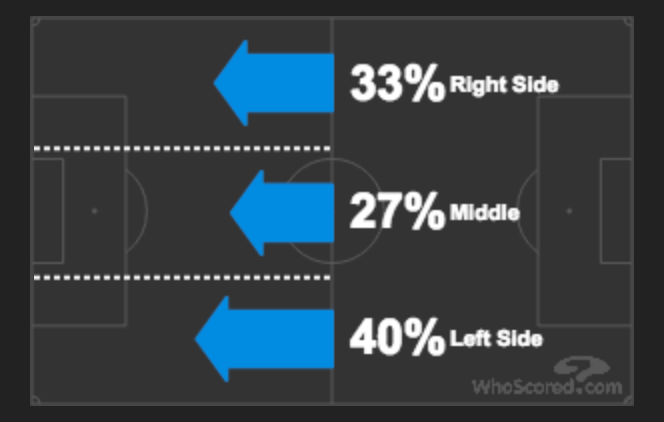 The positional maps reflect this too, against Swansea (first graphic (Liverpool in blue), Liverpool were very compact and did not stretch them anywhere near enough to create spaces to exploit. Contrariwise, against Huddersfield, Liverpool's players positioned themselves wider, to attract the Huddersfield defenders, and create gaps – which we saw Firmino exploit when he went wide, for Liverpool's second.

Swansea vs. Liverpool above
Huddersfield vs. Liverpool below
Note not only the positional spread of the forward line but also the positional spread of the three midfielders, with Can and Milner – positioned in the half-space – far wider than Wijnaldum and Chamberlain were.

The differences between this and the Swansea match do not stop here though, the patience I referenced earlier was absolutely key to breaking down Huddersfield's low-block. Whilst Emre Can's goal was a shot from range, it was a steady build-up of possessional play, with incessant pressure and constant intelligent and aggressive probing bringing the chance about. Whereas in games, such as the 1-1 Burnley fixture earlier this season, the midfield or forwards would have been frustrated and simply taken pot-shots from range, Liverpool were far more considered and intelligent in their play, indeed, 80pc of all shots came inside the 18-yard box, compared to 67pc against Swansea, and only 20pc were from outside the box against Huddersfield, compared to 33pc at the Liberty Stadium.
Positionally, Liverpool used a 4-1-4-1 off the ball, and those four lines prevented Huddersfield from getting through to the Liverpool goal, on the rare occasions they attempted to do so. The line of Mané, Milner, Can and Salah was also perfect for counter-pressing – but we'll need a look at the Under Pressure podcast to get the stats to affirm that point.
We've also raised the issue before of Liverpool struggling in games in which they dominate possession, but this was a dominant and mindful display all-round. Liverpool had 74.7pc of possession, and made a record 913 passes in total, 89pc of which found their intended target. Key to this was the Liverpool midfield, with the returning Jordan Henderson putting in a strong, composed, but meaningful display.
A simple visualisation to support this thread. The overall trend is that results get worse as the amount of possession increased. pic.twitter.com/Sj8NlIU2uB

— Dan Kennett (@DanKennett) January 23, 2018
Liverpool's midfield set up in a slightly different manner than what we usually see in the midfield three – but their pressing, at least to my eye, appeared especially aggressive in the middle of the pitch, as one of the three would float in a more offensive, forward-supporting, position – as the other two would sit further back. For the first 20 minutes at least, it looked as if they were all interchangeable, however, as the game progressed, Henderson settled as the deepest lying midfielder.
Henderson made 88 passes, whilst Can and Milner made 87 and 79 respectively. Four of Can's passes were registered as key passes – the joint-best in the side with Mané – and both Henderson and Milner chipped in with one apiece too. But what these figures do not tell you is the story of aggression with the ball that Liverpool played with.
Liverpool played with considerable intent with the ball, using it aggressively, rather than simply recycling it in a passive manner, as they did against Swansea. Passes were either forward, or moved backwards/sidewards in a manner to attract/move the Huddersfield players.
One thing I liked about last night's performance was the players being selfless and functioning as a unit. The worst of Hendo is when he demands the ball off the CB's and takes 2 yard passes. Last night it was left to matip to do the recycling from deep.

— Dan Kennett (@DanKennett) January 31, 2018
The defence played a key role in this too, as, on a number of occasions, they bypassed the midfield to feed the ball directly into the forwards, allowing the forwards to be more direct, and them to spring onto Huddersfield before they assumed their defensive shape.
161 passes by Matip is the most recorded by a Liverpool player in Premierleague history

— SimonBrundish (@SimonBrundish) January 30, 2018
22of26 long passes too

Most I've seen from a Liverpool player too https://t.co/6syemxzdG8

— SimonBrundish (@SimonBrundish) January 30, 2018
In terms of chances, Liverpool were far less prolific than they have been in recent games but were also more clinical with the chances they had, relative to the Swansea game in particular. There really is little more to add in this respect. That being said, both Salah and Mané had chances which they really should have done better – had they hit the target in either of the instances, they would likely have scored.
xG map for Huddersfield – Liverpool. The Reds got a fluke goal to go ahead and then just efficiently strangled the match. pic.twitter.com/8odafZzWeP

— Caley Graphics (@Caley_graphics) January 30, 2018
Where then does this leave Liverpool?

FiveThirtyEight's model gives Liverpool a (very) generous 89pc probability of qualifying for the Champions League, but it is yet to account for a number of important signings for Liverpool's rivals. What is clear though that the next two game-weeks, in which Liverpool play Spurs, and Spurs then play Arsenal, may go some way in determining the standings, come the end of the season. However, the Spurs fixture will pose a challenge which could hardly be more different than the one Huddersfield did. Indeed, it will probably be closer to the City game in terms of tactics and style – however, seeing Liverpool's response to the 4-1 loss earlier this season, and given the high-stakes nature of the match, especially following Chelsea's loss to Bournemouth, and Spurs' dominant display over United, it will be intriguing to see how it pans out.
The key aspects to take from this game though is the temperament of the Liverpool players, the response to losing two games in a row, but most importantly how they acted in the face of a tactic that has so often frustrated them. Should they repeat performances like these in games in which the opposition employs a low-block, the team should be far more successful, more often than not?