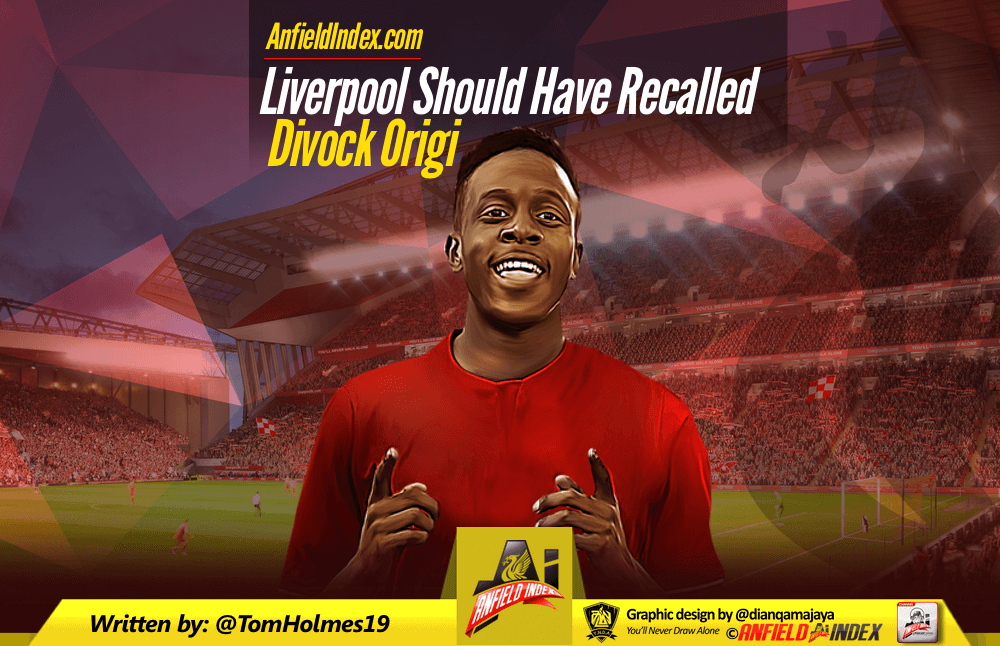 Liverpool Should Have Recalled Divock Origi
I am a huge fan of Divock Origi. I admit that to many people that's not an opinion that has much merit but there for me are a number of reasons why Origi is a great player. The key point in this article is not necessarily that Origi is a great player, although I think he has the potential to be one, but that Origi fits a hole in Liverpool's squad – and a hole that he himself filled last year.
A lot has been made of Liverpool's attacking depth without Phil Coutinho, and this is an issue that has been exacerbated as Daniel Sturridge has been allowed to leave without a replacement, but Dominic Solanke and Danny Ings remain members of the squad. And there's certainly some cause for concern, after all, Solanke and Ings are nowhere near the quality of Sturridge and having Solanke as our first attacking sub is worrying at best and negligent at worst.
So what Liverpool need is a player who can contribute with goals when required, a player somewhere between Solanke and Firmino in terms of quality. They need someone who fits Klopp's system, who works well with the current squad and who is good enough to push the starting attacking trio into at the very least being rotated and rested.
Enter Divock Origi. A man who has a lot of potential, and at only 22 years old still has plenty of opportunity to grow and develop. Under Klopp's tutelage, I have confidence that Origi is good enough to develop into a useful and excellent second striking option.
What Origi brings to the table is exactly what Liverpool need. He's fast and strong, he works hard and presses effectively, having been a good presser in Liverpool's team before. He's a different kind of striker, who could link up well with Salah and Mane, as well as with Firmino in a two. He's spent a lot of his career shunted wide, but when he's been given extended runs through the middle he's impressed under Klopp.
And yet. Origi is currently out on loan with Wolfsburg, where he's impressed at times, been shunted wide at others and overall left a good impression. The goals have dried up for him slightly in the last few months, with just four goals in 14 Bundesliga starts, but he is playing in a side that are sorely lacking in creativity, especially compared to Liverpool.
And Origi is going to be there until the end of the season. With the transfer window closed, it will now be impossible for Liverpool to add him to their squad before his scheduled return. Whilst it has to be said, this is not surprising, and frankly, I didn't ever think Liverpool would recall Origi, it is a shame that the option wasn't taken.
So would recalling Origi have been a good move for Jurgen Klopp? Well that's the question, isn't it? I did suggest it was a poor decision on Liverpool's part to loan him out in the first place, but I can absolutely see why they did. With Sturridge looking like a solid second choice and Solanke impressing in pre-season, there was concern over whether Origi would get the minutes at LFC that he needed.
But now? With Sturridge gone and Solanke simply not ready for an extended period of minutes in the Premier League, it would definitely have suited Liverpool to have Origi back, and it wouldn't have been difficult to rotate Salah and Firmino to ensure he's getting consistent minutes without compromising the integrity of the front three.
Of course, a huge part of this is down to Origi himself, who pushed for the move and seems happy in Germany. Liverpool would have had to all but guarantee him first-team status in order for him to want to return, and whilst he obviously didn't have the final say in whether he was recalled, bringing him back against his will to leave him on the bench would have had the potential to absolutely destroy his relationship with Klopp.
The biggest factor for me in the Origi equation, however, is goals. Origi is a reliable ten goal a season striker across all competitions and proven to chip in here and there in every competition. Whilst he's never hit ten goals in the league for Liverpool or Lille yet, he's scored ten goals in all comps in both his seasons at Liverpool and scored nine in his final season at Lille.
Whilst Origi is yet to demonstrate he is a prolific goalscorer, his consistency in front of goal is something that Ings and Solanke simply cannot guarantee, and Sturridge is no longer at the club to fill in the gaps. Whilst goals are currently not an issue with the form of Salah and Firmino in particular (the pair have 30 league goals between them, more than half of Liverpool's total of 57), if something should happen to either of them, Liverpool could really use another source of goals.
And so I'm disappointed the club didn't recall Origi, although if that's primarily his decision then they're right not to have done. But I can't help but feel that Klopp has missed a trick here. With Sturridge never seriously in his plans, and Solanke a bit part player, there was clearly scope for Origi to make a serious run at this season, allowing Klopp to rest Firmino and Salah more than he has currently.
The simple answer is probably that Klopp just doesn't see Origi as being significantly better than Studge or Solanke, and therefore not deserving of the extra minutes. Moreover, he probably sees Wolfsburg as a smarter choice for Origi's development. And there's something in this, Origi has made over 1200 minutes in the Bundesliga whilst Sturridge and Solanke have just 800 PL minutes between them, but it remains frustrating.
And now, with the main worry being a serious injury to Salah or Firmino, the opportunity for Klopp to return to Origi, with the promise of a starting berth restored, has passed. So we just have to hope that we can cope without him.