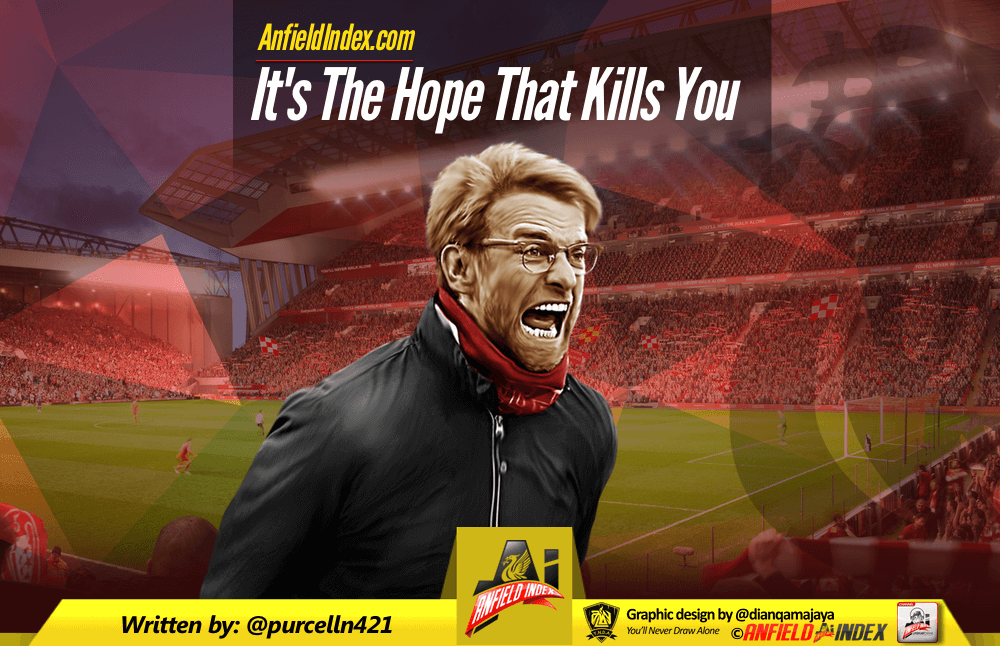 It's the Hope That Kills You
It's the hope that kills you… a famous saying that can be attributed to almost any situation in life. Some important, some less so but it seems to perfectly sum up the current situation at Liverpool F.C.
To be blunt and please excuse the language but … WHAT THE F**K are we doing? Where is this club going? What are our aims and ambitions? What's the plan? Who are the players that are going to make us achieve these ambitions? What are we doing to try and sign these players? And more importantly, why are there players still at the club who have on an all too consistent basis left us down so badly and are blatantly not good enough to play for us? Why were some of them given new contracts when they should have been sold?
There have been a series of calamitous decisions in the last 12 months which makes me wonder what's going on? Transfer blunders, huge bumper new contracts given to substandard players and most worrying is Klopp's reliance and trust in players that are blatantly not good enough. Yes there have been some great signings, amazing football played, great games and Champions League football for this season but the lack of transformation in the defensive area of the team is hugely worrying. No proper no.1 keeper being the prime example. Simon Mignolet has never been good enough for this club and a new keeper should have been a top priority last summer. He has zero confidence and after the recent cup defeat to West Brom should never play for us again. This along with the continuing concession of silly goals based on individual silly errors makes me ask the question.

In post-game press conferences, Klopp blames bad defending on individual errors in the team. Yes, Jurgen a team you've selected filled with players who consistently make the same errors all the time! Isn't it about time we ask serious questions about Klopp? Is he really the man for the job? Why was Lovren given a bumper new contract last May when he still had 2 years left and should have been binned in summer? Lallana too when he's been abysmal and even more injury prone than the recently departed Daniel Sturridge? These decisions along with the continued trust in Henderson and Milner makes me wonder what's going on. We're fooling ourselves as fans if we honestly think Klopp is gonna win things for us when's he's making decisions like these.
When Klopp arrived I was over the moon. At last a top coach who could have walked into any job in Europe was coming to put us back where we belong amongst Europe's elite clubs. A man who completely bought into the club and what we stood for. Our history our fan base our passion our atmosphere our energy. Unfortunately, some of his decisions since have left me less confident and after recent events, it seems as if it could all end in nothing more then another false dawn for our great club. I really hope I'm wrong but the failure to adequately plan and replace the loss of one of our most key players is nothing short of professional negligence. Everyone knew Phil Coutinho was leaving either in January or the summer but where's the replacement? To then come out in the media and say Danny Ings and Adam Lallana can replace Bobby Firmino when needed is quite frankly delusional. Are we as fans gonna settle for this? I agree that Jurgen is a lovely fella with a great smile and laugh but are we really falling for this??
We entered January with the news VVD was signed. Magnificent signing by the club (if 6 months too late) really makes a statement, but to then sell Coutinho and Sturridge while not having replacements lined up screams of absolute ineptitude. One step forward and two back. Again forced to rely on inadequate players to fill the gap. No plan no action whilst the rest of our competitors sign players to improve their squads. Liverpool are a complete Jekyll and Hyde, team. Irresistible at times and totally inept at others.
I hate Jose Mourinho and would hate him to be the manager of our great club but, as one person said on a podcast recently, he's a winner and he's ruthless. So was Bill Shankly, Bob Paisley, Kenny Dalglish and Alex Ferguson. All of these men wouldn't accept mediocrity. If a player isn't performing their gone. Out the door. Why can't we do this? For far too long we as a club have been too accepting of mediocrity and overhyped players in the media. Too many fans believe what Sky Sports, BT Sports and the written press say about players. When are we as a fan base going to stand up and criticise what's going on? No one, not even Klopp should be immune from criticism.
When Klopp arrived he brought his experience, knowledge, charisma, energy, character, personality and it seems genuine affection for the club and people. Yes, we've had some great days but lots of disappointments too. It's extremely difficult to overcome the financial power of city with Pep Guardiola but we're not helping ourselves by having substandard players still at the club who have never performed to an acceptable level. Jurgen brought one more thing. Hope. Hope that we could compete. Hope that things would change. Hope that we could challenge. Yes, there has been progress but not fast enough or with enough ruthlessness.
It's the hope that kills you.