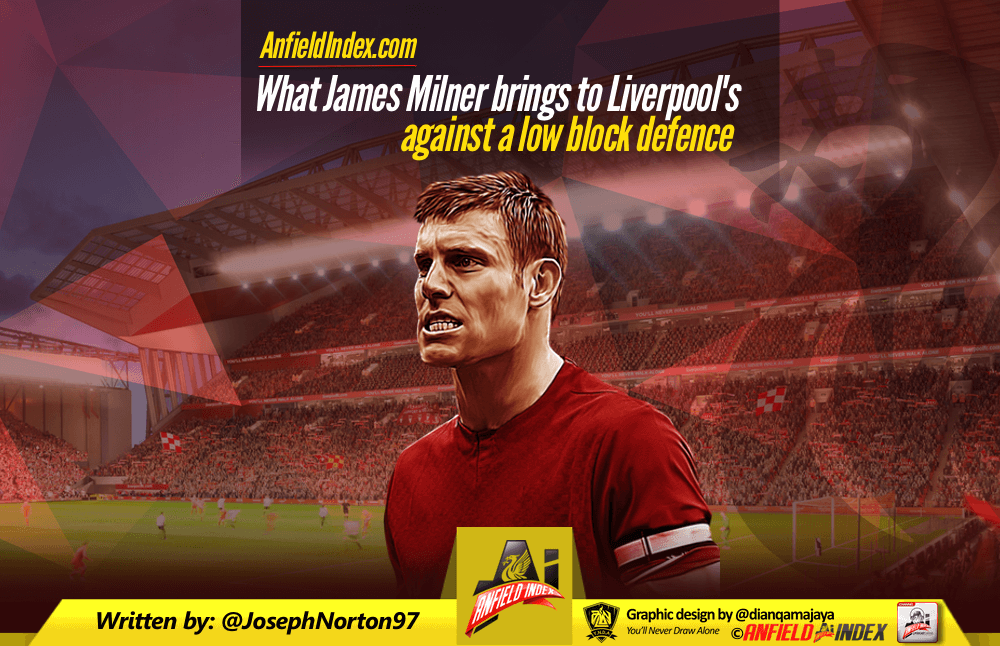 What James Milner brings to Liverpool's midfield against a low block defence
After two terrible defeats in the space of six days and the Reds failing to add to their squad in the January transfer window, Liverpool fans were understandably extremely concerned about how the rest of the season would pan out. One of the most pressing issues was the team's lack of creativity in midfield, without the magician, Phil Coutinho, how were the Reds going to break down teams who play with a low block? Gini Wijnaldum has rarely been effective against teams who sit in and give the Reds very little space to play in-behind, in fact, he's almost always ineffective and Alex Oxlade-Chamberlain has only shown glimpses that he'll be able to do this effectively. Therefore, the question is do Liverpool's alternative midfield options possess the attributes required to be effective against low blocks? Emre Can and James Milner both put in intelligent performances against Huddersfield in the two number 8 positions suggesting both are much better options for this position than Gini when we come up against this type of opposition. Much has been written about the attributes Emre Can has but what makes Milner effective against a low block?
The biggest criticism that is labelled at Gini Wijnadlum and it's a pretty big problem is that against low blocks he literally does nothing in an attacking sense. It could be argued at times the positions he occupies makes space for his teammates but even that is clutching at straws. The player operating on the left-hand side of the midfield 3 like Gini does must get on the ball in an inside left channel allowing the Reds' two attacking left-backs in Andrew Robertson and Alberto Moreno to play high and wide which in turn creates the patterns of play for Mane to drift inside and make those penetrating outside to in runs. Milner is brilliant at occupying this position as he has great footballing intelligence – Liverpool's second goal against Huddersfield was the blueprint of a perfect goal in Klopp's system. As you can see from the screenshot below Milner takes up a position in-between Lovren and Robertson which allows the left back to push on high and wide resulting in Mane drifting inside into a dangerous area. Liverpool's number 7 provides Joel Matip with a good passing lane and moves the ball onto Robertson who is stretching the Huddersfield back five because of the high position he takes up. The Scottish international then lays the ball into Mane who checks his run while Roberto Firmino has drifted over to that side of the pitch to create an impressive overload and Mane uses a great bit of trickery to release Firmino in-behind the Huddersfield defence to finish brilliantly.
This goal was a perfect example of how to unlock a low block defence – taking up intelligent positions, stretching the back-line and creating an overload. There simply isn't a defence in the league who would've been able to prevent that goal from happening, it was just a superb pattern of play. As mentioned, however, this goal all came about from the position Milner was taking up. We've seen far too often this season and in particular against Swansea that Wijnaldum takes up very ineffective positions. He plays too high and narrow which means the left-back can't play as high and wide and the left winger's space gets blocked up because Gini drags another opposition player towards it which neither stretches or pulls the oppositions defensive shape apart. On the occasions Gini does take up good positions he doesn't demand the ball in order to influence the game and orchestrate play.
Of course, Milner simply taking this position up is not nearly enough to be effective as a number 8, he must use the space this creates to operate in the half-spaces and link up the play in the final third when needed but it certainly goes a long way to opening up a low block. If the Englishman wants to be a regular option for this position then he must continue to occupy these intelligent positions whilst influencing games with the quality he possesses on the ball which is most effective when he gets into the halfspaces, linking the midfield to attack something Gini hardly ever does. Milner's off the ball contribution was also brilliant against Huddersfield as highlighted on the AI Under Pressure podcast – he made 29 presses with an incredible 90% efficiency, alongside 10 group presses, 9 possession wins with 1 leading to a shot.
In order to provide some context to what has been said let's take a look at some of the statistics from this season in order to legitimise what has been discussed. In 1104 minutes in the league Milner has 2 assists compared to Gini's 1 goal and assist in 1611 minutes highlighting how the Englishman is more productive. Milner also averages 1 key pass per 90 compared to Wijnaldum's 0.6 and has a superior xG build up per 90 (total xG of every possession the player is involved in excluding key passes and shots) at 0.30 compared to 0.26. Milner also beats Wijnaldum when we look at expected assists per 90, 0.16 to a lowly 0.04 and xG chain per 90 (total xG of all the possession the player is involved in) 0.42 to 0.40. Having said this Gini marginally beats Milner with expected goals 0.14 compared to 0.09. Overall these statistics reinforce the idea that Milner contributes a lot more in an attacking sense and is much more effective than Wijnaldum which is exactly what is needed against a low block. The positions Milner takes up not only benefit our team as discussed but also ask tough questions of the opposition. His brilliant movement and ability to link up play in the half spaces makes him a much more influential and dangerous player than Wijnaldum which is why he should be picked over him every time when we play against this kind of opposition. Having said this, the attributes Gini brings to the team when we play against top teams such as the two Manchester clubs, Chelsea, Arsenal & Tottenham with turnovers and transitions happening on a regular basis must be remembered making him the perfect big game player for this Liverpool side.