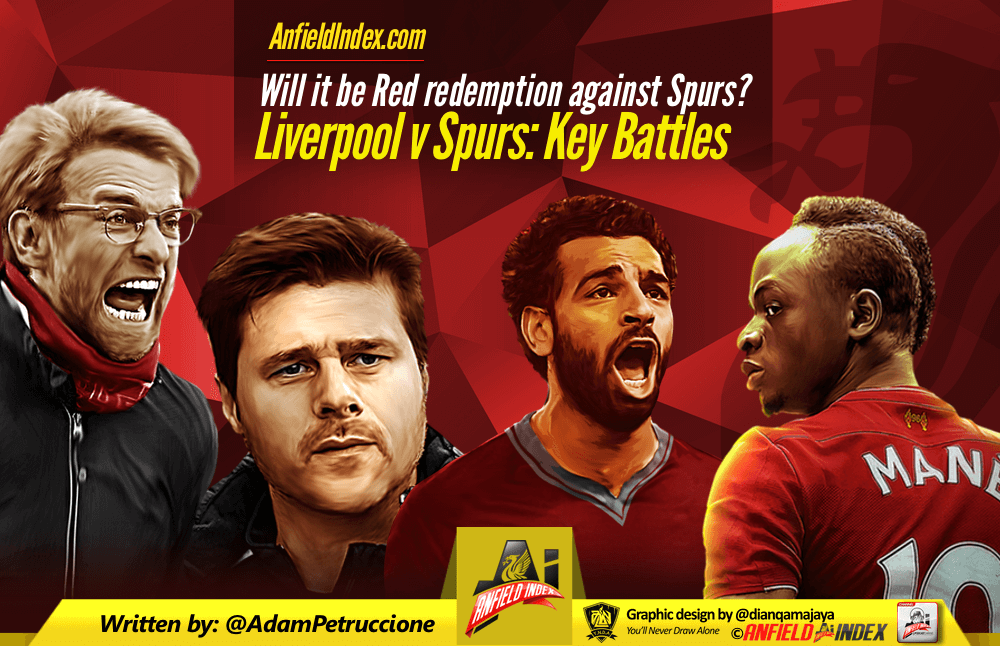 Key Battles: Will it be Red redemption against Spurs?
In yet another season-defining match, Liverpool host Spurs on Sunday at 4:30 GMT.
With only 13 games left in the 2017/18 season, The Reds now sit 2 points up on The Lilywhites. With Chelsea favoured to get a result at Watford this weekend, a loss by either side at Anfield would see the defeated club chasing from behind in the race for top four positions. Three points for Liverpool would have them aiming for United or at least 3rd, hopeful to avoid the added complication brought by Champions League qualifying rounds.
REDEMPTION ROAD
When The Reds and Tottenham met at Wembley in October, Liverpool were taken apart so thoroughly that it required a bit of a redesign by the manager, Jurgen Klopp. It turns out that leaving centre-backs without any protection at all is not a sound strategy. Go figure.

Since that 4-1 embarrassment, The Reds went on an 18 game unbeaten streak, preferring young right back Joe Gomez to hold at least reasonably close to Joel Matip while Emre Can has been shielding them in central midfield. Henderson was inconsistent in that role earlier in the season and has returned after injury, but the captain is likely to be alongside Can rather than left to imitate a turn-style against Tottenham.
MANAGERIAL MATCHUP
The decisions by the managers will have a bigger role in deciding the outcome on Sunday than any specific player matchup on the pitch. How Liverpool have changed post-Spurs has been a big talking point this season and there could be no better punctuation to that story than a win against Poch's men. Liverpool have tightened things up and cut down on the errors that led to the horror show at Wembley while Spurs have changed to a back-four in defence.
Tactically speaking these aren't the same teams that faced off in the fall, but regardless of the setup, they both play a similar style. Any tiny edge that either manager can provide could prove decisive. The line-up cards will be interesting particularly in midfield for both clubs.
WATCH THE WIDE AREAS
Harry Kane is good. Liverpool's centre-backs will need to be able to hold their ground to prevent another highlight reel performance by the Spurs' striker. If you see Joel Matip and Virgil Van Dijk getting pulled wide, chances are something went wrong for Liverpool. The men in white exploited the areas vacated by the fullbacks in the away fixture. This is a chance for Gomez and Robertson to show how much more disciplined they have become along with the unit as a whole.
At the other end, Liverpool score loads from the wings while Trippier and Davies aren't used to giving many up. The Spurs' pair held Martial and Sanchez in check against United and are in for another big test on Sunday. Salah and Mané offer a different type of challenge, but if they can be contained Liverpool lack many other potent scoring options.
SWEEPER KEEPERS
Hugo Lloris is the premier "sweeper keeper" in the top-flight, but Loris Karius was brought in with hopes that he could develop a similar style. Quick off the line, daring with their positioning and always ready to initiate a break in the opposite direction, the winning 'keeper between these two is just as likely to have triggered a score than to have made a great save.
The whole stadium will be aware that both Lloris and Karius have made embarrassing errors this year and they'll let them know it. What isn't clear is which number-one the Anfield crowd will pressure into the next fume inducing mistake.