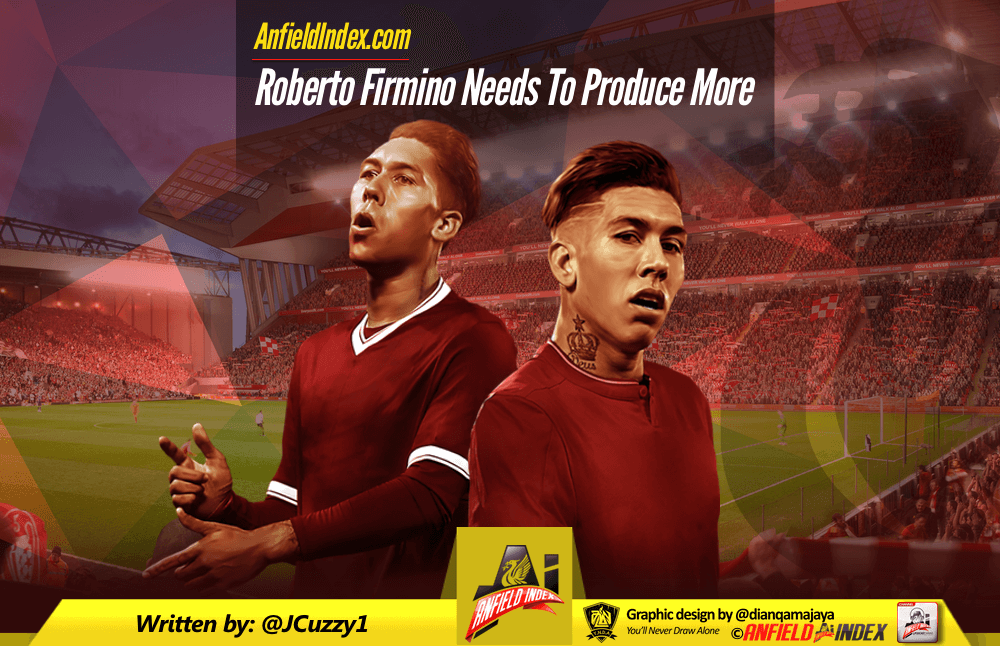 Roberto Firmino Needs To Produce More
"Firmino is one of the most underrated players in the Premier League – he's highly rated by Klopp but outside Liverpool he's not mentioned when talked about top strikers."
The above quote was from Jamie Carragher during the Monday Night Football programme on Sky Sports on 15th January. It is certainly a sentiment that I agree with. Among neutral fans and the mainstream media, Firmino isn't talked about in the same way as the likes of Harry Kane, Sergio Aguero, Alexis Sanchez, Romelu Lukaku and (previously) Diego Costa.
It is understandable to me why this would be the case. I think it's fair to say that most fans don't watch players for the clubs they don't support week in week out. They'll maybe see highlights and the odd full game, so don't see enough to fully appreciate the less obvious attributes a player might have. I expect most if not all people reading this will be Liverpool fans so please ask yourself this. If Harry Kane had similar goal stats to Firmino would you be able to recognise his other attributes? Would you base your opinion on him mostly from the goal stats, match of the day highlights and the few times you've watched him play a full 90 minutes? How would you rate him? Speaking for myself, I'd probably think he's good but nothing special.
Maybe we should expect pundits and journalists to be more knowledgeable, but I think it's unrealistic for someone to fully appreciate a player's attributes unless they are watching his performances on a very regular basis.


There are many caveats to these stats. They do not take into consideration number of minutes played so a 'game' could be a 10-minute cameo or a full 90 minutes. The number of penalty goals hasn't been considered*. There are no considerations for shot conversion or chances created. The number of times Firmino/Lukaku/Sanchez played as a wide forward or number 10 hasn't been factored.Have a look at the table above. The stats cover the time from when Firmino signed for Liverpool (2015/16 season) up to 30th January 2018. I have sorted the data in favour of goal involvements (goals + assists) per game (GApg).
*Note: when taking penalties out of the equation Lukaku and Sanchez are brought a lot closer to Kane and Aguero but the players are ranked in the same order in terms of GApg.
By looking at the numbers you can see why there has been 'Kanemania' (sorry) in the media. Every weekend he seems to be on the verge of breaking a record. 0.8 goals per game and 0.9 goal involvements per game are incredible numbers. The scary thing is his numbers are improving year on year. This season it's 1 goal per game and 1.1 GA per game.
Aguero's numbers are almost as impressive. The difference is he's been doing it for a lot longer. For the last 11 seasons, Aguero has been scoring at a rate of 0.5 goals per game or better and is currently on course to have his best goal scoring season.
If you look at Firmino's numbers, it becomes obvious why he isn't spoken of in the same way as the others. Goals, GA, goals in the league and GA in the league he is some way off.
However, having said all of this, I do get the sense that this season the perception is beginning to change. I've noticed more praise and more recognition from the mainstream media. The Brazilian's performances, especially in some of the high profile matches against top 6 opposition, has gotten plaudits. He is, quite rightly, regarded as one of Liverpool's best players.
There has been a tangible improvement in his production which lends itself to the change in perception.

Klopp's ideal number 9The above table is for 2017/18 and as you can see, Firmino is ranked 3rd on my list in GApg.
On 29th October 2016, it became obvious to me that Firmino was Klopp's ideal central striker. I came to the realisation that the former Hoffenheim star wasn't just a stop gap fulfilling a role while the club looked for a specialist striker. I was at the game Crystal Palace v Liverpool at Selhurst Park and I watched Firmino closely. He won headers. Held the ball up well. Brought midfield players into the game. He was creative, skilful and scored a delightful goal where he dinked it over the keeper. From that game, I stopped pining for Daniel Sturridge to come back into the side and recognised that if Firmino could deliver these attributes on a consistent basis there would be no need for Sturridge to be the main striker or for the club to go out and sign the specialist that I previously thought would be required. Firmino could be the man.
Inconsistencies
Since that game, there have been ups and downs for Firmino. He went on to get just another 7 goals and 6 assists in the next 30 games to complete the 16/17 season. That's a GA per game of 0.43. Not terrible by any means, but enough to propel the team to glory? Unlikely. It wasn't just the goal and assists that dropped off but his pressing actions had also slightly declined (see table below).
In the summer of 2016, there were many Liverpool fans wanting the specialist central striker. Personally speaking, I wanted the club to splash out on someone like Mauro Icardi, the Internazionale striker. My feeling was that Firmino had the talent to do the job, but I had lost faith in his ability to do it consistently.
Delivering more
I have always been a fan of Firmino. I appreciate his work rate, the ability to press defenders and win the ball back. The skill, touch and the creativity. I also recognise his importance to the team.
However, my feeling was that for the team to be successful, challenge for and win the big trophies, he would have to produce more.
You can understand Firmino's game, appreciate it, enjoy it and still want more. Imo.

— Joseph Cousins (@JCuzzy1) December 19, 2017
It appears he is now doing that. Look at his 2017/18 numbers below.

Are these numbers sustainable?19 goals and 7 assists in 34 games are very good numbers. A goal poacher type striker would be happy with those but for a player who does so many other things for the team, these numbers are elite. If you look at the column on the far right, pressing actions per 90 minutes, you'll see that his effectiveness at winning the ball back has not been compromised with the increased goal involvement. Compared to last season he's made a significant improvement in both areas of his game. If he were to keep this up for a season or two, the praise would certainly follow and there would be a lot less fans like me wanting the club to sign the likes of Icardi.
Firmino's talent suggests these numbers are indeed sustainable and if you look further back into his career you will see that he has done this before.
Firmino 13/14 season at Hoffenheim

The above numbers are elite. However, the 13/14 season at Hoffenheim and this current season are peaks in his career rather than the norm.
It's quite possible that Firmino will revert to scoring 1 in 4 or a goal involvement every 2.1 games. Should this happen, say from now to the end of the season, we will have fans clamouring for a striker again during the summer transfer window. Especially if we were to fail to qualify for the champions league.
It will be interesting to see how he goes from now until the end of the season.
The counter argument
"But hold on" you might be thinking "as long as Firmino's relentless pressing, intelligence and creativity enable the team to score enough goals, it doesn't matter".
This is an entirely reasonable argument to make. If the team scores enough goals to win the number of games it takes to win the big trophies it really doesn't matter if Firmino scores 10, 15 or 30 goals.
The thing is most of us are conditioned to believe that a successful team must have a prolific striker. This is because most successful teams, through the ages, have had a have a prolific striker (more on this below).
How many goals does a team need to win the league? How many goals/assists does the striker need to contribute?
I have had a look at the champions of each Premier League season going all the back to 1992/93. Twenty-five seasons worth of data. I would have gone back even further but some of the stats prior to the inception of the Premier League are impossible to get.
I wanted to see how many goals a team needed to score to win the league so what better way to find out than to look at the goal scoring records of the previous champions.
I have looked at the goal and assist contributions from the lead striker (CF) from each team. This gives a historical blueprint of what has been required from a striker to win his team the league title.
I have also looked at the combined goals contribution from the top four goal-getters in each team
The numbers cover Premier League only and is sorted in order of goals + assists per game (GApg).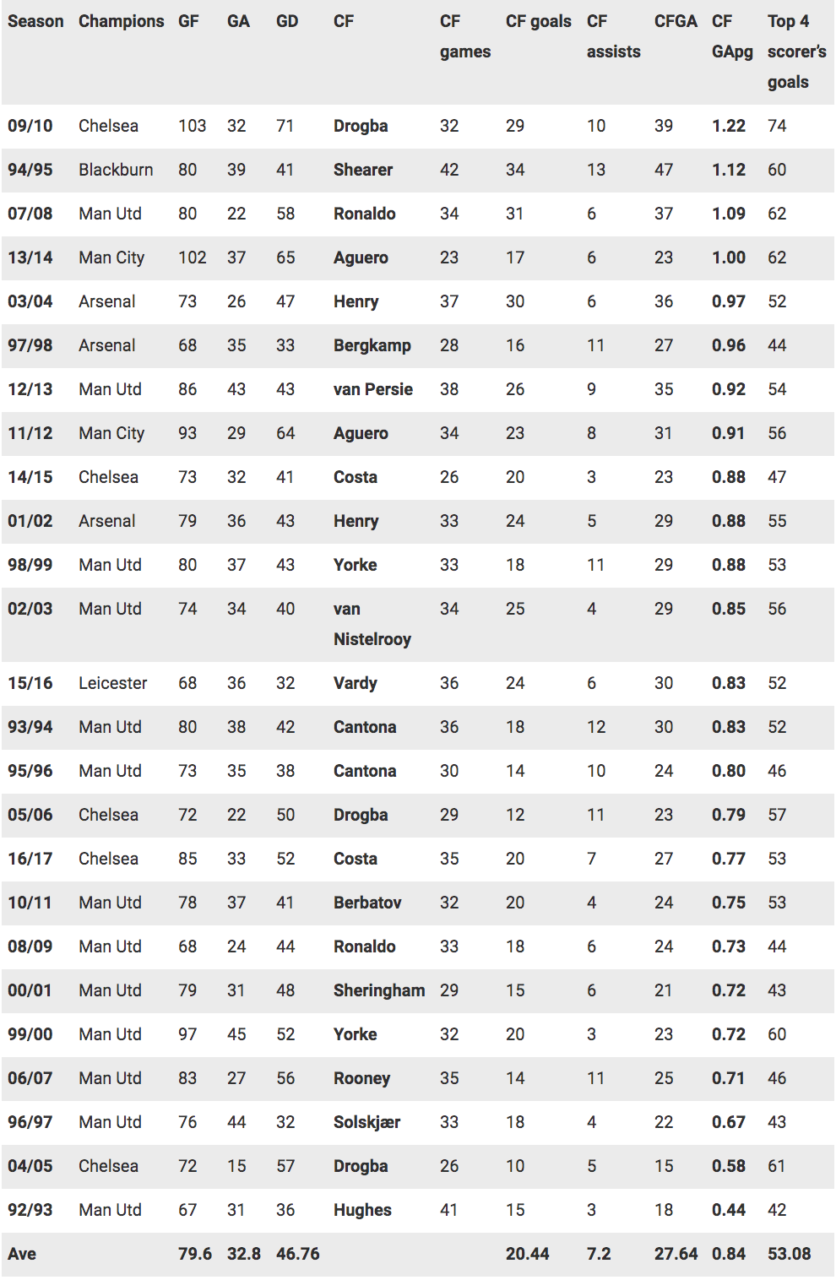 There's quite a lot of numbers here to take in but I'd like you to focus on the goal difference column (GD) initially. The average goal difference from Premier League champions is 47. (In the last 10 years it's over 50). Leicester won the league with the joint lowest goal difference in PL history with 32 in 15/16. This is the only time a team has won the title with a goal difference of less than 40 in the last 15 years. I think it's fair to say that in all likeliness a team will need to have a goal difference between 40 and 50.
Liverpool have conceded an average of 46 goals per season from 12/13 to 16/17 and are projected to concede 44 goals this season. For the Anfield club to win the league (not necessarily this season but in general) they would probably need to score 85 goals. Concede 40. Goal difference 45.
Focusing on the goal scoring. What contribution would Liverpool need from its leading striker to get to a total of 85? Let's look at the list of strikers on the table above. Look at the CFGApg column (goals + assists per game from the centre forward). Didier Drogba from the 2009/10 season has the best goal involvement in Premier League history with 1.22. The average is 0.84.
Remember what Roberto Firmino's GApg (goals + assists per game) was in the league for Liverpool prior to this season. 0.55 and 0.51 for 2015/16 and 2016/17 respectively. It's a long way off the average for a title-winning centre-forward. However, if you look towards the bottom of the table, highlighted in yellow is Drogba from Chelsea's record-breaking 04/05 season and Mark Hughes from Man United's 92/93 season. 0.58 and 0.44 GApg respectively. So, the Premier League title has been won by a team with its centre-forward producing similar numbers to Roberto Firmino. It's happened twice in 25 years.
It's worth looking at how Chelsea managed to score enough goals to win the title in 04/05. The key elements.
They only conceded 15 goals which is a top-flight record in English football. It meant they could score 72 goals and win it at a canter.
Other attacking players in the side made a significant contribution to goals. Lampard 13. Guðjohnsen 12. Joe Cole 8.
How did Man Utd manage to score enough goals to win the title in 92/93? Key elements.
Very good defensive record (31 goals conceded in a 42 game league season is the equivalent of conceding 28 in a 38 game season).
Other attacking players in the side made a significant contribution to goals. Cantona 9. McClair 9. Giggs 9.
So, what would Liverpool need to do to win the title with Firmino's average production?
Concede 40 goals or less.
Have other attacking players score enough to get the team to a total of 85 goals.
The four most prominent attackers would probably need to score a combined total of around 53 goals (see far right column above).
Looking at next season's squad here's how Liverpool could score 85 league goals, based on Firmino's average production.
Firmino 14
Salah 18
Mane 13
Keita 8
Others 32
Conclusion
My interpretation of these numbers is that it's not impossible for Liverpool to win the title with Firmino producing his current Premier League average in terms of goals and assists. However, history suggests it would be a tall order. The defence would need to be excellent and/or the team would need a lot of goals from its other attacking players.
A more likely scenario would be for Firmino to keep this season's form going or even improve it. He is projected to score 17 league goals and get 8 assists this season. If he could increase this to 20 + 10 next season it'd improve the club's chances.
There's a lot of football to play before we start thinking next year will be our year, however. With the loss of Coutinho, we could really do with our Bobby bringing those elite numbers forward to this season's remaining games.

It's not all down to Roberto Firmino of course. Salah needs to keep going, we could really do with Mane finding his best form and the likes of Oxlade-Chamberlain and Emre Can need to step up. There's a Champions League trophy to win and second place in the Premier League to attain. Up the reds.
Let me know what you think by either leaving a comment below or sending me tweet @JCuzzy1. All feedback welcome (but please don't be rude 😊)