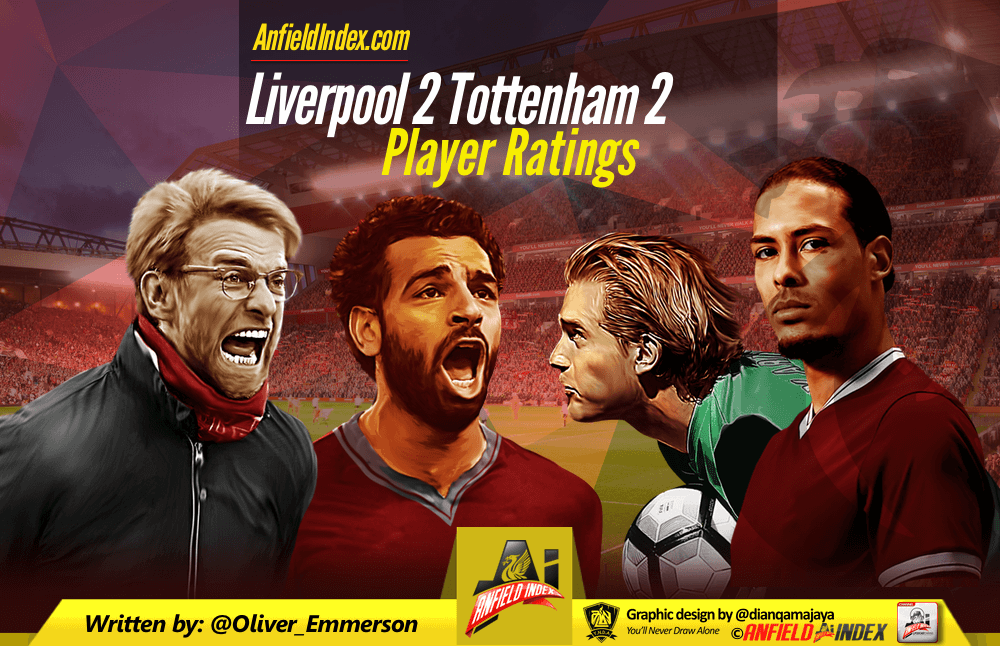 Liverpool Player Ratings As They Drop Points To Spurs

Struggling to wrap my head around that one, in the aftermath.
How much context will the draw have in our season? Probably not that much. Who gains momentum from this one, probably neither. Both teams will feel they should have won.
John Moss won't be getting a jokey referee rating from me because there aren't enough expletives in the world to sum up the shambles that was the officiating.
The players can get some ratings though, here they are.
Better from Karius
Loris Karius (8): Maybe his best display in a Liverpool shirt. Good saves in the first half, nice and commanding, makes a great save from Son in the second-half and then caps it off with balls of steel to face down Kane's first penalty, preventing us from losing. Some say he shouldn't punch it for Wanyama's goal, I'd rather he punched it 40 yards to a defensive midfielder (when AOC should get the ball) than try to catch a quick cross in a crowded penalty area.
Trent Alexander Arnold (8): Gave Dele Alli absolutely nothing, great going forward, gets stuck into Ben Davies and shakes off whatever the Welshman gives back to him. First-half better than the second, beautiful ball into Milner and cross to Firmino to create chances.
Virgil Van Dijk (7): Absolutely fantastic from the first minute to the 94th, and then he swings his leg in the area and Lamela goes down in a heap. I think it's a massive dive, to be honest, but Van Dijk gives the officials the option of giving the penalty which is a shame as before that he'd been an absolute rock, setting the tone with a challenge on Alli early on and giving Kane nothing.
Dejan Lovren (7): Ropey in the final few minutes but fantastic before that, one of his best games for Liverpool. Switched on and concentrated, few mistakes, one particularly good slice across the area and out for a corner as Davies whipped in an inviting ball.
Andy Robertson (6): Decent enough going backwards as he marginalised the amount of opportunity Trippier had to get the ball into the box, but a little slack going forward. Rushed to clear sometimes, handing the initiative back to Spurs, poor crossing too. Not bad but he'll be a little frustrated he couldn't do more, especially when Liverpool had the upper hand.
Can vs Dembele the highlight of a tense midfield battle
Jordan Henderson (7): Decent game again, did well to release Salah a few times and battled Dembele when Emre Can was busy doing other things. Let's not do that thing where we pretend him going off was a deciding factor though, as Spurs were all over us at that point.
Emre Can (7): Get the feeling he loves a challenge against a strong midfielder, and found one in Dembele. Won it, too. Love that he's absolutely in the face of the ref screaming at the end too, John Moss should probably hire someone to protect him from Emre for the next 48 hours.
James Milner (6): Unsure why he was picked, although he played alright. Nothing specifically wrong with Milner's performance, but you get the feeling if you've got Ox/Gini in there then Liverpool might be a little more likely to take one of those first-half chances when they got away on the break.
Salah's goal Messi-esque
Mohamed Salah (7): Here's an interesting one. The first goal, well taken. The second, sublime. But, between that, he misses a couple of fairly easy passes to Mane and Firmino respectively that could have put the game to bed. Still, his stunner late on deserved to win the game, absolutely reeks of Sebastian Coates' overhead kick in the 3-2 defeat at QPR a few years back.
Sadio Mane (6): Pretty meh, much like his recent games. Although, if Salah slips him in before half-time then maybe he makes it 2-0 and it's all rosy again. Still not playing bad enough to be taken out of the side.
Roberto Firmino (6): Electric first half in which he didn't let Spurs settle at all, tired later on and it was evidenced as Spurs began to enjoy more comfortable possession.
Right subs, wrong performances
AOC and Wijnaldum (5): Putting them both on just after the hour mark seemed like the right decision, but they didn't put in any sort of performance between them. Couldn't keep the ball, sloppy going back, maybe the tired Henderson and Mane would have done better.
Joel Matip (N/A): Liverpool going five at the back late in games never works.