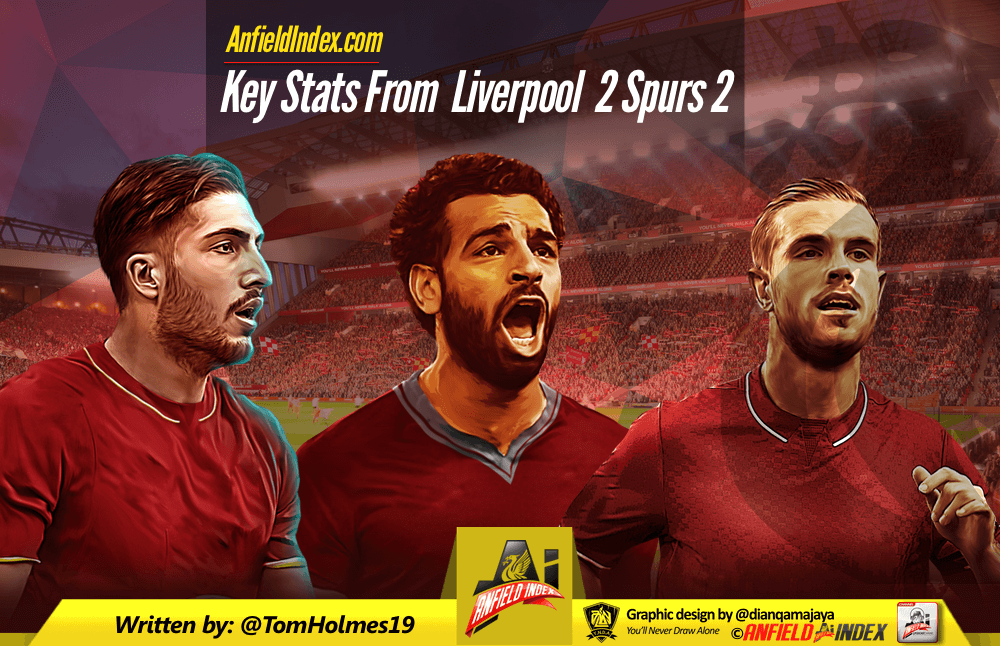 Key Stats from Liverpool 2-2 Spurs
Liverpool were held to a 2-2 draw by Tottenham at Anfield in the craziest and most controversial circumstances. But what were the key stats from the game?
Sumptuous Salah
Mohamed Salah has now scored 20 goals in 25 games, the quickest it's taken any Liverpool player to reach the tally in Premier League history.

Incredible signing ⚡️#BTSportScore pic.twitter.com/ZiLxGq8zFh

— BT Sport Score (@btsportscore) February 4, 2018

There really is no other place to start. Mo Salah is not only the quickest to reach 20 league goals for Liverpool in the PL era but among the fastest ever. George Allan is the quickest, and that was in the 19th Century, over 100 years ago. Salah's is the quickest in over a century. Staggering.
Fastest ever to 20 league goals for @LFC – George Allan 18 games (1896), Fred Pagnam 23 games (1915), Ronald Orr 24 games (1909), Frank Becton 25 games (1896), MO SALAH 25 games (2018). Only Pagnam and Orr doing so in top-flight.

— Ged Rea (@ged0407) February 4, 2018
Salah was terrific on the night, with a xG of 0.95 out of Liverpool's 1.31, and had the highest xA in the team as well, with 0.11. He also completed the most dribbles with four and won the most free-kicks with two. From an attacking perspective, the clear standout.
Two Sides of the Anfield Coin
Liverpool's home record continues to be a case of whether you're a glass half full or a glass half empty. On the one hand, only two teams are unbeaten at home in the Premier League and Liverpool are one of the – Man City being the other. But on the other hand, Liverpool have drawn six of their thirteen home league games, whilst Man City have drawn just once. Only West Brom have drawn more home games than the Reds now. With three of those draws against Spurs, Chelsea and United there are mitigating circumstances but that still, on paper, simply isn't good enough for top four.
Creativity Issues Continue In Midfield
A lot has been made of the issues that Liverpool have with creativity, particularly in midfield and nothing happening today will have changed that. Salah's goals were from a backpass and a piece of sheer individual brilliance, with Henderson, Can, Milner and Wijnaldum managing one key pass between them, and a combined xA of 0.10 as a result. In this sort of game, Liverpool needed someone to calm things down in the second half and it never materialised, as Spurs had 66% of the possession throughout.
Penalty Woes
I thought it would be a long time since Liverpool had conceded two penalties in the same match. I had forgotten that the same thing happened against Sunderland in January 2017. Liverpool have now conceded five penalties this season in the Premier League, saving two of them and conceding from three. That makes their current penalty record identical to the one they finished on last season – five pens conceded with two saved and three scored.