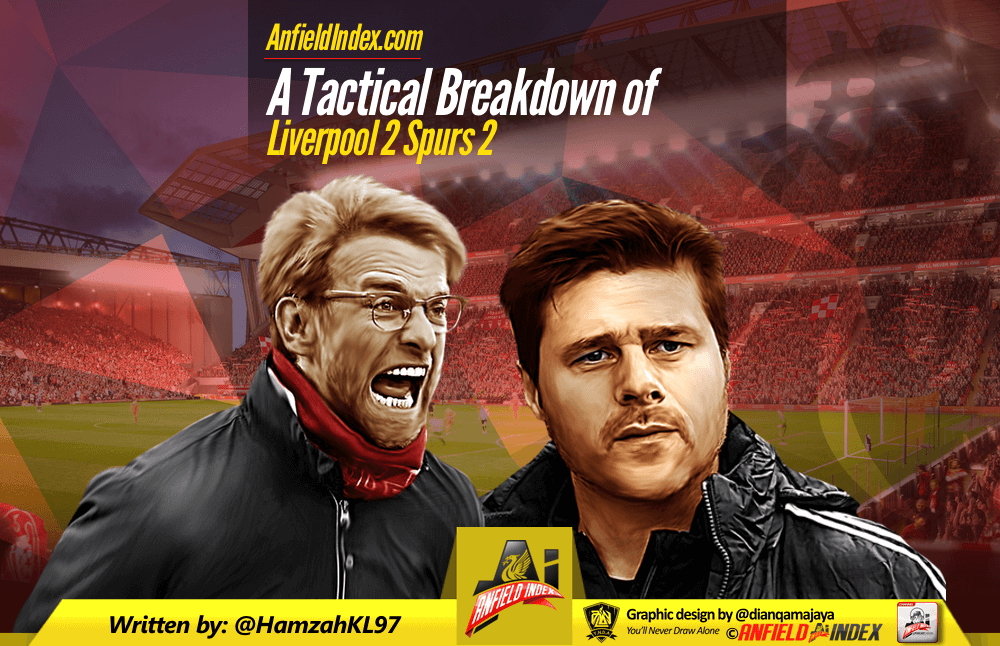 Liverpool 2-2 Spurs: A Tactical Breakdown
It was a thrilling game, in which the points were shared, but one in which the away side will be by far the happier of the two sides. Liverpool dominated the entirety of the first-half, scoring early, cutting through Spurs with ease and squandering glorious chance after chance. Liverpool's gameplan, to press aggressively and surrender the ball was good, and with Spurs using a 4-2-3-1, it became perfect. The spaces were there for Liverpool to exploit, and on a number of occasions in the first-half, players raced through, only to misdirect the final pass, or make the wrong run: Liverpool's front three, who tactically played fantastically, were responsible for this and were far too wasteful up top. It's especially infuriating as they did the hard work: they recovered the ball, ran into spaces which they engineered, and then used the ball awfully.
But that was the first-half. The second-half posed some different challenges to Liverpool, and for the most part, they dealt with them well. Spurs had one real chance in the game, which was snuffed out by an oncoming Karius: apart from that, Spurs were mainly reduced to long shots and relying on their secret men on the field, the officials.
Liverpool may have surrendered the ball in the second half, but they still controlled the match. For all of Spurs' possession, it was rarely in threatening or meaningful areas. Spurs recycled the ball in a manner which Liverpool are known for doing – passively, and without intent – and despite a large number of passes, and the overwhelming share of possession, Spurs deserved little from their work in open-play. Had Liverpool not succumbed to a Wanyama wonder-strike, and an offside penalty decision, it would probably be fair to call the defensive performance a masterclass.

So often José Mourinho is criticised by fans, but praised by pundits for seeing out games without the ball – and this was precisely what Liverpool intended to do, and they did it in a Mourinho-esque manner, with their pacy forwards on the pitch poised for a counter-attack, and the defence resolute and well positioned. Sometimes though, even with the tactics spot on, a team may not get what they deserve, and this is precisely my understanding of the match.
Prior to the match, I was concerned about whether Spurs would line up in a 3-5-2, as they did at Wembley, earlier this season. Such a formation seemed problematic for Liverpool, to me, as it could limit the spaces for Salah, Firmino and Mané if Spurs were defending, and, if they used Dier (as a CB) and Dembele (at CM/CDM) within this system, they could use Dier to bring the ball up, and Dembele to drop in, allowing them to play through Liverpool's most positionally aggressive press – the forward line. As it so happened though, Spurs went with a 4-2-3-1.
Spurs' 4-2-3-1 is adventurous: it may leave the back four exposed to LFC's forwards, unless the 3AMs double down defensively. Feel that having 4 at the back will give the LFC forwards enough space to thrive. We'll see…

— Hamzah (@HamzahKL97) February 4, 2018
Liverpool took the 4-2-3-1 to pieces and ran all over Spurs in the first half, with Firmino dropping, Salah moving forwards and taking a central position, but also Milner, in Liverpool's midfield three, taking an advanced role, and joining the forwards in their press – as Can and Henderson generally stayed further back, in comparison to the Huddersfield game.
The average position map reflects this, and despite Liverpool giving up the lion's share of possession, the average positions were actually rather advanced, albeit less so than usual, with six outfield players, on average, being positioned in the Liverpool half.

(Liverpool: orange, Spurs: blue)
Liverpool used the flanks well, with both Trent Alexander-Arnold and Robertson considerably involved in offensive play: with 39pc of all LFC attacks coming from the left side and 38pc on the right. Liverpool were far more aggressive with the ball too, as the image below shows, which illustrates attempted dribbles. Liverpool had 21 dribbles, compared to Spurs' 13, of which a number were in aggressive, advanced positions – Liverpool though failed to capitalise on them, and on a number of occasions overplayed and allowed Spurs to recover the ball, or wasted the chance.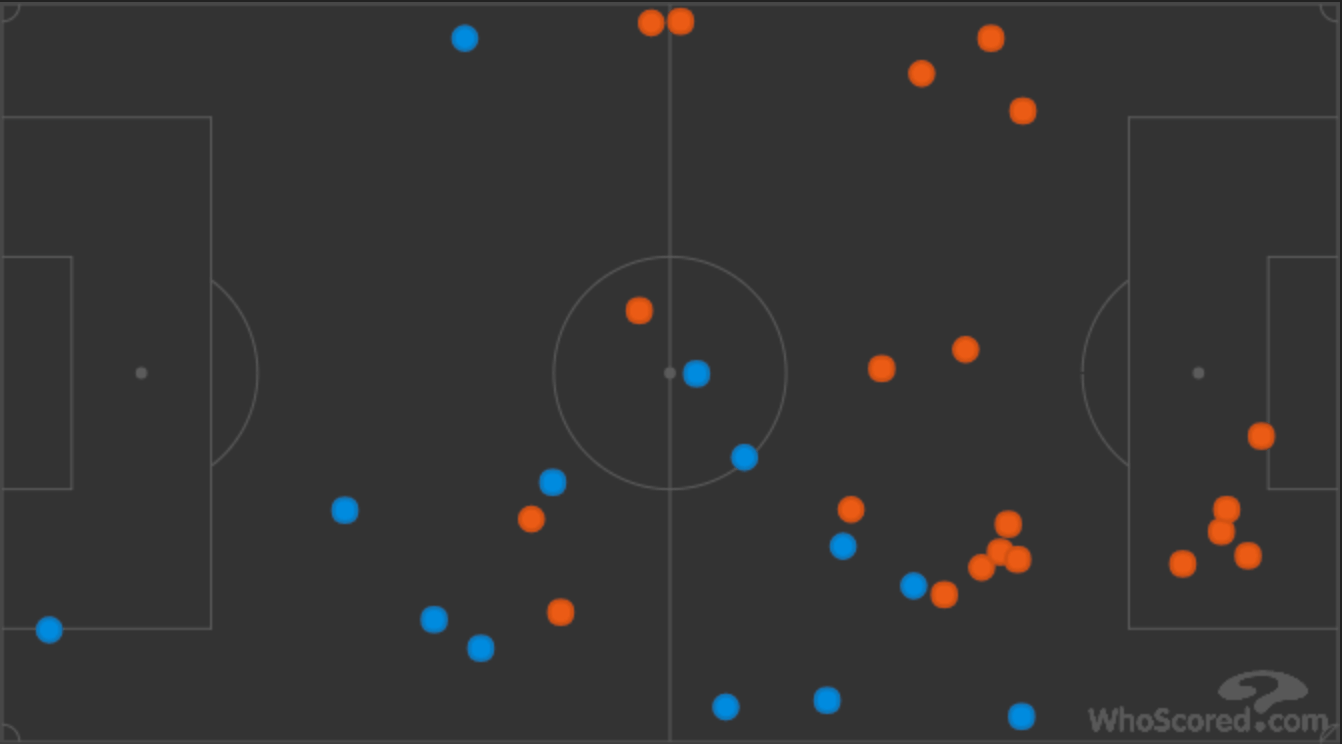 (LFC Attacking Left to Right)
Similarly, Liverpool were, for the most part, intelligent with the ball, and avoided losing it in key areas. The graphic below illustrates possession losses, and Liverpool only lost the ball 5 times in their own half.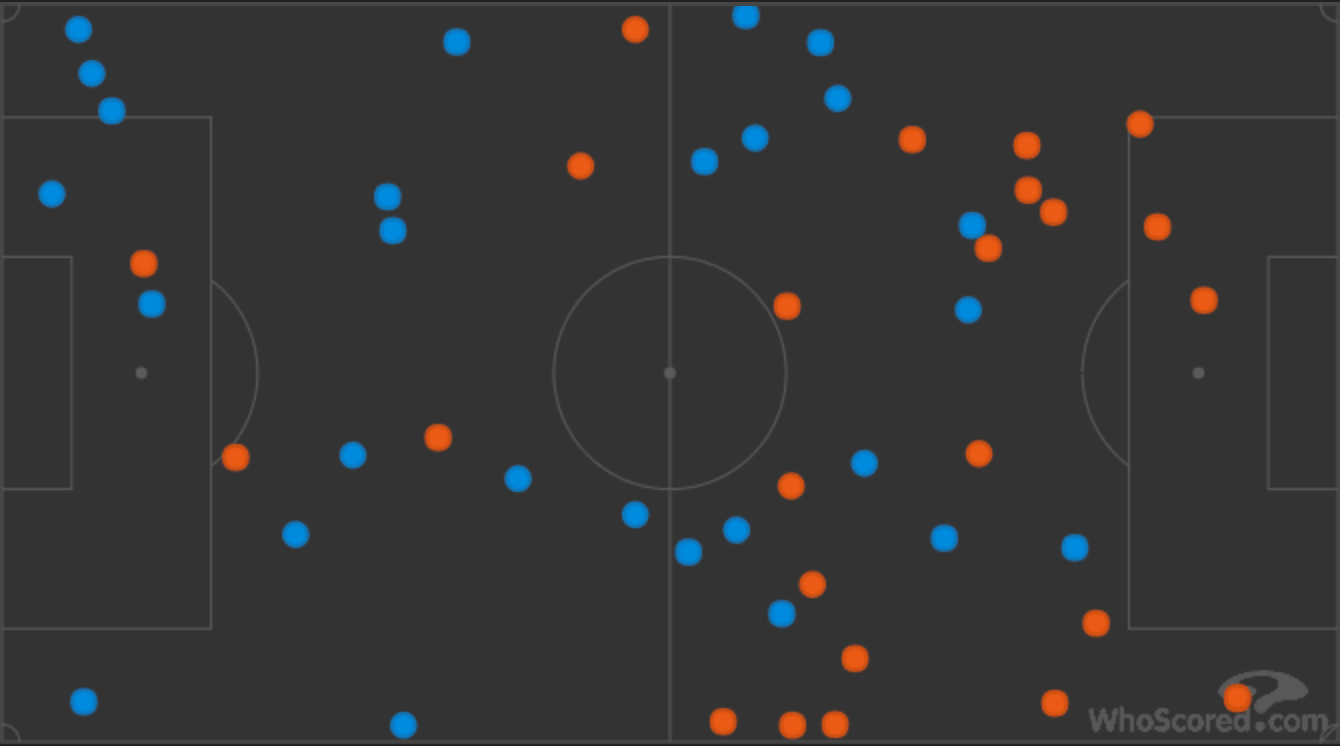 So far, it would appear Liverpool controlled the game and gave little away without really wanting or needing much of the ball. And that's because it's true. Liverpool's game plan was to press Spurs into submission, and then once the pressing slowed, to counter-attack, and pick Spurs off with their pace. Not only this, but Liverpool's midfield block would minimise the opportunities for balls into the box, and Harry Kane (touches below).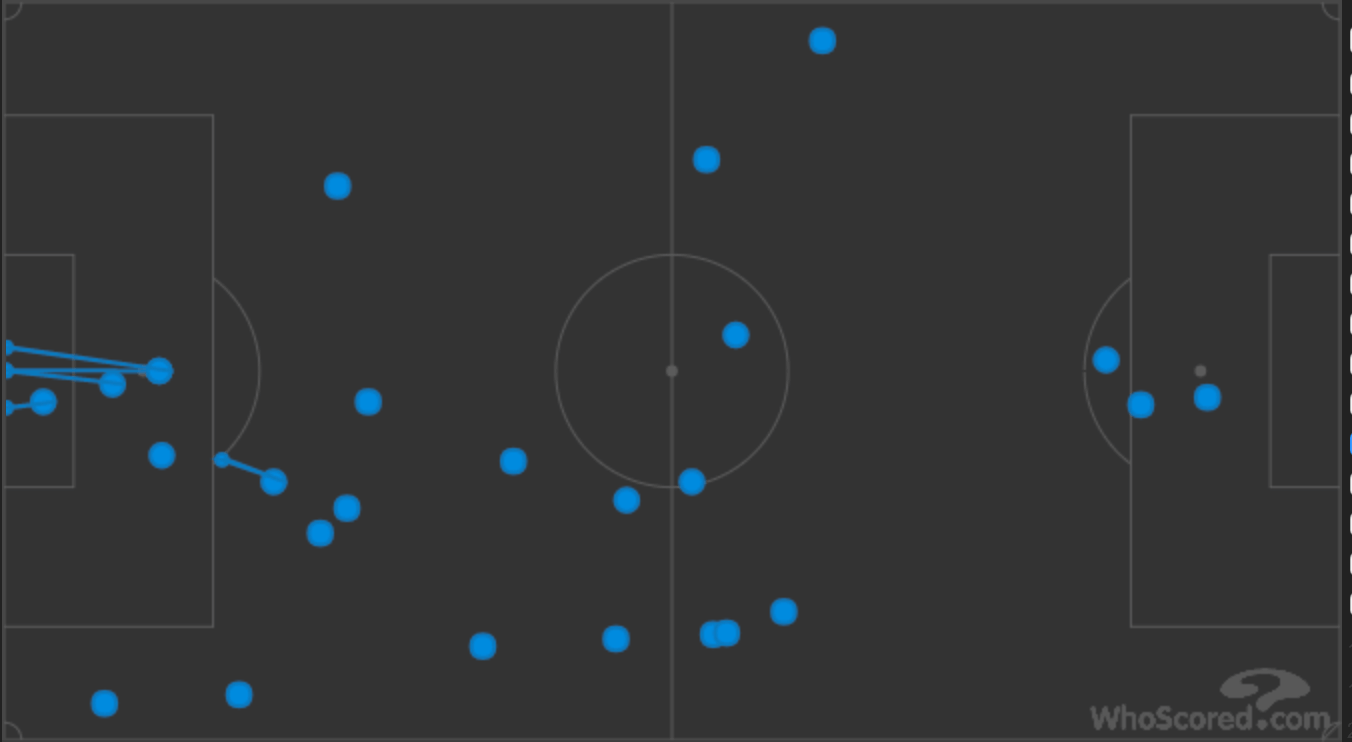 And for the most part, this worked very well, however, in football, there are some things that tactics cannot account for. Wanyama's screamer was one of those.
The Liverpool gameplan was to restrict Spurs to longshots and play the percentages, but every now and then, a one-in-a-million strike (so to speak) goes in, and that was exactly what Wanyama's goal was. Liverpool had defended the ball well, and Karius' punch had distance on it, albeit it could have perhaps gone wider. On another day, Wanyama's shot goes into the Kop, and the crowd jeers, but it wasn't to be on Sunday afternoon.
Liverpool then had to readjust, having made substitutions, which at the time, seemed sensible given Liverpool's comfortable position. But then, Liverpool would have to deal with another 'unaccountable' – the officials.
Two questionable penalty decisions, both of which should have been ruled for offside were given in favour of Spurs, and there's little a team can do in the face of this.
For those claiming Kane becomes onside after Lovren's touch, that's not the case. This (example 13) is from page 116 of FIFA's laws of the game. A sliced clearance by Lovren does not constitute a deliberate touch. Officials got it wrong. #LIVTOT pic.twitter.com/PKvLwgeT3r

— Mark Donaldson (@DonaldsonESPN) February 4, 2018
Where then does the blame for the result lie?
Liverpool undoubtedly managed the game well enough to earn the victory – they were by no means perfect, but certainly did enough to deserve the three points. Salah's goal alone was worth more than a point, however, Salah and Firmino, in particular, were poor in key offensive moments, and had they been more clinical in the first-half, the game could almost certainly have been put to bed. Klopp himself got his tactics right, as Spurs were restricted to few chances, most of which were from outside of the box, and ineffective – not allowing them to run riot, as they did against United.
Klopp's substitutions, retrospectively are curious, but in the moment, it made perfect sense to bring on fresh legs for Mané, when the team appeared jaded, and so too to bring on Matip to close the game out. Had there been a semi-competent team of officials, the final minutes would likely have passed without incident.
As it so happens though, there's little Liverpool can do in the face of dodgy decisions. Spurs crafted one considerable chance, which was met well by Karius, but apart from that, there's little for Spurs fans to cheer about. Liverpool outclassed Spurs tactically, and only Liverpool's own poor decision making and final pass, alongside the team of officials gave Spurs the chance to salvage a point.
xG map for Liverpool – Tottenham. Hard to back away and look at the match statistically but yeah it was pretty even in the end. pic.twitter.com/H5FG8bfYzz

— Caley Graphics (@Caley_graphics) February 4, 2018
A bitterly disappointing result, but given Chelsea defeat to Watford, one which does not seem to be immediately costly. Time shall tell the impact of this game, but we can be certain that Liverpool's front line must be more clinical in the remaining big games against Manchester United and Chelsea, which may likely be crucial fixtures.