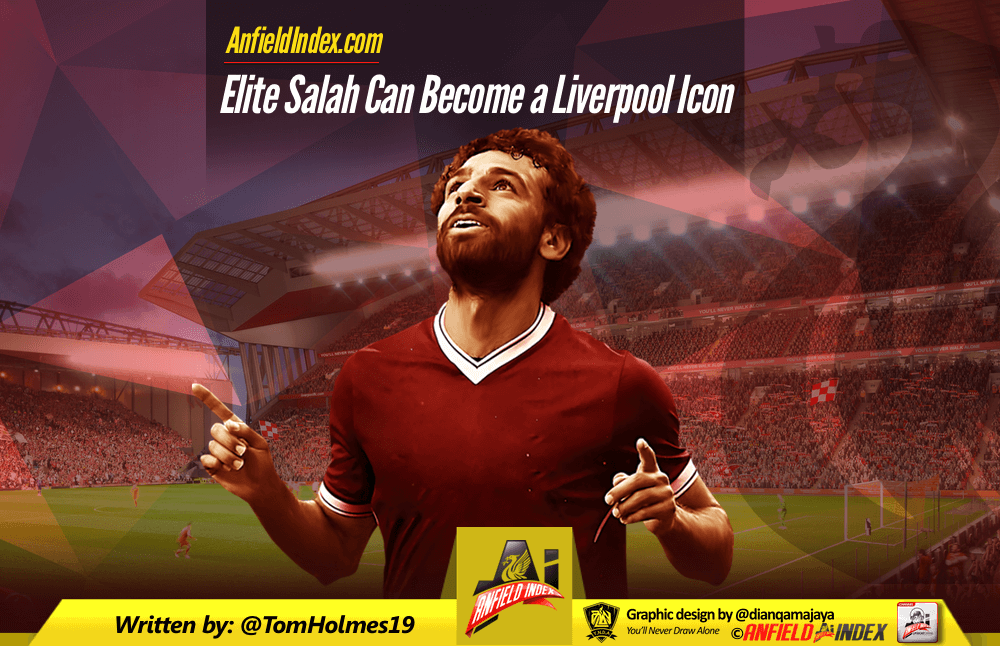 Elite Salah Can Become a Liverpool Icon
In amongst the carnage of the final minutes of Liverpool's 2-2 draw with Spurs, Mo Salah scored a goal that had the potential to be one of the greatest Anfield moments of the last decade or so. The chaos, controversy and fume surrounding Kane's two penalties and the disappointment of two points dropped cannot be allowed to take the shine off what was an absolutely extraordinary goal.
Salah picks the ball up from a difficult angle, and appeals for handball, whilst the Spurs players appeal for offside. There's a split second where everyone stops, but for Salah, it's not even that. He's off again, and before anyone can even react, he's beat three defenders and dinked the ball over Lloris.
There are so many things I absolutely love about this goal. The timing – in the 91st minute of a crucial game after the opposition have missed a penalty. The reaction, the speed with which Salah clicks back into gear and just has the miniscule edge over the defence. The sheer bloody skill to execute an outrageous piece of dribbling followed by a stunning finish. The simple fact that Salah looked like his legs had fallen off about twenty minutes previously. It was simply brilliant.
And Salah's first goal, his 20th Premier League goal of the season, making him the fastest player in living memory to score 20 league goals for Liverpool, was also impressive. Again, it was a combination of many factors, all of them quintessentially Salah, that led him to score. His sense for goals, his intelligent running and positioning that allowed him to almost smell the chance. And his sheer pace to get to the ball first. Not to mention a cool finish.
Salah's record at Liverpool almost defies logic. When he was signed in the summer, I pointed out that he was an absolutely elite player, a genuinely world-class addition who was amongst the best in Europe in his position. But I don't think anyone could have predicted just what a phenomenon he would be. 15 goals and 11 assists last year in Serie A indicated that he would contribute to lots of goals, but for him to improve markedly on that still is just extraordinary, as Liverpool have truly played to his strengths.
28 goals and 7 assists in 32 starts and two sub appearances is absolutely staggering and only Harry Kane has more goals in Europe's top five leagues. Salah has a raft of fantastic attributes that contribute to his record – pace, awareness, intelligence and top finishing are all vitally important, but it's the combination of all of them and even more importantly, the sheer consistency with which Salah delivers that is astounding.
When I said in the summer that Salah was the best player that Liverpool bought in years, maybe even decades, I was referring to where his position was when the club bought him, rather than his overall level of skill and talent that he would hit at the Reds. Suarez was good when we bought him, but he wasn't the best striker in the world, as he would soon become.
But now? Salah has the potential to surpass even Suarez for me. He's not there yet, but he can't be a million miles away. Suarez scored 31 league goals in 13/14, a fantastic record, but Salah's overall record stacks up comparably.
More to the point, Salah has the opportunity to do what Suarez never did at Liverpool, turn those great performances and terrific goals into something more. If Salah stays, if Salah gives Klopp and Liverpool a few years of his best performances, then he's the sort of elite player who wins titles.
If you look at world football right now. If you look at players with Salah's style, aggression, skill and goalscoring record, then there's only one player ahead of him in his position, and that's the greatest player of all time.
Salah has what it takes to produce moments like Sunday's late stunner on a regular basis. He already has seven goals against the top six, which is more than twice as many as any other top six player in the league this season. His incredible goals against City and Spurs and the incredible variety with which he has scored his 28 Liverpool goals indicate several things.
They indicate that he has the ability to score all kinds of brilliant goals. Headers, screamers, skilful goals, sharp finishes, clinical counter-attacks, tap-ins. But more importantly, the regularity with which he scores them indicates that Salah is not just a brilliant footballer. He's an elite goalscorer.
Salah is the kind of talent that even clubs of Liverpool's stature don't get very often. Suarez at his peak is the only one in the last decade who is ahead of him as far as forwards go, and even if you include players who play every position only Gerrard really stands out as being better.
All of this, of course, is slightly jumping the gun. Salah hasn't even played a full season for the Reds, and although his 21 league goals are fantastic, Daniel Sturridge is the perfect warning sign of what can happen when things start to go against a player. Injuries, rhythm, sales, all of them can disrupt a player's career.
Nevertheless, if Salah stays. If he stays fit. And if Liverpool continue to improve, then Mo Salah could well end up being a Liverpool icon. He's just that good. There are no signs he's slowing down. If anything, he's barely getting started.