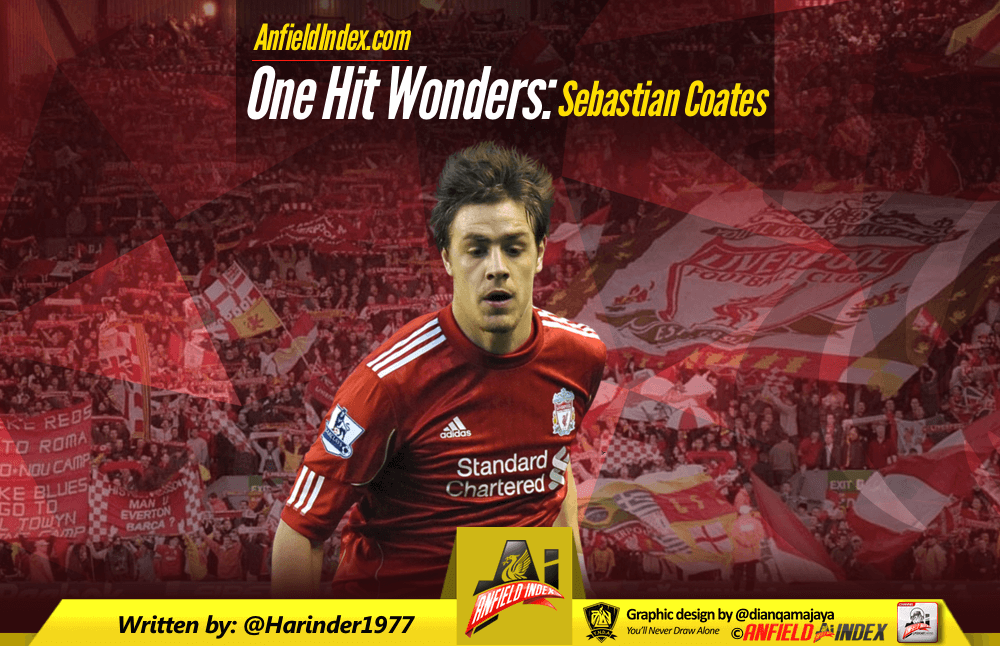 One Hit Wonders: Sebastian Coates
One Hit Wonders. There have many throughout the years so I'd start by listing my favourites
80's – Nu Shooz with I Can't Wait. It wasn't a rapper who came up with that tune!
90's – Haddaway, What is Love? We're still trying to work it out.
00's – Take your pick. Lots of shit songs!
Sorry, back to the football!
Liverpool's had plenty of one-hit wonders and one terrible blunders to match. The soft rules for myself on this were relatively simple enough – find a goal that was a never to be repeated screamer, individual brilliance or truly a one goal to your name type thing. As you can tell I made them to suit the agenda!

So, who's befitting of this inaugural series? Who deserves to be the first to be written about? Who will be the unforgettable hero whether we won or lost?
You have to start with Sebastian Coates, surely? Coats, Co-arr-tez or Coo-ahh-tez, we never really got to the bottom of it, had such a night at Loftus Road. Here I was nicely perched on the front row of the upper tier at the shoebox of this ground and near the left post. It was his left, not mine. Loftus Road has its seating so close to the pitch that you can hear everything and see it too.
Coates, eh? Ticked so many of the required defender cliches and considered a bit of coup at £7m back in the day. Rumoured interest for Manchester City and PSG and the much heralded FC Dnipro (I think). Where did he go? Liverpool. Of course, we had one Uruguayan so we needed another. 6 feet. 6 inches. 12 appearances in his first season in all competitions. 12 appearances in his second season in all competitions. 12 league appearances overall. Banter stat, as them, Under Pressure lads say. He seemed to like that number 12 a lot! His best banter stat though for me will always be as the player who headed it down for Suarez to bang in a legitimate winner at Goodison against the Ev in 2012. Cruelly and incorrectly ruled offside so it finished 2-2. Damn those officials!!!
Well, what about his goal?
If you've never seen it before then spend time watching it on repeat. It's a stunner. From a defender, I can't recall seeing ANYTHING like it before. Something this big doing something like that is just stupendously fantastic. Like many things, I can't even recall now how we got the corner. I also can't recall how we had Jay Spearing start then either or how he played or that Downing could have had the first chance before it fell so nicely for this big beautiful fella. All I can vividly recall is one huge leg wrapping around that ball and it flying in. I do remember the pain though. In all the excitement I gashed my shins against the seats and once we'd all calmed down and Kuyt got the second I was already thinking of whether to look how bad it is down there.
I didn't. I waited til I got home because we'd gone to shit and some geriatric QPR player called Shaun got one back, then an ex Liverpool player scored and then Jamie Mackie too because we were so great in defence. I can't blame Enrique too much for what happened because in my heart I just see his smile. I suppose that's one shit blunder by Jose to match the one hit wonder by Sebastian. My head may compute other things but we won't go there today. My shin was a bit nasty for a few days after that but the memory of that goal remained fresh as did all theirs all these years later.
Goals are a funny thing. We yearn them in a match. We scream and go nuts when they go in. We remember all of them or some of them. What you never forget though is that feeling when you hear the ball cuddle the back of the net. You never forget your first and you'll probably never forget the ones that leave you gobsmacked. Sebastian, for all his much-heralded good, never did get much for his time at Liverpool but we'll both always have this goal. We'll always have that memory from a floodlit Loftus Road. I'll always have a strange scar on my shin and a longing to have seen more Sebastian Coates.
He'll also have the experience of Fat Sam after us for which we can do very little about.
Now he's at Sporting Lisbon, he's also got the experience now of Portugal so how about a few tips about Porto, Sebastian?