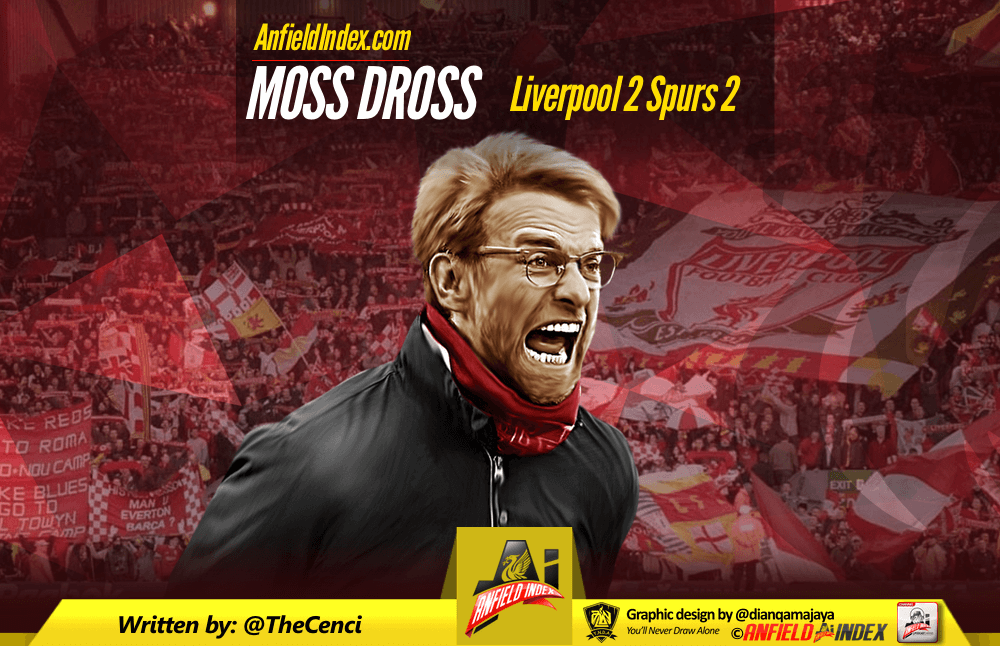 Moss Dross - Liverpool 2 Spurs 2
It was the strangest game I've seen at Anfield in years.
I left the ground utterly unable to form a coherent feeling about what I'd just witnessed and if you can manage to tear down any innate tribalism from your system and are still ravaged by several conflicting emotions, you know you've been to an odd match.
Let's go through those thoughts. Firstly, Tottenham did not deserve to lose that game. Oh, it would have been glorious to walk away with the points but they would have deserved better. They kept the Reds hemmed in for much of the second half and danced around our box for tens of minutes and not many people can come to our ground and do that. Tottenham are a very good side indeed. That needs saying.

Equally, Liverpool didn't really deserve the three points. We played well up to a point but then sank deeper and deeper as Spurs asserted dominance. Our lads just couldn't get away from our own 18-yard line and when we could it was only a matter of seconds before they won it back and were in our faces again. Space was the main issue and, at one point there was sixty yards between the midfield – such as it was in the second half – and our forwards.
Ordinarily, you can't expect one lad to play up front against three players and expect him to score, but this was Mo Salah and he can do things that no ordinary footballer can. We were so close too. Liverpool were seconds away from what looked like an unlikely victory.
So a draw was probably the fairest result, yeah?
I was furious with a draw. We all were.
But, of course, the game was not decided by the teams, but one man and his assistant.
Ron Atkinson once said after a game, 'I never comment on referees and I refuse to break the habit of a lifetime for that prat.' I'm with him on that. After all, blaming the ref usually comes with a taste of sour grapes and I'd like to think I'm fair. If we've been beaten fairly then most of us are prepared to look to ourselves first before the officials.
Oh, there are exceptions. In the opening game of the 2009-10 season, I saw Phil Dowd give Spurs a throw-in just so he could point out to Jamie Carragher that he could and there was nothing he could do about it. It was a decision so confusing that the Tottenham lad asked him twice if he was serious about the award.
Then there's Lee Mason and his unusual brand of justice while Uriah Rennie looked like one of those kids who always got the lead role in the school play despite a frightening lack of talent, but whose parents know the head teacher.
But yesterday was the first time I've ever seen a ref ask for the opinion of a man who was standing behind him and then ask his mate what the telly said. That man decided the result of a Liverpool v Tottenham game. A game between two of the biggest sides in the land.
Here's another thing. I don't like football conspiracy theories. 'Warm balls' in UEFA draws etc. aren't for me, but did anyone notice the little Tim Henman fist pump from the linesman when the penalty was awarded? That was weird.
And it wasn't just the ref's actions in those final minutes. Jon Moss (not the former drummer of 80s band Culture Club incidentally – much to my girlfriend's disappointment and annoyance) didn't just shit it for those decisions. He was woefully inept for both sides throughout the game. I may be wrong but I noted that the clock when he finally gave Liverpool a 50/50 decision. 31 minutes.
It's almost as if he thought Salah's second goal seemed a little cruel on the away team and he thought about levelling it up should one of their lads go down and raise an arm in protest.
Don't get me wrong here. I'm not apportioning blame to Spurs as such (though someone needs a word with Dele Alli). I was near the Main Stand/Annie Rd corner flag at the time and their supporters were as confused as we were come the end. They too stood in silence, gamely trying to work out what the hell Moss and his linesman were doing. It turns out they were deciding who should win the game.
And it made me wonder how that must have felt for the managers. After all, they'd worked on their strategies through the week, chosen their sides and deployed their men as best they could. Jurgen Klopp chose to give Spurs the ball and tried to hit them on the break. Pochettino preferred to push his men wide whenever possible and then to push the Liverpool midfield onto the centre-backs. To do all that and then leave it to a man who needed to ask for a telly to make a decision…
Personally, I'd prefer it if those men and their charges settled the game. Not a man with a whistle and an inflated sense of his own worth.
Still, there's nothing we can do about it now. We've held Spurs off and, what with Chelsea imploding recently; it's not been a bad week for the Reds. It just could have been more.
Just that little bit more.