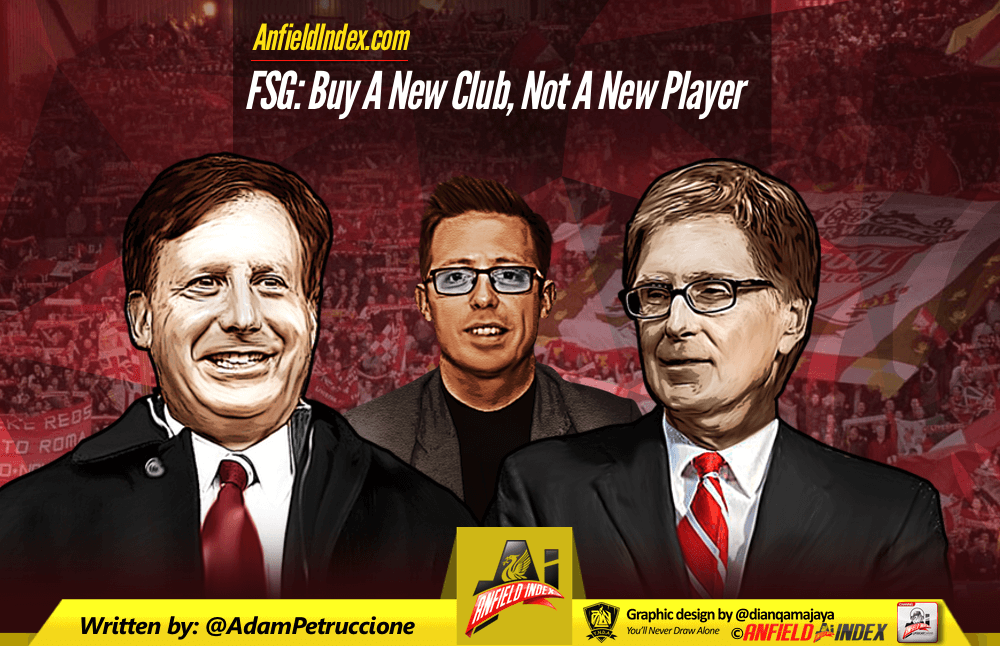 FSG: Buy A New Club, Not A New Player
Disclaimer: Sorry to disappoint the FSGOut'ers, but this isn't one of those articles. The boys from Boston will be directing the future for years to come. This is an FSG-Figure-It-Out article pondering possible paths to make the club more competitive while these owners are in place.
DOUBTING THOMAS
This week James Pearce did his "bad news" best to tamp down the persistent links to Monaco's versatile winger, Thomas Lemar. Pearce cited the price tag an issue for the waning interest.

#LFC cool interest in Thomas Lemar. No longer a target as Klopp looks at other options for the summer. https://t.co/ySURqLhAjY

— James Pearce (@JamesPearceEcho) February 8, 2018
The price?
Liverpool are sitting on a pile of cash that would make Scrooge McDuck blush after being forced to sell Phil Coutinho to Barcelona because, "dreams." Thomas Lemar doesn't have to be the replacement, but certainly someone who fits his profile as a facilitator from the left side who can play as the most advanced 'eight' in Klopp's system or on the wing in the attack would help quite a bit.
The idea that Lemar's rumoured £75 million price tag is too hefty of course raises concerns. If that number is too much, what of Pulisic or Asensio; two similarly outstanding young players that will only be available for mega bucks? One would assume we can safely cross those names off of the list as well.
The narrative that Liverpool select specific targets and are willing to wait them out through multiple windows to land only the perfect players for Klopp is clearly spin. The club waited a couple of months past one window to land Van Dijk. That one instance doesn't make Liverpool holier than the other top clubs in the world. It seems fairly clear, as painful as it is to write, that the Coutinho money did at least in part balance the books from the Keita and Van Dijk deals.
PEP'S PAUPERS
Meanwhile, Manchester City put pen to paper on another major signing in Shakhtar's Fred on the same day that we were disavowing Lemar, hammering home the difference in the financial heft of the two clubs.
We know the chasm is there between Liverpool and City in what we can spend on acquisitions for the senior squad. But, that can't be the end to the story in The Reds' quest to resurrect their global status. FSG pride themselves on figuring out creative ways around problems like this as they did in bringing the Red Sox up to the level of the vaunted Yankees.
City cannot be matched in terms of raw transfer spending power. Quietly though, they're building something in the background that will test their rivals' resolve and resources to an even higher degree. Manchester City now have a network of satellite football clubs in nine different countries. They are able to use these clubs to side-step FFP regulations as they did with the Frank Lampard deal. They can use it to shuttle players from their academy to get first team experience abroad or as a vacuum to pull talent from all parts of the world.
The global reach of @ManCity – currently own 9 clubs on 4 continents + the contracts of 240 footballers. The aim is to develop the world's best young talent at clubs they own and then sell them or send the best back to Man City. pic.twitter.com/klureM7eUo

— Pete Nowakowski (@petenowakowski) December 19, 2017
FARM FANTASIES
Liverpool aren't going to buy up eight farm teams tomorrow. It isn't clear that is even the best plan because no club has ever tried it before. But, how about starting with one?
The Reds finally announced this week the signing of young fullback Anderson Arroyo. The Colombian is going to be on loan in Mallorca for the next 18 months. Through either ingenuity or luck, LFC have put in motion a deal that really makes a lot of sense. Spain's immigration laws allow people from its former colonial territories a fast-track (2 years) to citizenship. In 2020 Arroyo will be a 20-year-old fullback with experience playing in Europe, without any work permit complications who the club paid next to nothing for.
That's one exciting prospect in the pipeline. Will he ever suit up at Anfield? He still has a ton of work ahead of him to make that leap. What Liverpool need is a whole squad of Anderson Arroyo's. Why not buy RCD Mallorca outright? A club of that size would cost less than the average player acquisition. Liverpool could have a warm-weather training base, a club under their control to move players in and out of… think Vitesse, but on a beautiful Mediterranean island.
The Arroyo experiment makes a lot of sense. Why not repeat it with a dozen more talented youngsters from Latin America while sending our near-ready academy products south to a controlled environment rather than loaning them out to learn their trade from Neil Warnock? Liverpool clearly have built a skilled scouting department with far more hits than misses in recent years. That strength isn't being utilized to its full capacity by making 3-4 signings per year.
Liverpool have to pursue a different path, a smarter path than their rich rivals if they want to compete in the future. Right now we're hanging on, fueled by the charisma of our manager. What happens when he's not around anymore? There has to be a system in place that provides the club with other systematic advantages. Liverpool are a global brand, more than Chelsea or City are at the moment. That needs to be taken full advantage of. Building a system to bring through talent that is a sort of hybrid between the examples of City, Chelsea and RB Leipzig has to be something they're at least kicking around in Boston.
After all, one of the Red Sox' strengths is bringing through young talent via a network of farm clubs scattered around the United States. It won't be an idea that is foreign to them.
The time is now for Liverpool to make bold moves or be left behind in a rapidly changing football landscape. Nobody expects a club from a city the size of Gdasnk or Tallinn to go toe to toe with the financial behemoths of football, but they cannot wait for the rest of the big-six to build their own talent pipelines before striking out on their own. UEFA won't stop Leipzig and they certainly won't stop City. They've shown that in the past year. That should make it evident to FSG that the path is clear for this sort of manipulation of the rules.
If we cannot afford a replacement for the little magician, fine. Forget Phil. Buy an entire club and try to bring through a whole crop of Coutinho's. Because one Colombian teenager per year isn't going to close the gap between Liverpool and Manchester City, but maybe ten at a time would at least give us a shot.