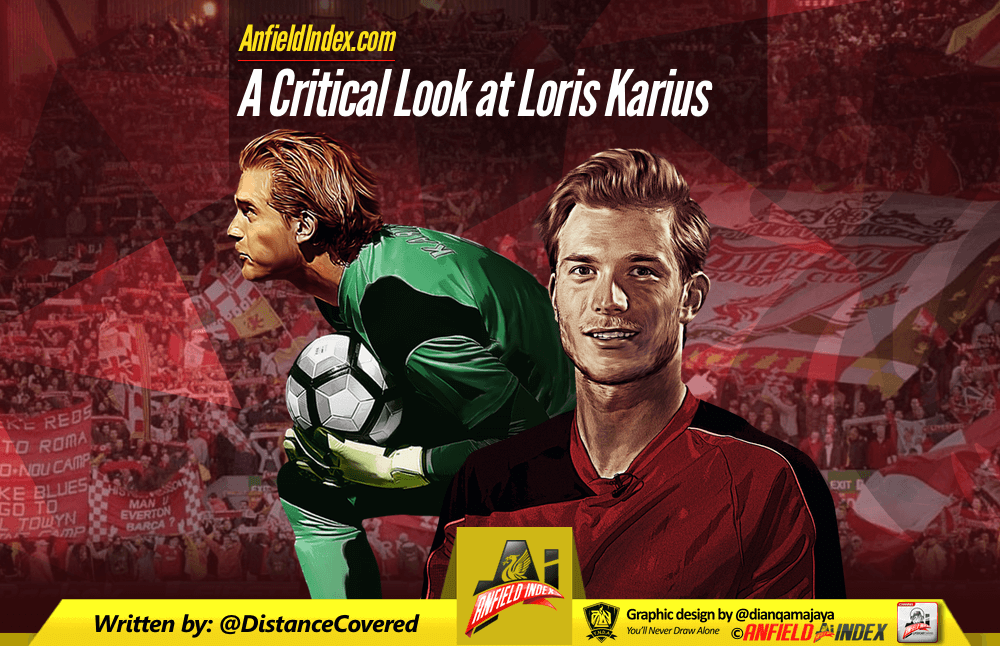 A Critical Look at Loris Karius
Please note that this article was written before the Southampton game.
Over the years, Liverpool have had persistent goalkeeping problems that have ultimately contributed to the club being unable to make decisive surges forward to win silverware. Liverpool's last trophy was won in 2012 with Pepe Reina between the sticks, and a year later Simon Mignolet was signed to assume the position for the club moving forward. Since then, Liverpool haven't won any form of silverware and the current manager is now in a position whereby he's relatively unsure who his best option is, with Mignolet and Loris Karius both gradually proving unworthy over time.
After Mignolet's unreliable performances in recent months, Jurgen Klopp acted and named Karius as his no.1 for the upcoming final stretch of Premier League matches. That decision may be justified, but the positive public perception of Karius is the motive behind writing this piece, as I think it's being formed somewhat falsely due to Mignolet's hopelessness and it's my view that general standards need to be higher.

Last month, I ran a poll on Twitter to gauge the general consensus on Karius as a goalkeeper, with the majority of my followers being Liverpool fans. Voters had the basic choice of 'Good' or 'Bad' with no answers in between, and the results were 58% Good, 42% Bad. I had a feeling that would be the outcome but still found myself surprised, as at that stage Karius hadn't done a single thing in his 18 months at the club that had impressed me or offered any form of hope that there's a player in there somewhere waiting to be unearthed. In fact, Karius has been largely ordinary except for his widely reported 'good' performance against Tottenham at Anfield.
Here's my view on it, I think the positive opinion of Karius stems from the awful standard of goalkeeping that we've become used to at Liverpool since 2012. Today, a performance in which the goalkeeper isn't directly responsible for conceding is deemed good enough when in reality, that should instead be the bare minimum at a top club. If Karius completes a match without making a mistake that directly led to a goal, he's labelled as good, which isn't always the case when looking at each aspect of his performance. A goalkeeper has the power to influence so much more than simply stopping the ball from going in the net, and Karius currently lacks in most areas based on his displays since signing.
Before I delve into his showings and use examples, I want to clarify to readers that I hope he flourishes and this critique isn't being written to simply knock him or diminish his performances. The intention here is to exhibit the specifics that Karius needs to improve if he's to reach the required standard to be Liverpool's long-term primary goalkeeper, as I consider not making mistakes and stopping shots to be a given, so we want him to influence more than that.
Analysing His Game
Now, those that follow my account on Twitter will know that I'm not the biggest Karius enthusiast, as I simply don't think he's good enough yet for various reasons and I don't think Liverpool are in a position to wait any longer for progress beyond the coming summer. I'll demonstrate my points using numerous clips, and although some may seem harsh or minor, the purpose here is to be critical and they're all aspects that add up and ultimately matter.
I've tried to use arguably Karius' best performance for the club against Spurs recently for most of my examples, as despite the widespread praise I still found myself yearning for more when watching. Yes, he saved a penalty, but luck plays a huge part in those instances. In terms of his general display, it was better than usual but I wouldn't consider it great and I say that because he did things that he SHOULD be doing, nothing more. He's the starting goalkeeper for Liverpool FC and he's competing regularly to WIN the world's most prestigious competitions. Given that, standards should be high and in the two clips below, you'll see his two main saves from the 2-2 draw.
Dembele's shot. Karius handles well but so he should – it's fairly central, outside the area & at an easy height to save. As Liverpool fans though, we expect those to roll in so we're surprised when they're saved. #LFC pic.twitter.com/VOk5TxeXZn

— Distance Covered (@DistanceCovered) February 7, 2018
Son's shot. This is trickier & Karius does well to reduce the angle, but the shot is straight at him. Again, this is what we should expect. #LFC pic.twitter.com/8PZZf7ZNLF

— Distance Covered (@DistanceCovered) February 7, 2018
I'm happy Karius managed to deal with both threats, but those two saves should be expected, and we shouldn't be surprised when they're handled. I think those types of actions are now viewed more impressively than they actually are because of how often Mignolet struggled to deal with them in the past. I'm not stating this to play down Karius' performance; I'm simply voicing that that's what we should expect from a top goalkeeper.
Dembele's shot was fairly central, from outside the area and at a comfortable height for the goalkeeper to save. Karius does well to retain the ball and avoid any rebound off his body, but as I said I think this is what we need to expect from our goalkeeper, whether that be Karius, Mignolet or a new signing. Son's shot seemed trickier, but when observing from different viewpoints it's clear that it's hit straight at Karius, although he does do well to reduce the shooting angle by closing the space more proactively than usual. Unfortunately, as Liverpool fans, we've become accustomed to those shots resulting in goals in recent seasons due to poor stopping or common mistakes. Well done to Karius for saving them, as he mightn't have done so in previous months, but that's what should be happening if we're employing the highest standards.
Let's now focus on his distribution, which was supposedly a factor in the club's reasoning to sign him in the first place. Based on what I've seen of him in his time at the club, I think his distribution quality is a bit of a myth personally. Firstly, his kicking technique is quite basic and he strikes the ball in a similar manner to Mignolet, which often results in the ball floating, lacking distance and it can put teammates into pressure situations. An example of this can be seen in the clip below, so in that area, we certainly yearn for better skill and that's been apparent since Pepe Reina, but I accept it's quite minor so I'll move on.
This is very minor but his kicking technique isn't great. His striking of the ball makes it float so it lacks distance & often puts teammates under pressure as they attempt to control. #LFC pic.twitter.com/7LdIKus6UG

— Distance Covered (@DistanceCovered) February 7, 2018
His decision-making when distributing is a bigger problem though, as he habitually releases the ball either when he shouldn't or into areas that he shouldn't. I've got two examples of him doing this from the Spurs game alone, in which his performance was widely reported as 'good'. In the first clip below, Karius is looking to instigate some form of counter with a fast release, but he doesn't assess the situation carefully enough and Milner is immediately pressed and consequently loses possession. After re-watching this clip, Milner appears to ask for the ball from Karius, so in this instance, it's perhaps not entirely the goalkeeper's fault. However, I've still opted to include the example because it's an error I've seen him make numerous times now in more than a few matches, and even though Milner does ask for the pass, we want our goalkeeper to have the aptitude and authority to assess whether it's a good decision or not.
His decision-making when distributing is also problematic. He's prone to releasing the ball too quickly & it can result in immediate panic, as shown in this clip. #LFC pic.twitter.com/qHJrtwuxbW

— Distance Covered (@DistanceCovered) February 7, 2018
Initiating counter-attacks by distributing quickly can obviously be beneficial if done well, and Karius did play a part in a recent goal scored against Swansea, but there's an element of risk attached to releasing the ball rapidly into those areas and Karius' capacity doesn't yet appear developed enough to manage that risk by making assured decisions.
Here's the second decision-making example when distributing in the clip below, but it's important to set the scene for this one. This is 73 minutes into the match when leading 1-0 and it's against Tottenham who at this point were absolutely dominating the play as Liverpool could barely escape their own half. Liverpool players were breathing hard at this stage due to the lack of possession and were consequently desperate for the tempo to be slowed or for the game have some form of stoppage. I'm simply talking about a few seconds here, during which the players aren't being attacked, during which absolute concentration isn't needed and during which composure and focus can be marginally regained.
This clip is from the 73rd minute. We're leading 1-0 & can barely catch a breath due to Spurs domination. Karius opts to look for an isolated 5′ 9″ Mo Salah with a pass hit into the sky. Why? #LFC pic.twitter.com/L9iTqfCgpH

— Distance Covered (@DistanceCovered) February 7, 2018
Instead and despite the delicate match situation, Karius held the ball for less than a second and decided to kick high in the direction of Mo Salah (5′ 9″) who then has to win an aerial duel against Jan Vertonghen (6′ 2″). Salah obviously didn't win the duel but even if he did, there's one teammate within 25 yards of him due to Liverpool's defensive efforts at that time. Now, I acknowledge that he's hit the pass to play through Salah and I'd suspect that distributing in that nature is a direct instruction from Klopp, but not in that instance. I think in that specific moment, Salah was probably the only Liverpool player that actually wanted Karius to hit that pass, and his aforementioned kicking technique is the reason behind it lacking the distance and directness needed to reach the targeted space behind Vertonghen.
To clarify, I've got no issue with those counter-attacking distributions being attempted by Karius or any goalkeeper, and he's generally quite proactive with it, but I think game management and general nous is required especially in the top level matches. In that instance, I think Karius should've instead cooled the tempo, held the ball and allowed his teammates to slightly recuperate and refocus. An action as nonsensical as that can transmit bad decisions and disorder throughout the whole team, especially in that pressure environment when it's deriving from the goalkeeper, who's supposed to be the coolest person in the stadium.
Finally, I want to make a point about Karius' authority and commanding of his area. Bruce Grobbelaar said a few seasons ago in reference to Simon Mignolet that the whole penalty box should be the goalkeeper's, not just the six-yard area. This is also applicable to Karius, as I think he often appears hesitant when looking to control a situation within his vicinity. I couldn't find a relevant clip to demonstrate this from the match against Tottenham, but below you'll see an example of his reluctant sweeping against Swansea in which his positioning and lack of influence result in momentary panic.
Very minor – but this is a prime example of why I'm so harsh on Karius. His starting position should be minimum five yards further forward here & panic ensues as a result. #LFC pic.twitter.com/qOFVU5EP72

— Distance Covered (@DistanceCovered) January 24, 2018
Karius allows Matip to dominate the situation when he instead could've managed it much more calmly from a viewpoint that provided extra awareness of the surroundings. His resulting kick is in the clip below and as documented, he could've instead found a free teammate with a simple pass to feet. I recognise that this is another point that can be interpreted as harsh or insignificant because nothing came from it, but these specifics all add up over the course of a season.
Here's the resulting kick. Karius could've instead kept the ball on the floor & found a free teammate if his initial quality/positioning was better. #LFC pic.twitter.com/3Nf3HBuA9y

— Distance Covered (@DistanceCovered) January 24, 2018
In addition to that example, I also recall Virgil van Dijk on his debut having to shout at Karius on more than one occasion to take charge of a situation that he was initially hesitant to do so. That's understandable to a degree considering it was the first time Karius and van Dijk had played together, but again, we're talking about standards here and top goalkeepers demand control and aren't afraid to take charge.
Karius' age and immaturity may be a reason behind his alleged lack of power in certain circumstances, so it's an aspect that he'll likely improve with experience. Sadly though, time is required in order to acquire valuable experience, and I don't think Liverpool can afford that anymore in reference to the goalkeeping department after investing five years in Simon Mignolet.
Conclusion
To close, I want to be clear that this argument is as much about standards and expectations of a required level as it is about Loris Karius. I'm aware that my observations have been critical and somewhat harsh and I appreciate that he's not fully developed yet at just 23 years old, but Liverpool are in a position whereby patience in regard to goalkeeping should have run its course. His performance against Spurs was better than usual and I don't intend to diminish that, but we need to be judging him compared to the highest level, not compared to what we've witnessed over the past five seasons.
I'd love nothing more than for Karius to prove me wrong, but he's got a lot to improve on before I'd be satisfied acclaiming him as the long-term answer to Liverpool's goalkeeping problems. Unfortunately, I don't think time is on his side and whilst he may eventually reach a good enough level, I don't think Liverpool can afford to settle for the deficiencies during the period in-between that happening.
So let's praise and support him for the time being, but ultimately I want us and the club to raise the goalkeeping standards that we deem acceptable, as I think they've gradually lowered over time due to the detrimental tendencies of Simon Mignolet. If the club do indeed sign a top quality no.1 in the summer, maybe then we'll realise what an actual 'good' goalkeeping performance looks like.