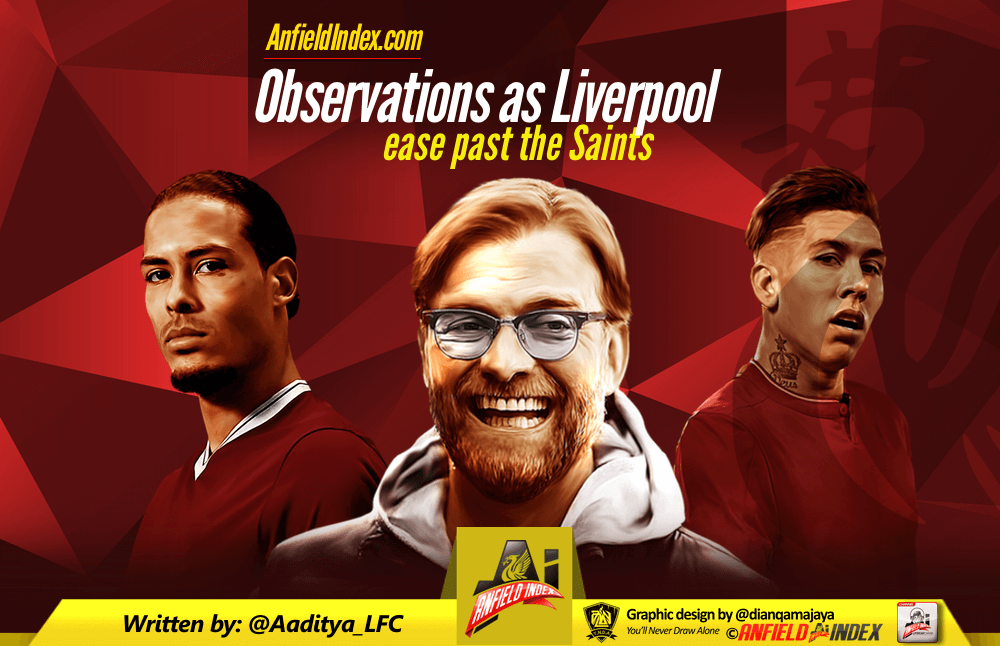 Observations as Liverpool ease past the Saints
It was a game in which Liverpool never needed to get out of second gear but still came out with a comfortable 2-0 victory. The game was settled by two beautiful first-half goals from Roberto Firmino and Mohamed Salah who each continued top-class goalscoring seasons.
Here are some talking points from the game:
Karius loves St. Mary's
Loris Karius's best performance in a Liverpool shirt thus far was in the first leg of the League Cup semi-final last season, and he followed it up with another solid performance today, especially in the first half.

He made some really crucial stops to keep the Reds' 1-0 lead intact – with the saves from Pierre-Emile Hojbjerg and James Ward-Prowse standing out.
It seems like this extended run in the side is doing him a lot of good, with his performances progressively improving since the FA Cup match against Everton.
There are still some issues, like his distribution, which sometimes comes across as a little too rushed, but overall, he is growing into his role as Liverpool's No. 1.
Van Dijk silences the boo-boys
Virgil van Dijk would have been deluded if he thought he would get a kind reception on his return to Southampton. But he embraced the hostility and seemed to revel in it. He barely put a foot wrong, as the following numbers showed.
4/4 aerial duels won
1/1 tackle
6 clearances
2 interceptions
Dribbled past 0 times
He has had his fair share of doubters and he hasn't been flawless since his move, but it is visible that Van Dijk has improved Liverpool's defense. He is well and truly the commander of the back four, and the best part is that he is only going to get better as he further acquaints himself with this squad.
Wijnaldum played well… in an away game!
He just does not want to score away from home, does he? Midway through the second half, he made a fantastic burst from midfield and Firmino found him. But, instead of taking it in his stride, he decided to leave it for Sadio Mané, for whom the chance was a lot tougher.
But that shouldn't take away from a very good performance from Wijnaldum. He provided thrust and energy from midfield, and his usual shielding of the ball was on point as well. It was important that he did play well because Alex Oxlade-Chamberlain had a poor game, and Emre Can was struggling to impose himself on Mario Lemina.
Once Milner came on for Chamberlain, Wijnaldum settled in well with the vice-captain and ensured that possession was kept and there were no unnecessary scares.
Roberto Firmino is magic
How else do you describe what he did to set up Salah's goal? He brings such intelligence along with his hard work, it is impossible to think of a Liverpool side now, without him playing up front. He is Brazilian so that natural flair will always be there, and it is the combination of all these factors that makes him the player that he is.
He scored his 20th goal of the season, and provided his 11th assist of the season. Remember those people still talking about how Liverpool needed a recognised no. 9?
Game management
Should we put that second half down to Liverpool saving their legs and being pragmatic ahead of a big Champions League trip to Portugal? Or should we just say Southampton were extremely poor?
This is the kind of game that generally, Liverpool would somehow make interesting. But there was none of that after Salah doubled the lead.
The Reds had enough chances to increase that lead in the second half, but poor decision-making let them down. But at the other end, there were no real scares, with Karius having nothing to do post the interval.
Liverpool kept possession well, troubled Southampton going forward and were comfortable at the back. So comfortable that Klopp decided it would be nice to re-engage Southampton's boo-boys by bringing Dejan Lovren on in the final moments of the game. Boss.