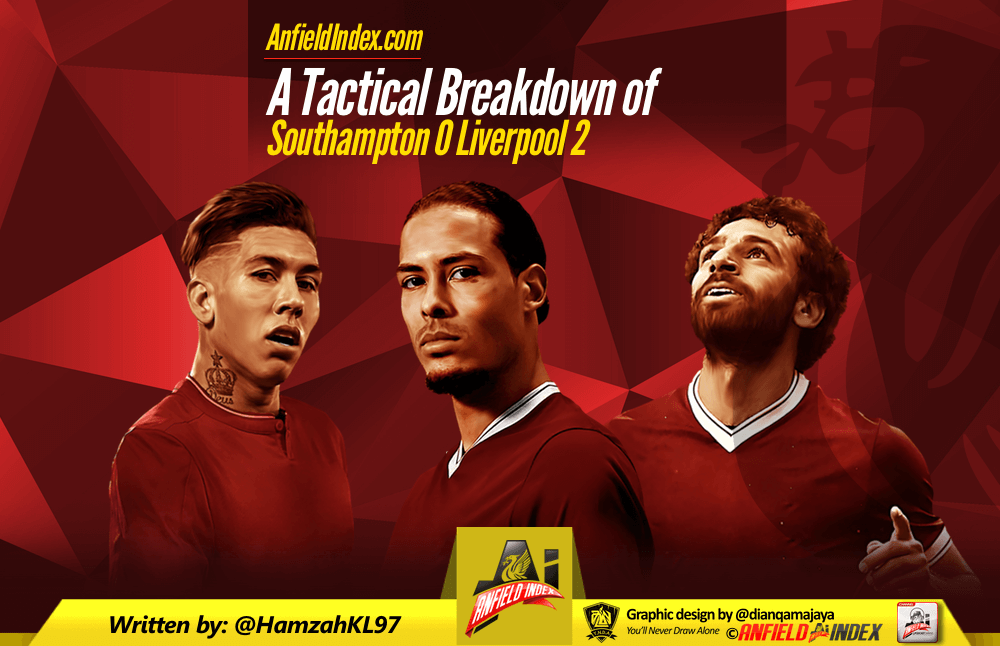 Southampton 0-2 Liverpool: A Tactical Breakdown

It might just be me, but I do love a good-old 0-2 victory. Indeed, this was Liverpool's first 2-0 league victory of the season. And we should not knock that at all, a 2-0 is an underrated scoreline, it usually means control by one side within a fair game, a game in which the opposition is resolute enough to not concede more, but the winning team is focussed enough to not concede at all. That's a massive generalisation, and not reflective of the game – as we'll discuss – but a 2-0 away victory is always welcome, even if it is more boring than an end-to-end goal-fest.
Generally, Liverpool used their flanks more than they have in recent games, but still attacked predominantly through the middle: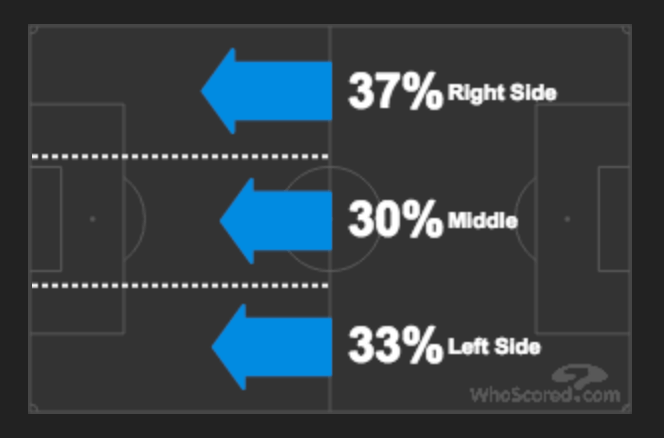 Over the course of the game, it's fair to say there were a number of phases that characterised certain periods. Liverpool were fortunate to get off to a bright start, but immediately we could see Alexander-Arnold moving up into the wide channel, as Salah came inwards. Firmino took up a role that is best characterised as a Centre Forward, just between a classic 10 position and the striker, but also floated wide from time to time.
Chamberlain moved up and was clearly designated as the offensive midfielder within the three, giving Liverpool a 4-2-4 or a 2-4-4 on the ball. However, when Liverpool lost the ball, instead of pressing extremely high, the midfield reverted back to a three, but a compact three, of which Salah and Mané fit onto, and this was very much the story for the first-half. On the ball though, before Liverpool's first goal, Chamberlain and Wijnaldum targetted the channel between the edge of the D and the corners of the box, as areas to run into, but we could not really see if this was a gameplan, as the game changed so much after the goal.
Early on, Liverpool held the ball well but were best when they were direct with it: Liverpool's first goal exemplifies this best, as a quick release from Karius, into midfield and then into Salah allowed Liverpool to break as Southampton were in transition and not set up for the Liverpool counter.
What we saw afterwards though was a strange surrendering of possession, as Southampton came into the game, and seized upon Liverpool's slow transition from a 4-2-4 to the 4-5-1, one Liverpool lost the ball and focussed on exploiting the Liverpool flanks. Liverpool's narrow midfield shape likely contributed to it too, with slower than usual pressing giving Southampton a better chance to control the game. Indeed, only 23 minutes in Liverpool had only had 40pc of possession.
Passmaps & xGplot for Southampton against Liverpool. #passmap #xGplot #autotweet pic.twitter.com/gh2gFreQJF

— 11tegen11 (@11tegen11) February 12, 2018
Alexander-Arnold though, after this aggressive push initially, dropped deeper, whilst Robertson took on a more offensive role, further up the pitch, but was caught out defensively from time to time.

(Southampton left, Liverpool right)
But we also saw a different approach from Liverpool in possession too; there seemed to be a focus on passing the ball out from deep, perhaps in expectation of a Southampton low-block, in order to draw them out, and create chances in behind, however, Liverpool's early goal may have disrupted this game plan, for Southampton were chasing the game from early on, and thus were not sitting back. But the clear intent to pass out from the back was visible through Wijnaldum and Can's positions for goal kicks, as they dropped deeper, to support the centre-backs, and instead of Can dropping alone as we usually see, Wijnaldum dropped, albeit less-so than Can, to act as a bridge and help circulation from the back. The more direct approach paid dividends too, as Mané had a good chance too, but what we began to see was the midfield being bypassed, as the midfielders did not offer encouraging positions when the defenders had the ball, as a result, the ball was fed into the forwards from the defenders on a number of occasions.
Liverpool looked passive and lacklustre for quite a while too, but Liverpool's second goal was a real gem, not just because of the work of Salah and Firmino, but also the contribution from Mané. Liverpool attempted to attack down the left with Mané, but when forced into a corner, instead of forcing a pass or cross, Mané stayed wide, and ran back down the line towards the Liverpool half, through doing this, he brought the Southampton line up, creating space in-behind. Following on, Matip receives the ball and plays it into Salah – surrounded by players, but importantly, with space to run into, as the Southampton defensive line had moved higher up the field. Firmino's fantastic flick is weighted perfectly, but the intelligent patient play by Liverpool for this second goal is something worth noting, especially as Liverpool have struggled to move low-blocks in recent seasons. The screenshots below should illustrate and break down the move for you to see clearly: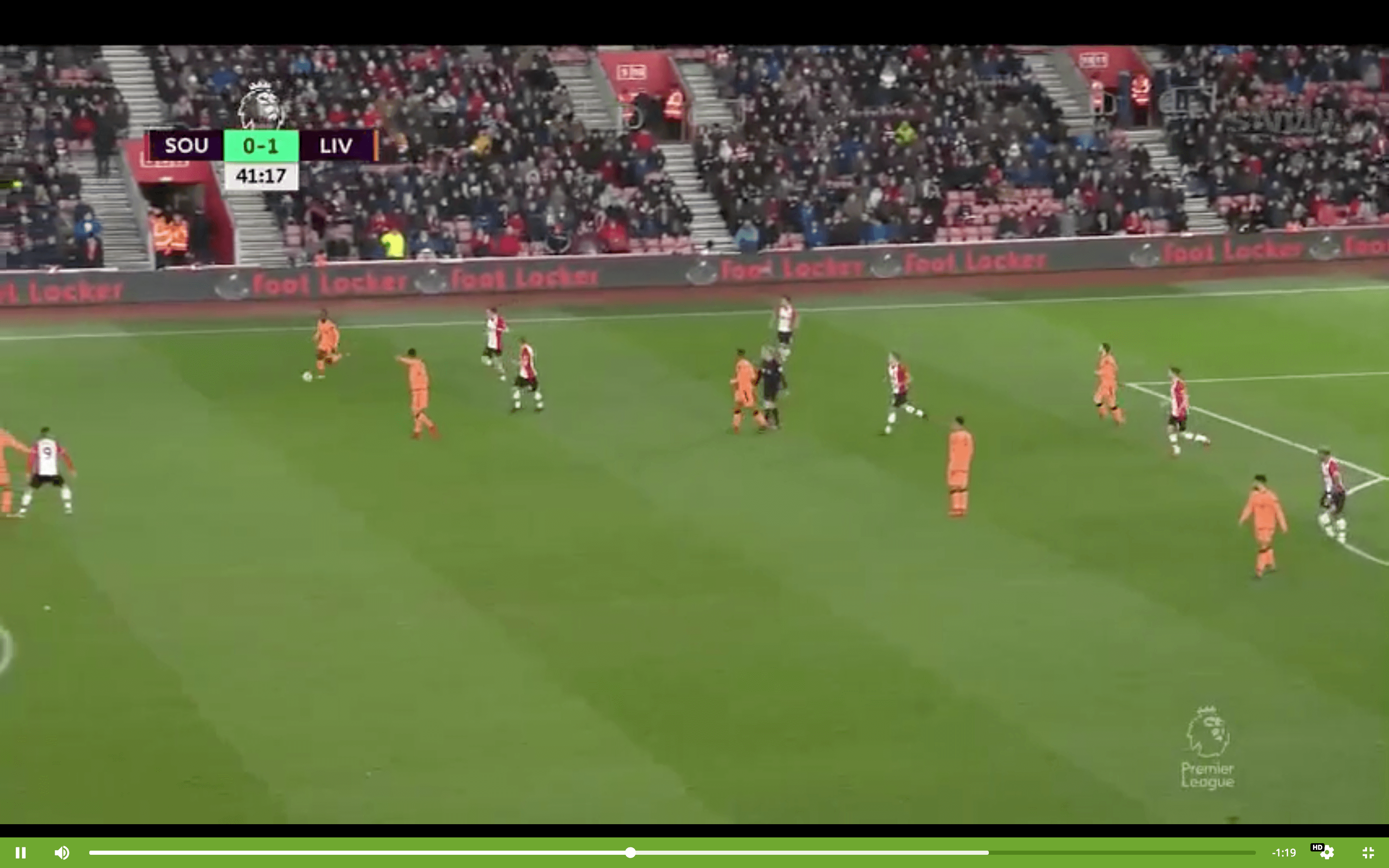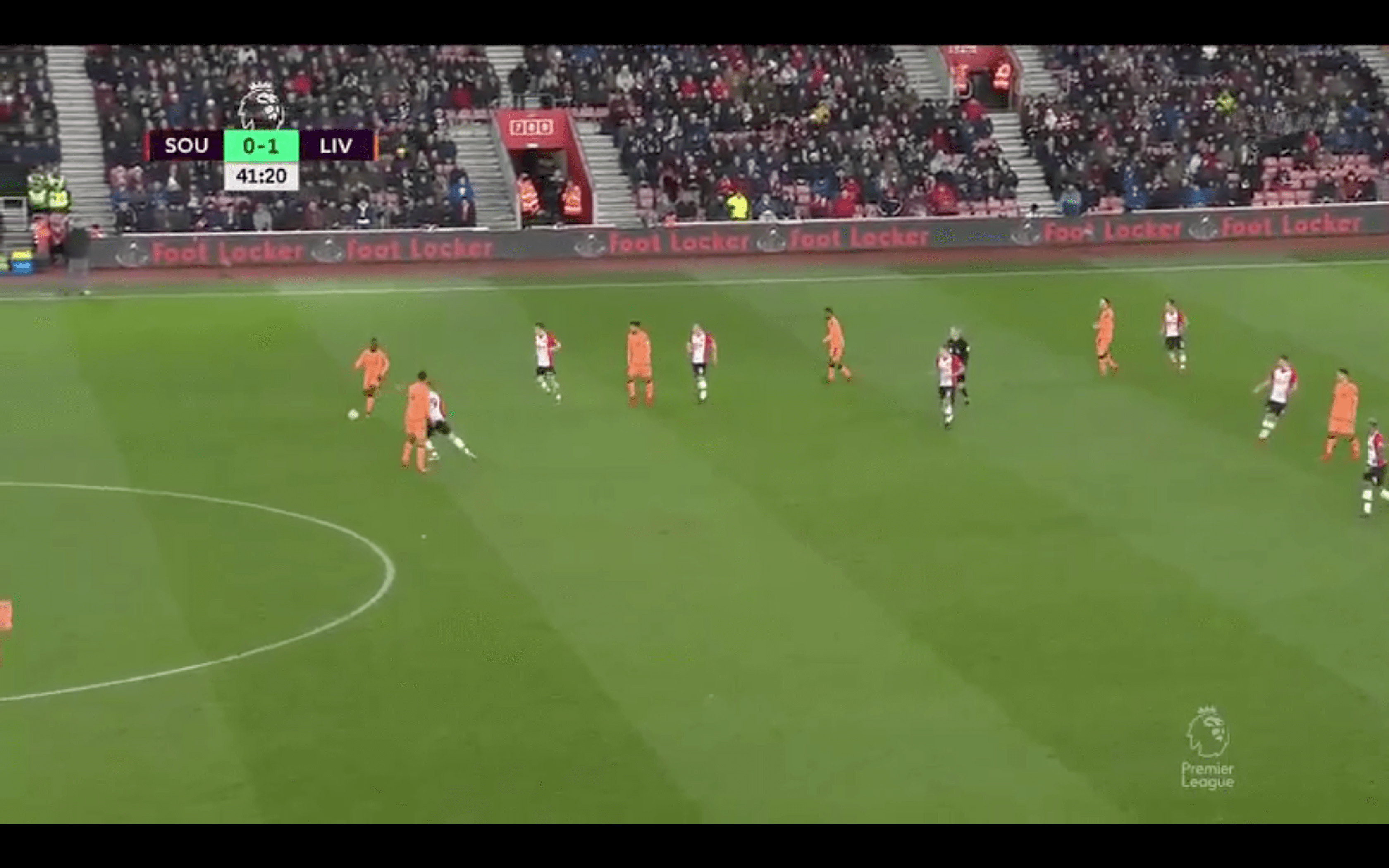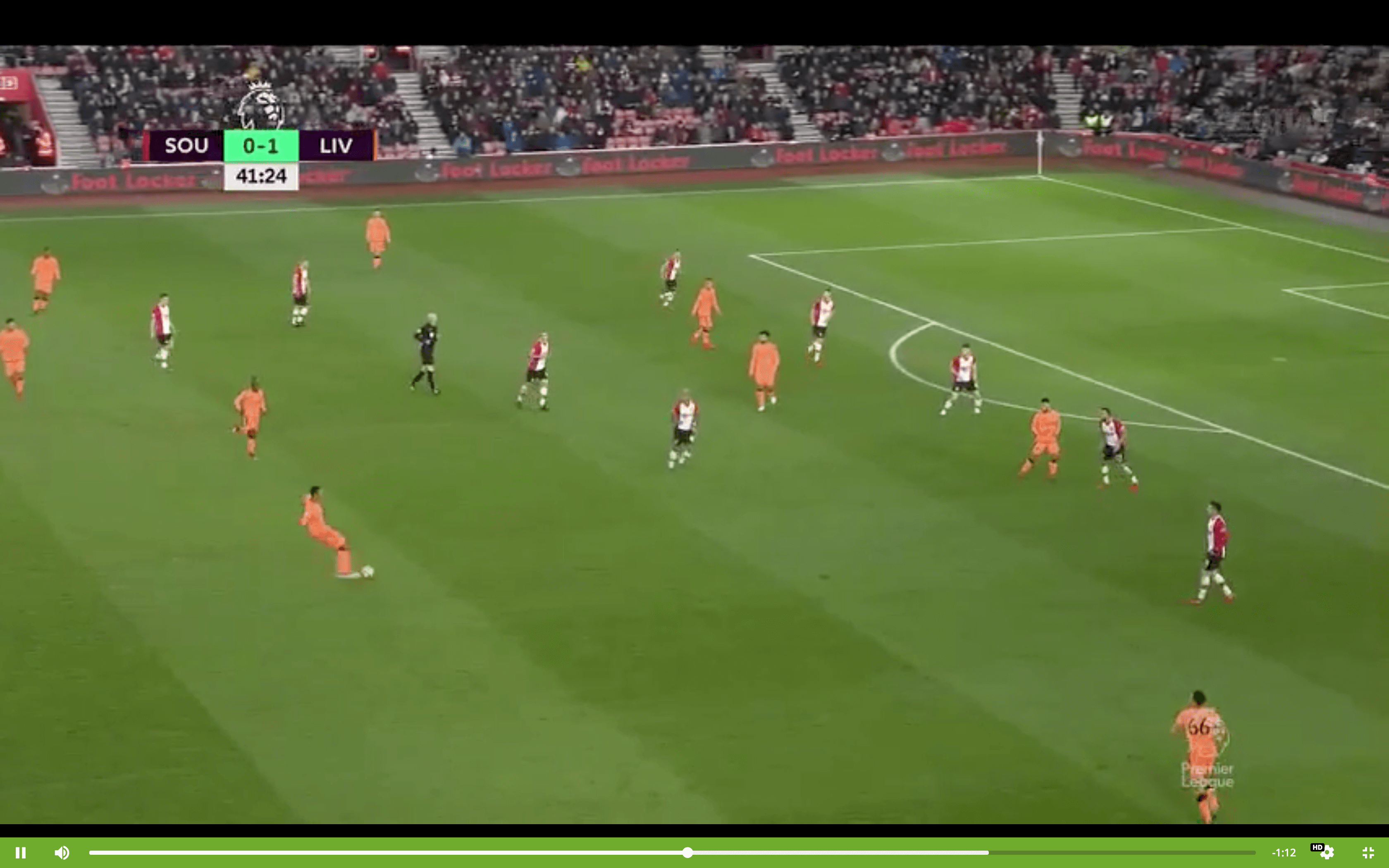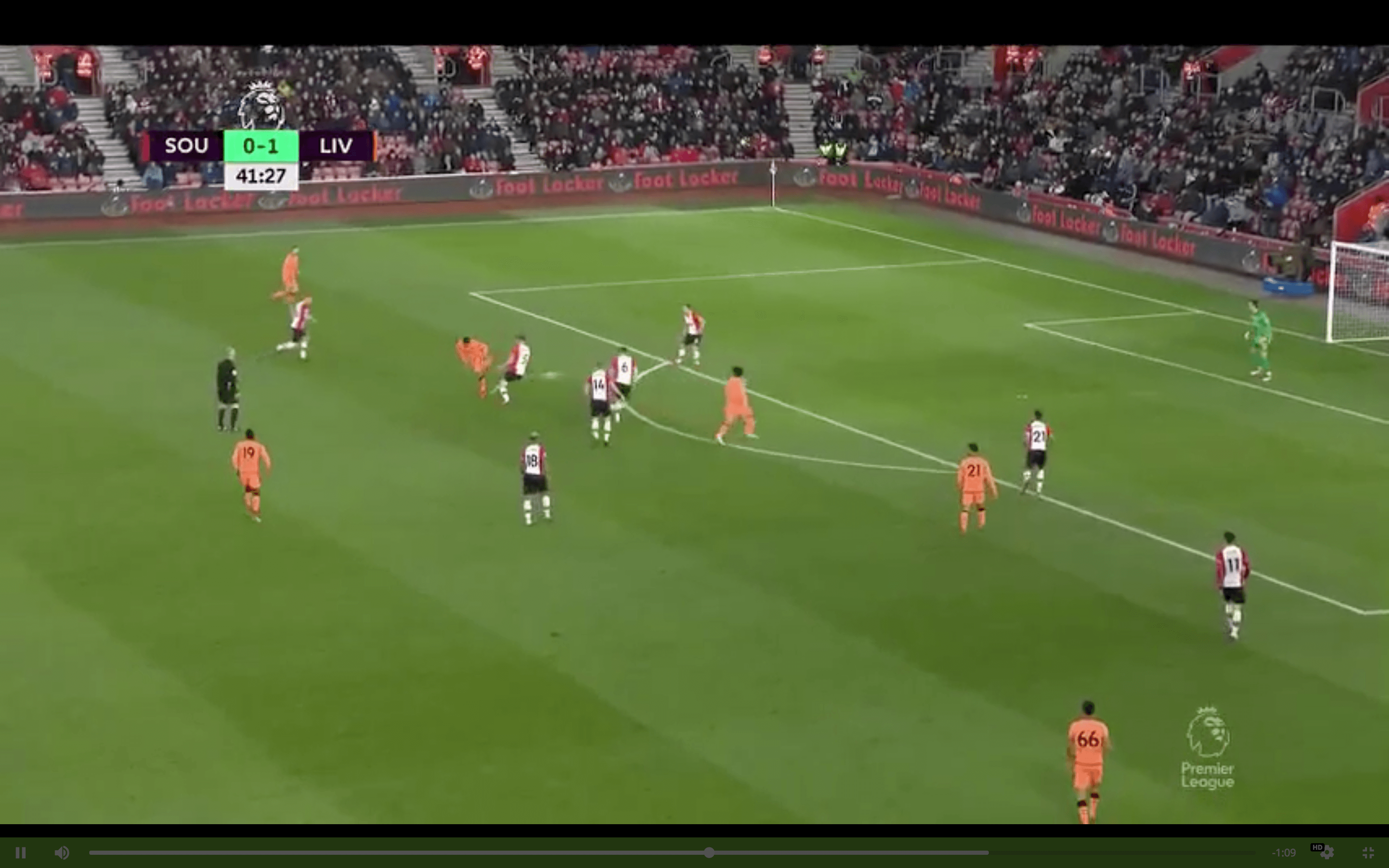 After the second goal, Southampton retained possession, and still created chances, as they did before the goal, but a number of solid saves from Karius and some defensive sweeping up from Van Dijk frustrated Southampton's respectable efforts. The game would change though, for a final time, as Southampton attempted to chase the game and added a second striker. From here though we could clearly see Liverpool's gameplan, to counter-attack, and pick Southampton off.
Only poor finishing and poor decision-making in key offensive moments, i.e. the pass before the pass, cost Liverpool, as they did not capitalise on a 25 minute period which they controlled well, of which the final 10 they dominated. All of the front three wasted chances, but they were fortunate Karius put in a strong performance earlier, and thus were not chasing or looking to win the game.
In sum, it was a game in which both sides had chances, but Liverpool managed to take two of theirs. Admittedly, Liverpool should have had a penalty, and Van Dijk looked very assured, but there was a disjointed rhythm to Liverpool's play, and Liverpool were slacking in midfield and fortunate Southampton did not finish their chances better. Up to the 65th minute, Southampton were good value for at least one goal, and whilst we cannot expect perfection, a stronger, more creative and assertive midfield display would have been welcome. Still, it did seem Liverpool were expecting a low-block, and thus set up for that, but the players really should not have been so passive in surrendering possession, and the impetus within the game for much of the first-half. Despite these criticisms though, there were aspects of strong play, intelligence and game management, but for the remaining games over the course of the Premier League season, we'll have to see if Liverpool can adapt to different challenges, especially the low-block of Manchester United.
xG map for Southampton – Liverpool. Easy peasy. pic.twitter.com/RAZEKYZmAu

— Caley Graphics (@Caley_graphics) February 11, 2018
Liverpool really should have scored more, but a 2-0 with strong performances from the £75m man, and the new #1 is hardly something we can complain about. As always, there are areas to improve in, but only more game time will allow us to be able to discern whether these areas are just a one-off or something which requires greater analysis.
#LFC currently 39 goals conceded in the last 38 EPL games. The lowest in any 38 game sequence under Klopp.
16 clean sheets in last 33 EPL games, only United have more (18).

— Dan Kennett (@DanKennett) February 11, 2018