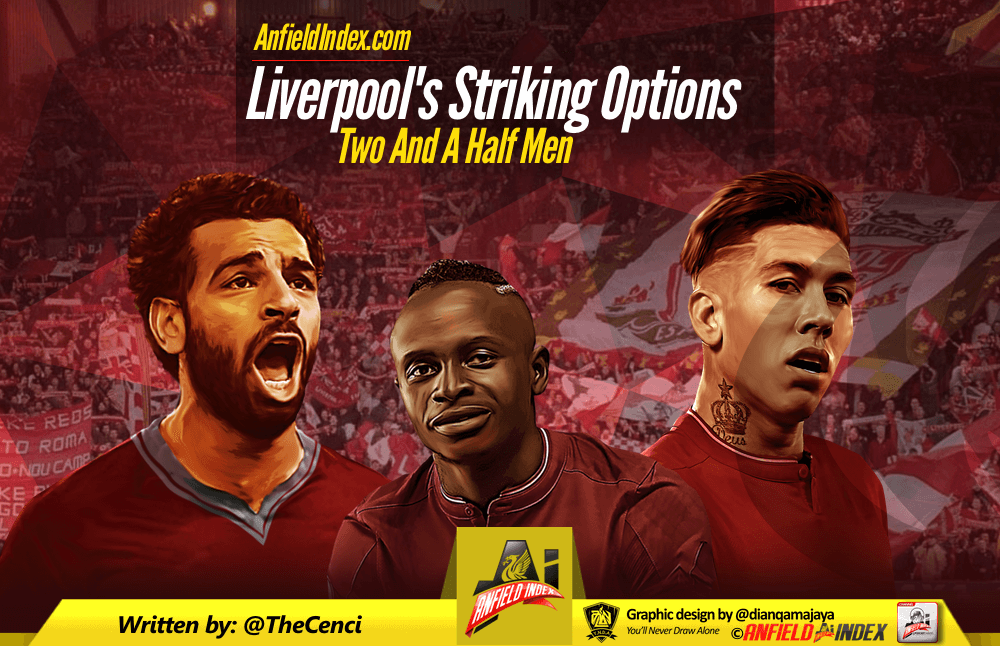 Liverpool's Striking Options: Two And A Half Men
Well, that was more like it. Following the horrors of West Brom and the costly idiocy of the officials in the Tottenham game, Liverpool went to Southampton and dispelled the myth that, following the numerous goalless encounters of last season, they have become our bogey team. Virgil van Dijk was booed throughout and Dejan Lovren endured much of the same when he came on as an 89th-minute substitute – an act of such needle and piss-taking from Jurgen that he might as well have ran into the centre circle and raised his middle finger to three of the four stands at the final whistle.
The Saints drop into the bottom three thanks to Huddersfield and Newcastle recording wins and it's easy to see why they don't especially like us at the moment given the riches we have taken from them, regardless of the money that passed hands. Still, at least the two Liverpool goals came from lads who haven't worn their shirt.
And what about those lads? Let me count the ways I love thee.

It's difficult not to talk about Mo Salah these days. Everything about him screams joy. The goals, the assists, the slight look of bewilderment when he misses a chance and, of course, the hair. If I had hair like that I'd keep it that way well into my eighties, even if it made me look like Don King.
Equally, how do you ignore Roberto Firmino (Sorry, but I can't do the 'Bobby' thing. I much prefer to enunciate 'Roberto' in an elaborate Gabrielle Marcotti manner)? Again, the goals, the assists, the back-heel etc., but also the impossibly white teeth and the fact that he's, well, just a bit odd. I wonder what a pint with him would be like. I mean, the night may not necessarily end with drinking Cointreau in a decommissioned tank while wearing kilts, but you wouldn't bet against it.
But for all glory heaped onto those two, there are worrying glances being made at the third member of the terrifying triumvirate.
All is not well with Sadio.
Don't get me wrong, he's not absolutely terrible or even poor, really. He just seems uncomfortable of late. He's still scored two beauties in recent weeks (hardly anyone mentions his Burnley goal but what a strike that was) – two goals that would have the pundits running to their dictionaries for superlatives if they were made by an England international – and he was mesmerising against City but, well, he's just not on it at present.
At the start of last season, he was clearly Liverpool's most dangerous player. True, Coutinho was imperious too, but for the first time in ages, Liverpool had a different option up front. For years we've been lucky to have a genius up front be it Suarez, Torres or Fowler, but they were cleverer. Sadio Mane has one thing all good sides need. Sadio Mane has pace.
The aforementioned strikers had the lot but were not particularly quick. It's only Michael Owen who comes close in that department. Sadio petrified teams with his odd, slanty runs and habit of knowing where the second ball would land (Goodison). He was on his game when he came back from the African Cup of Nations too, but when he limped off in the home derby something went with him.
Mane the man is a quiet and unassuming so it won't be the concern that all eyes are now on Salah now. This is not about ego. This is about instinct.
Confidence is key with all footballers. The same can be said of entire teams. Look at the Liverpool of the early 90s. As the spirit of the new-moneyed Premier League took over from the old Division One, more and more clubs realised that Liverpool could be got at and days, when the opposition would be beaten before a stud stepped onto the pitch, were over. Suddenly there was doubt in the Liverpool ranks and things that were once so easy and natural suddenly became tricky. Liverpool went from first place to second-guessing.
The same can be said about Mane. His first touch is no longer instinctive and he's giving himself time to think instead of playing his usual game. The perfect example of this came in the league derby when he had a chance to square an easy ball to give the Reds what would have been an unassailable 2-0 lead. Instead, he hesitated and pulled his shot. The Mane of last year wouldn't have needed that goal as there would be better chances to come, but when there you're off-form and see an opportunity to put it right in such a huge fixture you sometimes gamble. He did and it didn't work. It's got into his head a bit.
The good news is that, given the riches around him, he can now play his way back into form rather than feel the extra pressure of carrying a Coutinho-less team. Salah and Firmino have at least taken the burden of expectancy for the time being.
And that's how teams progress. You look at your best player and buy an upgrade so, little by little, the first team and then ultimately the squad improves.
Form is temporary, class is permanent says the old adage and at least we know that Mane has a high ceiling.
Let's hope he can find his level again soon. If not, let's hope it's in the second leg of the Champions League semi-final. That might be nice.