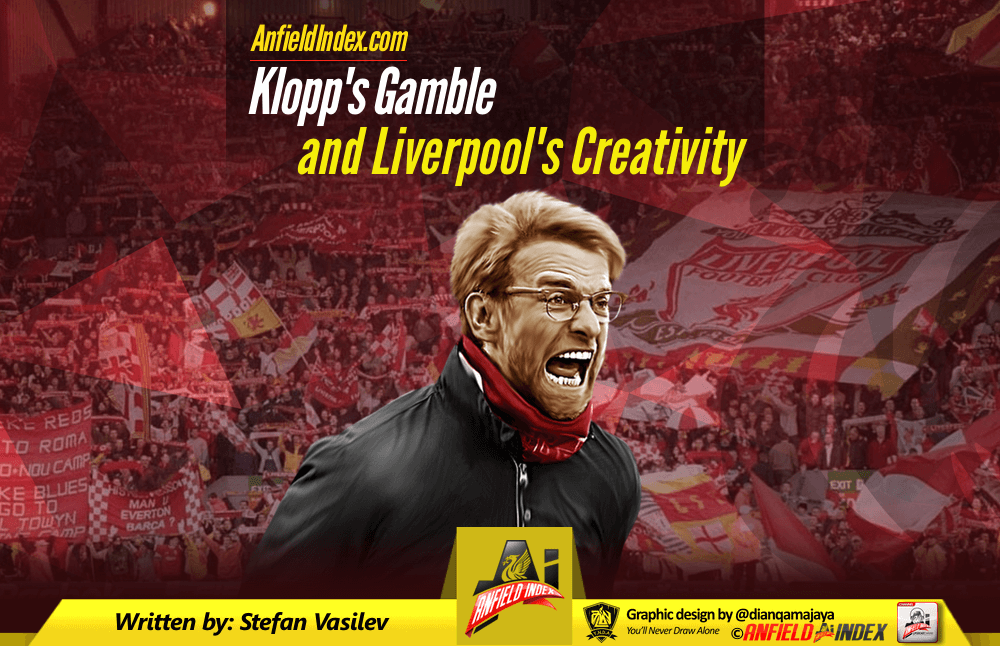 Klopp's Gamble and Liverpool's Creativity
It has been over a month since a certain Brazilian left for Barcelona. A month of ups and downs, as it more often than not is for Liverpool supporters. From managing to snap Manchester City's win streak to losing to Swansea and another early exit in the FA Cup, to snatching a draw from the jaws of victory last week (still salty about that one), to our first 2-0 win in a year. At the end of the day, we have won exactly two points per game since Coutinho left, the same as when he was still around and we will not win the FA Cup, which we also never did with the Brazilian. Scoring goals hasn't been a problem if you look at the scores (bar that Swansea game). Is it fair to say we are not really missing the little magician?
With and without Coutinho
Probably all of you have seen the stat:
| | | | |
| --- | --- | --- | --- |
| | Phil starting | Phil playing | Phil not playing |
| Points per game | 1.92 | 1.86 | 2.23 |
This looks like a statistical anomaly. Surely the points per game reflect more on some defensive mistakes than the Reds not being good enough offensively with the Brazilian on the field. The numbers suggest over wise:
| | | | | | |
| --- | --- | --- | --- | --- | --- |
| | Average opponent current position | Average opponent PPG last 5 | Minutes | xG | xG/90 |
| Without Phil | 11 | 1.37 | 1305 | 31.23 | 2.15 |
| With Phil | 10.8 | 1.62 | 1125 | 25.22 | 2.02 |
The Reds are creating more without Coutinho. The quality of the opponents is similar, even though when the Brazilian played the opposition was in slightly better form. He still was our most creative player with 0.39 xA per 90. But quite a lot of those expected assists came from set pieces. I wouldn't classify Phil's corner delivery as brilliant and at least in that department, the current squad is more than capable to replace him. From open play the rest of our attackers are not far behind:
| | | |
| --- | --- | --- |
| | xA – open play | xA – open play/90 |
| Coutinho | 3.79 | 0.3 |
| Firmino | 5.55 | 0.25 |
| Mo | 5.66 | 0.25 |
| Sadio | 3.51 | 0.22 |
| Ox | 1.69 | 0.12 |
The now-former Fab Four didn't play a whole lot of minutes together in the league. With the current squad creativity from midfield is a bonus, the expectation is that the front 3 create the bulk of the chances. The Ox and Adam Lallana (0.13 xA -open play/90 last season) are not even in the same ballpark as them in terms of creating goal scoring opportunities.
Expected assists as many other numbers can be deceiving. An interesting nuance of the stats is the fact that the quality of the average assisted shot when Coutinho was on the field was 0.1 xG, compared to 0.12 when the Brazilian was not playing. That can be explained with his tendency to go for long shots (which to be fair to him worked quite well on more than a few occasions). No one else in the current squad is as good as Coutinho at shooting from outside the box. Not having that luxury has resulted in the team taking fewer shots but of higher quality.
What about the parked buses?
As Barcelona learned over the weekend Coutinho isn't necessary the toe truck that can move the bus. The Reds had over 66% of the possession in 8 league games this season (honourable bus mention – Man United at Anfield with 63%). Of those 8 games Liverpool won 3, Coutinho didn't play in any of them (Palace and twice Huddersfield). We did not win a single game against a parked bus with the Brazilian on the field. So to say we will miss his creativity against a low block is a bit of an overstatement. Coutinho hasn't been able to unlock a tight a defence with creativity for years now. His free kicks and long shots are a nice weapon to have when you are banging your head against the wall but that's about it.
Will Klopp's gamble pay off?
I think the current squad is more than capable of finishing in the top 4. With recent results, we should even be looking at pushing Manchester United for second place, not that it matters for anything other than sad banter. Where we will miss Coutinho is in the Champions League. The match against Spurs last week would have gone much differently if the Brazilian was running our counter attacks. Mo, Bobby and Sadio made so many poor decisions when they had the chance to run at Tottenham's defence. We have seen Coutinho tear teams apart in such situations through the years.
If you consider scrapping for top 4 and a not so deep Champions League run a success, then most likely Klopp's and FSG's gamble will look good at the end of the season. And frankly, if we eliminate Porto and make it back to the Champions League next season that is a solid season, another stepping stone. With Manchester City running away with the league and looking like a dynasty in the making, is solid good enough? FSG and the manager have proved that there is a long-term plan. So taking a short-term risk for a greater reward in the summer makes sense… As long as there is a reward in the summer. Replacing Coutinho with someone other than Naby Keita in the summer must be a part of it if the Reds are to get closer to Pep Guardiola's team.