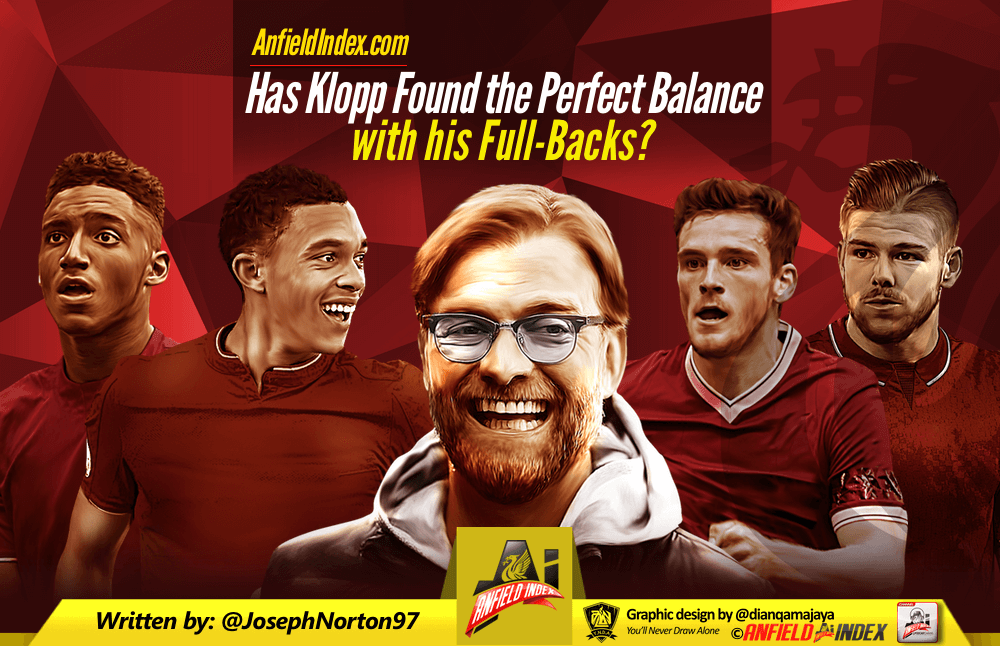 Has Klopp Found the Perfect Balance with his Full-Backs?
Since Nathaniel Clyne suffered a serious back injury in pre-season there has been a lot of uncertainty as to who Klopp will view as his first choice full-backs. Would he favour Alberto Moreno or new signing Andrew Robertson at left-back and on the right-hand side would he opt for the more attacking Trent Alexander-Arnold or more defensive minded Joe Gomez? With Klopp recognising Robertson would need time to settle into a new system Moreno was given the opportunity to prove the quality he undoubtedly possessed and apart from two or three difficult matches the Spaniard was very impressive, demonstrating improved awareness and discipline in his game. On the right-hand side Klopp appeared to favour Alexander-Arnold who despite showing glimpses of quality, his all-round game looked slightly suspect for a long-term run in the team which is completely understandable given his age. As a result, Joe Gomez was brought into the team for some added defensive stability and has grown into the evolved right-back role Klopp has developed to suit the Englishman's attributes. Having said this, two injuries to Moreno and more recently Gomez has resulted in the German trying out a new duo of Trent and Robertson in the last couple of the games and the early signs have been very promising. So why are these two players so well suited to playing with each other?
Although Robertson is quite an attack-minded left-back he often takes up a slightly deeper position out-wide than Moreno which means Trent who is more accustomed to being an offensive full-back has greater freedom to play his natural game-high and wide. Against Southampton and more recently Porto we saw the two compliment each other wonderfully, when the ball was on their side the full-back would advance up the pitch to provide the width while the other one would play slightly deeper and narrower in order to protect against the counter-attack. Because of Trent's natural instinct to attack, he has a tendency to get high and wide quite early which means the left-back he is playing with must constantly be thinking about where he is in order to stop the counter-attack should the team lose the ball. The Scottish international recognises this and plays slightly more conservatively than his team-mate on the right, only pushing high and wide when the team has good possession. You can see this in the screenshot below taken in the game against Porto when Van Dijk picks up possession Trent makes a quick run up the line to create width on the right-hand side, Robertson recognises this and tucks in at left-back giving the defence added protection if the Reds lose the ball.
When Gomez had been playing at right-back as a sort of false centre-back Robertson had more freedom to attack and stretch the opposition defence which he did to great effect against Huddersfield, learning from his slightly too conservative approach against Swansea. This shows how much of an intelligent player the Scott is as many players would just play their natural game no matter who the other full-back is but because of his footballing knowledge and perhaps to some degree Klopp's instruction he has adapted his game to compliment the man he is playing alongside (at full-back). With Trent, we are gradually seeing a player who is improving all aspects of his game but in particular his defensive awareness and positioning. In the games earlier on in the season, away at Watford and Manchester City we saw his naivety in defensive situations, getting beaten too easily as he got too tight to his winger or giving away needless free kicks in dangerous areas. Over the last couple of games, we have seen the youngster put in really well-balanced performances – looking a threat going forward but also providing the team with defensive stability. Wednesday night was a big test for the Englishman but he dealt with the quick and tricky Brahimi exceptionally well, winning 4 tackles (the joint most of any Liverpool player on the night) and making 1 clearance. If Trent can continue to develop all aspects of his game he really could become a very special right-back.
Despite the impressive form of both fullbacks, I still don't think Klopp views either as being his first choice for the position, this is because I believe the boss doesn't view anyone as being his number one in the full- back area. The opposition and personnel available at full-back will dictate the pair the German plays. It is likely with Clyne, Gomez and Moreno returning to fitness we will see Klopp continue to rotate in this area of the pitch as we've seen since the start of the season. Because of Moreno's more adventurous, attacking instincts it is likely we will see him play in the same pair as either Clyne or Gomez who offer a bit more defensive stability in terms of their positioning if nothing else. Because of the growing understanding and effectiveness of Trent and Robertson, it should also be expected that the boss will try to use this combination as often as he can when the situation suits the pair. Over the next couple of months there is going to be an awful lot of competition in this area of the pitch and if all of them continue to develop then we will be in an extremely healthy position come the end of the season.