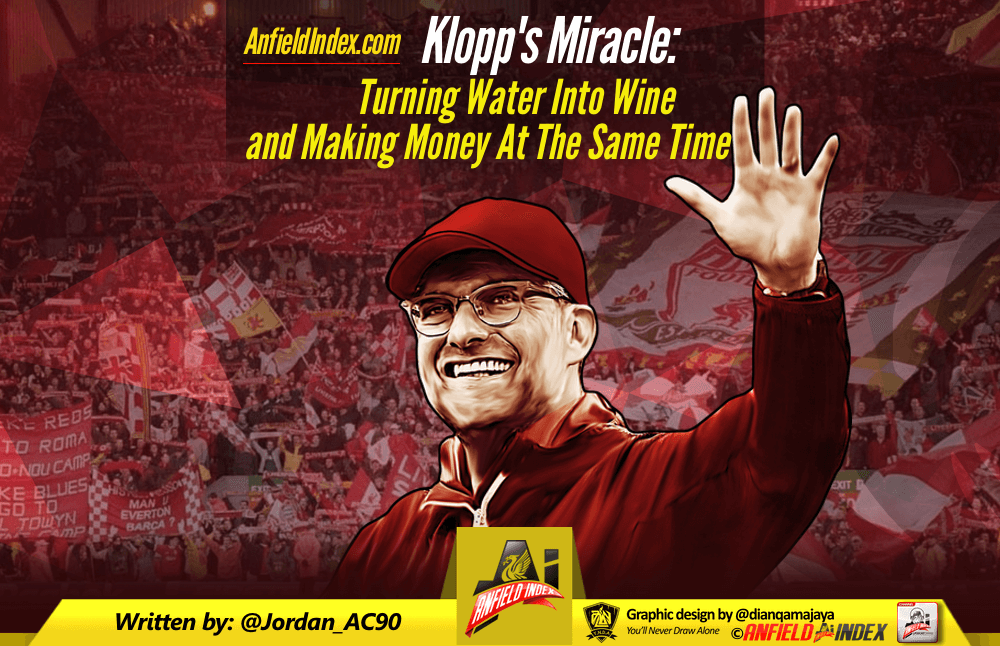 Klopp's Miracle: Turning Water into Wine, & Making Money at the Same Time

Jurgen Klopp has improved Liverpool all over the pitch, quite literally, since arriving in October 2015.
But unlike some of his managerial rivals, he's done so without spending money in the transfer market. 'Net Spend' is a much scoffed at phrase in modern football, but to transform Liverpool into the gegenpressing, offensive monster we often see now, from the weary, possession-obsessed 'animal' it was at the end of Brendan Rodgers' reign – while making £34m – is nothing short of genius.
Pep Guardiola has built a phenomenal football team in a short space of time, but he's had unlimited funds with which to do so. His backup right-back, Danilo, cost £27m [Sky Sports]… The playing field is not even, but Klopp prefers sustained success earned to trophies quickly bought.
Obviously, selling Coutinho for £142m skews the figures, but disregarding the exiting Brazilian (for whom Klopp deserves immense credit for building to that value in the first place), his net spend would still only be £108m. That's an average of £21.6m per transfer window. Relative chickenfeed when you consider minnows Brighton have spent £72m (yep, really), since promotion in 2017 [Transfermarkt].
A second caveat is that we don't know exactly what teams are spending on players. Add-on fees, clauses, yearly instalments and unnamed agent fees cloud an already complicated market. But the basis of the point stands. To the best estimation of the informed Red, here's what Klopp's spent and received [Anfield Online]: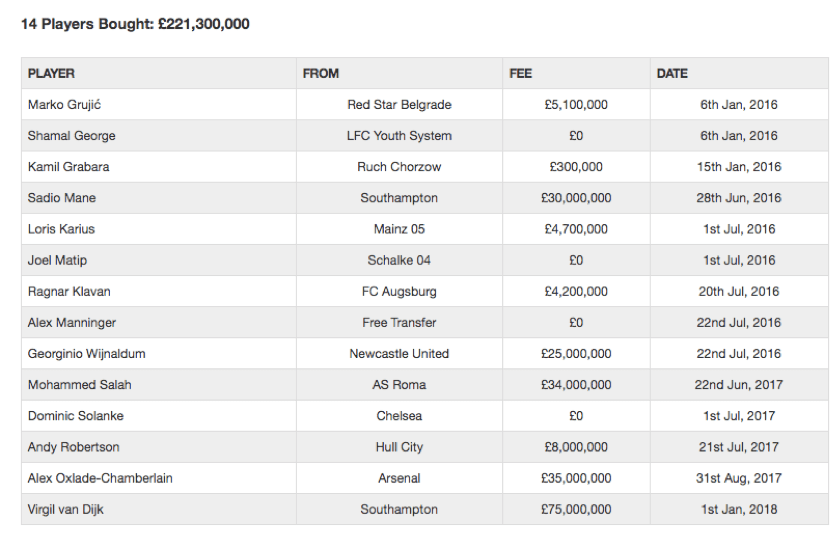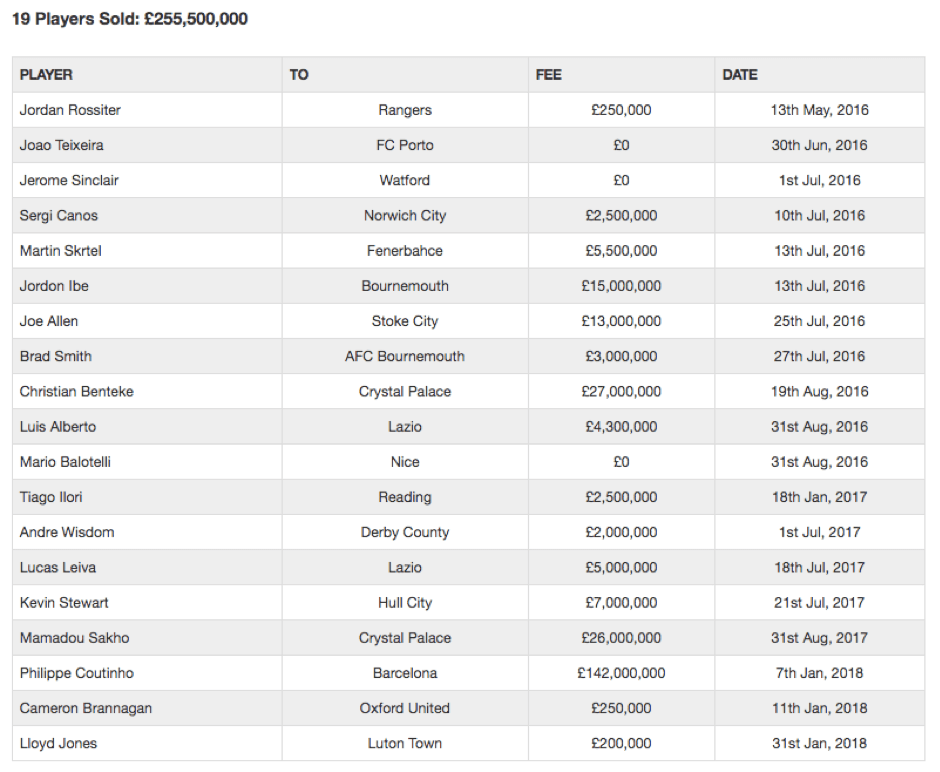 What's incredible is that as mentioned in the introduction, every area of the squad is better than it was – before mentioning the squad unity, understanding of tactics, individual improvement and morale he's developed.
Below, I'll show you the players the German inherited in certain positions and the ones he uses now… There really isn't much comparison:
Goalkeepers:

October 2015 – Mignolet, Bogdan, Ward
February 2018 – Karius, Mignolet, Bogdan, Ward
Now, in all honesty, it's staggering that Klopp hasn't used the transfer market more ambitiously to strengthen his options between the posts – but that being said – we're still a promising stopper up on what we were. But it'll take a very good end of the season for Karius to stop his manager splurging on an elite no.1 in the summer.
Right-backs:
October 2015 – Nathaniel Clyne, Connor Randall, Jon Flanagan
February 2018 – Nathaniel Clyne, Joe Gomez, Trent Alexander-Arnold
Dependant on his eventual return to fitness, Clyne is still Liverpool's best option at right-back, but the depth behind him now is staggering. Gomez's form before Christmas earned him a cap for England in which he pocketed Neymar, while Alexander-Arnold is probably the best right-back for his age in the world. Randall and Flanagan have not and will not make the grade.
Left-backs:
October 2015 – Alberto Moreno, Brad Smith
February 2018 – Andy Robertson, Alberto Moreno
Now, a much, much better version of Moreno can't get into our team because of the excellence of 23-year-old Robertson, who has barely put a foot wrong since his arrival. What's more, Klopp's realised James Milner is an option here, too – something never previously considered.
Centre-backs:
October 2015 – Mamadou Sakho, Martin Skrtel, Dejan Lovren, Kolo Toure, Joe Gomez
February 2018 – Virgil van Dijk, Joel Matip, Dejan Lovren, Ragnar Klavan, Joe Gomez
Van Dijk is infinitely better than Sakho, Matip better than Skrtel, Lovren is still Lovren and Klavan a fair swap for Kolo. And the injured, inexperienced Gomez in 2015 is now a fit, versatile Gomez in 2018.
Centre-midfield:
October 2015- Jordan Henderson, James Milner, Emre Can, Kevin Stewart, Lucas
February 2018 – Jordan Henderson, James Milner, Emre Can, Gini Wijnaldum, Alex Oxlade-Chamberlain
The first three names are the same, but Wijnaldum and Ox are far superior to Stewart and Lucas. What's more, Klopp has the potentially world-class Naby Keita arriving in a few months to supplement this group. Again, no comparison, although it's still an area that requires work.
Attacking-midfield/Wingers:
October 2015 – Coutinho, Adam Lallana, Jordon Ibe, Joao Teixeira
February 2018 – Mo Salah, Sadio Mane, Adam Lallana, Ben Woodburn
While Coutinho is a loss (actually, the only player Klopp's now without who he'd have back), the improvements in these areas are obvious. Mane and Salah more than make up for the Brazilian, especially with Lallana a transformed player under Klopp too. Under Rodgers, Coutinho was effectively carrying us creatively. That is no longer the case. What's more, these players in 2018 understand their offensive roles and suit Klopp perfectly. His options previously didn't.
Centre-forwards:  
October 2015 – Roberto Firmino, Christian Benteke, Daniel Sturridge, Danny Ings, Divock Origi
February 2018 – Roberto Firmino, Danny Ings, Dominic Solanke
When Klopp arrived, we were frankly overstocked up front. Some roulette needed to be played here like on TheInternetSlots but he made a smart decision to cash in on Benteke and make Firmino his no.1 forward. Before Klopp took the helm, Firmino hadn't scored a goal in English football. He's now just registered his 20th of the season, while it's arguably better-having backup forwards like Ings and Solanke waiting in the wings than disgruntled seniors causing friction while sulking for a call-up in 2015. On paper, the options at Klopp's disposal were deeper when he arrived, but the transformation of Bobby and the fact Salah scores more goals than virtually every striker in the country tilts the edge strongly in 2018's favour.
So, there you have it. Klopp has, in five windows, made his squad stronger in every conceivable position, while generating the club a profit in the process.
We're back in the Champions League and are fighting for the runners-up spot in the Premier League while playing the most exciting brand of football arguably anywhere in Europe.
Patience is required with Klopp's squad rebuilding, but the evidence is extremely clear that it's working. There's no guarantee we'll win anything this year, or even next, but the club and squad is in a significantly healthier position that when he found it. That's the work of a truly great manager. And with great managers, silverware usually follows.