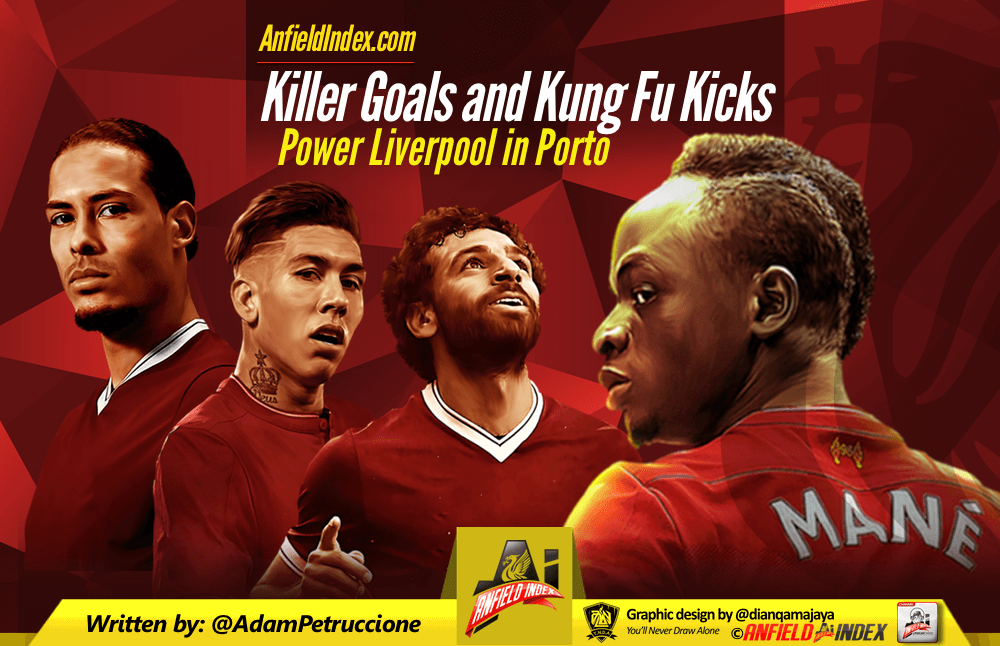 Killer Goals and Kung Fu Kicks Power Liverpool in Porto
Porto: Jose Sa, Ricardo Pereira, Reyes, Marcano, Alex Telles, Sergio Oliveira, Herrera, Marega, Otavio, Brahimi, Tiquinho Soares
– Subs: Casillas, Maxi Pereira, Osorio, Torres, Paciencia, Corona, Waris
Liverpool: Karius, Alexander-Arnold, Lovren, van Dijk, Robertson, Milner, Henderson, Wijnaldum, Salah, Firmino, Mane
– Subs: Mignolet, Gomez, Moreno, Lallana, Oxlade-Chamberlain, Ings, Matip
REPORT
After an unusually calm Liverpool performance against Southampton, no-one could blame supporters and The Reds players alike being tense for this first Champions League knockout round game since 2008/09. For a few minutes, it looked that way with Liverpool and Porto feeling each-other out and with the home side looking more threatening.

In the eleventh minute, Reds around the world collectively gasped as a clumsy sequence of errors led to a deflection off of Lovren's foot and barely over the bar as Karius looked on, horrified but still beautiful.
Perhaps that scare focused the thoughts of the Merseysiders as they really kicked it into gear from there on. Mané, Wijnaldum and Milner were outstanding for a stretch that saw Liverpool score two goals in 4 minutes from both of the club's outstanding wingers.
An energized Gini Wijnaldum took a shot, gathered the rebound and pushed the ball out to a waiting Mané who managed to squeeze his shot just under Jose Sa to make it 0-1 after 25′. Then Milner powered a ball onto the post for a waiting Mo Salah who performed a circus act to get around the Porto keeper and flailing defenders, using his head, feet, shins, and his amazing footballing brain to fire Liverpool to 0-2 after 29′.
Salah, they've got families ffs. pic.twitter.com/iKswOPJWxb

— – (@AnfieldRd96) February 14, 2018
After going up 0-2 in an away match in the Champions League knockout rounds a lot of clubs would rightly change tactics and look to get out of Dodge with that two-goal advantage. Liverpool looked like they considered that concept at times and played keep-away at times to close out the half.
However, that was just a brief respite for poor ol' Porto.
In many games this season it just hasn't looked like the same Sadio. He hasn't appeared to have the same burst… Perhaps he was just saving it up for tonight. He ran roughshod over and through the Porto defense. If Porto had any thoughts of making it a game, Mané put an end to that at the 53-minute mark.
Salah put Firmino through and the hapless Sa got down to deflect the ball to his left, but it was perfectly placed for a sprinting Mané who finished easily.
It took another 16 minutes for Liverpool to tally their fourth. With the wingers on fire, Bobby Firmino wasn't going to be left out. Mané won possession, flew down the left and found Milner who placed a perfect pass to Firmino and all that was left was a series of spinning kung-fu kicks and a gleaming smile.
The assist was Miner's sixth in the Champions League this season. No other player has more than four. Boring indeed.
https://twitter.com/hasan_khan07/status/963898691403833344
Whether it was directed from the bench or the players on the pitch just sensed that Sadio was feeling his oats, he started to play more centrally and that led to the frosting on this sweet, sweet night. Striding down the middle with Gomez waiting alone on his right, Mané called his own number and slotted past a dejected Sa to make it 0-5 after 85′.
A hat-trick, and all three forwards scoring on Liverpool's return to the knock-out rounds. After waiting over 3,000 days since our last appearance this deep in the Champions League this was a deeply satisfying result. So polished was this performance that it could carry the club forward in the league and in Europe.
If Mané and Gini can perform like this again, then nothing is out of reach for this team.
Up The Reds!