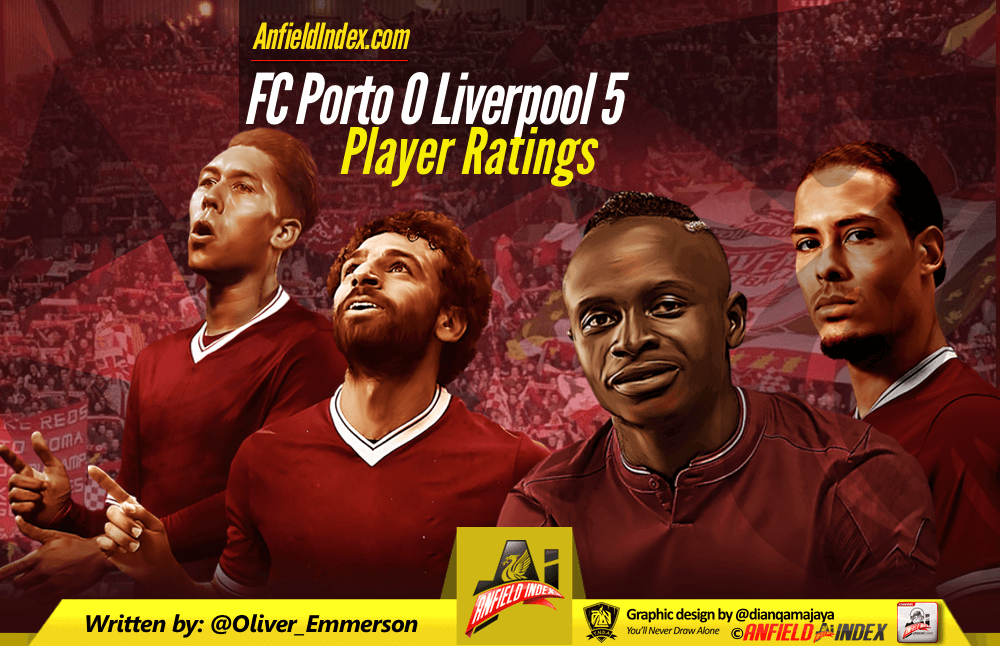 Liverpool Player Ratings As They Batter Porto 5-0
THE REDS. THE ABSOLUTE REDS.
These Reds, our Reds, your Reds, my Reds.
What a night. Liverpool return to the Champions League knockout stages after 9 years with the style and swagger of a side who had won the whole thing for nine straight years.

Breaking records, breaking Portuguese hearts and breaking the net, it was a night to savour. Here's how the players rated.
Goal for Porto? Nah, you're alright.
Loris Karius (7): Giving him seven and not six seems generous given he didn't have much to do but sod it. Did everything well, saved what he had to, claimed the crosses. Most he had to work was at the end when the Porto player was offside but he went and saved it anyway. Laughs off the challenge of the striker with the big arse, too.
Trent Alexander-Arnold (7): Brahimi is a seriously good player. If a Premier League club came in and spent £50M on him tomorrow, few would bat an eyelid. Trent doesn't care about that. Bossed him so much that Brahimi got hooked before Trent was allowed to take an early breather. Great night for the kid.
Dejan Lovren (7): Many were sceptical about including him ahead of Matip but he justified it with a tidy display. Seems to enjoy a challenge against a big striker and that's what he got, winning it. Makes one really good block early on.
Virgil van Dijk (8): He can't half pick a pass, can he? An absolute mountain of a man, pinging it about from minute one. The first game of Champions League football for The Reds, huge pressure, he's not fussed. Good tackles, good passes, good hair. Banging.
Andy Robertson (8): Stunning. Had a little slump recently but came back with a bang tonight. So good going back, made all the right decisions going forward. Constantly offering for the ball, kept the shape well. Genuinely a top-drawer left-back performance was everywhere.
James Mattheus in midfield
Jordan Henderson (7): Probably the quietest of the midfielders but still fantastic. Cautious when passing but it's hard not to resist giving it to Van Dijk who's pinging them 40 yards. Kept himself busy, won the ball well, nothing silly. Looked gutted to go off, good.
James Milner (8): Don't think I've seen him play better for Liverpool in about a year. Used his experience to full effect, decided he was Lothar Mattheus and started dribbling, passing and shooting like a man 10 years younger than him. Deserved a goal. No idea how he got booked. Great assist for Firmino.
Gini Wijnaldum (8): Died off a little towards the end but was absolutely electric in the first-half. Seemed to be on the ball more than normal, supported Trent and Robertson brilliantly depending on which side he was on, hassled and harried all day long. Boss in these big games, isn't he?
The attack, a great gang of lads
Mohamed Salah (9): He's absolutely unbelievable. People said that only Lionel Messi scores the goal he did against Tottenham and the same applies for his goal today. Beautiful pass to Firmino in the build-up for the third goal too. 30 for the season, Europe beware.
Sadio Mane (9): It's really weird because he was playing poorly and should have got two assists before he scored, but once he opened it he was class. Great defensively throughout and despite the odd poor touch going forward, he got his act together for the first time in a while. That third goal, oooomf.
Roberto Firmino (9): The striker that doesn't score goals doing some more goals, is it? In the form of his career at the moment, great finish and great play elsewhere. No centre-back wants to play against him.
Subs
Joel Matip (N/A): His legs are long. Let Virgil go and do some nice runs.
Danny Ings (N/A): Good for him to get some European minutes.
Joe Gomez (N/A): Back fit, woo.
The Referee – 10!
Actually showed how to referee a game well without wanting to be the centre of attention, something we haven't seen much of lately.