Five times! Words that Liverpool fans wish to change to six times this season and they're a step closer to realising the dream as the Merseysiders pounded Porto's goal FIVE TIMES! Liverpool's victories have been attributed all season to their fab four, erm three, but this win was about the entire team. Jurgen Klopp's selections are doubted weekly, but he was vindicated with his choice in the midfield and defence tonight. Here are a few of my observations on the game.
Defenders on top
You can't complain about any of them tonight. There were even times where Dejan Lovren bailed out his partner Van Dijk, but the much-maligned defender had a good night with some vital blocks at the back when Porto inched closer to our goal. Our record-breaking signing, however, was the stand out player at the back.
The Dutchman controlled everything, barking orders at his fellow defenders, even the captain Jordan Henderson. And, towards the end of the 1st half, he asked Loris Karius to take his time with his kick, the whistle was blown shortly after by the referee. It wasn't just his leadership that was on view, Van Dijk himself completed 72 out of his 78 passes, 4/4 headed clearances, 2/2 aerial duels and three interceptions. The future captain of Liverpool also found himself further up the field during the second half as Liverpool went to three at the back and he was able to play with some freedom. He didn't look out of place.

Liverpool's fullbacks were fantastic. Trent Alexander-Arnold justified his place in the side by keeping a tricky Brahimi at bay, in fact, many would say Trent had put him in his pocket and taken him to Marbella for a break, and don't The Reds deserve it. Andy Robertson created the most chances for his side in this game and was continually joining in with the attack while being assured at the back too. Roberston has become the first choice left-back at the club since Alberto Moreno picked up an injury and this performance was more evidence to that statement.
Midfield turns up
Emre Can's absence had many supporters worried, but Jurgen Klopp got his three spot on once again. Jordan Henderson kept it simple, was quietly efficient and it's hard to criticise him. Gini Wijnaldum and James Milner were excellent today, especially in the first half.
Milner harried well, and his pressing win led to a shot that hit the post for Salah to finish beautifully. What you see is what you get from Milner, and tonight he was a brute flying through anyone and everyone in his way. It was quite the surprise that he wasn't booked for a few of his challenges. Milner though now tops the charts for assists in this season's Champions League with 6!
Gini Wijnaldum's persistence to make something of his rare endeavour into the box lead to the ball falling to Sadio to finish. It will be interesting to see the midfield's first half pressing numbers when I collect these tomorrow for our AI Under Pressure Podcast on Anfield Index Pro.
Salah Absolutely Fabulous
If you are a subscriber of Anfield Index Pro, you will have heard me on many of the podcasts wax lyrical about Liverpool's front-line this season, so it's quite difficult to continue to find even more superlatives for this front three, but I'm going to have to try.
Let's start with Mohamed Salah. 30 goals for him this season and he becomes the 13th player to reach the milestone in the history of this great club.
Mo Salah becomes only the 13th different #LFC player to score 30 goals in a season. 👏👏👏 pic.twitter.com/u3fEP8icgx

— Liverpool FC (@LFC) February 14, 2018
His goal was perfect. Milner was excellent with his pressing win and shot but once it came off of the post – Mo Salah was incredible. He touched it with his right foot which flicked the ball up, which I'm sure he didn't mean. The rest was all about the intelligence and quickness of thought from the Egyptian King. First, a keepie-uppie with his left foot over the keeper, then there was a lovely touch with his head and finally, his left again to put it past the defender on the line.
That wasn't the end of his night, Liverpool's leading top scorer was a menace throughout the second half where the Reds displayed their ruthlessness at attacking from deep scoring three goals but could easily have added more.
Bobby Dazzling
Roberto Firmino's having a break-out season with his 21 goals so far this season. His pressing stats in the last few games have been incredible. The Brazilian is a machine (more pressing stats on AI Under Pressure via Anfield Index Pro), and as I have now collected pressing stats since the 2013/14 season, I can safely tell you that I've never seen anything like what Firmino is producing this season. Forget all about Adam Lallana's pressing; it's nowhere near the level of the Bobby Dazzler. Much love for the Spinning Hitch Kick too as our writer, Karl Coppack says, I'll be trying that out for a few days but will need to warm up first! Ha.
If anyone's interested Firmino's martial art kick celebration was a Spinning Hitch Kick and I'll be doing it for the next hour.

Just need to stretch a bit first.

— Karl (@TheCenci) February 14, 2018
The Mane Man
Speaking of the Spinning Hitch Kick, that leads us to the Mané of the match, see what I did there? Yes, that was terrible, but it's about time Sadio Mané got some love from the fanbase. This game was a flashback to the Mané of 2016/17, the dribbling, the goals, the off-ball running and, of course, the Spinning Hitch Kick mimicry of Bobby Firmino.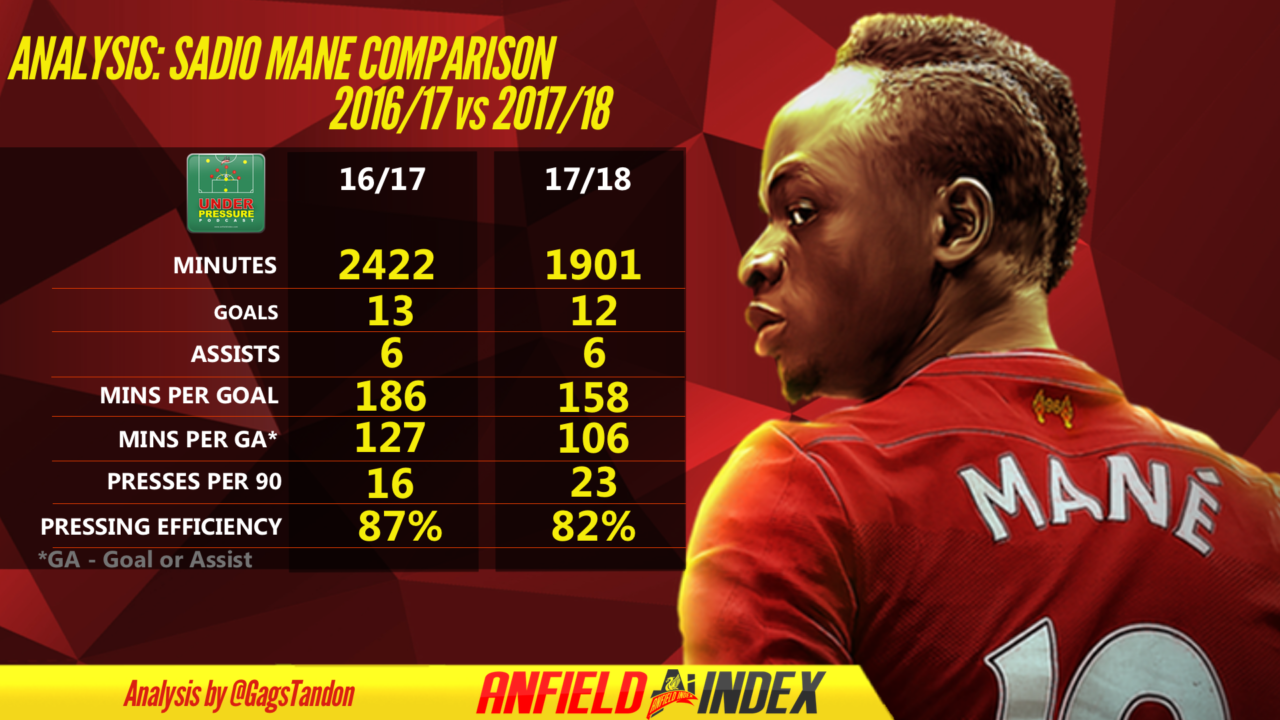 The underlying stats of the Senegalese international have been on par with last season's numbers; in fact, they've been better. Some quick analysis of Sadio's stats shows that he's doing better for mins per goals, mins per goal involvement and he is pressing more too. Last year's player of the year for Liverpool is not at his best yet but is producing these numbers. Tonight he was on fire, and the first goal was a goalkeeping error, but the other two were exactly what he's best at! One a poacher's goal following up a rebound and his hat-trick goal is his trademark for this season, the whopper from outside the box!
It was an unbelievable performance for Liverpool giving them some breathing space around the 2nd leg as a trip to Old Trafford looms. Jurgen's plan for the 2nd half of the season looks like it's taking shape. Liverpool have now scored 99 goals this season, and it's only February. Onwards and upwards. Up the Reds.