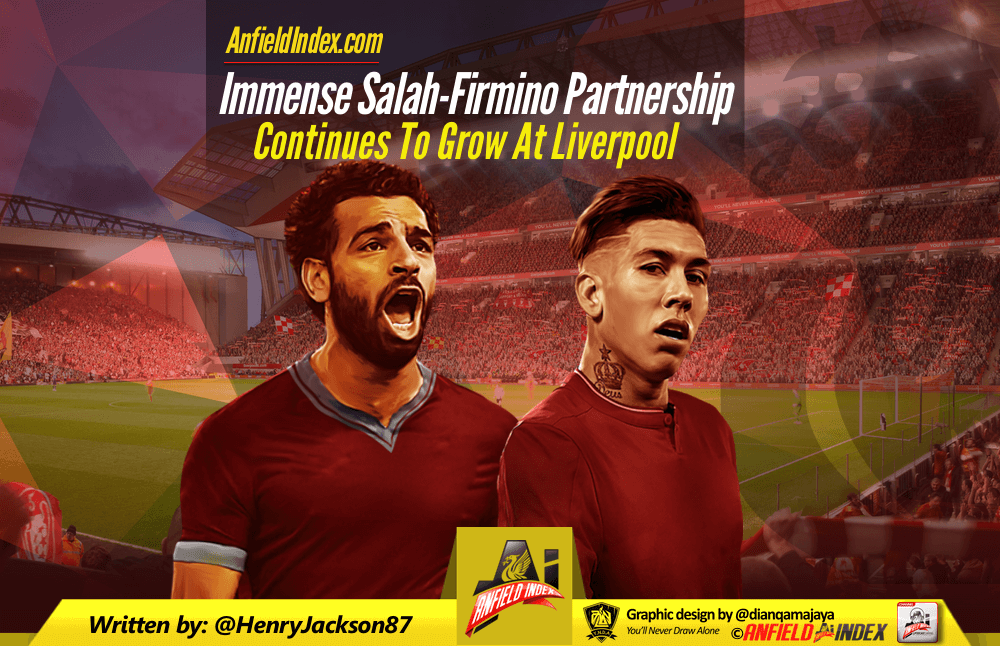 Immense Salah-Firmino Partnership Continues To Grow At Liverpool

Great Liverpool attacking pairings throughout history roll off the tongue.
Ian St John and Roger Hunt excelled in the 1960s, John Toshack and Kevin Keegan were the archetypal 'Little N Large' combo the following decade and Kenny Dalglish and Ian Rush were perhaps the Reds' greatest duo-in-tandem.
Jumping into the Premier League era, Robbie Fowler and Stan Collymore wreaked havoc for a short time, before Steven Gerrard and Fernando Torres came so close to inspiring Liverpool to glory in 2008/09.
Most recently, it was Daniel Sturridge and Luis Suarez wowing us all, and although they weren't as balanced a pairing as those mentioned, they were still exceptional alongside one another.
Fast forward to the present day, and we are witnessing a special on-pitch relationship blossoming between Mo Salah and Roberto Firmino.
The pair have been far and away Liverpool's standout performers this season, and two of the best attacking players in the country at the same time.
Salah has scored an incredible 30 goals, Firmino has got 21 of his own and 10 and 11 assists have also been registered, respectively. At their best, they have been untouchable.
Saying they are a joy to watch would be an understatement, and with Philippe Coutinho leaving and Sadio Mane flattering to deceive for large periods – it looks like the Senegalese has his mojo back now, though – they have become the undisputed current darlings of the Kop.
Their individual brilliance has earned them plenty of richly-deserved column inches, but only recently has a partnership started to really come to the fore.
Everybody likes to speak about the Reds' devastating front-three, but in reality, it almost feels like Salah and Firmino are a two-man strike force, with Mane doing his own thing out on the left, often unselfishly.
It is now wrong to call Salah a right winger, with so many of the positions he takes up much more central. It is the equivalent of saying Lionel Messi plays on the right, which he most certainly doesn't.
Salah and Firmino stay remarkably close to each other during matches, and it is a key reason for this new-found partnership exploding into life. They are seemingly never out of each other's eye-line, and defenders cannot cope with the speed of thought that is going on around them.
When two great players manage to be on the exact same wavelength, there is always a strong chance something special may arise, and that is precisely what we are seeing at the moment.
There is a telepathy between Salah and Firmino that cannot be coached, and some of the recent interplay has been astonishingly good. They always knows where the other will be, and there are occasions when they almost feel as though they are playing their own separate game.
During my childhood football career, once described as that of a poor man's Charlie Adam, I remember consistently coming up against a strong team who would always beat us.
They had good individuals everywhere you looked, but two lads used to run the show whenever we did battle. Every goal was scored or made by one of them, and they were often laying on assists for each other.
That's what it feels like with Salah and Firmino at the moment, and nine of Liverpool's goals this season have been created by one and scored by the other. Five of those saw Salah fire home, with Firmino netting the other four, according to the excellent Andrew Beasley (@BassTunedToRed).
When it comes to singling out specific eye-catching moments involving them, two goals stand out, both of which have occurred in the last two games.
In the 2-0 win away to Southampton, the one-two that saw Firmino play in his teammate with an outrageous flick was out of this world.
It was all done in one smooth motion, from the trickery to the finish, and at a time when the Reds were actually under a little bit of pressure, it put them two goals up and effectively killed the game as a contest.
Then on Wednesday, on a memorable Champions League night in Porto, the twosome were again unplayable, as Jurgen Klopp's men romped to a 5-0 victory.
The third goal of the night, eventually scored by hat-trick hero Mane on the rebound, again started with a sublime Firmino layoff, before Salah laid on an inch-perfect pass for the Brazilian to attempt a strike at goal.
They were a menace all evening long, and a side who have conceded just 10 league goals all season couldn't handle them.
Salah and Firmino are a perfect foil for one another, with the former's electrifying speed and movement beautifully complimented by the latter's intelligence, creativity and hold-up play.
Watching them both in full flow is a footballing treat, and the importance of them staying fit between now and end of the season cannot be put into words.
If Liverpool can consistently play like they did against Porto, there is absolutely no reason why they cannot win the Champions League this season.
Nobody will want to draw them in the quarter-finals, and it will be Salah and Firmino who the opposition fear most.
Losing either for a prolonged spell could effectively end any chance of glory, such is their influence, with those coming in to replace them not even remotely close to their level.
That is meant as no disrespect towards players such as Alex Oxlade-Chamberlain, Danny Ings and Dominic Solanke, but the gulf in class is undeniable.
As individuals, Salah and Firmino are extraordinary talents, and as a partnership, they are starting to look every bit as brilliant as those legendary pairings that graced the Anfield turf before them.