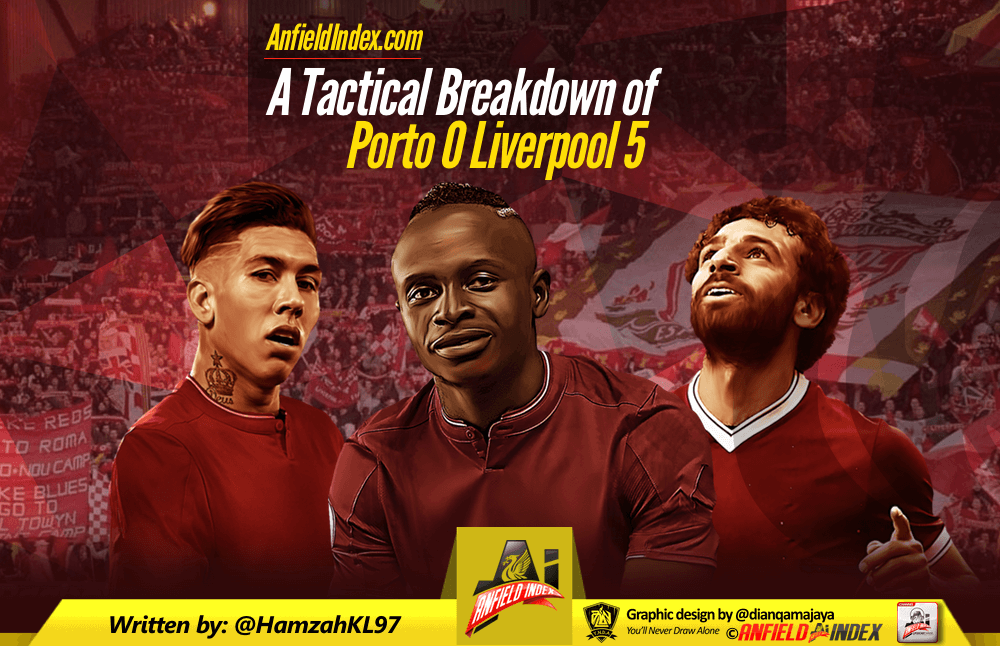 Porto 0-5 Liverpool: A Tactical Breakdown
Liverpool are one of the few clubs still undefeated within the Champions League, but few expected the utterly dominant display, away to Porto, which effectively ended the tie.
How then did Liverpool approach the game? For while the scoreline suggests a brutal decimation of Porto, it was not quite that simple.
The match was predominantly played within the middle of the pitch, with action zones, average positions and the touch maps reflecting that. Indeed, Liverpool may have had a majority of possession, but with 55pc, it was hardly as if they suffocated Porto with the ball. Liverpool were aggressive but not excessively so, perhaps learning from the mistakes of the Sevilla match earlier this season.


Essentially though, this was a counter-attacking and counter-pressing masterclass. In recent games, Liverpool lacked clinicality and the right pass in key offensive moves/moments, in this game, however, Liverpool were absolutely spot on and seized their chances.
In recent weeks, I've highlighted the issues of Liverpool attacking down the middle against a low block, but focussing on the middle was very much the gameplan here, and the benefits of doing it effectively are plain to see. Liverpool won the ball centrally, and then attacked with positional width and pace.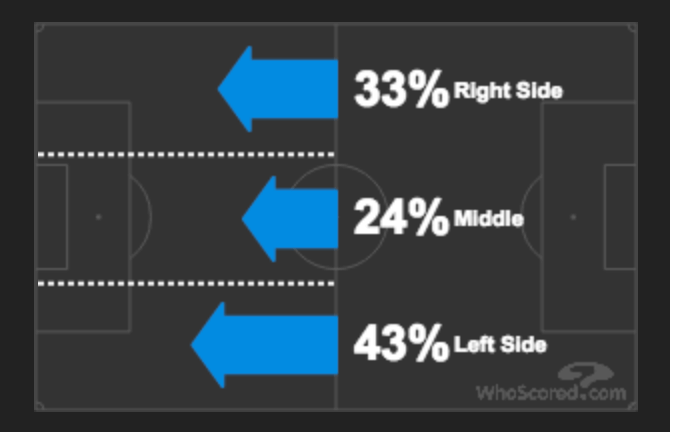 Porto intended to play on the floor and predominantly hold the ball just inside Liverpool's half – essentially their base of possession.
However, Liverpool's midfield put in a monumental effort, to win and overturn possession within this particular area (zone 3 below), giving the forwards the opportunity to carry the ball into the opposition half and attack the vacated area and spaces between players. Precisely because Liverpool focussed on turning the ball over in this specific zone, they were able to thrive and take Porto apart.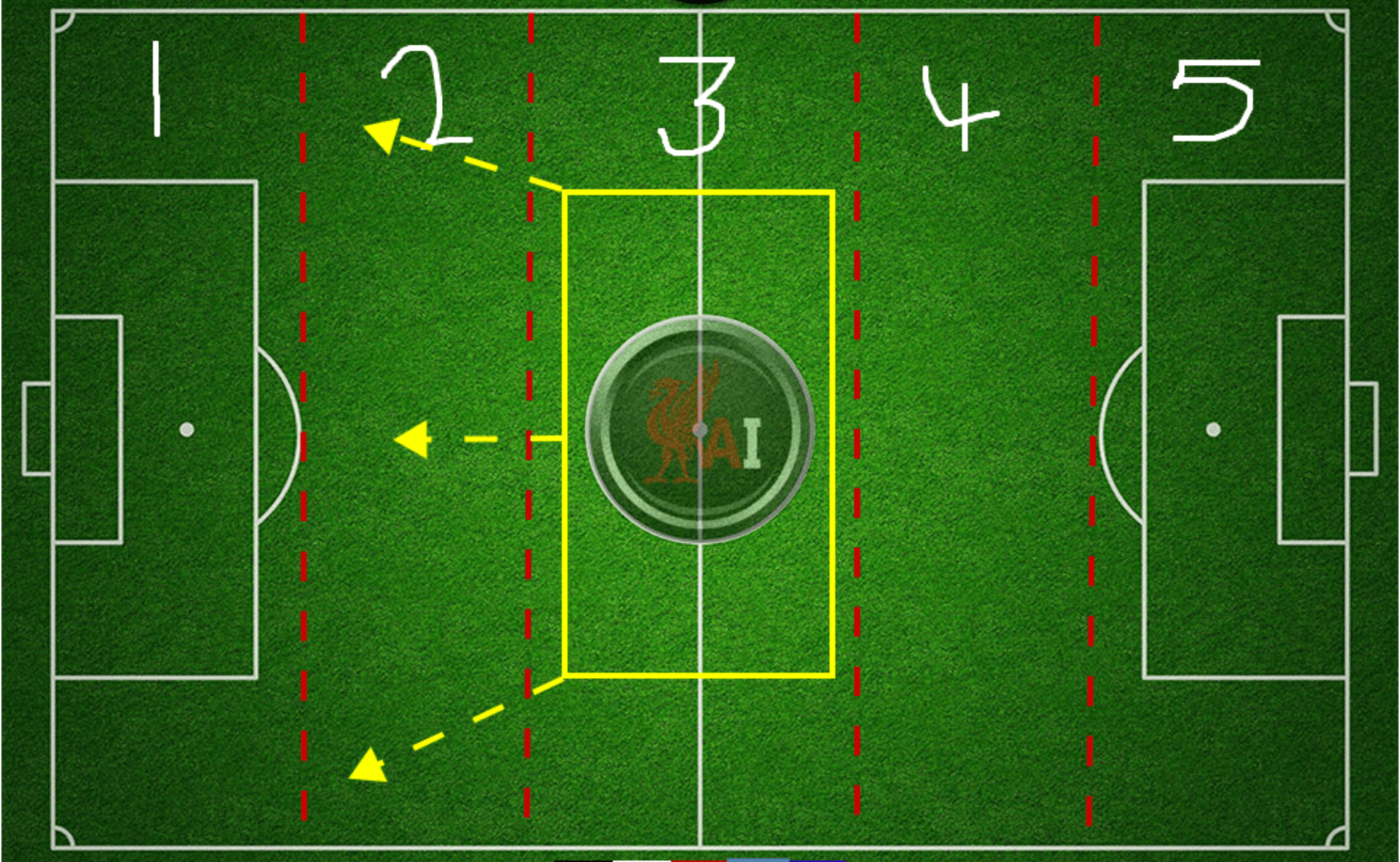 When Porto had possession in this 'possessional base' (yellow box), to take advantage of it, they need players ahead of the ball, and committed forward (in direction of yellow arrows) – Liverpool used this to isolate those players, such as the midfielders or full-backs, and sprung into an offensive position rapidly, as they committed numbers forward, completely overwhelming the remaining Porto defenders in zone 4. With only a few Porto players in position to defend zones four and five, it was easy to overwhelm them through sheer numbers, let alone intelligent movement and stretching the defence.
The two screenshots below illustrate this midfield press and counter-attack best: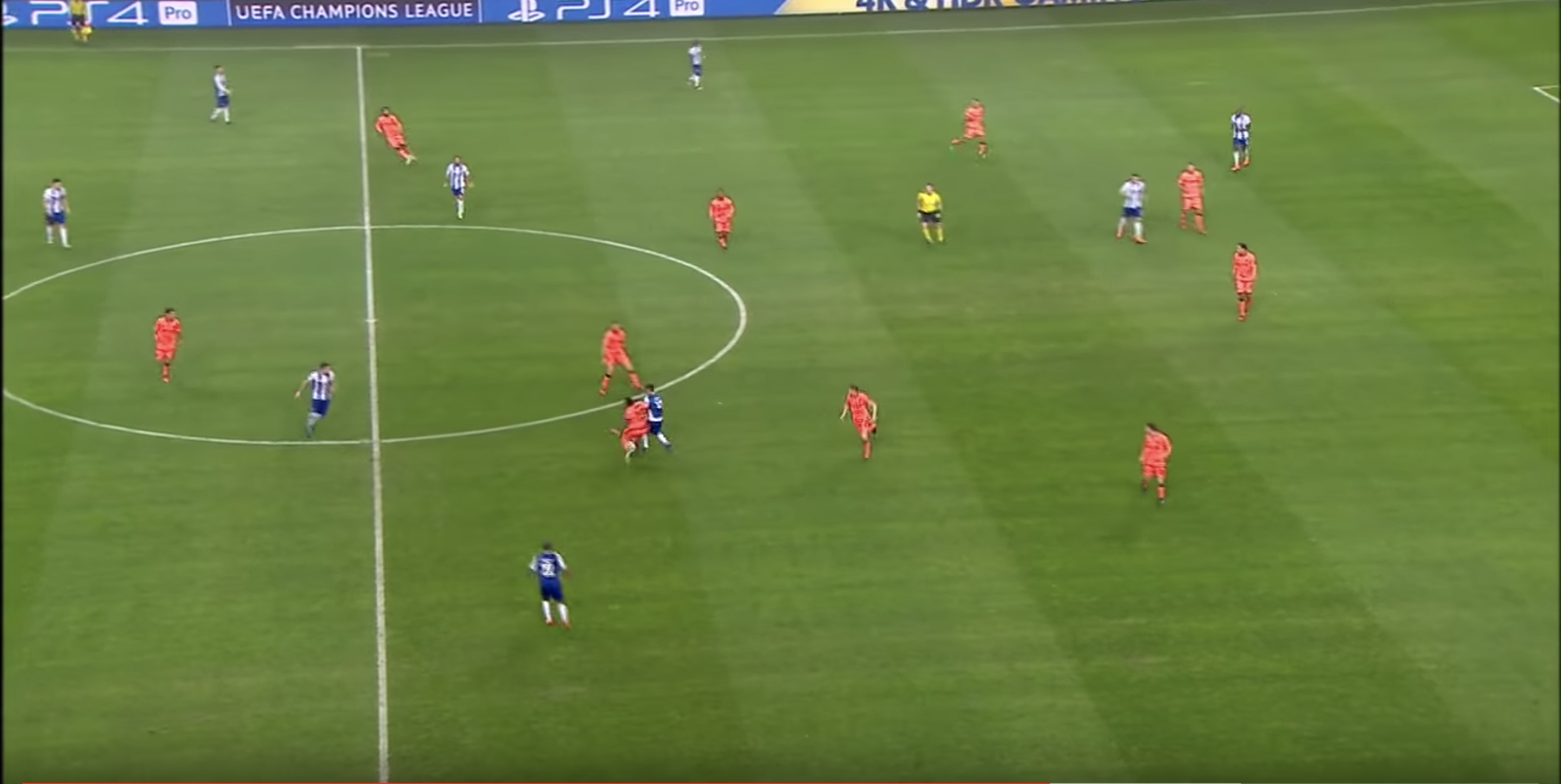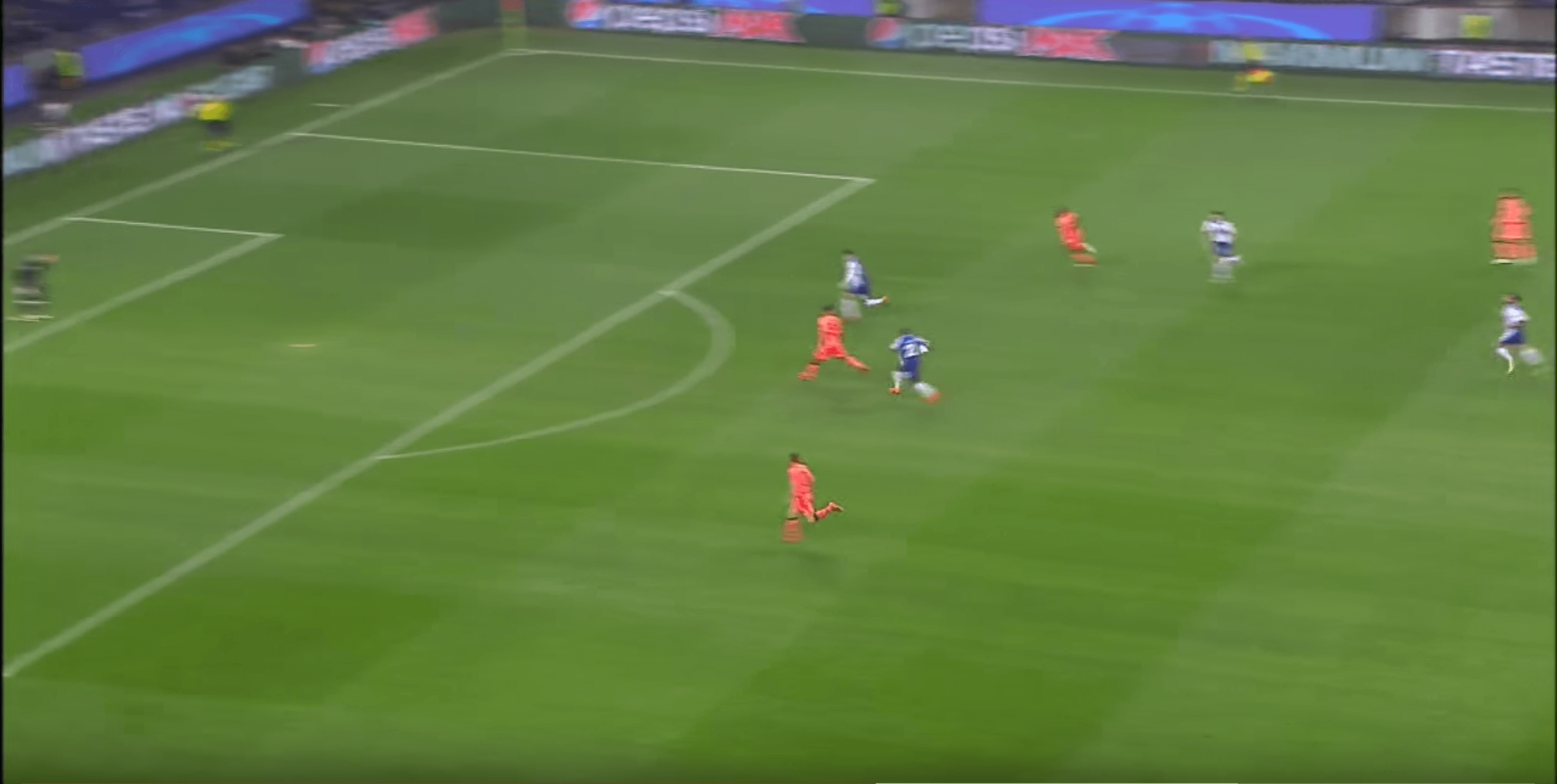 One of the important aspects to take note of in this situation is how Mané and Milner still keep some width, meaning the defenders have to cover more ground between them to cover the gaps for potential passes. Through maintaining their line, and following through they're able to capitalise on any loose balls – as Mané did.
The frame below shows the buildup to the first goal – Lovren wins the ball and feeds it into Wijnaldum, who immediately moves into an offensive position, and dribbles directly towards the Porto box. This rapid transition means Porto simply cannot setup defensively and organise their shape.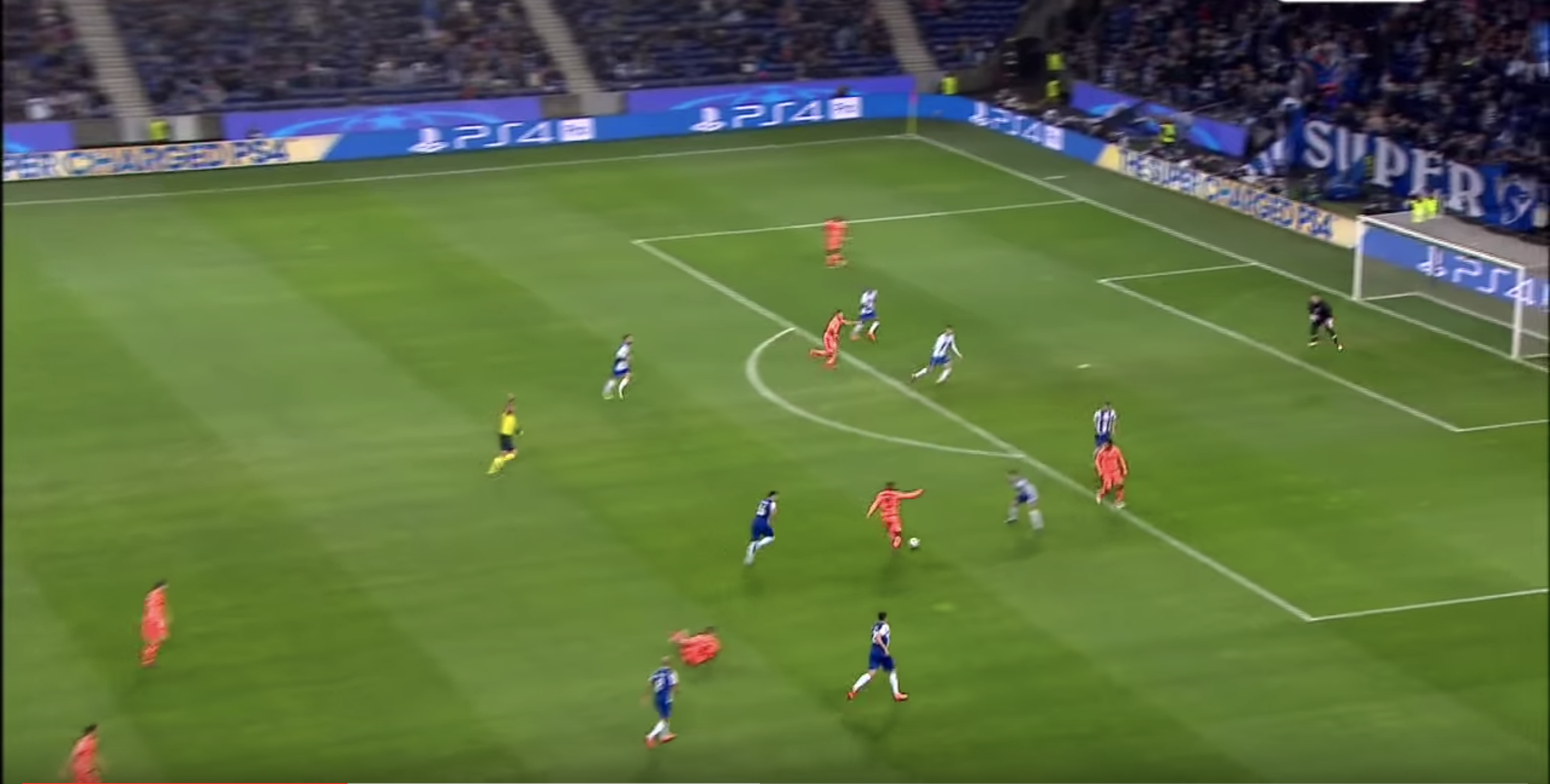 The same is true of the fifth goal, where the transition into attack and into space is immediate: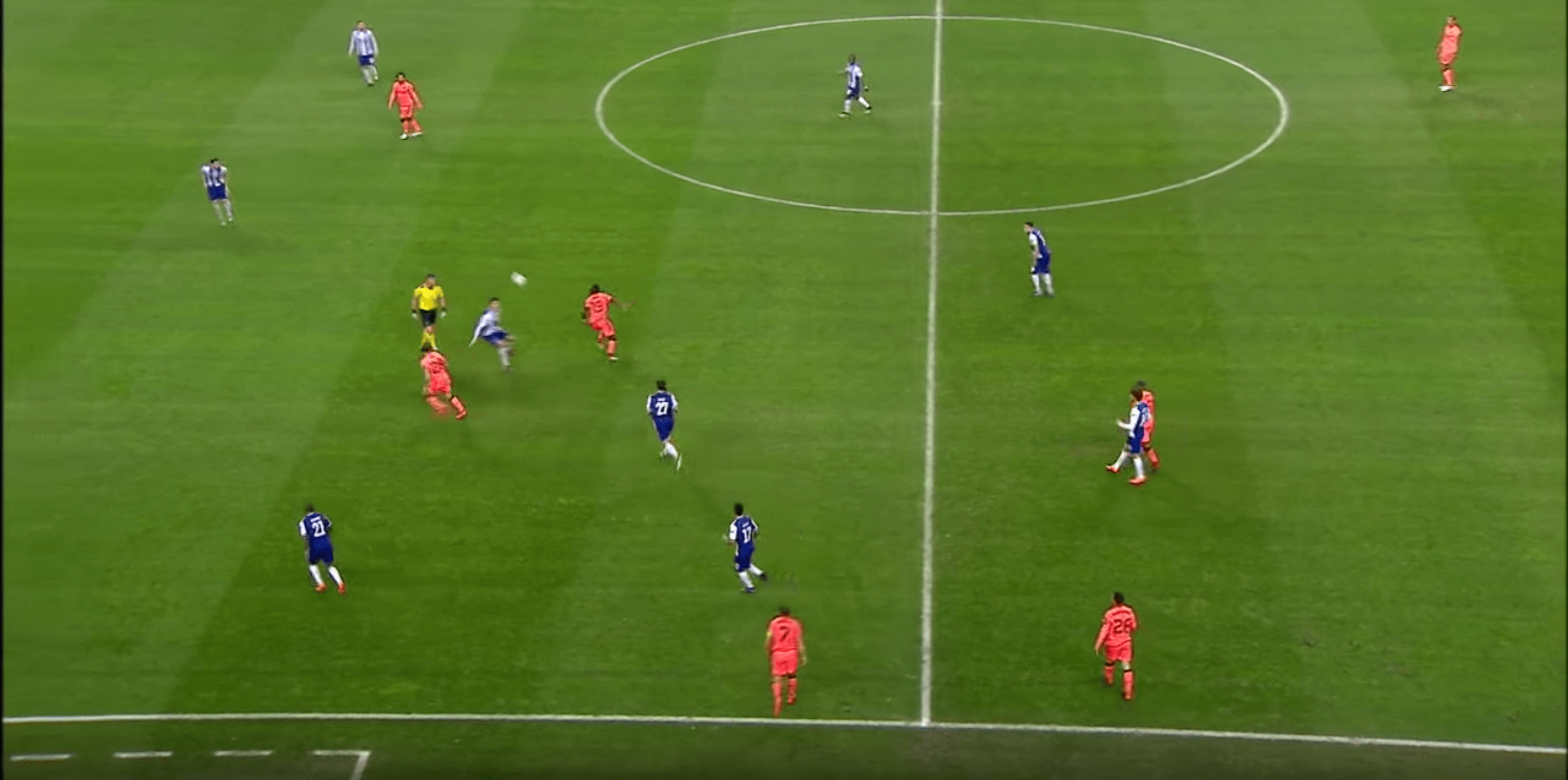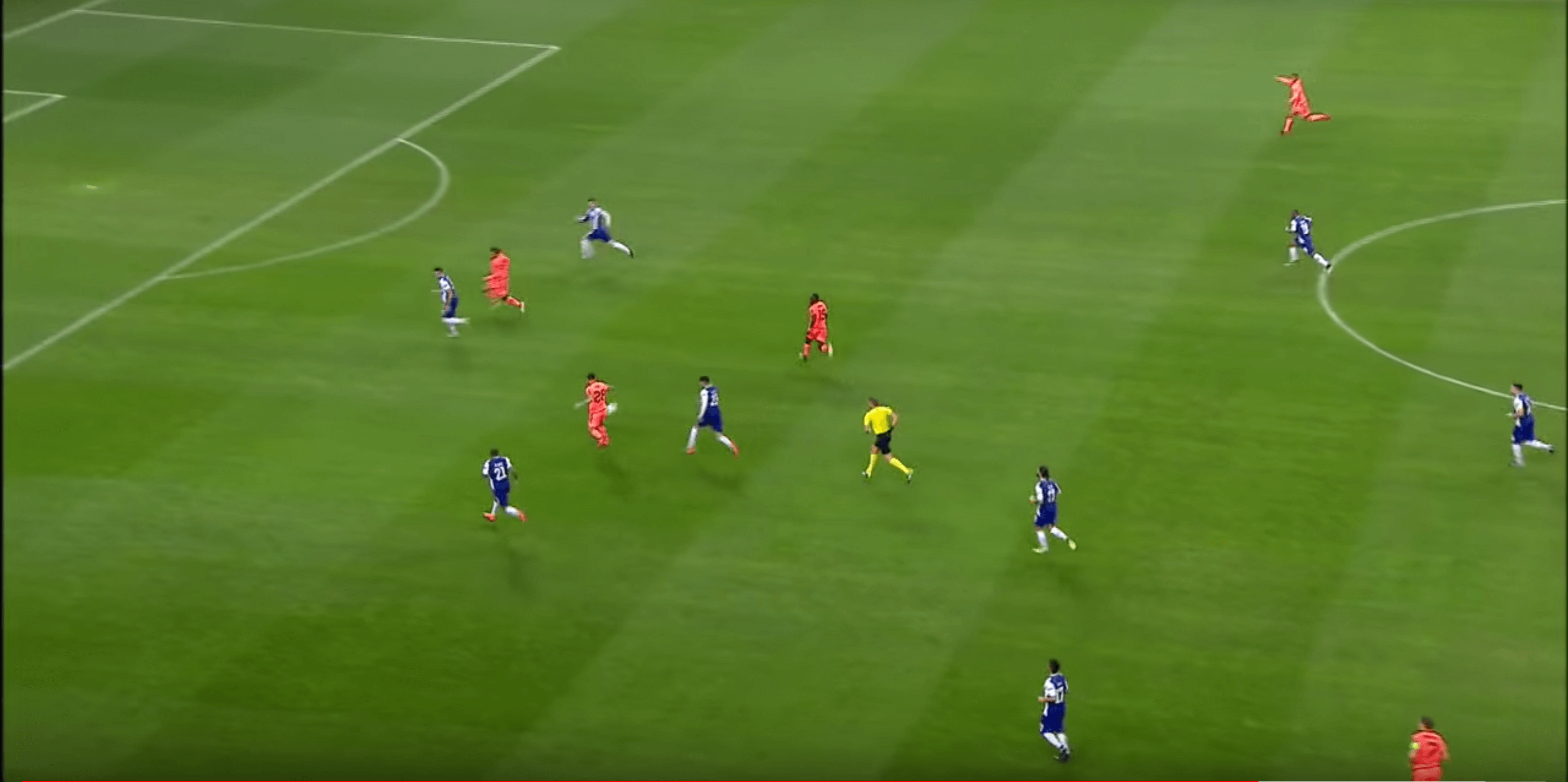 Salah's run from right-to-left should not be ignored either, it creates the space which Mané runs into and shoots from, Salah's run alone is as much of an assist as Ings' pass.
Porto allowed Liverpool to break into space – and it cost them the game. There was too much space in behind as they sought to score at least one, but once it was 3-0, Porto should have cut their losses; allowing Liverpool to counter-attack and run into space, against backwards-facing and running defenders is only going one way.
Overwhelming Porto with numbers on the break, as they overcommitted was the essence of the game and the goal below: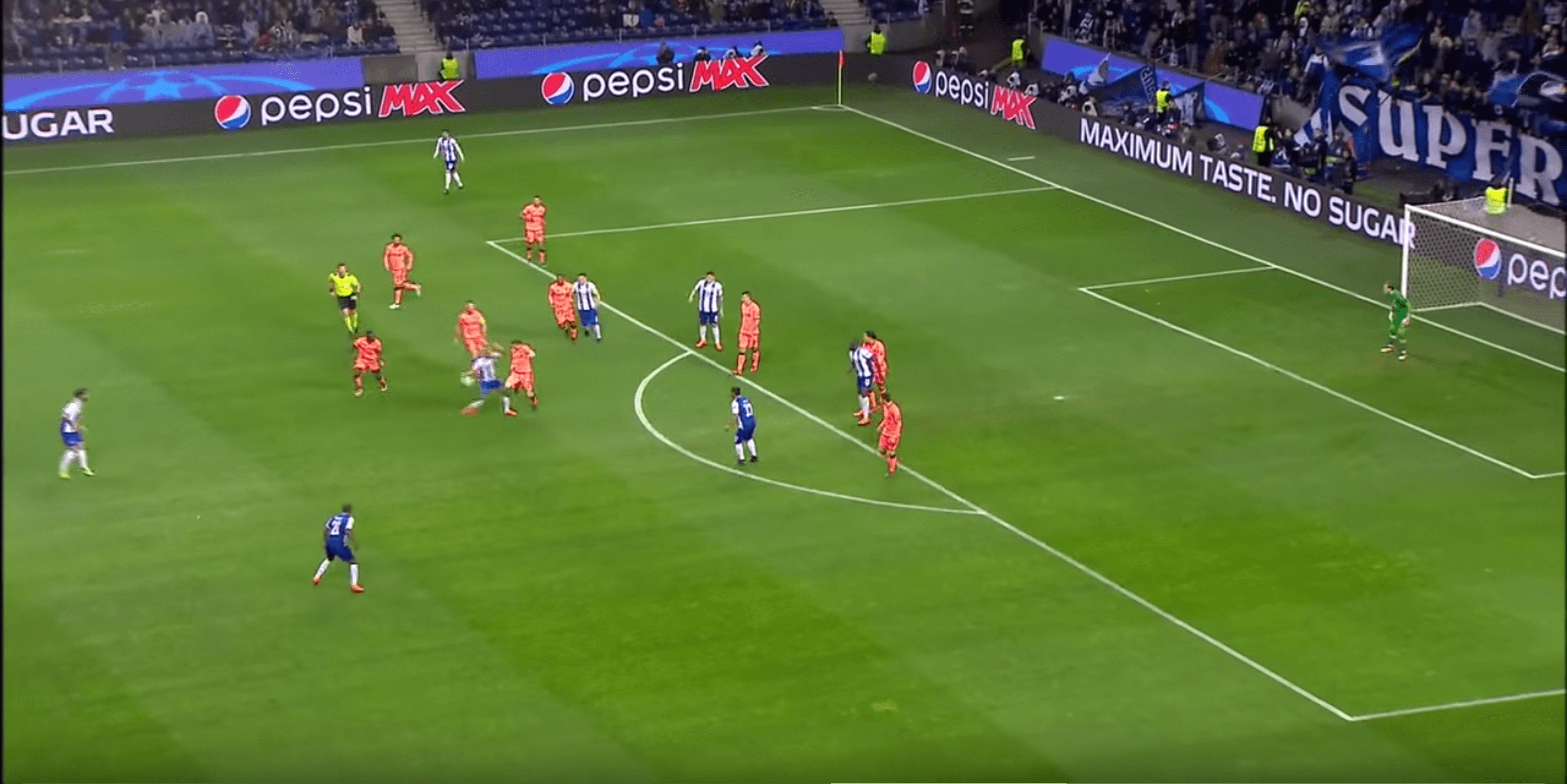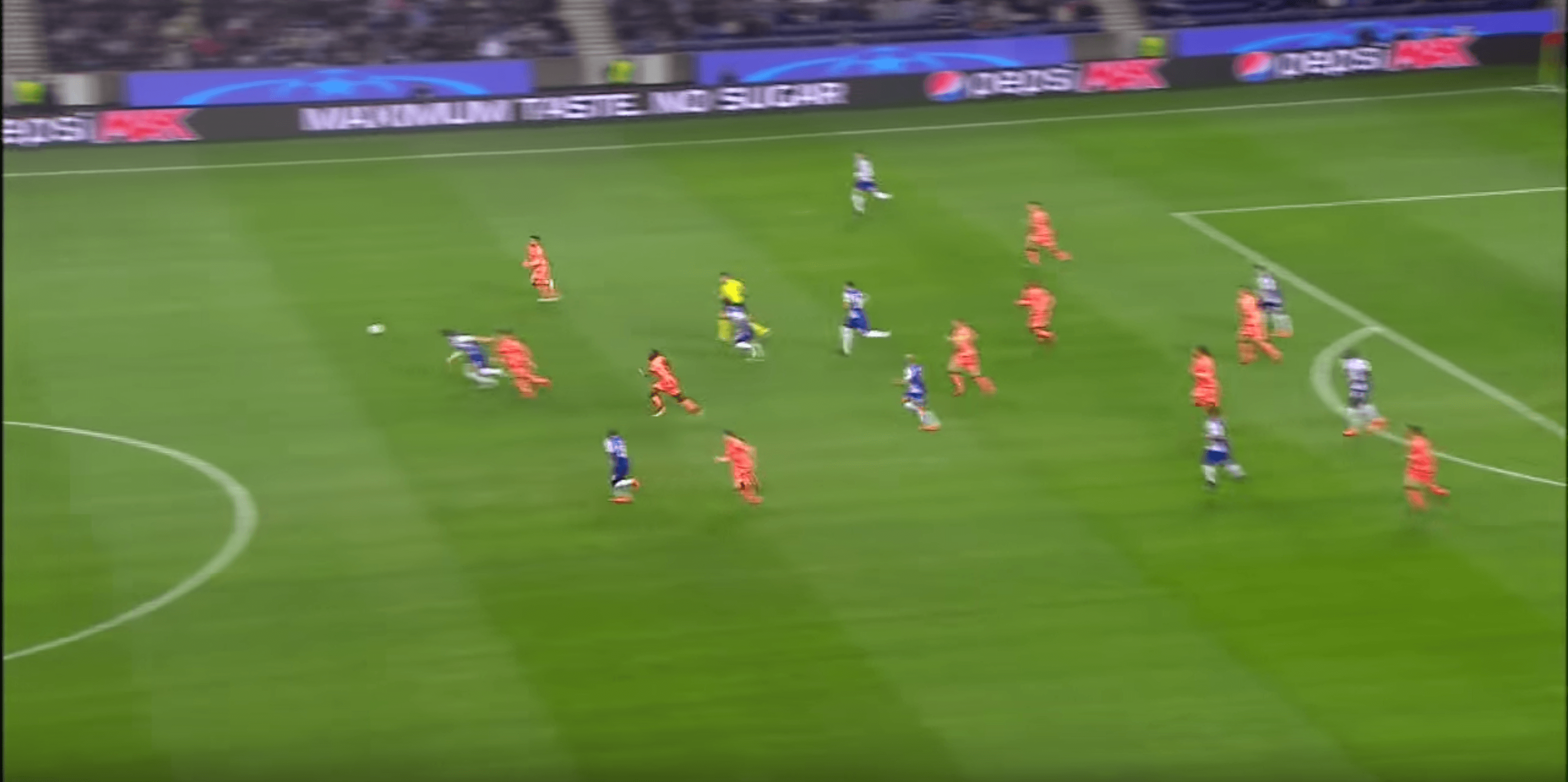 Additionally, the graphic below depicts Porto's possession losses, and the frequency of possession losses within Liverpool's half indicates a different style of pressing to what we see in the league – instead of pressing from the front throughout the game, Liverpool initially pressed high, then dropped off after scoring. This type of game management is exactly what is required in Europe and through sitting back, may provide another opportunity to beating teams who utilise the low block and surrender possession – if Liverpool surrender possession instead and allow teams to come onto them (which they can do more confidently with Van Dijk at the back), the team can counter more effectively and make better use of Salah and Mané's directness, without needing them to come up with moments of magic.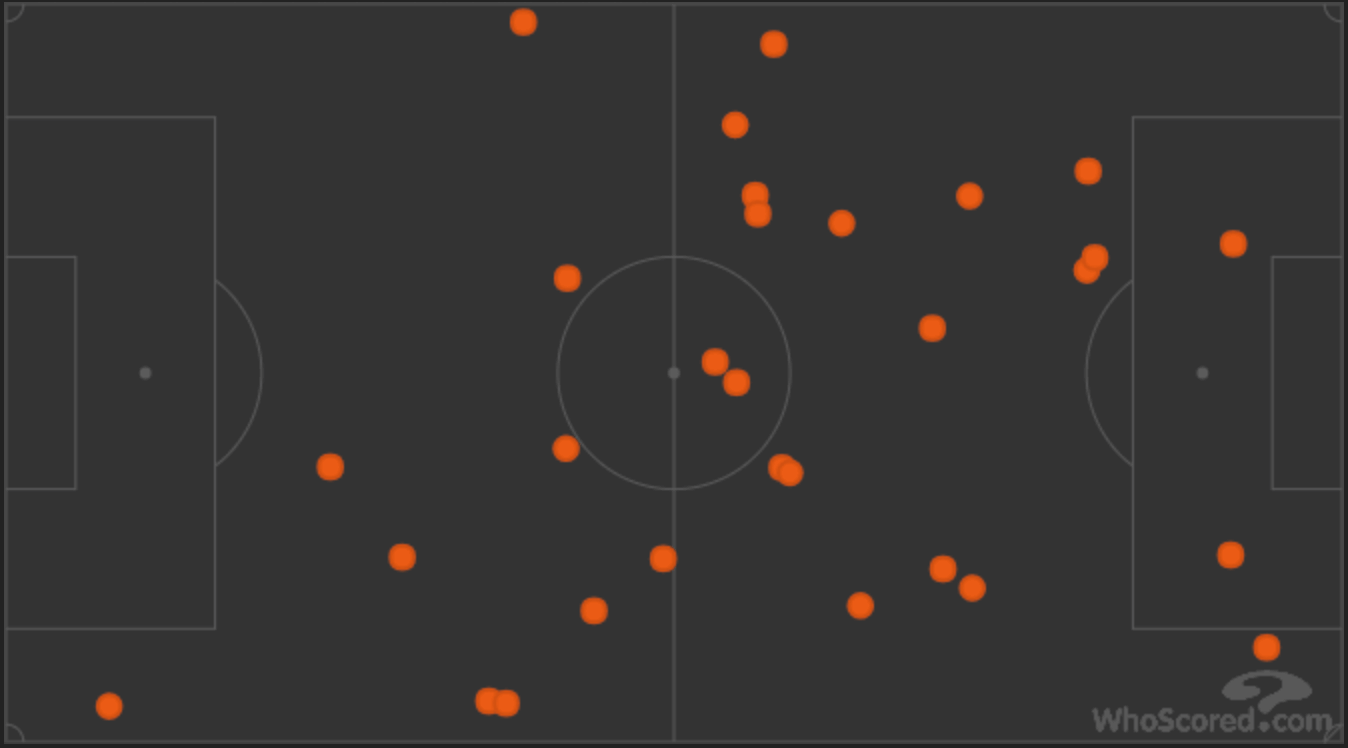 We cannot ignore the contributions of the midfield though, who were absolutely essential to the execution of this counter-attacking gameplan – Wijnaldum, Milner and Henderson's heat maps are below:
Wijnaldum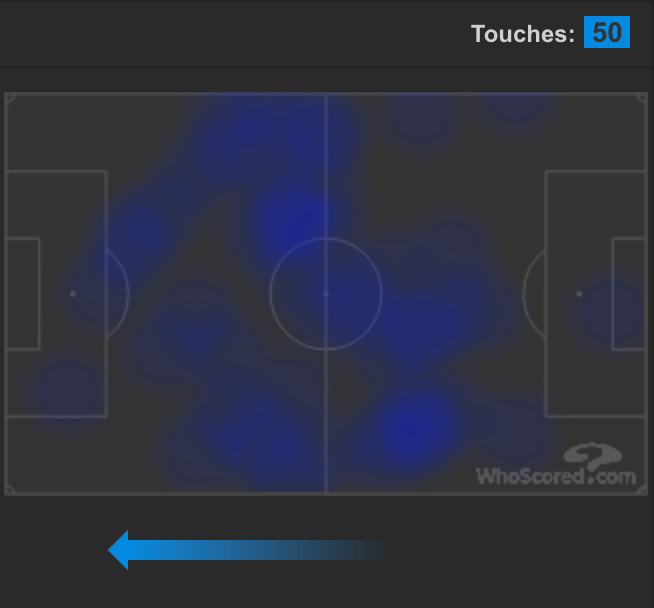 Wijnaldum found himself spearheading the midfield three and his aggressiveness and directness paid off, as he facilitated attacks.
Milner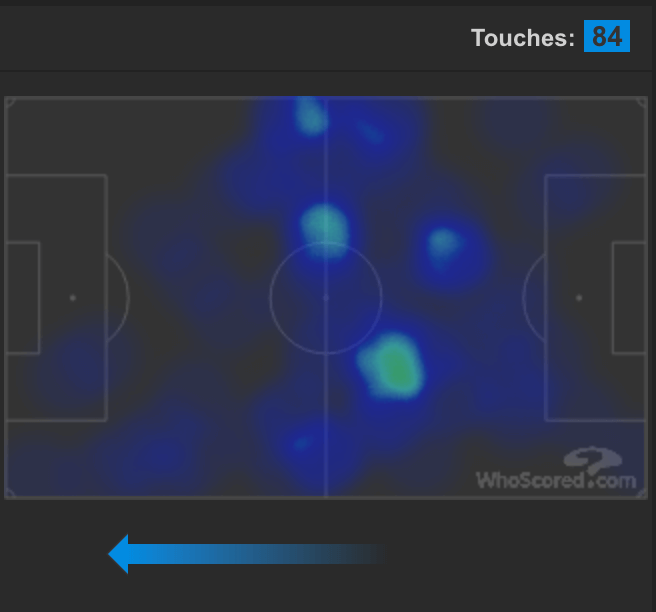 Milner found himself all over the pitch, running the channels, and again it was directness which was the most important aspect of his play – with his assist for Salah because of a brave aggressive move inside, whilst he played a supporting role in counter-attacks – taking positions to draw the Porto defenders out of position.
Henderson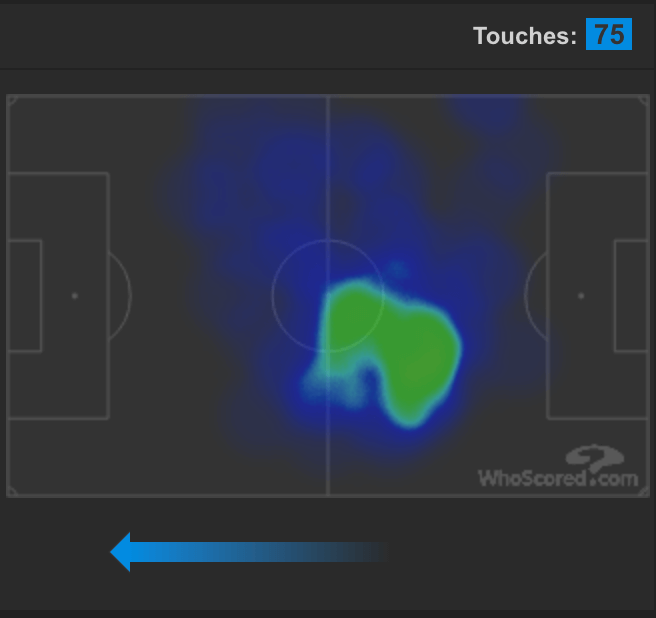 Henderson marshalled the midfield well, and did not seek to take the ball off the centre-backs for the sake of possession, instead, Lovren and Van Dijk were afforded some autonomy and responsibility to play their own diagonal passes, as Henderson sat and recycled the ball with little fuss and quiet efficiency – exactly what a CDM in the 6 role is meant to do.
The contribution of the aggressive midfielders dovetailed beautifully with the supporting work of the outstanding Alexander-Arnold and Robertson, who stretched the play, offered outlet passes and supported presses.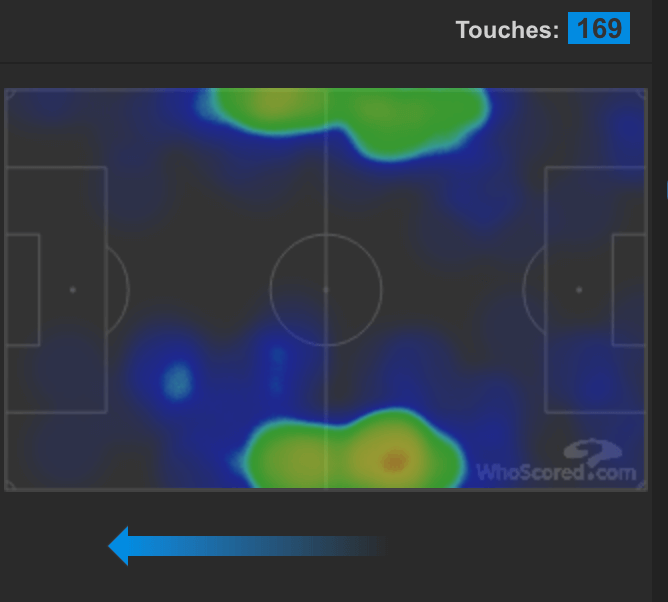 The game may have started slowly, and Liverpool's first goal was a gift of sorts, but from around the 10 minutes following that point, Liverpool dominated the game. All players contributed solidly, but in fairness, Liverpool were fortunate they scored early, for it allowed them to use a gameplan that suited their best qualities and strengths – that's not to downplay Liverpool's performance, for they executed that gameplan perfectly, but the game for Porto was over once they had to chase it.
Passmaps & xGplot for Porto against Liverpool. #passmap #xGplot #autotweet pic.twitter.com/ZMbkOTlhlV

— 11tegen11 (@11tegen11) February 14, 2018
Liverpool were clinical and aggressive in exactly the moments they had to be. We'll very rarely see a game pan out so well for Liverpool again this season, simply everything seemed to fall into place.
Sterner challenges await…
xG map for Porto – Liverpool.

Oh my. pic.twitter.com/LEgWoW8c00

— Caley Graphics (@Caley_graphics) February 14, 2018