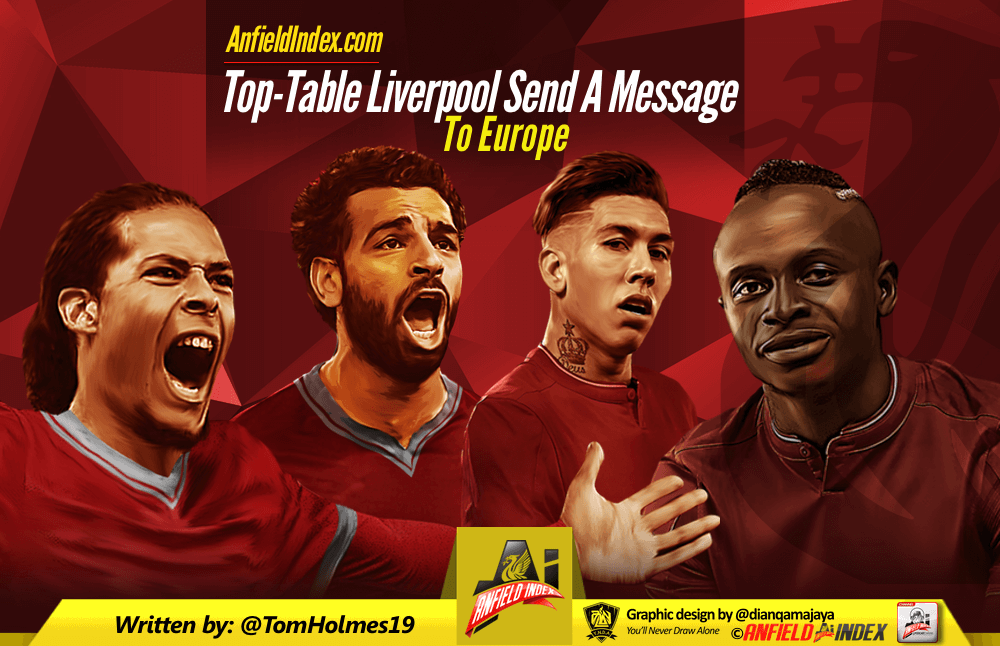 Top-Table Liverpool Send A Message To Europe

When Sadio Mane's second goal went flying into the back of Porto's net, what had threatened to be a very, very good night at the office officially turned into something else entirely? For long spells of the first half, Liverpool were looking clinical, rather than dominant, but the third goal, so early in the second half, completely changed the complexion of the tie.
And so, what had the potential to be a potentially sticky away fixture for Liverpool ended up being one of the best performances, and results, in their European history. Titles are not won in the Last 16, but then it's not every day that you beat a team of Porto's calibre by five goals in their own stadium.
If Porto were to be, rightfully, denounced as poor, then it's only because Liverpool made them look it. Whilst the goalkeeping for the first goal was shocking, Liverpool hounded, harassed and bullied Porto all night, forced errors, and made half-chances look like golden ones. Salah's finish for the second goal is one that will live long in the memory, and so, potentially will this night.
Because this wasn't a win. This was a statement. Liverpool are back in the top tier, and Europe needs to watch out.
To make the knockout stages was a good campaign for Liverpool, given that they haven't done so in 2009. But to ruthlessly and emphatically put a good team like Porto to the sword states that they didn't just reach the Last 16 by chance. They've got one foot in the quarter-finals now and they absolutely deserve to be there. This is a Liverpool side that have the capacity, with a bit of luck, to go deep into this tournament. And having watched this display, there are very few teams left in the tournament who will fancy their chances against Klopp's Reds.
It's far too early to even hint at Liverpool winning the competition, and certainly Porto will be nowhere near the levels that you would expect the likes of Barcelona or Bayern Munich to produce, but certainly, Liverpool have demonstrated that their attacking flair is enough to hurt anyone. This is a side after all, that went 4-1 up against Man City a few weeks ago.
But this result is even more than that. It's not just a statement that Liverpool have come to play in this competition, it's the latest in a long line of statements by Klopp and his team that they are not going anywhere, and they are only getting better. Under Klopp, Liverpool have improved year on year, and their top four finish last year looks set to be matched again this year, if not improved upon, both in terms of position, and also in terms of points.
On the pitch, Liverpool are absolutely flying, with one league defeat in their last eighteen games, and are unbeaten in Europe. Off the pitch, they are consistently making top signings too, and are showing astute ambition. If the gloss of signing Virgil Van Dijk was momentarily wiped away, it is increasingly returning as the Dutchman improves Liverpool's defence week in week out.
And whilst it seems a million miles away, Mo Salah has proved to be Liverpool's best signing in years, hitting the 30 goal mark already and getting the most out of Bobby Firmino, who now has over 20. And lest we forget, Naby Keita is joining us in the summer, to rejuvenate a midfield that were absolutely incredible against Porto.
There are clearly huge strides still to be made, and a 5-0 win over Porto should not be treated as the end goal, far from it. But what Wednesday night's win gives us is a great moment to stop and look back at the progress that we have made under Klopp in the last few years.
What we wanted to see under Klopp was a massive improvement and we have seen that in all departments. Liverpool haven't made the Champions League knockout stages in nine years. Now they've not just done that but smashed it once they reached it. Liverpool haven't appeared in the Champions League in back to back years for the same amount of time. Making sure we do that has to be our next priority, and right now we're looking good to do so.
There's a long way to go in this season. Liverpool will have to juggle their remaining eleven league games and the realistic twenty-two point target that will probably be required from them, with the very real possibility of a Champions League quarter-final. But with Salah and Firmino in the form that they're in, not to mention the likes of Mane, Can and Van Dijk, there's every confidence that Liverpool will thrive. Of the four teams in the hunt for three spots, the Liverbirds are the form team.
This Champions League campaign has been a welcome return to the top table. But it's quickly developing into more than that. The win against Porto has changed the game. Liverpool aren't just back at the top table. They belong there. And it's time for the Reds to show that they're not leaving it again any time soon. And make no mistake, nobody will want to face them in the quarter-finals, assuming that they make it there.