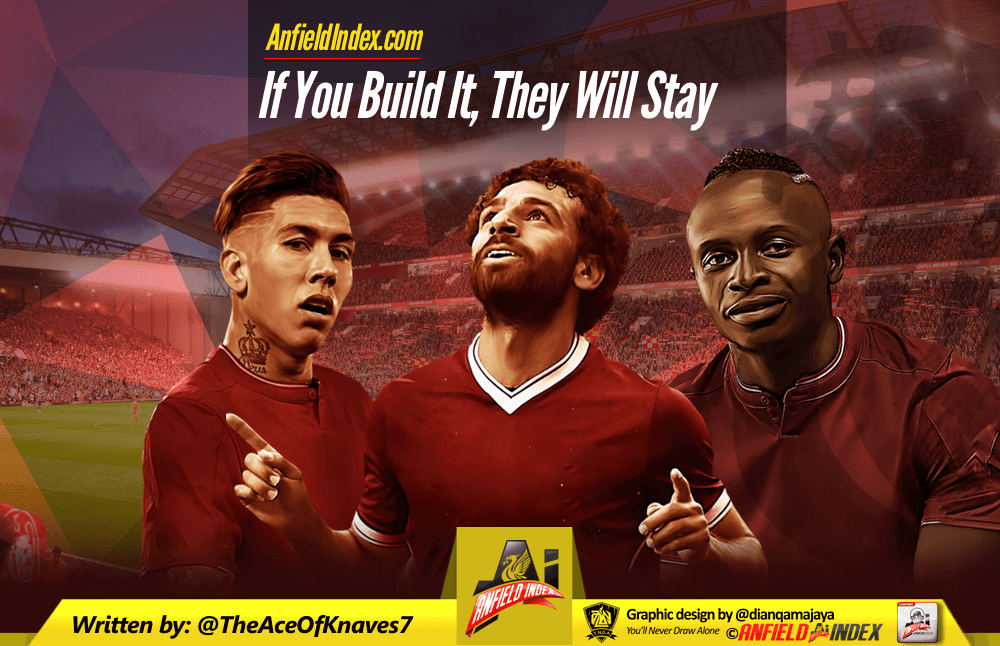 Liverpool FC - If You Build It, They Will Stay
Nothing great ever happens in team sports without the supporting cast playing some role on many different levels. Being in the background is usually no longer enough. The supporting cast now needs to contribute more than just hang around waiting to be dragged to titles. Countless times in recent history we have seen the Most Valuable Player in a season miss out on the grand prize despite their stellar performances.
In a world were loyalty is now the exception rather than the rule, franchise players are now more willing to allow the calibre of their supporting cast to weigh heavily on their decisions to stay in a team or move on. We have seen this more prominently in American Sports with the likes of LeBron James, Payton Manning and Kevin Durant. Each of them in their own rights have had numerous MVP seasons that have not resulted in a championship trophy. As a result, all three moved teams due to their respective supporting casts lacking the calibre they could work with in order to bring championships.
Athletes, especially top-level athletes, want to be in teams that give them the opportunity to win things. It doesn't always have to be an all-star team, but the supporting cast needs to add layers that facilitate a trophy-winning environment. There are times when those who ordinarily don't grab the headlines need to step up and make a game winning play. Additionally, there also needs to be those solid players you can rely on for a consistent performance. Those are the players that sit just below the level of the stars. They offer you a 7/10 performance 9/10 times. These are the players that help carry the team through inevitable dips during a season. They help steady the ship.

When executing correctly, the supporting cast can shoulder more of the season than you think. This is due to their primary role requiring them to aid in advancing the story, rather than hindering it. The need for a supporting cast to aid in advancing the story hits close to home for us Liverpool fans. During the infamous 13/14 Season where we finished 2nd in the league, we had the franchise players, as well as, a couple of 7/10 performers at the forefront of the supporting staff. The talisman MVP Luis Suarez spearheaded the franchise players together with Mr Liverpool Steven Gerrard and the Lethal & eccentric Daniel Sturridge. The three combined for a total of 65 goals that season. From an attacking standpoint, the supporting cast contributed to an additional 31 goals. The 7/10 performers, Raheem Sterling, Martin Škrtel & Phil Coutinho contributed 21 of those 31 goals. Where the supporting cast spectacularly fell short was in defence. Liverpool conceded 50 goals, the worst of the top 5, which had an average of 38.8 goals including Liverpool and 36 goals excluding Liverpool.
I am a firm believer in the old age saying "offense wins games; defence wins championships". If we accept this premise, coupled by the defence and goalkeepers Liverpool have had since 2007, you can see why Liverpool has one trophy since 2007. No matter if you plug in Suarez, Sturridge & Sterling, the 13/14 "SASS" front three, or you play Coutinho, Firmino, Mane & Salah, the 17/18 "Fab 4", as long as there is no reliable supporting cast that can be defensively sound, thus complementing them in advancing the story, Liverpool as a club are just going in circles.
I personally hold no ill will towards the likes of Torres, Suarez, Sterling or Coutinho leaving Liverpool to pursue trophies. If Liverpool had given them complimentary supporting players that competently equipped the squad with the ability to challenge for titles, then I would have more problems with them wanting to leave. As it stands, every one of them was justified to leave. They all gave multiple years of service in pursuit of winning titles with a team that kept going in circles. The only problem I would have with them leaving would be the way some of them chose to leave; it left a sour taste in the mouth. Their reasons, however, I cannot fault.
The onus of intent rests with the club. It is for the club to show the intent to win trophies by addressing problem areas. I'm not asking Liverpool to break the bank; Liverpool is not in a financial position to do so. I will save the financials for another time. What I do expect from Liverpool, however, is to at least provide a supporting cast that aids in advancing the story, rather than hindering it.
For years now it feels like Liverpool have to drag certain players along in order to try achieve anything. The weight has proved too much since 2007. We cannot expect the revolving door of attacking minded franchise players to stop if we don't give them a supporting cast that complements their efforts up front with sound efforts defensively. My fear is that the likes of Salah will only take having to score 3,4 or even 5 goals to feel a game is won for so long. They'll see those that have left due to similar frustrations flourishing in other trophy winning teams and they'll want, perhaps even deserve the same for themselves. I put it to Liverpool Football Club that if they address the glaringly obvious defensive frailties and offer a supporting cast that aid the franchise players to take us to trophies, they wouldn't be so quick to leave. We have the history. We have the name. We have the fans that create an exhilarating atmosphere to play in front of. We have the franchise players spearheaded by Salah and Firmino. Now is the time to build the supporting cast, and if you build it, they will stay.