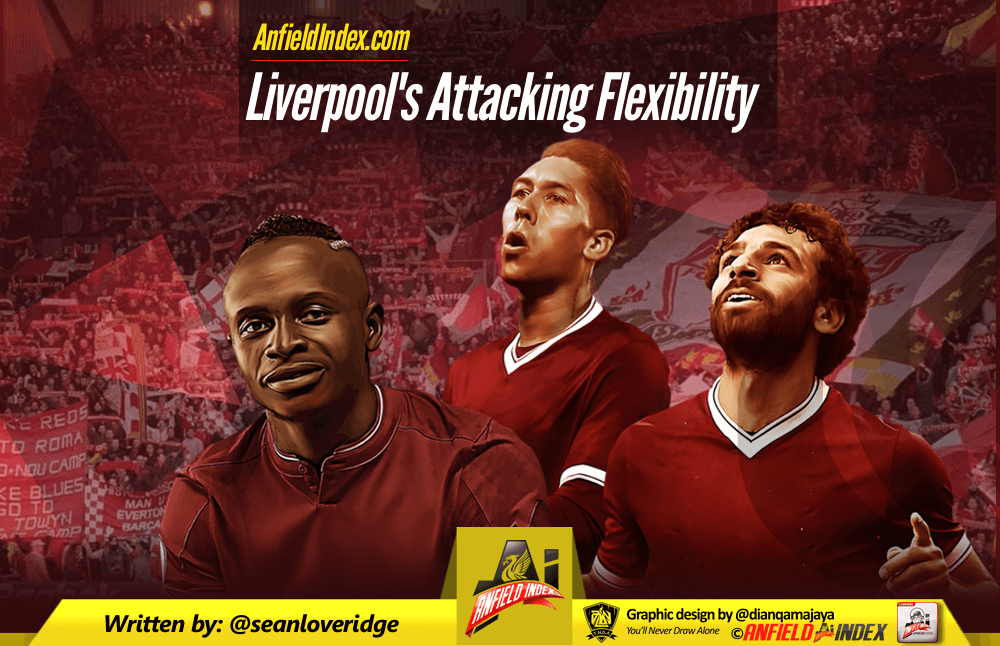 Liverpool's Attacking Flexibility

Hello again Anfield Index, it's been a while. Eagle-eyed viewers that you are, some of you have probably noticed that Liverpool are scoring quite a few goals this season. My goal in this article is to explain to you how adjustments in personnel and tactical decisions have allowed us to both destroy ambitious opposition on the counter and, at times, to break our hoodoo on beating teams who only intend to sit deep for the entire game – some teams have been better at this than others, so it doesn't always work, but we do now have ways of patiently breaking down the opposition.
When I say "adjustments in personnel", I am aware that we are almost constantly playing the same front three – that is a worry for another article, another day. What I mean to address here is how the selection in the midfield changes how we build from deep, which in turn affects how our front three behave. In the course of this, I'll look at two recent matches that best demonstrate this difference in build up – the 5-0 win over Porto, and the 3-0 win over Huddersfield.
I postulate that the Porto match is an excellent example of us quickly beating a team by forcing mistakes and rapidly pushing the ball upfield, while the extended possession afforded to us by Huddersfield forced us into playing a slower, more methodical attack – not that there is no method in our fast counters.
Porto
The Porto match showed off the fast-paced attacking for which Liverpool, and indeed Jurgen Klopp, have become renowned. Of course, having players as pacy as Sadio Mane and Mo Salah helps a lot in this regard, but pace alone doesn't allow for consistently effective attack in this manner – each player needs to know how and where to run up the field in order to keep the opposition defence in as bad a situation as possible. For this task, Liverpool fielded the usual front three ahead of Henderson, Milner and Wijnaldum in midfield (with Emre Can suspended). Using Wijnaldum in this role provided a player that was capable of running forward with the ball at pace, possibly dribbling past a man where necessary in order to quickly carry the ball up the field. For this reason, I was surprised that we did not also select Oxlade-Chamberlain, who has shown his ability in this role in the past, especially as Emre Can was unavailable.
While Liverpool did enjoy the majority of possession in this one (55%), Porto certainly did not just sit back and let us play in front of them, which meant committing players to attack giving ample space for our forwards, midfielders and fullbacks to storm into given the opportunity. A first example occurs on 44 minutes: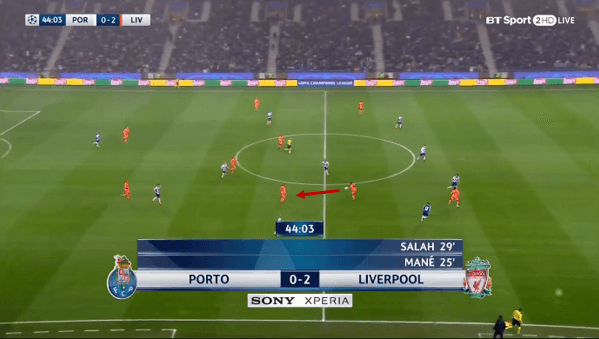 From Karius's goal kick, Firmino receives the ball in space and chests it down to Milner, who then immediately gives it back to Roberto Firmino. The Porto midfielder has arrived to pressure Firmino at this point, but this has cleared space for Milner to run into behind Firmino, who gives the ball wide to Trent Alexander-Arnold (currently underneath the scoreboard, my apologies, I think he's about there…):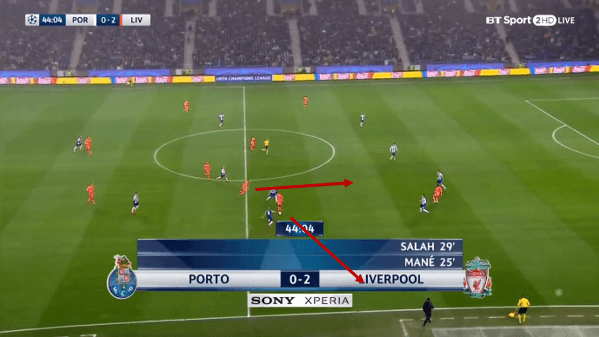 Milner, having run into the space vacated by Porto's midfielder, finds himself with plenty of room to receive the ball from Alexander-Arnold: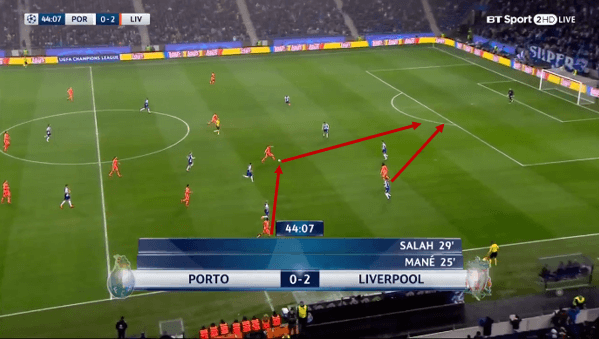 From here, Milner takes a few strides forward and tries to play it between the two defenders for Salah, who has run in behind the defence. The move ultimately fails, but Milner's ability to notice that space has been vacated behind the Porto midfield allowed us to move from a goal kick to a shooting opportunity in roughly 11 seconds. This kind of move proves very useful in Sadio Mane's second goal of the game where: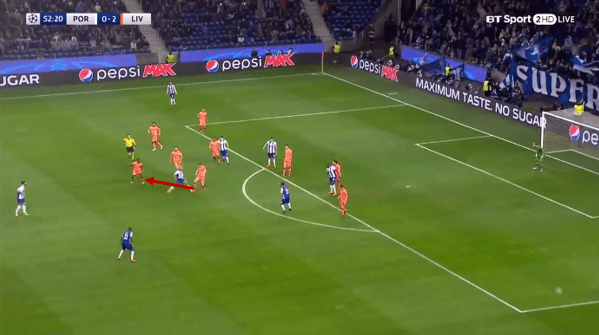 Milner wins the ball in front of our 18-yard box, his tackle, fortunately, bouncing to Sadio Mane next to him, who immediately looks forward to exploit the fact that 8 of Porto's team are operating very high up the pitch. He plays it to Firmino, who has dropped back to receive it, pulling one of the deeper-lying Porto players with him: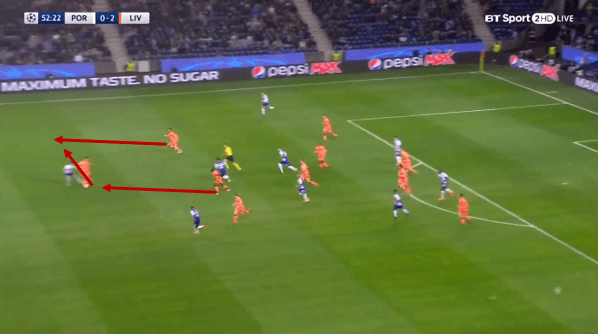 Firmino plays it out to the onrushing Mo Salah, completing what seems to be one of our favourite attacking moves this season: Firmino dropping and pulling along a defensive player, leaving plenty of space for Salah and Mane to run into and build up a head of steam. Seriously, look out for it next time we play. From here, Salah carries it up the field at pace while others sprint up with him to aid the attack: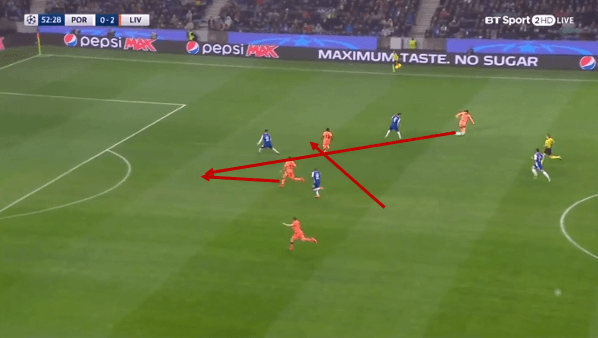 In this image, while Firmino has spearheaded the attack with his run, Mane has run diagonally across behind him, forcing the Porto centre-back to try to cover both Mane and Firmino. This indecision gives Salah just enough space to thread the ball into Firmino, who is approached by the same Porto defender while he closes in on goal. As you may remember, his shot is saved, but the fact that Porto's last defender has been forced to close him down leaves Mane free to tap in the rebound. The time between Milner winning the ball and Firmino taking the shot is exactly 10 seconds, giving the Porto defence far too little time to get organised.
Huddersfield
The Huddersfield match was a very different proposition. In this match, Liverpool were on the ball for 75% of the time – Huddersfield were happy to sit off and defend in front of their box for as long as possible, trying to not open space for us to exploit. Obviously, as the match finished 3-0, we managed to break through them, but that required a different style of attacking and a lot more patience. We fielded the same front three in this match as usual, but Emre Can was used instead of Giorginio Wijnaldum. I believe that Emre Can is a better passer of the ball than Wijnaldum, more capable of seeing a pass in behind during a slow passage of play, while Jordan Henderson can fulfil a metronomic passing role at the base of midfield. As Liverpool assumed they would be holding the ball for the majority of this game, it made sense to construct a midfield that was capable of probing from side to side, seeking out opportunities to pass the ball forward and, crucially, getting behind a packed defence – or risk spending an entire game taking pot shots from distance.
As displayed on this xG map Liverpool were able to take most of their shots from inside the box and were therefore not shackled to low-percentage attempts from far away. This required a steady breaking down of the Huddersfield defence. You may have noticed from my previous examples that due to the speed of attack and the space afforded to us by Porto, we were able to attack in fairly central areas. Huddersfield's deep line, however, forced us into using our full backs more as wide attackers, with opportunities often being crafted from playing around the defence rather than through it, such as in Roberto Firmino's goal: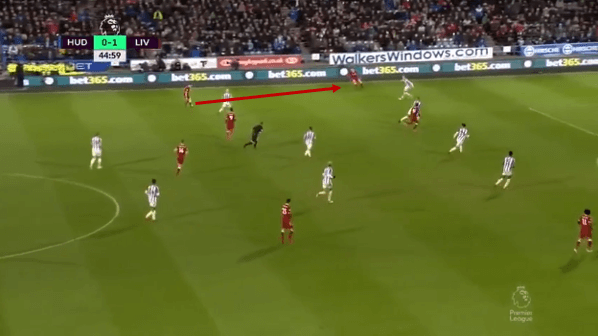 In a period of sustained possession, James Milner pushes forward towards the Huddersfield defence. At this moment in time playing behind the defence would be very difficult, so Robertson drops a little to receive the ball, and Huddersfield's right back gets ready to shield from a forward run: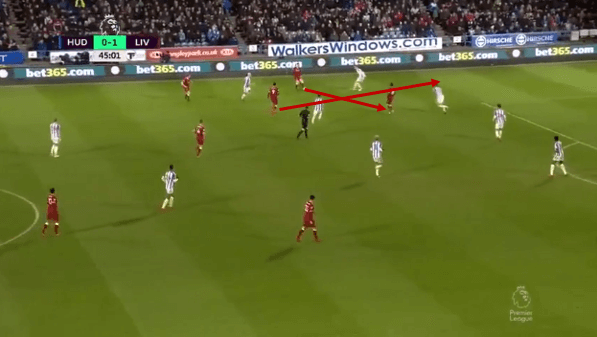 From here Robertson could pass backwards to Roberto Firmino but instead elects to give to Sadio Mane. The right back pushing forward and slightly wider creates a small, but not an insignificant gap that Firmino notices and charges towards. A Huddersfield midfielder attempts to cut off Firmino's run but is too late and Firmino breaks free: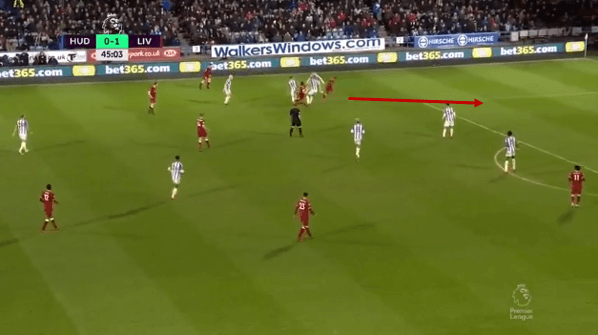 From here Firmino finally has space to run into, and uses it to draw in one-on-one with the keeper, and slot it coolly past his near post.
Conclusion
I hope that over the course of this I've managed to shed some light on the different methods Liverpool use to attack. Keep an eye out for some of the moves I've mentioned in upcoming matches (if we get the opportunity to use them…). I've been quite obviously very excited by our attacking force over the course of the year, and hope it continues to develop so we can more consistently break down packed defences to see out the rest of the season. I hope to be writing for you all again soon. Up the Reds.