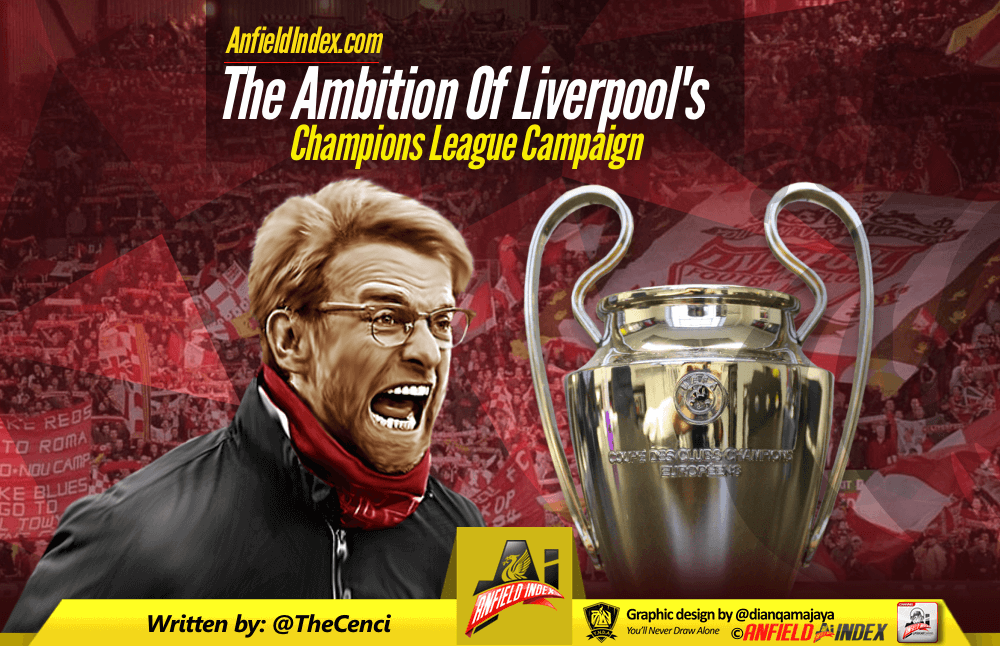 The Ambition Of Liverpool's Champions League Campaign
In April 2009 Liverpool went to Stamford Bridge and looked for a miracle.
Six days earlier the Reds led from an early goal by Fernando Torres, but it was not a strike which set the tone for the night as Guus Hiddink's side battered us by three goals to one. The Dutchman coaxed an imperious performance from Michael Essien and, with Steven Gerrard appearing subdued as a consequence; Liverpool faced the task of overturning a two-goal lead in the second leg. In fact, we would have to score three times just to equalise Chelsea's away goals.
Teams seldom scored three goals against that particular Chelsea side.

But we came close. Most people will remember Fabio Aurelio's free kick from near the right-hand touchline in the 19th minute before Xabi Alonso made it 0-2 with a spot-kick. However, Chelsea rallied round and dominated the early stages of the second half, racing into a 3-2 lead. The Reds didn't take that lying down and took a 4-3 lead, and though qualification for the final seemed unlikely, we at least had the solace of a rare Stamford Bridge victory. In the end, we didn't even have that as Frank Lampard equalised in the last minute, as he was wont to do. Chelsea were on the way to a semi-final with Barcelona while Didier Drogba's personal destiny would be to incur a six-game ban for swearing into a camera on live television. It was one of the highlights of the season.
That game took place nine years and ten months ago –nearly a decade ago – so why am I tugging your skirts and reminding you of it now? Well, up until last week when Jurgen Klopp's men ran riot in the Estadio do Dragao, it was the last time that Liverpool featured in a Champions League knockout game.
Nine years, ten months.
Obscene, isn't it?
In fact, the Reds have only played in the group stages twice since that 4-4 draw. In 2010, in what was to become Rafael Benitez's final season in charge, we failed to climb out of the group and, more recently in 2014-15, Brendan Rodgers' side somehow construed to secure only one win in what was a relatively weak group. True, it did contain Real Madrid, who took the group with ease, but Liverpool presented little fight in the two encounters with the Spanish giants. One friend of mine compared the 0-3 defeat at Anfield to the scenes in Coming to America where royal lackeys strew rose petals on the floor in front of their noble guests. Such was the club's subservient attitude on the night that Liverpool might as well have apologised for asking them to travel over and collect the points.
But there was little in the way of deference in Portugal last week as Sadio Mane and the lads put Liverpool five goals ahead in Porto and probably, though those of us of a certain vintage are uneasy about calling such things so early in the tie, into the last eight of the tournament.
What's more, Liverpool are there on merit. True, Hoffenheim, Spartak Moscow and Maribor offered little in the way of resistance, but you can only beat what's in front of you and Liverpool notched up an impressive 24 goals in those six games. Now we have five goals against Porto. For their part, Mane, Salah and Firmino already have 19 Champions League goals between them.
Not only are Liverpool back at the business end of the European Cup, they are contenders for the trophy itself. Seriously. Liverpool have a chance. I mean, barring any catastrophes, they will advance further than either Real Madrid or the heavily moneyed PSG as well as Chelsea or Barcelona and with those big guns bowing out, who's to say we shouldn't be in with a shout?
Okay, it's perfectly natural to think that winning the thing might be a step too far for Jurgen's Reds. After all, though there has been clear progress made by the team, Liverpool are still a long way off snaffling the League so it wouldn't it be a tad optimistic to entertain thoughts of winning the damned thing?
No.
No, it wouldn't.
And what leads some of us to believe this? Simple. Precedent. History shows us that even the most unlikely teams can find glory.
Liverpool fell over the Champion's League line in 2004 and huffed and puffed in the group stages of the following season's tournament – losing two of the six league games to Monaco and Olympiakos. As everyone knows, they were a Steven Gerrard glory goal away from going out in the home leg to the Greek champions. Then they had to do without the talismanic skipper in Turin in the quarter finals.
But belief grew. Spirit coalesced into what should have been an unfathomable hope and when faced with an all-conquering Chelsea in the semis … well, you know the rest.
And this was an imperfect side. In 2004 Rafa Benitez inherited a squad which was about to lose its most potent striker in Michael Owen – a man capable of wilting lettuce with conversation, but a hell of a player and vital to Gerard Houllier's side. This left him with Djibril Cisse – a Houllier signing made the previous season, Milan Baros, who could be good but liked to run full pelt at corner flags for no apparent reason, and Harry Kewell, who had an injury record which made Daniel Sturridge look like Phil Neal.
Are Liverpool's current striking options better than the 2005 European Cup winners? Don't worry, it's a rhetorical question.
Of course, Rafa was plagued by a wantaway player who disrupted the side by selfishly putting in a transfer request at the eleventh hour and … HANG ON!
The point is that Liverpool should not have won the 2005 Champions League. They had no right to beat the Italian champions with Antony Le Tallec up front while the Italians had Zlatan Ibrahimović and Pavel Nedved in their starting XI. We shouldn't have come back in Istanbul.
But we did.
Get past Porto and Liverpool are five games away from winning the Champions League. Five games.
This is what we mean when we talk about belief and the romance of this club. It's the ability to look at the impossible and then find yourself wondering what those royal robes feel like. It's Igor Biscan leaving the pitch with a clean sheet in Turin. It's Jerzy Dudek keeping out Shevchenko with his thumbs. It's about Liverpool in Europe.
Roy Evans once said that Liverpool without European football is like a banquet without wine. Well, Liverpool have European football and I intend to drain every last drop of whatever is on offer.
Cheers.