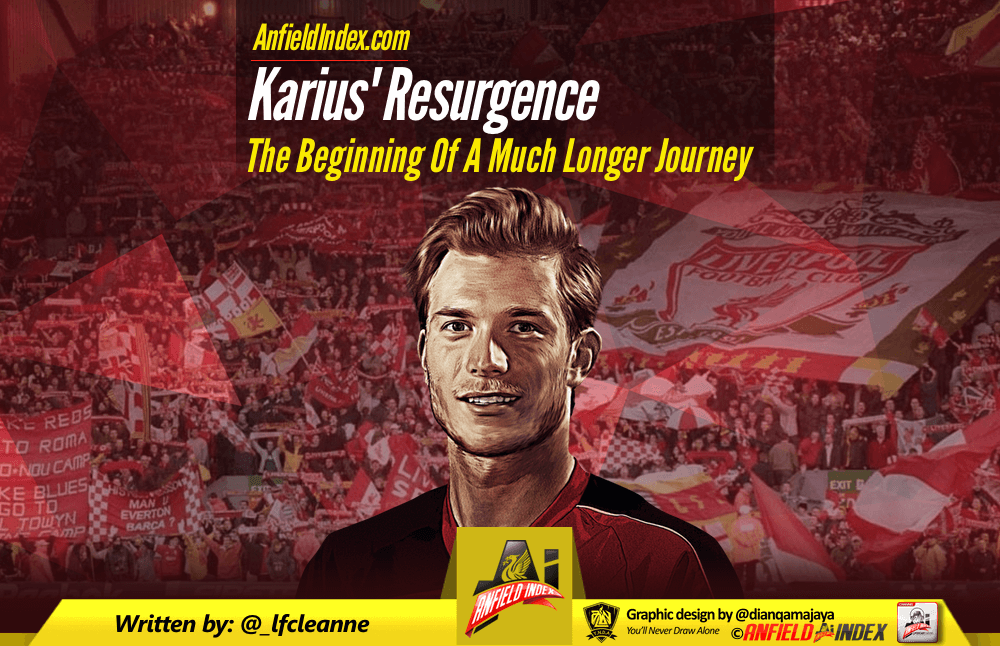 Karius' Resurgence The Beginning Of A Much Longer Journey
Loris Karius has largely played second fiddle to Simon Mignolet since the summer of 2016, with the Belgian put at the top of the pecking order in both the Premier League and domestic cup competitions. Yet, his rife inconsistencies allowed the German to sneak through the door and take up the reigns as Liverpool's No.1 goalkeeper following an alleged behind-the-scenes meeting between Mignolet and Klopp over the manager's rotation.
There have been clear signs of progression in the moments since to suggest Karius could well prove his credentials after developing a strong reputation in Germany as the most promising goalkeeper in the Bundesliga behind Manuel Neuer.
It's been somewhat of a rollercoaster, with a costly error allowing Leroy Sane to score at the near post at Anfield contrasted with a pleasing performance against Spurs and Southampton. Despite succumbing the lead to a late goal, Karius got down well to deny Harry Kane from the spot. Then there's the Saints game, where he came rushing off his line to deny Pierre Emile Hojbjerg at the back post, registering his third clean sheet in his last four appearances.

Playing every game since Liverpool's 2-1 win over Burnley bar the FA Cup defeat to West Brom, Karius has brought a halt to Klopp's persistent rotation, enabling him to build up ahead of steam and establish a relationship with a Van-Dijk led defence.
Those that aren't fans of Karius will argue he's merely made saves he'd be expected to deal with, and while they're right, prior seasons provide enough evidence that this isn't always a certainty; Mignolet's howler against Granit Xhaka vividly comes to mind, here.  Developing into a far more assertive, dominant figure, the 24-year-old appears to have turned over a new leaf in his Anfield chapter. Let's just hope it lasts more than a few pages.
Of course, such improvements may prove futile in deterring The Reds from pursuing a summer move for a world-class goalkeeper; Roma's Alisson, for example. Mignolet's future at Anfield is all but over and no-one could blame Danny Ward for wanting to move to pastures new at the end of the season having failed to get any first-team opportunities, leaving Karius as Klopp's only option. While his progression deserves recognition, there remains a long way to go before he can be considered on parallel with the quality Liverpool desperately require.
Valued at approximately £62million, Alisson has caught the eye in the Serie A this season, showing snappy reflexes and composure in one-on-one situations to deny opponents at the death. As per Squawka, the 25-year-old makes 2.72 saves per 90 minutes – almost 1.5 saves more than Karius has in the league this season. The fact he's keeping Manchester City's in-form Ederson out of the national side is a reflection in itself of how highly the Roma No.1 is regarded, displaying lightning fast reactions despite his 6-foot 3 frame.
On and on and Alisson. Storming first half from the Brazilian 'keeper for Roma. pic.twitter.com/WK84hcmWfa

— The Botafogo Star (@TheBotafogoStar) January 28, 2018
Key to the modern-day goalkeeper is an ability to use your feet, showing composure in possession to pick out a teammate under pressure or deliver a pinpoint long-ball to start off an attack. Karius' quick distribution against Southampton set Liverpool immediately on the counter-attack before Firmino netted his 20th goal of the season.
Alisson just takes the piss. pic.twitter.com/02QSK0Tw7C

— Sam McGuire (@SamMcGuire90) January 5, 2018
Alisson is of a similar mould, achieving an 85% distribution accuracy per ninety minutes while displaying the confidence to pull off a clever trick when pressed by the opposition; a spectacle that gave us all mild heart attacks when attempted by Mignolet.
Recent reports suggest Klopp will stick with Karius instead of splashing the cash in the summer and while his recent resurgence provides a beacon of hope for his tenure at Anfield, it's merely the beginning of a much longer journey he must undergo before being considered a long-term solution to Liverpool's goalkeeping woes.