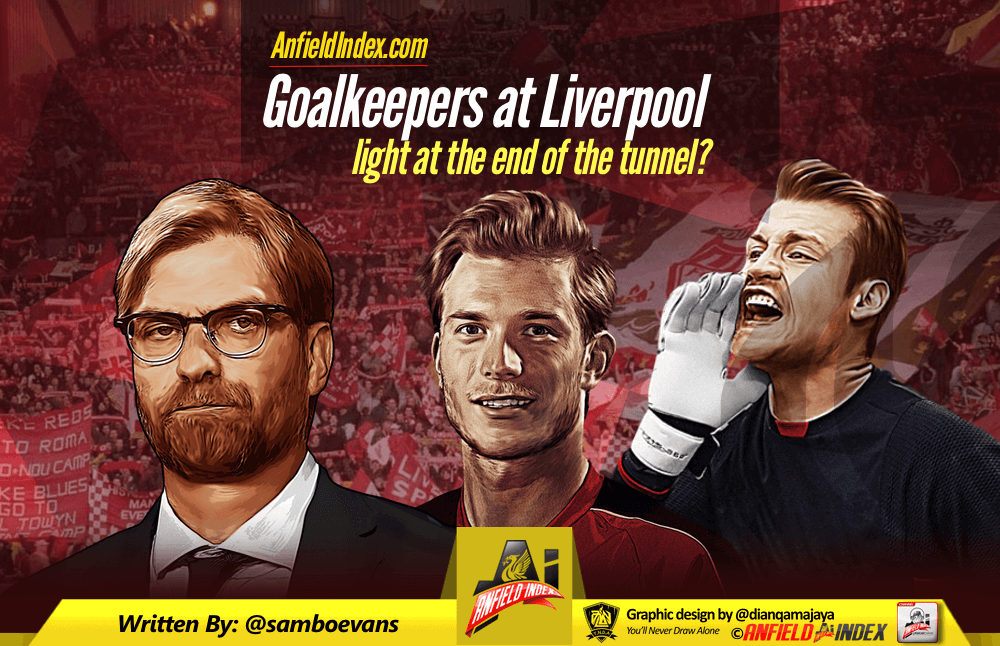 Goalkeepers at Liverpool, light at the end of the tunnel?
Speaking to Gags Tandon and Nina Kauser for this weeks episode of Media Matters for AI Pro, ex-professional goalkeeper David Preece talked about the importance of a goalkeeping coach and how they can affect the performances of a goalkeeper on the pitch.
"The relationship between the goalkeeper and their coach is very, very important. It's much more of a personal relationship than the outfield players have with the coaches because you spend a lot more one-to-one time with them, you're talking a lot more and going into a lot more detail when analysing your game. Goalkeeper coaches prepare the players as much as you can but it's all down to the goalkeepers themselves."

David Preece on Media Matters. Listen to the full podcast by subscribing to AI Pro.
David goes on to compare the role of being a coach to the role of being a school teacher. He likened coaching outfield players to teachers who have to teach large classes of 30 or so children whereas goalkeeper coaching is more similar to teaching smaller classes of 10 or so.
This leads to much more bespoke training being given to goalkeepers from coaches and a much more individually tailored training plan because they get to spend much more time with the goalkeepers on a one to one basis. This is perhaps why fingers get pointed at the goalkeeping coach when a goalkeeper isn't performing as expected.

John Achterberg has come in for much criticism since his arrival at Anfield in June 2009 after overseeing a regression in the form of Pepe Reina along with the inconsistent performances of both Simon Mignolet and Loris Karius. But how much of this bad form can you put down to the goalkeeping coach and how much of it is down to the player?
"At teams like Liverpool and Manchester United, it takes a certain type of character to be a successful goalkeeper there." Preece." You have to have that arrogance, an inner confidence."
In my opinion, a goalkeeping coach can only do so much. It's down to the ability and the character of the player once they cross that white line.
I feel that the goalkeeping coach is responsible for ensuring that the goalkeeper enters the field as confident as possible. He should be analysing faults and correcting them on the training pitch so that the 'keeper has confidence that those faults have been remedied before the next game.
Simon Mignolet is a prime example of a goalkeeper whose confidence appears to be especially fragile. When confident, Mignolet has displayed that he is, in fact, an excellent goalkeeper on his day. The problem is that his level has dropped far too often for him to remain as a mainstay in a club the size of Liverpool. His form certainly hasn't been helped by the lack of communication and leadership at a centre back for Liverpool.
Unfortunately, I feel that the arrival of Virgil Van Dijk has come too late to be able to rescue Mignolet's Liverpool career.
On the other hand, Van Dijk's arrival has come at the perfect time for Loris Karius. His displays before Van Dijk's arrival were littered with indecision and apparent panic, not helped by poor communication in the back four. In only seven weeks since he came to the club, Van Dijk's presence is already acting as a calming influence which has not only coincided with an improvement in the performances of Loris Karius but the performances of Dejan Lovren too.
All of this goes to show how the performances of a goalkeeper always have to be analysed in conjunction with the performances of the players around them too. Since Rafael Benitez left the club in 2010, Liverpool have struggled defensively which has led to the goalkeepers being left extremely exposed. This will not have helped the performances or the confidence of the goalkeepers over this time.
I feel that a top goalkeeping coach will maximise the technical ability and technique of a goalkeeper, but it's the mentality of the keeper that will separate a good goalkeeper from a great goalkeeper. That is always going to be down to the individual.
Mignolet and Karius have both shown signs of mental weakness, but stylistically Karius is far more suited to this Liverpool team due to his superior distribution skills. In addition to this Karius is much younger and therefore has far more scope for improvement.
With the addition of Van Dijk, Liverpool are finally starting to show signs of a far more organised defence which should work wonders for the confidence of Loris Karius. It's fair to say that Simon Mignolet's ship has sailed at Liverpool and the club will be looking for a replacement in the summer. But for Loris Karius, with the right coaching and support in conjunction with the developing relationship with the back four, his Liverpool career might just be beginning.
To listen to the thoughts of David Preece on goalkeeping along with loads of other fantastic content, subscribe to AI Pro now.