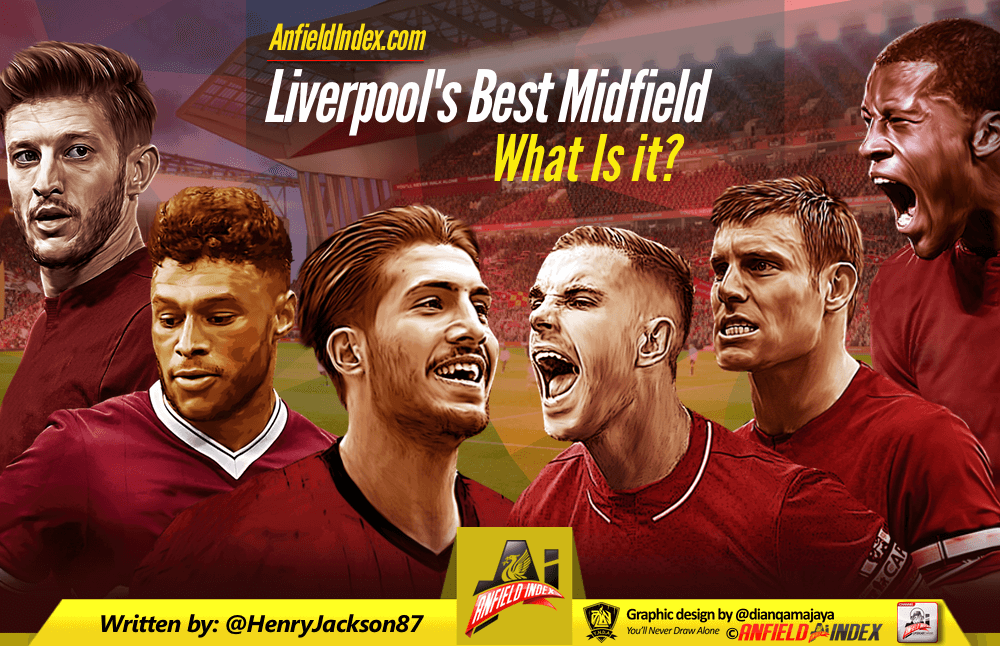 Liverpool's Best Midfield: What Is It?
Picture the scene: Liverpool are preparing for the Champions League final in May, after a stunning march to the showcase event at Kiev's Olympic Stadium.
Having seen off Porto in the last-16, probably despite somehow losing 4-0 at Anfield in the second-leg, they then dispatched of Chelsea and Man United, with last-minute winners in both ties.
Sounds pretty special, doesn't it?

As Jurgen Klopp prepares his players for the biggest match in club football, he will be left with an enormous selection headache: who starts in midfield?
Loris Karius, Joe Gomez, Dejan Lovren, Virgil van Dijk and Andrew Robertson probably pick themselves at the moment, while the front-three is as nailed-on as you could possibly wish to see, but what about the middle of the park?
It is an area of the Reds' side that is often criticised for being one-dimensional, inconsistent and in need of reinforcements – Naby Keita will help, in that respect – but selecting the three to start in the final is such a tough call.
To make this debate slightly easier, Liverpool's opponent in the final will remain unnamed, for fear of being told that, "*insert name* isn't the right choice against Barcelona" and "*insert name* hasn't got the legs to face Man City".
Klopp essentially has six midfielders to fill three spaces, and while they all bring undoubted positives, they also rub many up the wrong way.
Let's just say they aren't Steven Gerrard, Xabi Alonso and Javier Mascherano.
Henderson
Jordan Henderson is, perhaps, one of the most divisive English footballers in the history of the game, with descriptions of his ability including "dreadful", "limited", "underrated" and "excellent".
The Liverpool captain has his faults, most notably an inability to ooze calm in front of the defence like Sergio Busquets, for example, but the negativity that comes his way will remain odd until the day he hangs up his boots.
A far better player than many give him credit for – you literally can't captain Liverpool and England and be 'bad' at football – his energy, quick use of the ball and maturity make him someone who has to start the biggest games.
The Reds can play brilliantly without Henderson of course, so he is a long, long way from being indispensable, but they look a complete side with him in the team.
The snobbery against the 27-year-old will never go away, which is a shame, but he would be someone I would trust in Kiev, on a night when calm heads and strong minds are required.
Emre Can
Emre Can is another very good player who bizarrely splits opinion, and his inclusion is absolutely indisputable.
There are times when the German tries too hard to show the world that he can play football, but he has produced so often on the big occasion, and he can be a colossus when he wants to be.
There is a reason why Juventus are so keen on acquiring his signature this summer, and while he and Henderson haven't always complimented each other, there is enough evidence to suggest they can thrive in the same midfield.
Although Klopp has used Henderson in the deep-lying role, with Can further forward, switching them around may actually benefit both more.
Using the German deeper brings out a more measured side to him, while Henderson has always looks happier with a little more attacking license.
The rest
So what about the third remaining place?
Fighting for one spot are Gini Wijnaldum, James Milner, Alex Oxlade-Chamberlain and Adam Lallana – four very different footballers.
Wijnaldum is such an odd player in many ways, and in terms of tactical awareness and intelligence, he is up there with Liverpool's best individuals.
His ability to bizarrely go missing in some matches is problematic, however, which would be the biggest concern in a Champions League final.
It's not that he quietly goes under the radar and does the dirty work on those occasions – he literally just doesn't contribute.
There have been signs of a return to form of late, though, and if the Dutchman continues to reach the level shown against Southampton and Porto, he is the likely third starter.
When he is good, he is a key cog in the wheel.
Milner is about as unfashionable as footballers come, but as he showed in an influential performance in Portugal last week, he still has plenty to offer.
At 32, his best days are behind him, but given his temperament and big-game pedigree, you would have to consider him starting in May.
He is an unruffled presence, which Liverpool don't have enough of.
The biggest downside to him is that when he looks off the pace, matches can completely pass him by, as shown by a nearly match-costing second-half cameo against City last month.
A Henderson-Can-Milner triumvirate doesn't jump out at you, however, and against a likely top class midfield, there would be a risk of being overrun.
Oxlade-Chamberlain's time at Liverpool has been largely promising so far, but he has been the frustrating Arsenal version of himself in recent weeks.
The 24-year-old is well-known for being his own harshest critic, with his confidence levels always a little brittle, and consistency is his biggest issue.
The talent is there for all to see, but there is a substance missing at times that would make playing him in a Champions League final risky.
You cannot rely on him to keep the ball and make the right decisions as much as the other Reds' midfielders mentioned, at least not yet at this stage in his career.
A month or two ago, he would have been the favourite to join Henderson and Can – Henderson was injured, so he may not even have got the nod, in fact – but he has just slipped down the pecking order a little.
Lallana is probably the least deserving of a starting berth at the present time, with long-term injury problems ensuring he is miles off the pace.
The brain-dead sending off for Liverpool's U23s earlier in the month hasn't done a lot for his reputation, either.
Yet another divisive figure among the fanbase, Lallana is a favourite of Klopp's, but even he must see that he is a squad player for now.
At his best, in the early stages of last season, Lallana proved to be an invaluable member of the side, combining trickery with an astonishing work-rate, but neither have been on show since his return.
Picking a 'best' Liverpool midfield is always going to be a contentious subject – horses for courses, and all that – but if the Champions League final was tomorrow, or another crucial game for that matter, Henderson, Can and Wijnaldum would be my picks.
None are perfect, and Milner, Oxlade-Chamberlain and Lallana would bring different attributes, but they have done well as a three in the past, and would be the least likely to let the side down.
What would yours be?