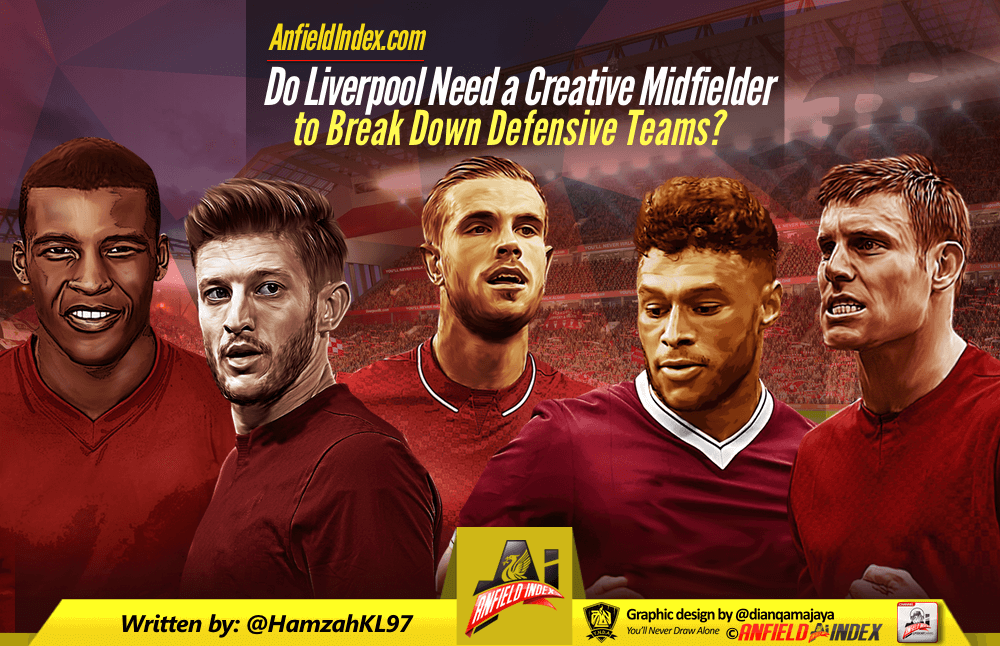 Do Liverpool Need a Creative Midfielder to Break Down Defensive Teams?
On the most recent edition of the Tactics Weekly pod, host Daniel Rhodes quizzed Paul Dalglish in an AI:PRO Q&A Special (you can listen for FREE for one week). One particular question (below) posed was that of breaking down defensive sides, an issue Liverpool have had for quite a while – harking back to troubles under Rodgers.
Do Liverpool need a creative CM to break down a low block, or is the positional play (i.e. width & using the pace & directness of those wide players) more important?
At face value, it seems as if a creative central midfielder would be essential to breaking down defensive sides – a player in the Fabregas mould, or something or someone similar. Immediately the "hole" left by Coutinho springs to mind, even though Coutinho was not quite a typical playmaker, even with him though, Liverpool struggled against defensive sides. Implicitly, it seems we're asking whether Coutinho's presence would help with creativity, and if not, what would? So in order to try and find our answer to whether a creative CM is necessary we'll first frame this discussion with respect to Coutinho, and then broaden it.
Paul made clear that:

"A creative player helps break down a deep block"
And that much we cannot dispute, however, if we look at results, goalscoring and overall creativity since Coutinho has left, it seems largely unaffected. Admittedly, Coutinho has only been absent for just under two months, but it's a curious point to consider, and Jürgen Klopp's own philosophy and understanding of the game comes into this discussion too.
If we look at Coutinho's xGChain per 90 figures (which are a metric used to measure the involvement and contribution of a player in creating a goalscoring chance, beyond simply the assist, which as a metric can be skewed quite often and easily), we'll actually find that comparative to Firmino, Salah or Mané, Coutinho does not really stand out: Coutinho (0.72), Firmino (0.86), Mané (0.76), Salah (1.12). Furthermore, of Coutinho's six assists this season, one was from a free-kick, and the other from a corner, leaving him with four open-play assists and considering Liverpool generally score most of their goals from open-play, and against low-block sides often have the lion's share of possession, Coutinho does not seem as integral to beating these sides which sit back. That's not to downplay Coutinho's contribution, for his goals and NPxG90+xA90 figures are absolutely phenomenal, however, it's fair to say he mostly flourished in open games.
Klopp previously stated that "pressing is the best playmaker", and in general terms, this is a fair statement. In terms of chance creation in a typical game, pressing will not only outperform most individual players in terms of contribution, but also create high-quality scoring opportunities, through winning the ball in attacking areas, or catch opposition teams in transition, i.e. at their most vulnerable. Yet we've seen a number of games where pressing does not quite work, most notably in fixtures where the opposition team refuse to play the ball out from the back, and surrender possession, to counter-attack and focus on set-pieces instead.
This is precisely where the question of a creative player becomes especially pertinent, but for those who have been listening to the Tactics Weekly podcast, or have been reading the Tactical Breakdown post-match series both on AI will have noticed that a creative player is not just the only key to unlocking and beating a deep block, Paul Dalglish notes two other routes to beating a low block, the first of which is having a target man, and the other being utilising width.
The large attacking contributions of Mané and Salah go some way to offset the loss of Coutinho, but this issue of width is essential to breaking down defensive or low-block sides.
When teams sit back, it's easy to defend attacks down the middle through congesting the pitch and packing those central areas. One of the best examples of this is Liverpool under Rodgers in 2014/15 or Liverpool more generally in 15/16 – with Adam Lallana, in particular, coming inside into central areas and finding himself losing the ball or his close interplay not working effectively.
Liverpool still have this problem when Salah and Mané come inwards too much, and instead of isolating opposition full-backs, and creating 2vs.1 situations or overloads, they run into traffic and opposition players, which are far harder to get through.
Using wide areas is not just about beating the opposite full-back though: through using these wide positions, Liverpool can stretch the opposition defence, and create gaps between defenders to run or pass into. Moving the ball across from wing to wing is key in doing this too, and over the past few months, we've seen an increased level of on-ball intelligence across the pitch, as the players are more patient in their approach. We need only compare Liverpool against Burnley – in which the team did not use those wide spaces, and instead resorted to taking pot-shots, – to the recent Southampton, Huddersfield or Bournemouth matches, where the team was far more patient and mindful of how they used the ball.
Indeed, if the team plays like this more often, and the wide players continue to excel, Liverpool do not need a new creative midfielder, as it's not a prerequisite to winning games, however, that's not to say a creative midfielder would not be handy – but it's very much about finding the right one for Liverpool's system. Indeed, Dalglish, during the discussion on the pod goes on to say:
"I don't think we need one, because it's not truly what Jurgen wants, if he had his choice in the eight roles (i.e. LCM and RCM) we'd have two Keïtas."
Chamberlain, Firmino and Lallana all contribute towards Liverpool's chance creation with their pressing, and it appears Klopp has opted for this in favour of immediately replacing Coutinho, for Coutinho – as good as he is – was not as good as those three players mentioned in winning possession, pressing and seizing upon transitions, as he's a player who likes to dribble, and is suited better to a slower build-up, rather than an aggressive dynamic break. As we know, no man can travel as fast as a ball when played through, and Coutinho's preference to dribble sometimes slowed counter-attacks, and gave opposition teams that little bit extra time to set up and recover from transitioning from an offensive shape to a defensive one. But it was clear Klopp valued Coutinho's qualities outside of pressing to warrant a starting place, however, losing Coutinho does not necessarily mean Liverpool will lose creativity.
So then, to the first question: do Liverpool need a creative CM? As always with tactics, the answer is conditional. Liverpool do not strictly need a creative CM to break down defensive sides employing a low-block, providing they press efficiently and attack and utilise wide areas well, as they have done so recently – with Mané's wider positioning against Porto clearly paying off. However, should Liverpool lose one of their front three to injury, the team's capacity to attack wide spaces intelligently, or play through the middle would be severely reduced, in which case, Liverpool would certainly need a creative CM or players who are skilled in wide areas. Ultimately though, finding a player who can unlock a defence and perform an adequate pressing contribution may be a challenge, but it certainly will do no harm to the team and will offer another route to breaking down sides when the typical methods are not working.
Liverpool should be able to get their way through the season without a creative CM or creative CDM, but it should be an area in which the club looks to strengthen, even with Naby Keïta coming in, as we all know, you can never have too many good passes, and building upon the limited skill set of the current cabal of midfield players should be something under consideration for those working on scouting players for Liverpool.